Deliciously moist Snickerdoodle Banana Bread with a cinnamon sugar addition throughout! Using only one bowl, this is quick to prepare and a favorite with all!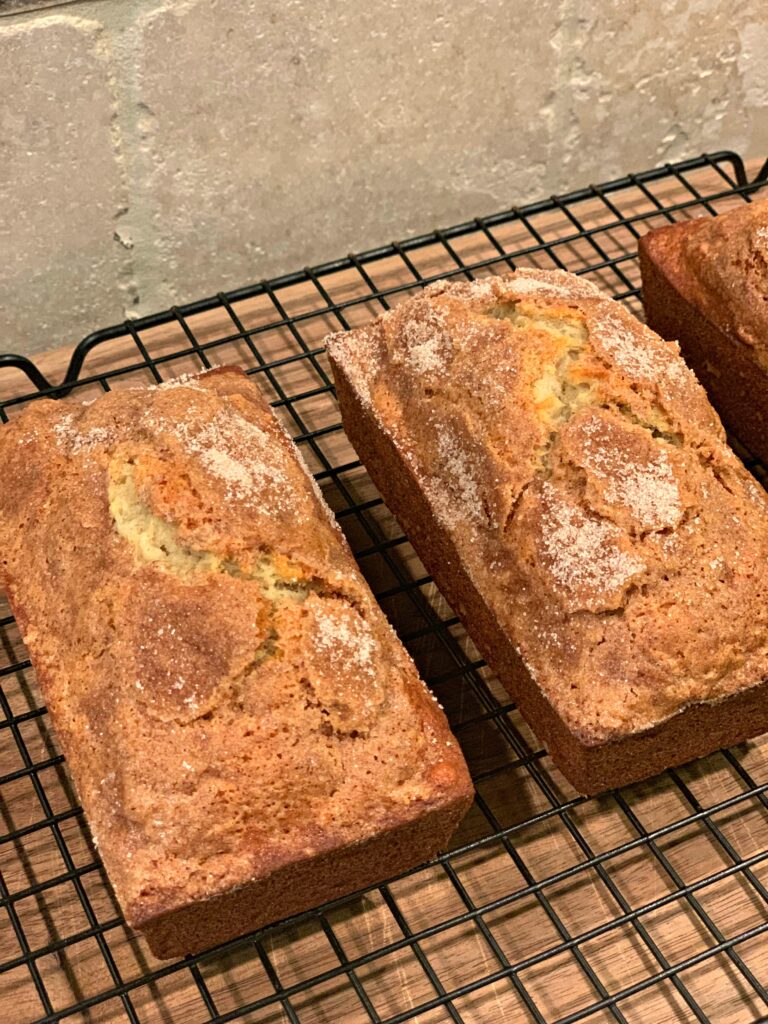 This week, its Teacher Appreciation week at my kids schools! Since I take any excuse I can to get in the kitchen, I decided to whip up a batch of my Snickerdoodle Banana Bread! Not only is it simple to make, but everyone loves a good banana bread, right?
I typically like to keep extra bananas in my freezer. Just as they are getting too brown for my kids liking, I toss them in the freezer for a later date! I pulled a few out yesterday morning and let them thaw a bit. Once I did some chores around the house, they were good and ready to toss into the batter!
If you don't like the cinnamon sugar combo, simply omit from this bread and you'll still have a perfectly moist banana bread! But, I recommend trying the cinnamon sugar addition!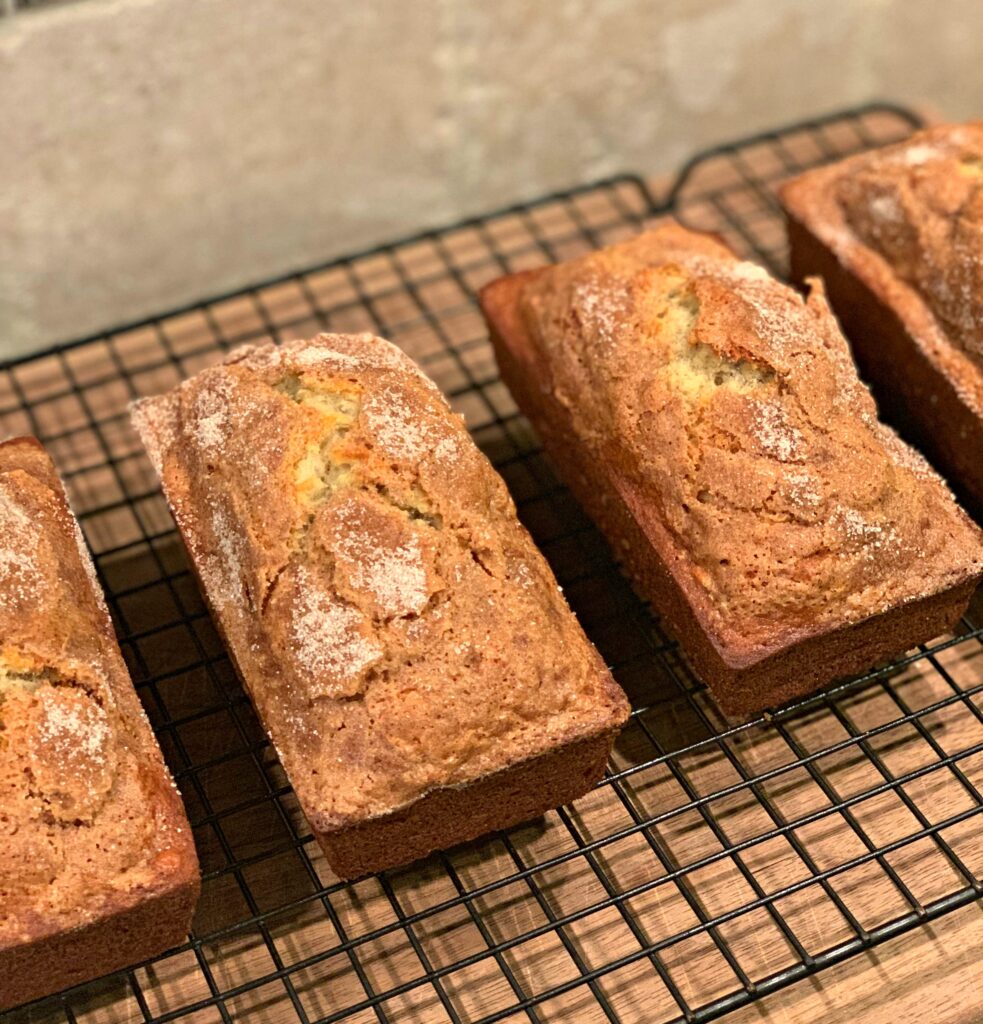 This recipe makes about 4 mini loaves of this bread, which was great because there are 3 teachers to bake for, and we got to enjoy one ourselves!
I wrapped each loaf in plastic wrap and stuck it in a treat bag! I printed tags that said "I am bananas for you as my teacher! Thanks for being you!" and attached them to each loaf. The teachers all LOVED the bread and thought the tag was adorable! Lots of thank you notes came home the next day!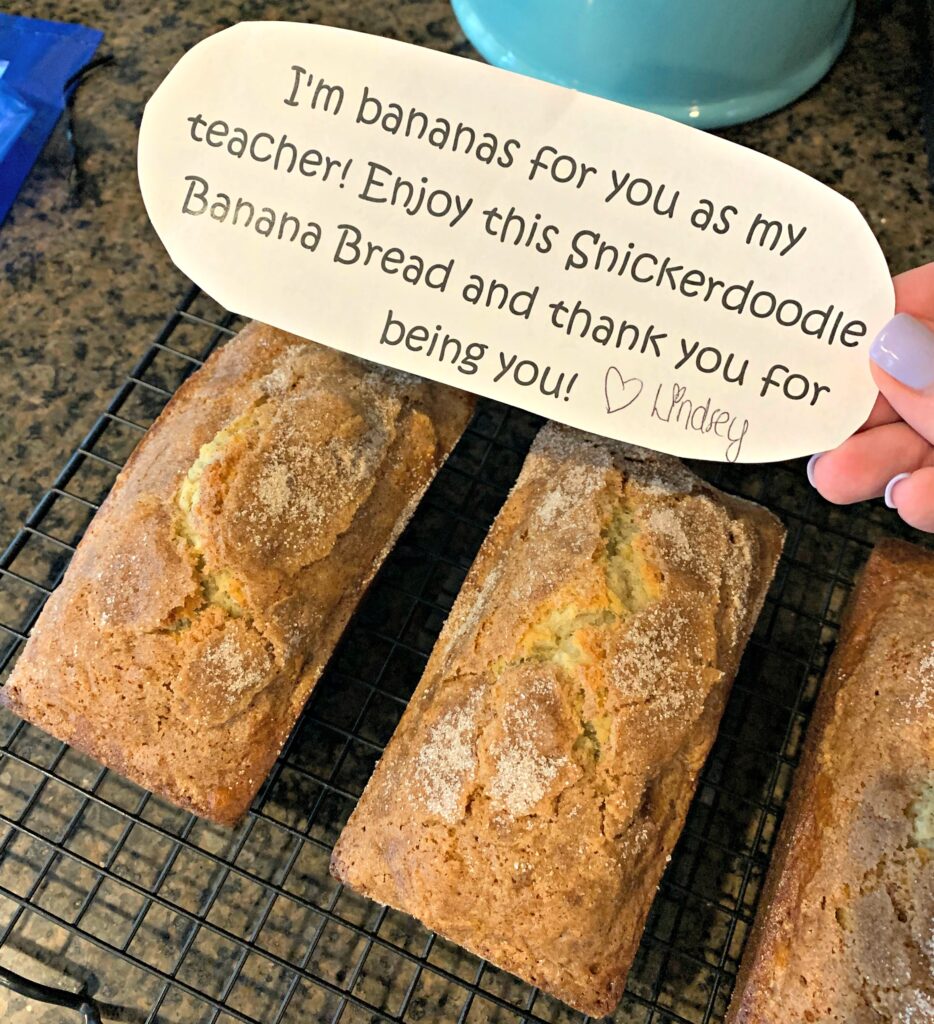 You can make this for breakfast, a snack, a sweet treat in the evening, or freeze for later! Its the perfect gift for friends, neighbors, family, or teachers!
Using only one bowl, clean up is a breeze! Enjoy and let me know what you think of my Snickerdoodle Banana Bread if you try it!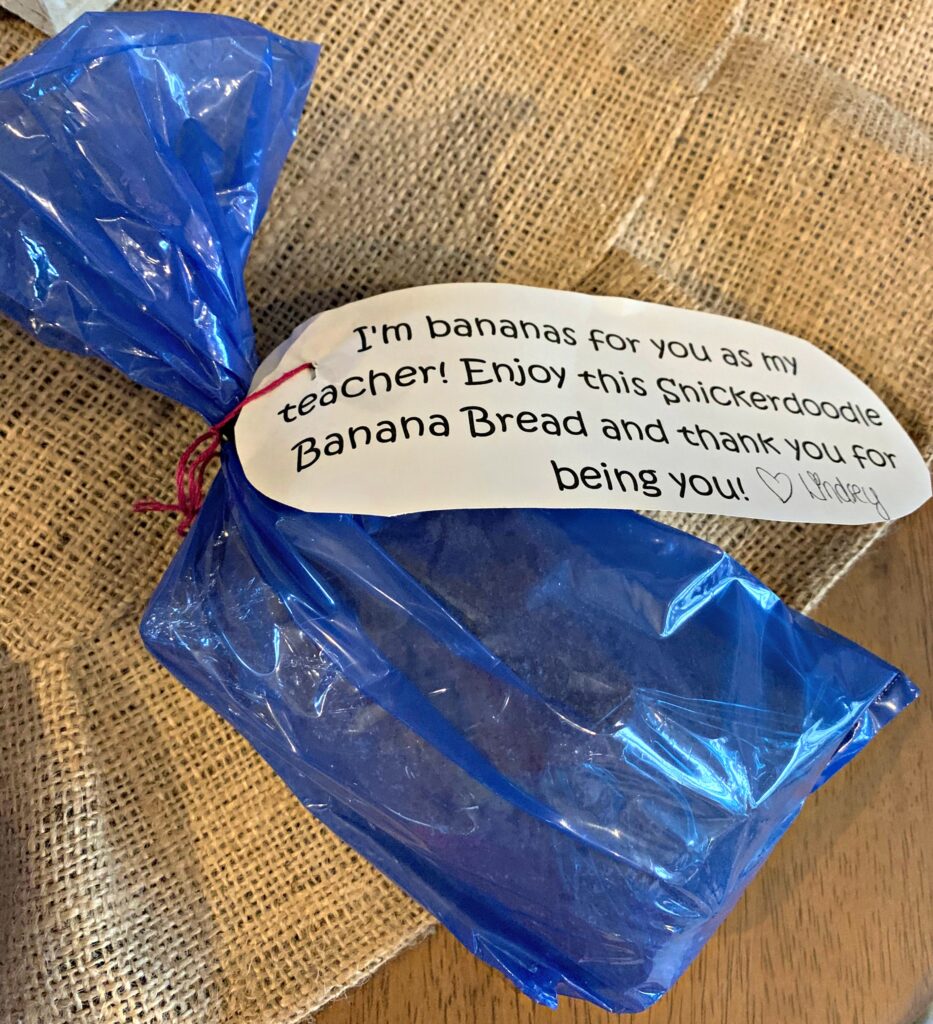 *Don't forget to sign up for my newsletter below!
Mini Loaf Pans: https://amzn.to/2H8T6Fs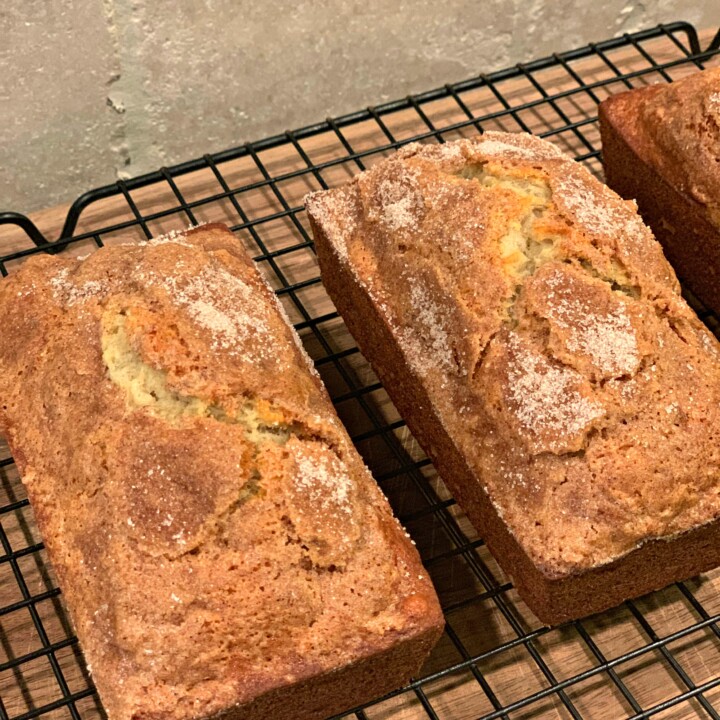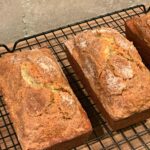 Print Recipe
Snickerdoodle Banana Bread
Deliciously moist banana bread with cinnamon sugar swirls throughout! Using only one bowl, this is quick to prepare and a favorite with all!
Ingredients
BREAD
3/4

cup

sugar

1/2

cup

oil

3

tablespoon

sour cream

2

eggs

1

teaspoon

baking soda

3

bananas, mashed

2

cups

flour
CINNAMON/SUGAR LAYERS
1/2

cup

sugar

2

teaspoon

ground cinnamon
Instructions
Preheat oven to 350 degrees and grease 4 mini loaf pans or 1 large loaf pan.
CINNAMON/SUGAR LAYERS
In a small bowl, combine the sugar and cinnamon. Set aside.
BREAD
In a medium bowl, combine the sugar, oil, sour cream, eggs, baking soda, bananas, and flour.

Sprinkle a small amount of the cinnamon/sugar mixture onto the bottom(s) of the greased pan(s).

Pour batter into prepared pans about 1/2 way full.

Sprinkle additional cinnamon/sugar mixture on top of batter.

Pour remaining batter into each pan, filling about 3/4 full.

Sprinkle remaining cinnamon/sugar evenly on top of each pan.

Place pan(s) into preheated oven to bake for about 30 minutes if mini loaves, or 60 minutes if large loaf. Use a toothpick inserted in the center to ensure its baked through. The toothpick should come out clean.

Once baked, remove from oven and allow to cool 5-10 minutes before serving!