Cinnamon Crumble Banana Bread takes classic banana bread and makes it extraordinary with an incredible cinnamon crumble topping that is mouthwatering!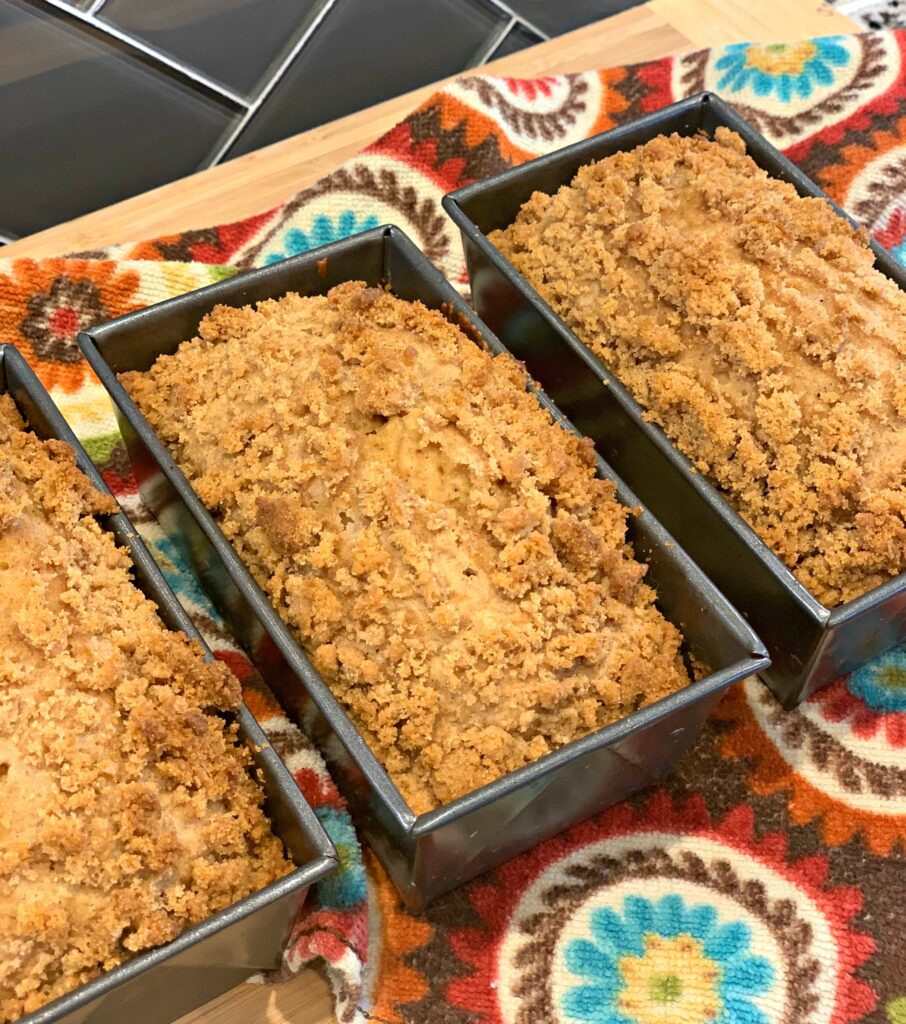 I don't know about your house, but banana bread disappears FAST in mine! I like to make mini loaves, and just as I am pulling them from the oven, they seem to always vanish.
If you've ventured out lately, you'll know that the grocery stores are quite picked over these days. Everyone has been grabbing cleaning products, toilet paper, eggs, and meat. Even the bananas were picked over at the store I went to this morning.
Luckily, I like to keep a bunch of bananas in my freezer, to use at a later date. Never did I realize how smart I was being, until now.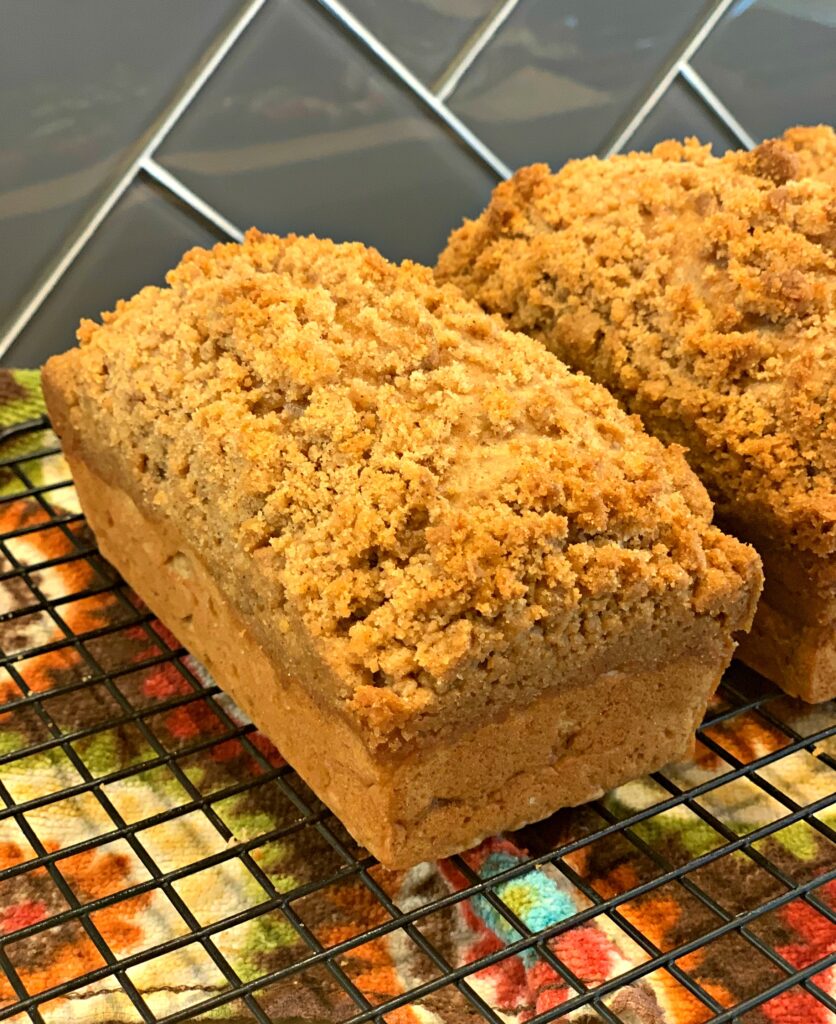 Yesterday afternoon, I decided to bake some banana bread for my kids as their afternoon snack. These days, their schedule is breakfast, snack, lunch, snack, dinner, snack, and then dessert. Anyone else's kids that way? How did my kids survive going to school and being on a no snack policy? My poor grocery budget is being put to the test, haha!
I had planned on surprising them with this bread, but once I put the loaves in the oven to bake, the house smelled incredible and I kid you not, my three kids migrated down the stairs asking what smelled so good.
Needless to say, by the time I pulled these from the oven, they were already sitting at the counter, ready for their slices.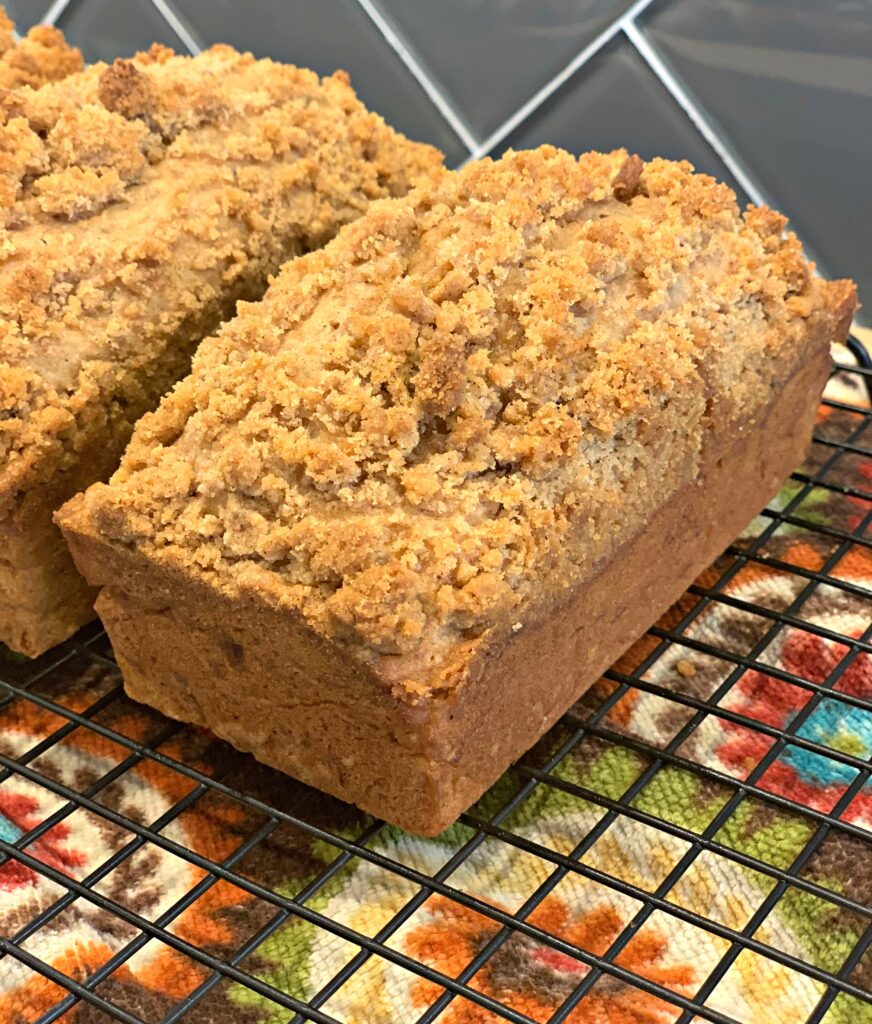 This Cinnamon Crumble Banana Bread is incredibly moist, packed with just the right amount of banana, and has an incredible crumb streusel!
We all enjoyed these for a snack, and then had a few slices for breakfast this morning! Paired with my cup of coffee, it was the perfect start to my day!
I hope you are all staying healthy and able to find the needed essentials at your store. If you can, try to get some bananas and put this recipe to the test. You can enjoy now or freeze for later, either way is a great option! Perhaps make some extra and drop off to a friend or neighbor!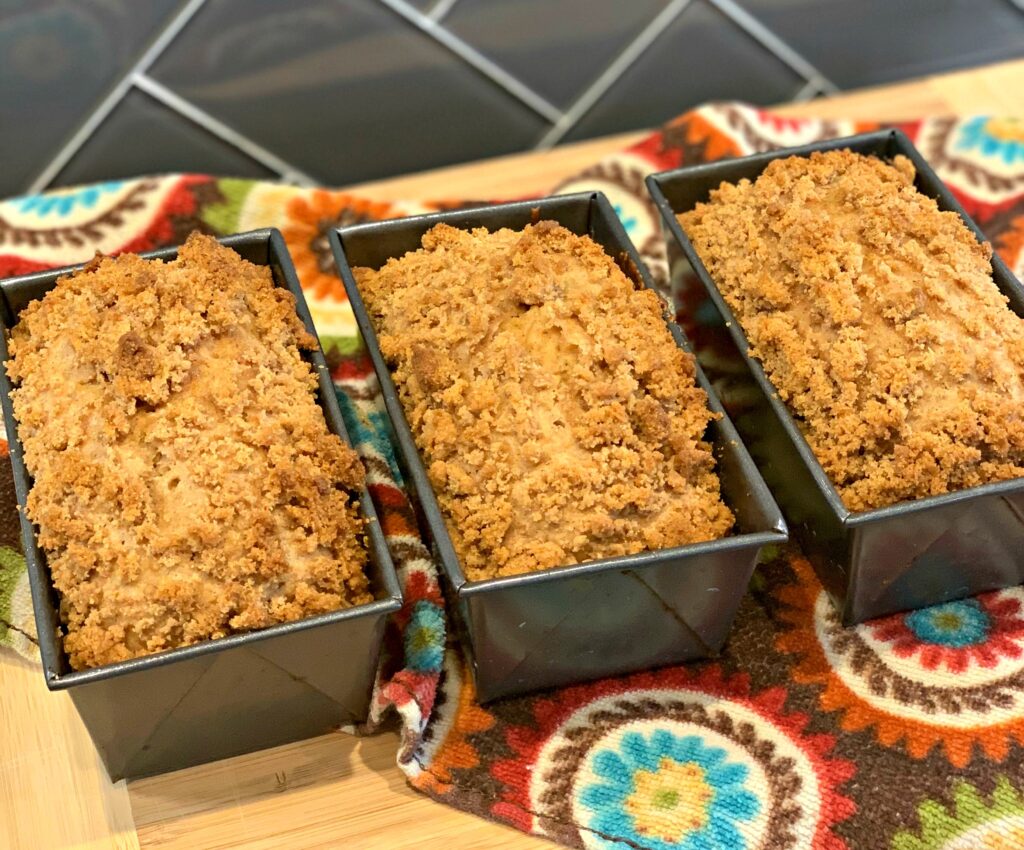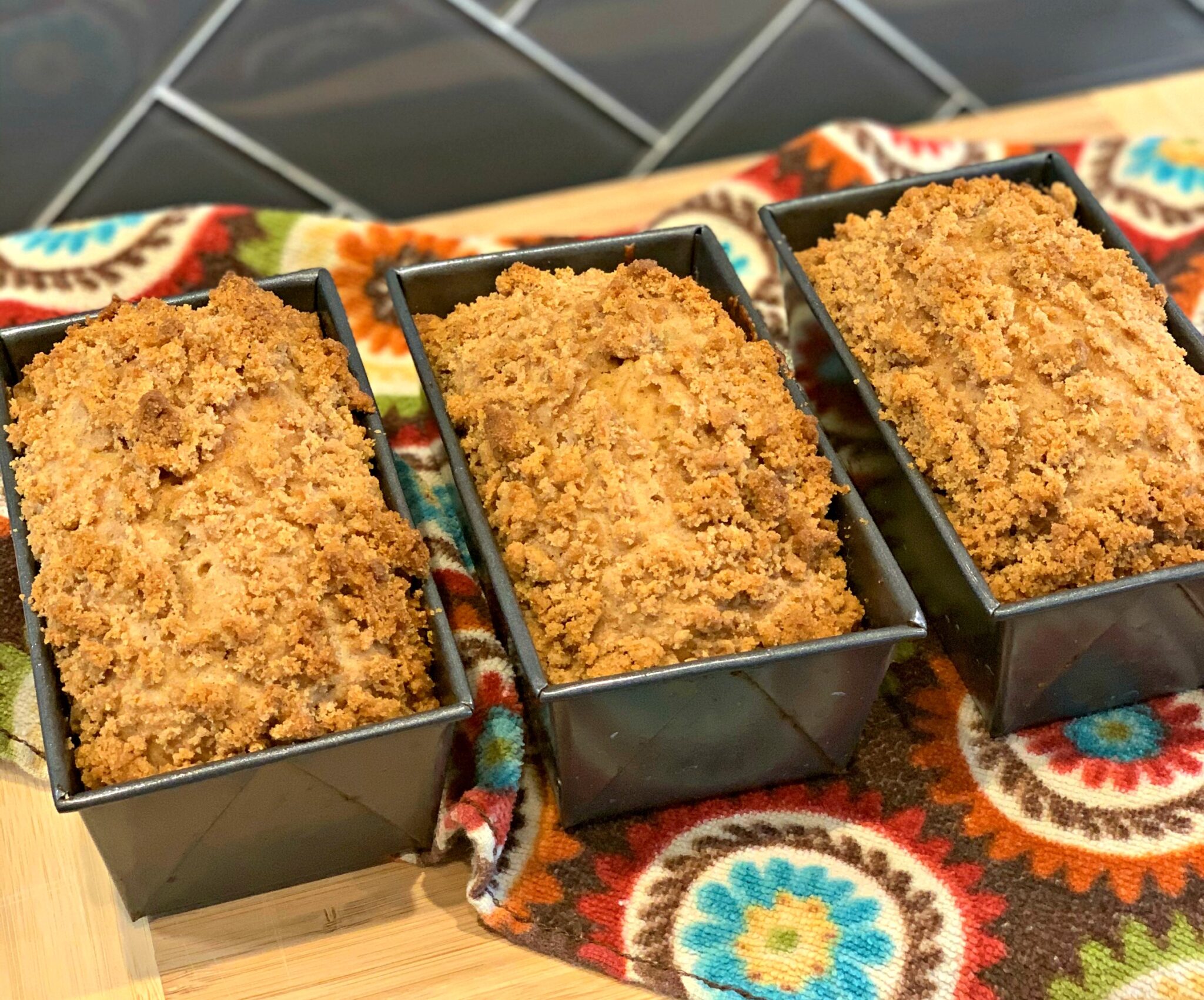 Mini Loaf Pans: https://amzn.to/2ITwp8i
Loaf Pan: https://amzn.to/3biJW5J
*For those who would like to use all purpose flour in this, typically the ratio is 1 cup plus 1 tbsp. of all purpose per 1 cup of whole wheat flour. However, I have not tried substituting this quite yet, so another option would be to make this banana bread recipe, https://thecookinchicks.com/banana-bread-2/, and add in the crumb topping recipe below! Either one will be a hit!!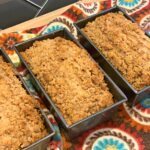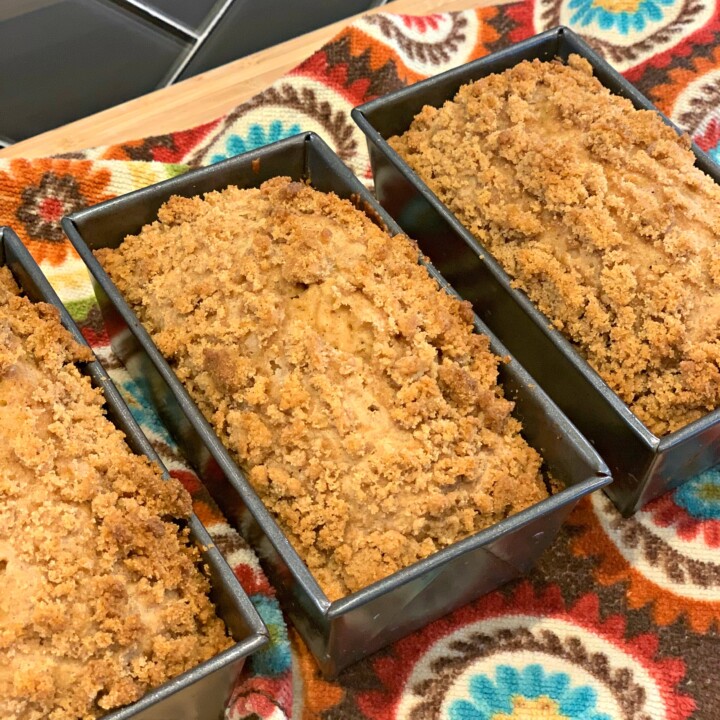 Print Recipe
Cinnamon Crumble Banana Bread
Cinnamon Crumble Banana Bread takes classic banana bread and makes it extraordinary with an incredible cinnamon crumble topping that is mouthwatering!
Ingredients
BREAD
2

eggs

3

bananas, mashed

1/2

cup

sugar

1/3

cup

vegetable oil

1/2

cup

plain Greek yogurt

2

cups

whole wheat flour

2

teaspoon

ground cinnamon

1 1/2

teaspoon

baking powder

1/4

teaspoon

salt
CRUMB TOPPING
1/2

cup

flour

1/2

cup

brown sugar

1

teaspoon

ground cinnamon

1/4

cup

butter
Instructions
Preheat oven to 350 degrees and grease 4 mini loaf pans or 1 9x5 inch loaf pan.

In a medium bowl, combine the eggs, banana, sugar, oil, and yogurt.

Add in the flour, cinnamon, baking powder, and salt....stirring until just combined. *Do not overmix

In a small bowl, make the topping by combining the flour, brown sugar, and cinnamon.

Using your fingers or a fork, add in the butter and combine until crumbs form.

Pour batter evenly into prepared pan(s).

Sprinkle topping evenly on top of batter.

Place pan(s) in preheated oven and bake for about 45 minutes if using mini loaves, 60 minutes if large pan. *All ovens vary, so eye the bread a few minutes early and use a toothpick to test

Remove from oven and allow to cool for at least 3-5 minutes before removing from pan and slicing.
Nutrition
Calories:
284
kcal
|
Carbohydrates:
43
g
|
Protein:
5
g
|
Fat:
11
g
|
Saturated Fat:
8
g
|
Cholesterol:
38
mg
|
Sodium:
160
mg
|
Potassium:
218
mg
|
Fiber:
3
g
|
Sugar:
21
g
|
Vitamin A:
177
IU
|
Vitamin C:
3
mg
|
Calcium:
71
mg
|
Iron:
1
mg