ULTIMATE Potato Salad– a classic potato salad that includes hard boiled eggs, crunchy celery, onion, and more tossed in a creamy, tangy dressing! Perfect for any BBQ, potluck, picnic, or summer outing!

This Potato Salad also pairs perfectly with our tasty Pasta Salad and Strawberry Pretzel Salad!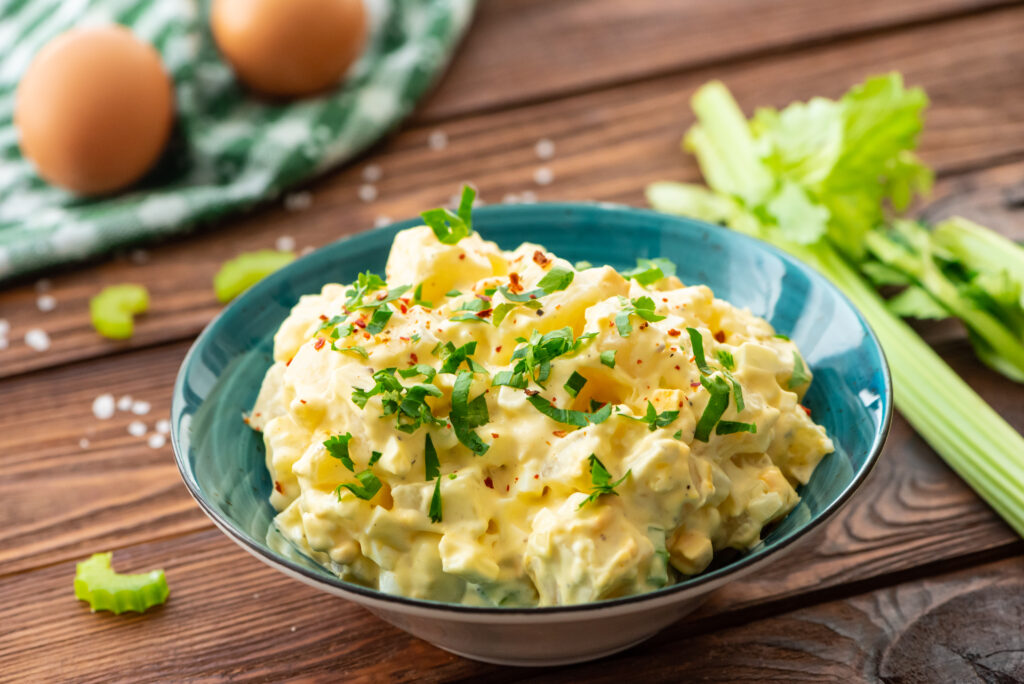 The Best Potato Salad Recipe
A few summers back, I went to a BBQ at my aunts house. This potato salad was brought by my cousins wife, Rachel. Both my hubby and I devoured it, and decided, we needed that recipe! It was one of the best potato salads we had ever had!! Well, I just now got around to making it and it turned out just as delicious as I remembered.
My hubby and I love to try new potato salads because each and every one you try can be so different from the last! Over the years, we have found our favorites at local restaurant and deli's we have tried, but never a favorite at home version. Until now that is!
Whats in a Potato Salad?
Chances are, you have had potato salad at least once in your life! With so many variations, and so many different add in's, there are SO many different ways to make an easy potato salad! Basically, any version that includes potatoes, mayo (or Greek yogurt), and some additional veggies can be classified as a potato salad. Some people include bacon in theirs, some add in celery or onion, hard boiled eggs, buttermilk, mayonnaise, yellow mustard, and more!
Best Potatoes to use for Potato Salad
A good potato salad starts with the right potato, of course. I prefer to use a starchy potato due to the fact they are super absorbent and tend to absorb a lot of the liquid ingredients in this recipe. My go-to is russet potatoes or Idaho potatoes. However, a lot of people prefer a more waxy potato such as new potatoes, fingerling, or red potatoes due to the fact they hold their shape a bit more once cooked and are less grainy in texture. You generally don't need to peel waxy potatoes, eliminating one step from the cooking process.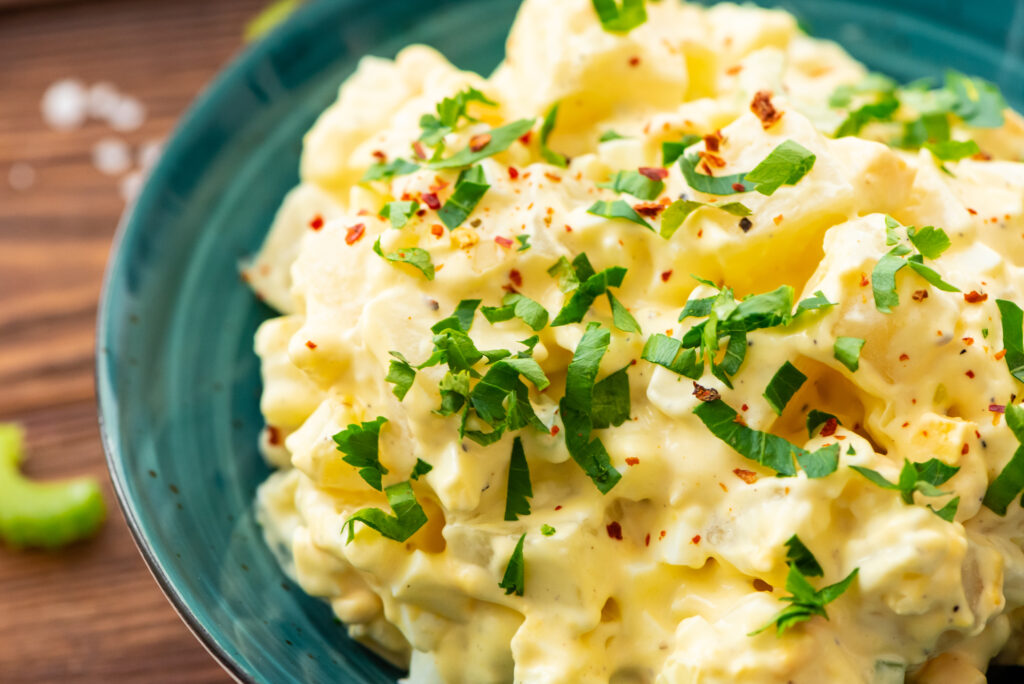 How to cook the potatoes for Ultimate Potato Salad
The easiest, most tried and true way to cook potatoes for potato salad is to simply simmer the potatoes in boiling water until fork tender. Tip: NEVER salt your water when boiling potatoes for potato salad. The salt forces the potato to seep water continuously creating a watery potato salad, which no one wants.
Peel and dice your potatoes and pour cold water on top of them in a large pot of Dutch oven. Heat over the stove until water is boiling, then reducing heat to allow potatoes to simmer until tender, but still holding their shape (fork tender).
Drain hot water and immediately add the potatoes to an ice bath  for a few minutes, which will stop the cooking process.
Classic Potato Salad Dressing
This recipe is closer to a classic, more traditional version and uses mayonnaise as the base. Of course, if you want to make this salad a bit healthier, you can use plain Greek yogurt in place. Sour Cream works great too.
Another great addition to this salad is the yellow mustard. The classic, yellow mustard adds more more flavor as compared to Dijon. Of course, it is based on preference, so if Dijon is your favorite, feel free to use!
Last, but certainly not least, the white vinegar is the ULTIMATE addition to this recipe! This simple addition adds a subtle, yet oh so yummy addition to the Southern dressing! A must try staple in this salad.
Ingredients Needed for this BEST EVER Potato Salad
See recipe card below for exact ingredient amounts and directions
Potatoes- I use Russets, but see information above for alternative suggestions
Mayonnaise- your favorite brand, Hellmann's, Duke's, even Miracle Whip works
Vinegar- white
Yellow Mustard- feel free to use Dijon if preferred
Salt/Pepper- to taste
Onion- I prefer diced red onion, however, white or yellow work great too
Celery- diced
Hard Boiled Eggs- peeled and chopped, try this quick Instant Pot version
How to make the best potato salad recipe
Following these simple step by step instructions, you'll be ready to serve this recipe at any BBQ, potluck, picnic, or gathering!
Boil potatoes until tender, drain. Do not overcook!

Cool potatoes and cut into cubes, or cut prior to boiling.

Mix mayo, vinegar, mustard, salt, and pepper in large bowl.

Add potatoes, celery, onion, and eggs, toss.

Cover and refrigerate until chilled (at least 4 hours).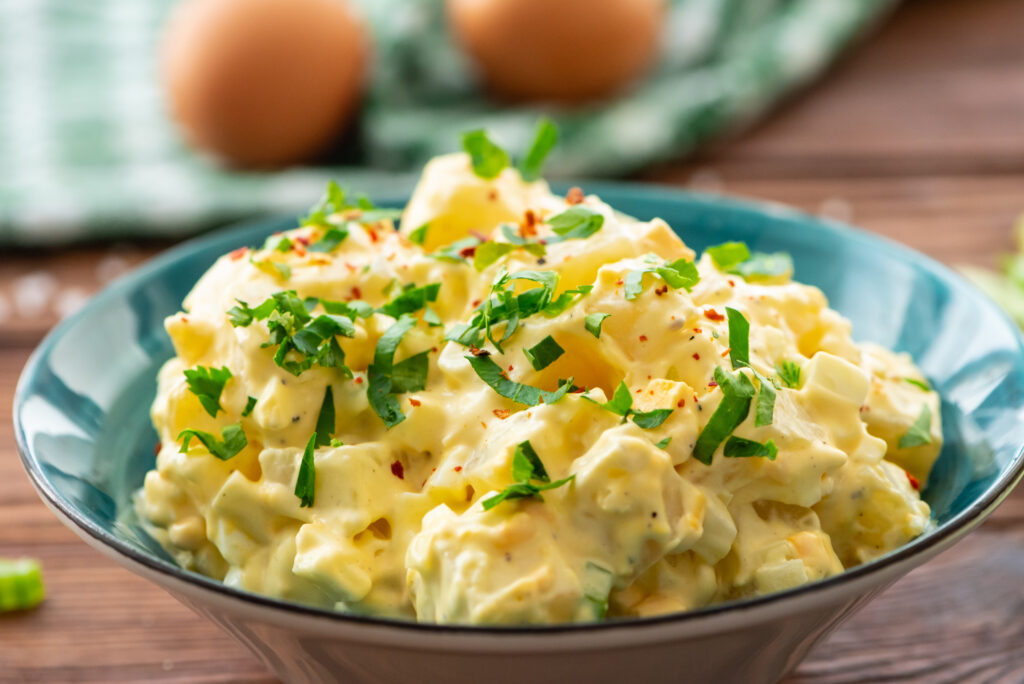 Recipe Variations
Everyone has their favorite ways to make an easy potato salad. If you want to try this one, but add a few tasty twists to it, here are some ideas to try:
Use Miracle Whip in place of Mayonnaise
Make this salad a bit healthier by using plain Greek yogurt in place of the Mayonnaise
Add a bit of pickle relish or diced pickles for a nice zing of flavor
Crumbled, cooked bacon is a tasty addition to this salad
Change up what type of potatoes you use, some have different textures and flavors
Frequently Asked Questions
Is this Potato Salad Gluten Free? Double check your mayonnaise, but as long as that says gluten free, you are good to go and YES, this recipe is gluten-free!
Do I have to peel the potatoes before I cook them? Nope, depending on what type you use (see paragraph above), you can definitely leave the skins on when making this.
Do I have to add hard boiled eggs? Nope! That is completely up to you, however, I must admit the hard boiled eggs add a TON of flavor and texture throughout.
How far in advance can I make the potato salad? You can make this the day before and it really allows the flavors to fuse together perfectly. Try not to make this too far in advance as it only lasts about 4 days in the refrigerator.
Can I freeze my leftovers? I wouldn't recommend it as the thawing process will change the texture and the dressing won't be as creamy.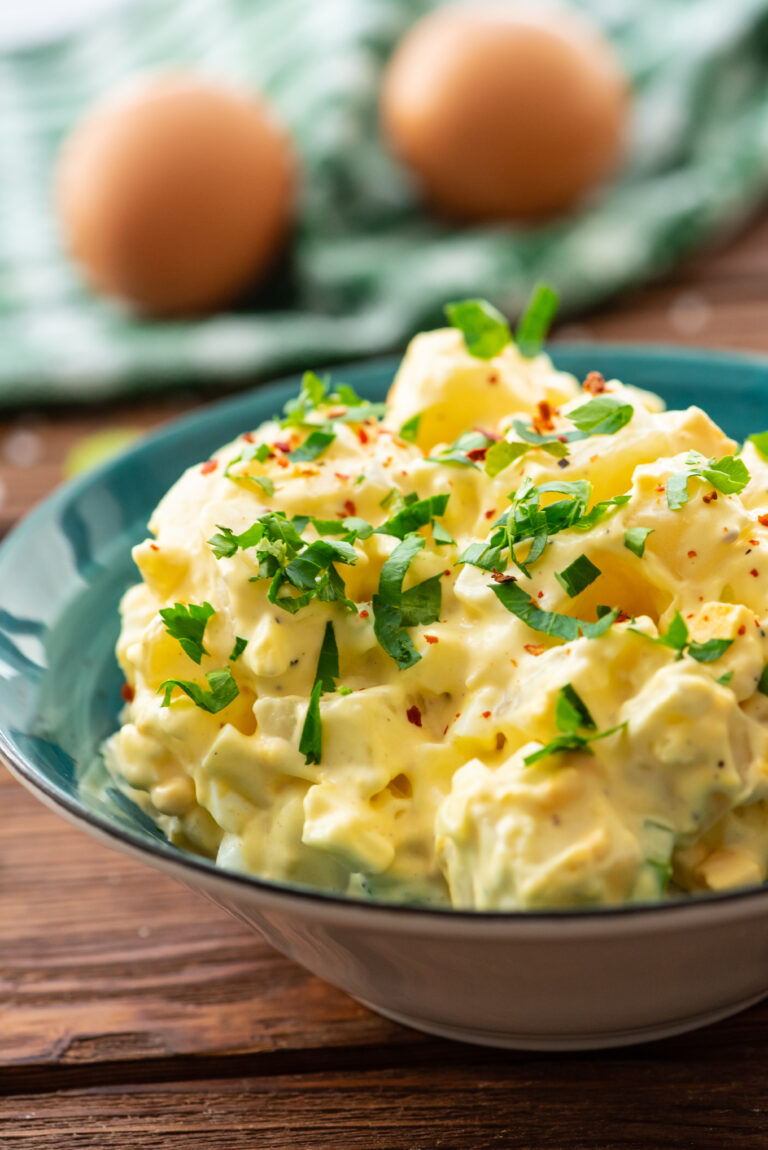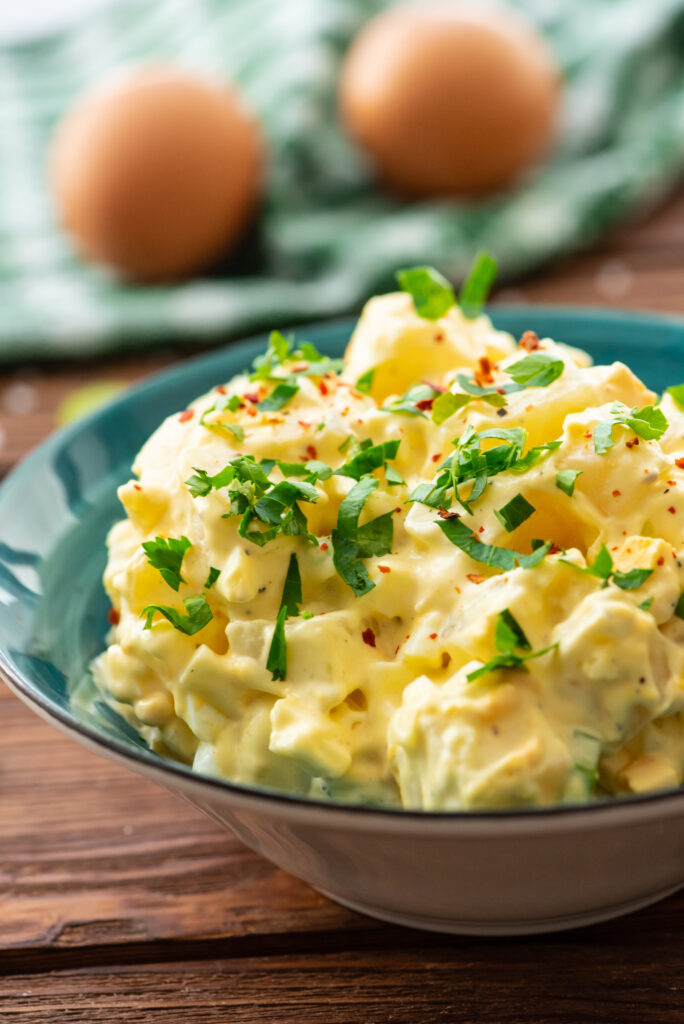 Making Ultimate Potato Salad Ahead of time
This salad is even better when it has time to chill in the refrigerator. Just like my pasta salad, the flavors really blend together wonderfully with extra time. I love to make this easy potato salad recipe early morning on the day I need it, or even the evening before. This gives it a minimum of 4+ hours to chill, which still allows plenty of time to enjoy the leftovers (if there are any)!
Storage
Store this in an airtight container in your refrigerator for up to 4 days. Due to the mayonnaise and other ingredients combined, I do not recommend keeping it past 4 days.
More Picnic/BBQ recipes to try
Pasta Salad– fresh and easy pasta salad packed with crisp vegetables, fresh mozzarella, and tossed with a simple dressing.
Easy Baked Beans– the perfect balance of sweet and smoky flavors with plenty of crispy bacon! Starting with a can of store-bought baked beans saves on time, but they will taste better than homemade when we are done!
Strawberry Pretzel Salad– a combination of sweet, salty and tart makes this irresistible.
Guacamole– just ripe avocados and a handful of flavorful mix-ins. Serve it as a dip at your next party or spoon it on top of tacos for an easy dinner upgrade.
Mexican Street Corn Casserole– a Mexican-inspired dish that's perfect for taco Tuesdays, summertime, and any time the cravings for Elote appear. This dish is full of delicious Mexican street corn spices, Queso fresco cheese, and cilantro.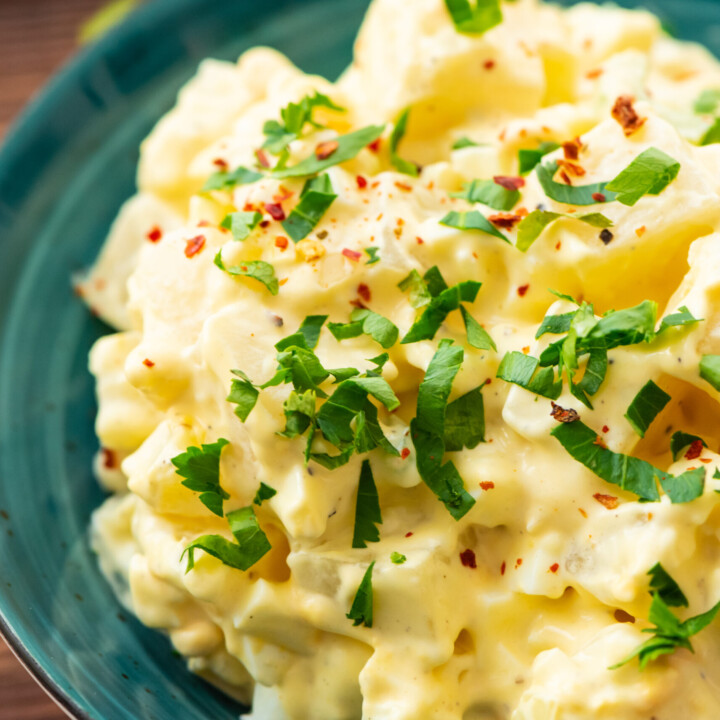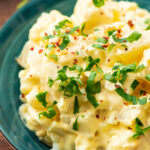 Print Recipe
The BEST Potato Salad Recipe
Classic Potato Salad made with Russet potatoes, hard boiled eggs, and a simple creamy dressing. This easy recipe has been a family favorite for years.
Ingredients
2

lbs

potatoes, (Russet) peeled/diced

1 1/2

cups

mayonnaise

1

tablespoon

white vinegar

1

tablespoon

yellow mustard

1

teaspoon

salt

1/2

teaspoon

black pepper

1/2

cup

onion, diced

1

cup

celery, diced

4

hard boiled eggs, chopped
Instructions
Boil potatoes until tender, drain. Do not overcook!

Cool potatoes and cut into cubes, or cut prior to boiling.

Mix mayo, vinegar, mustard, salt, and pepper in large bowl.

Add potatoes, celery, onion, and eggs, toss.

Cover and refrigerate until chilled (at least 4 hours)
Nutrition
Calories:
420
kcal
|
Carbohydrates:
22
g
|
Protein:
6
g
|
Fat:
34
g
|
Saturated Fat:
6
g
|
Polyunsaturated Fat:
19
g
|
Monounsaturated Fat:
8
g
|
Trans Fat:
1
g
|
Cholesterol:
111
mg
|
Sodium:
627
mg
|
Potassium:
569
mg
|
Fiber:
3
g
|
Sugar:
3
g
|
Vitamin A:
218
IU
|
Vitamin C:
23
mg
|
Calcium:
39
mg
|
Iron:
1
mg
Recipe updated 10/18/21