If you love onions and you love rice, then you'll LOVE this French Onion Rice! Only 4 ingredients needed to make this tasty side dish!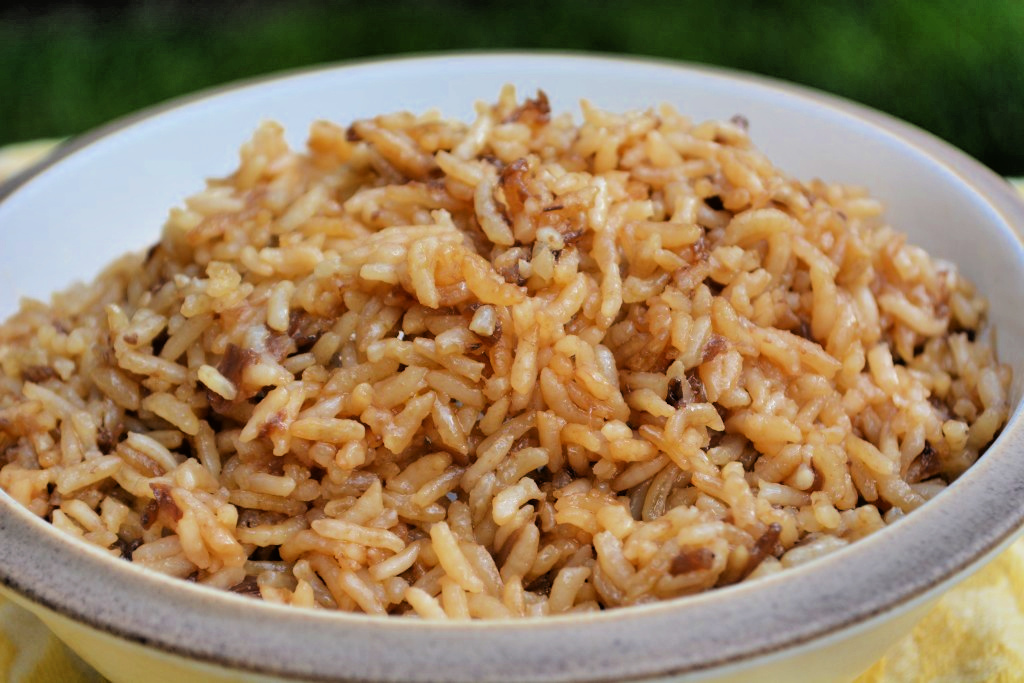 I have a struggle in my household. When it comes to making side dishes, rice is out. My kids don't like rice, my husband says it gets stuck in his throat and expands…even my dogs won't eat rice that falls on the floor. Clearly, I had my work cut out for me when it came to creating a RICE-based side dish that all would eat….and dare I say it, even enjoy!
Enter this recipe. It was one of 1,000 rice recipes I have tried, but something was definitely different with this one. It started with the idea that if we combine rice with things we do like (onions, french onion soup), maybe we could land on a rice dish everyeone would love. I came across this recipe and thought, "this is it, this is the winner".
Not all rice is created equal. French Onion Rice is possibly the most flavorful rice side I've ever prepared!
I proceeded to follow the recipe, dump all of the ingredients into the pan, throw it in the oven, and cross my fingers. Immediately, the smell is what we all noticed first. You can imagine my shock when my husband asked what smelled so delicious, and I told him RICE!!
We served this up with our main dish, and let me tell you, the rice was the first to go. There's my husband, NOT choking on rice. My kids, who wanted nothing to do with any rice dish minutes before that first bite, cleaned up every last grain of rice on their plates. Even my dog managed to sneak a few bites (although anybody dropping any of this on the floor was a rarity….nobody wanted to waste it!).
I'm telling you, this recipe will be your go-to rice side. It pairs well with most dishes, is so simple to make, and packs a ton of flavor that you'll have to fight for a second helping! I know in our family, the days of complaining about rice are over….we have this phenomenal dish at least once a week!
To add variety, try changing up your rice….long grain rice is called for, but basmati works well too and adds another dimension to the finished product. Additionally, if you want to make this rice a bit hardier, try adding mushrooms. I'm still fighting that battle in my house, but mushrooms would add a great twist as well.
I highly suggest you run, don't walk, to your pantry, get these ingredients out and whip up the best rice you'll ever cook!
This rice pairs perfectly with almost any dish, but be sure to check out these favorites for a successful pairing:
Want to change it up a bit?? Feel free to add in some mushrooms. If you don't have long grain rice, feel free to use basmati rice in this! You can even prep this ahead of time and simply place in the oven when ready to enjoy! So many options, all the same greast flavor!
Ingredients needed:
1 cup uncooked white rice (not instant)
1 ( 10 oz) can condensed French Onion soup
1 (10 oz) can beef broth
1/2 cup butter, sliced
Using Campbells French Onion Soup from the store, this dish is a dump and go, one pan recipe! Be sure to print it below!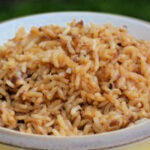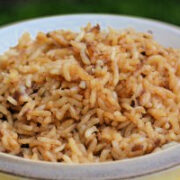 Print Recipe
French Onion Rice
If you love onions and you love rice, then you'll LOVE this French Onion Rice! Only 4 ingredients needed to make this tasty side dish!
Ingredients
1

cup

long grain rice

(not Instant)

10

oz

Campbells French Onion Soup

10

oz

beef broth

1/2

cup

butter

*sliced
Instructions
In an 8×8 baking dish, combine the rice, soup and broth.

Add in the cut butter slices on top of rice mixture.

Cover baking dish with tin foil and bake in a preheated oven, 425, for about 25 minutes.

Remove tin foil and continue baking an additional 20-25 minutes, or until rice is tender and liquid is absorbed.
Nutrition
Calories:
268
kcal
|
Carbohydrates:
27
g
|
Protein:
4
g
|
Fat:
16
g
|
Saturated Fat:
10
g
|
Polyunsaturated Fat:
1
g
|
Monounsaturated Fat:
4
g
|
Trans Fat:
1
g
|
Cholesterol:
43
mg
|
Sodium:
556
mg
|
Potassium:
275
mg
|
Fiber:
1
g
|
Sugar:
2
g
|
Vitamin A:
473
IU
|
Calcium:
24
mg
|
Iron:
1
mg