This healthy Cilantro Lime Grilled Chicken is simple to prepare and packed with flavor! Low carb, Keto friendly, and perfect for summer!!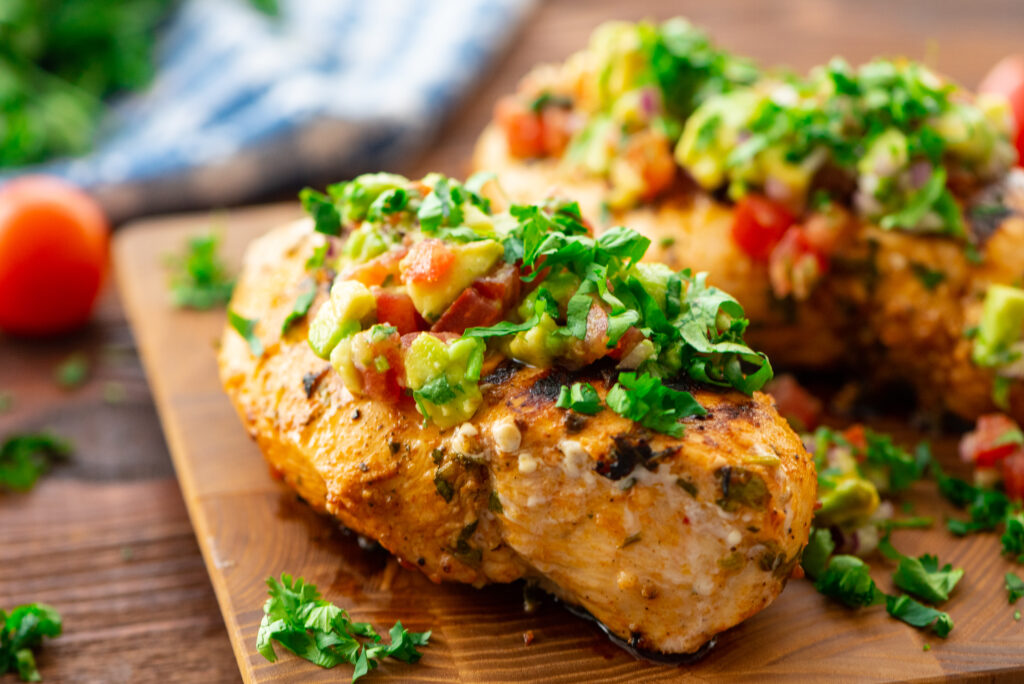 Oh boy, even just thinking about this dish makes my mouth water! I will go on record and say this may just be the best chicken I have ever had. Impressive statement, right?!
Last week, I was browsing through Pinterest when I came across a recipe for Avocado Chicken. It looked incredible and I knew I had to try it. I had most ingredients on hand, but ended up omitting some, adding some, and tweaking it to our preferred combination!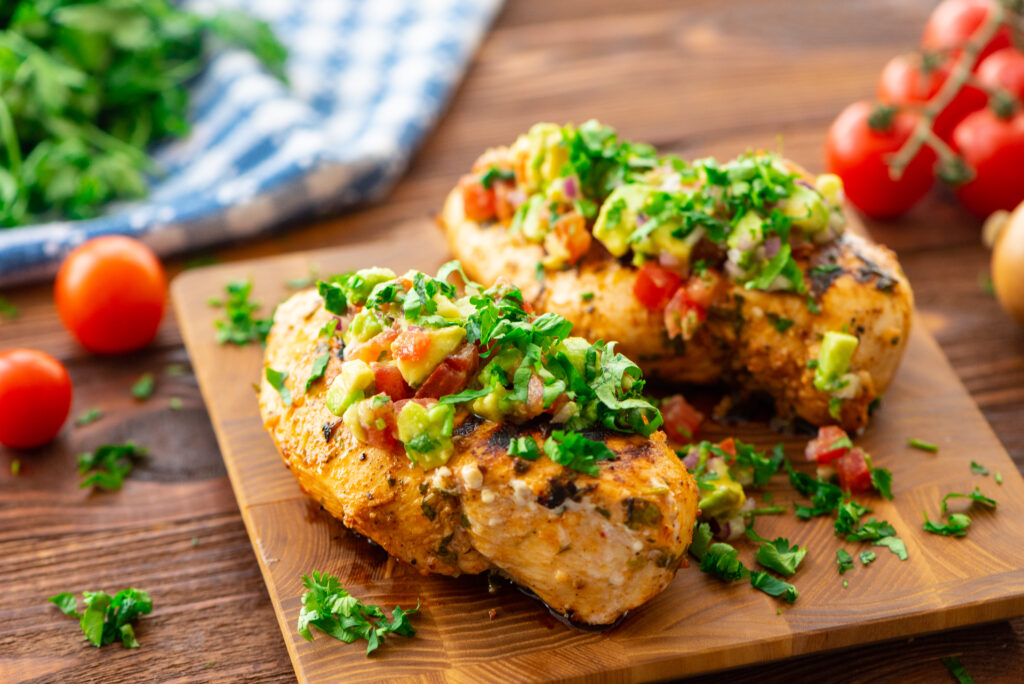 I bought some chicken at the grocery store in the morning, came home and quickly prepared the marinade. Tossed them together and placed in the refrigerator all day. Come dinnertime, my hubby grilled the chicken while I made the topping!
This Cilantro Lime Grilled Chicken is easy to prepare and packed with flavor!
Super simple, flavorful, and quite healthy! The topping really added a nice flavor and made it refreshing and light tasting. It was basically guacamole, but chopped rather than mashed! Even my kids enjoyed this, which was great because they were eating tomatoes, avocado, onion, and more without complaints, hehe!
With it being summer in Houston, it is HOT! By hot I mean, sticky humid, feels like a sauna, and even our swimming pool now feels like bath water due to being so warm. We have been trying to focus on more grilled foods to keep the heat out of the house! Plus, we have been trying to eat a little healthier (I love sweets, so I'll never go entirely healthy, hehe).
A great side dish to this is my Honey and Cinnamon Sweet Potatoes! You can throw them on the grill with the chicken to make it an easier cook!
check out these other favorite sides, sure to be a hit with your family and friends!
After trying this, I immediately called my mom and said they needed to come over next week so we could make this again, but with them too! Stay tuned for my parents feedback, I bet they love it too!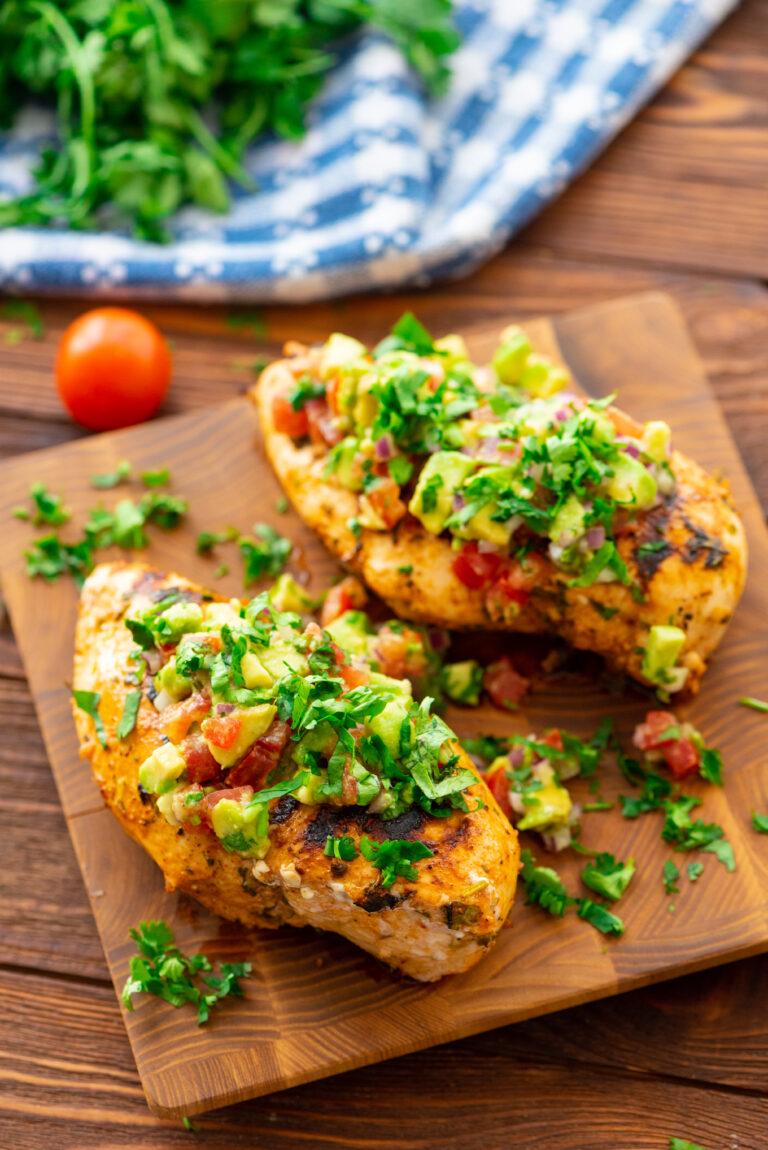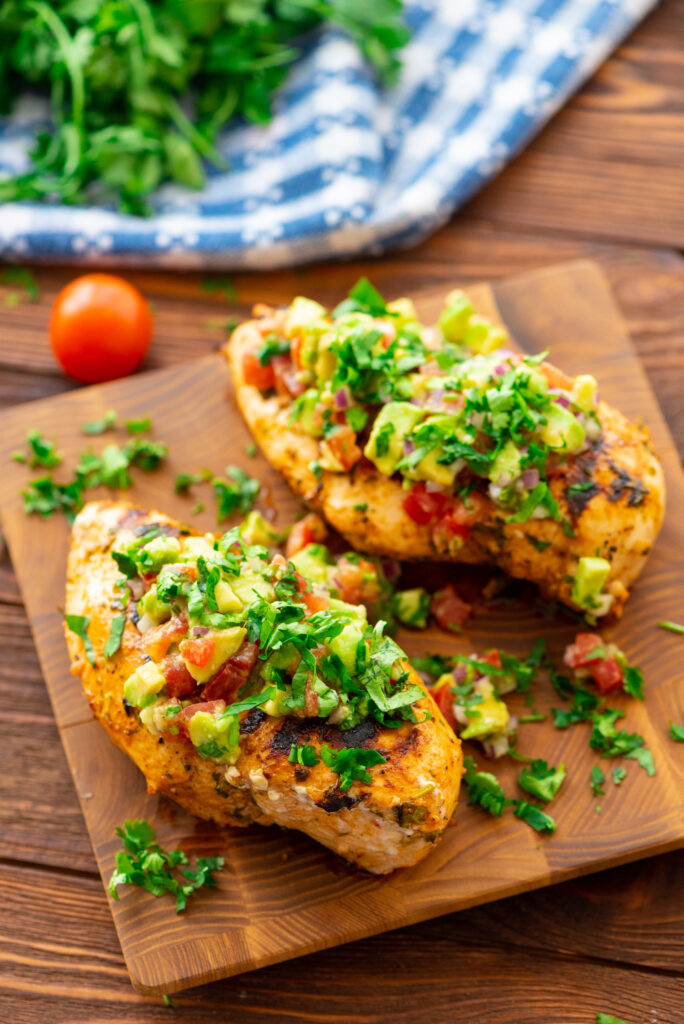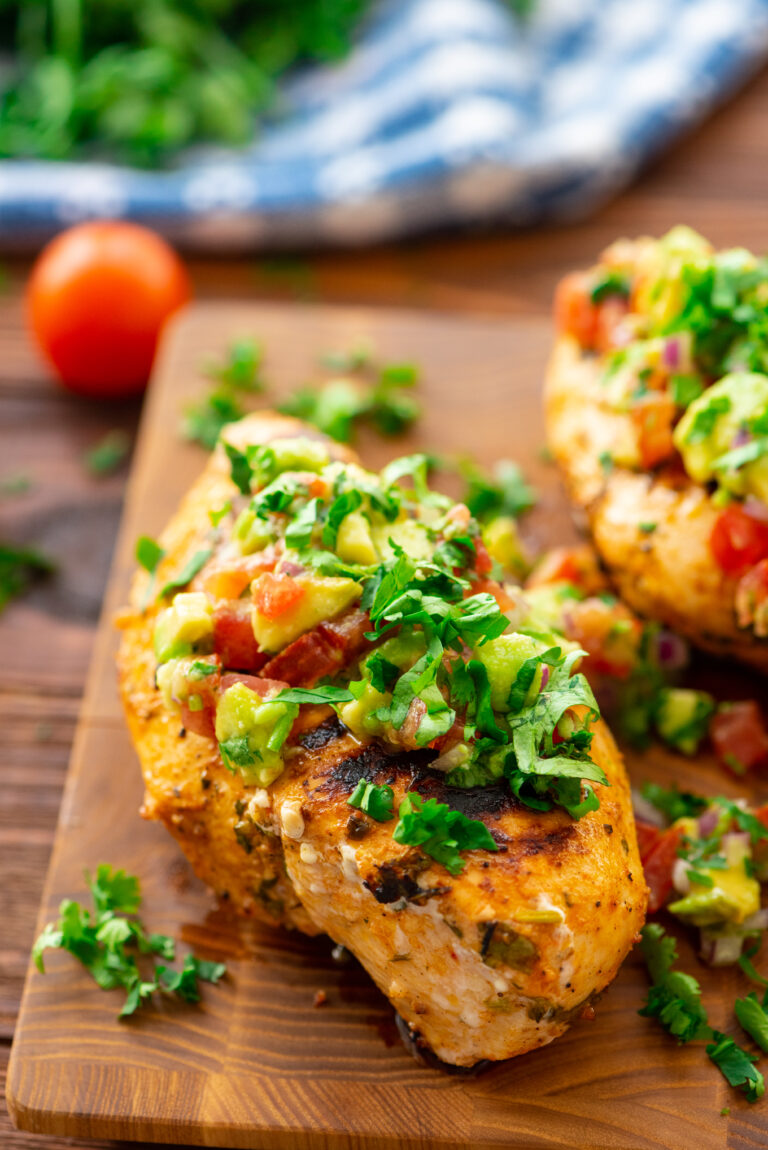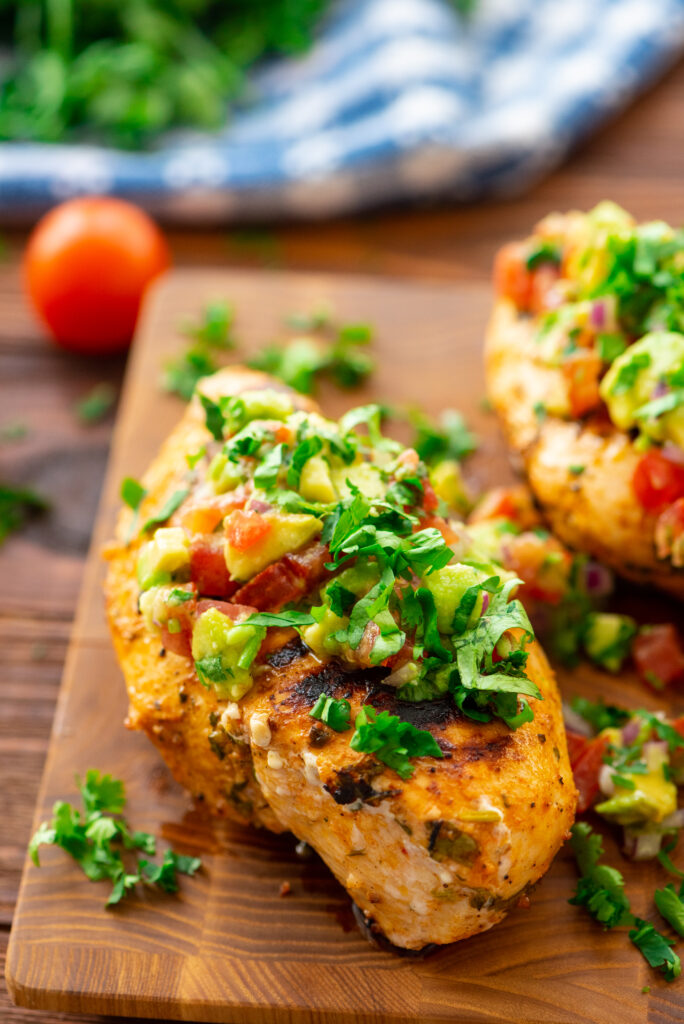 If you don't like onion, or want to kick up the heat….omit some onion, add in some jalapeno, etc. Change it up to fit your tastes!
Enjoy this Cilantro Lime Grilled Chicken and let me know what you think!! While you're here, scroll below and sign up for my newsletter! You'll never miss a great recipe again! Plus, I do monthly giveaways for my subscribers only!
Make sure to check out my recipe card below for a list of my favorite tools, and to print a copy of the recipe for future use!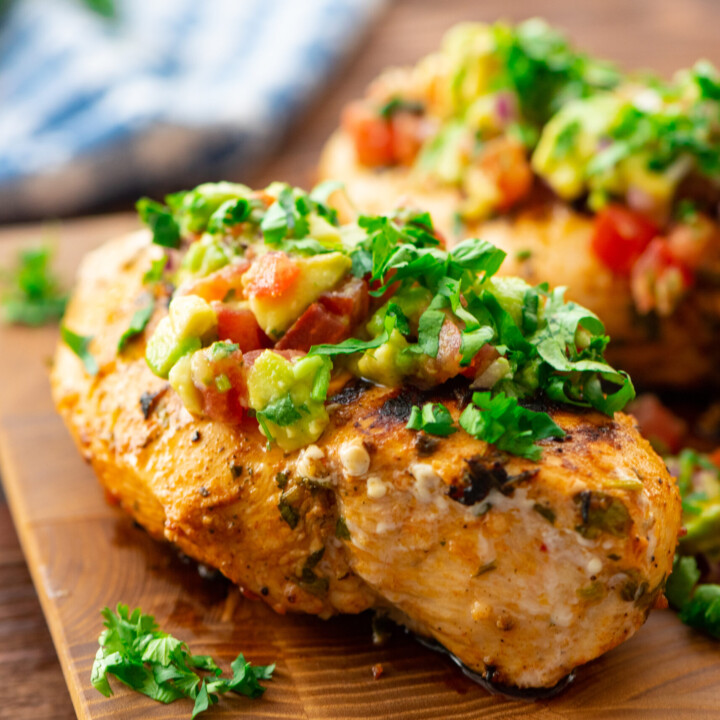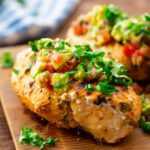 Print Recipe
Cilantro Lime Grilled Chicken
This healthy Cilantro Lime Grilled Chicken is simple to prepare and packed with flavor! Low carb, Keto friendly, and perfect for summer!!
Ingredients
1-2

lbs

chicken breasts, boneless/skinless

MARINADE

4

garlic cloves, minced

3

tablespoon

olive oil

1/4

cup

cilantro, chopped

3

tablespoon

lime juice

1/2

teaspoon

cumin

1/2

teaspoon

paprika

1/2

teaspoon

salt

1/2

teaspoon

pepper

TOPPING

3

avocados, diced

1

tomato, diced

1/2

red onion, chopped

1/4

cup

cilantro, chopped

2

tablespoon

lime juice
Instructions
In a bowl, combine the garlic, olive oil, cilantro, lime juice, cumin, paprika, salt, and pepper.

Place chicken breasts and marinade into a large Ziploc bag or into the bowl of marinade, tossing to coat thoroughly.

Refrigerate until ready to grill (at least 1 hour of marinating is best).

Grill chicken over medium heat for about 6 minutes per side, or until no longer pink/cooked through.

While chicken is cooking, combine the avocado, tomato, red onion, cilantro, and lime juice in a bowl.

To serve, place chicken breast on plate with desired amount of topping over it.
Nutrition
Calories:
486
kcal
|
Carbohydrates:
18
g
|
Protein:
28
g
|
Fat:
36
g
|
Saturated Fat:
5
g
|
Cholesterol:
73
mg
|
Sodium:
438
mg
|
Potassium:
1269
mg
|
Fiber:
11
g
|
Sugar:
3
g
|
Vitamin A:
768
IU
|
Vitamin C:
29
mg
|
Calcium:
35
mg
|
Iron:
2
mg