Smoked Sweet Potatoes come together in no time using the convenience of your smoker! Tender potatoes with a crispy skin that peels off with no effort!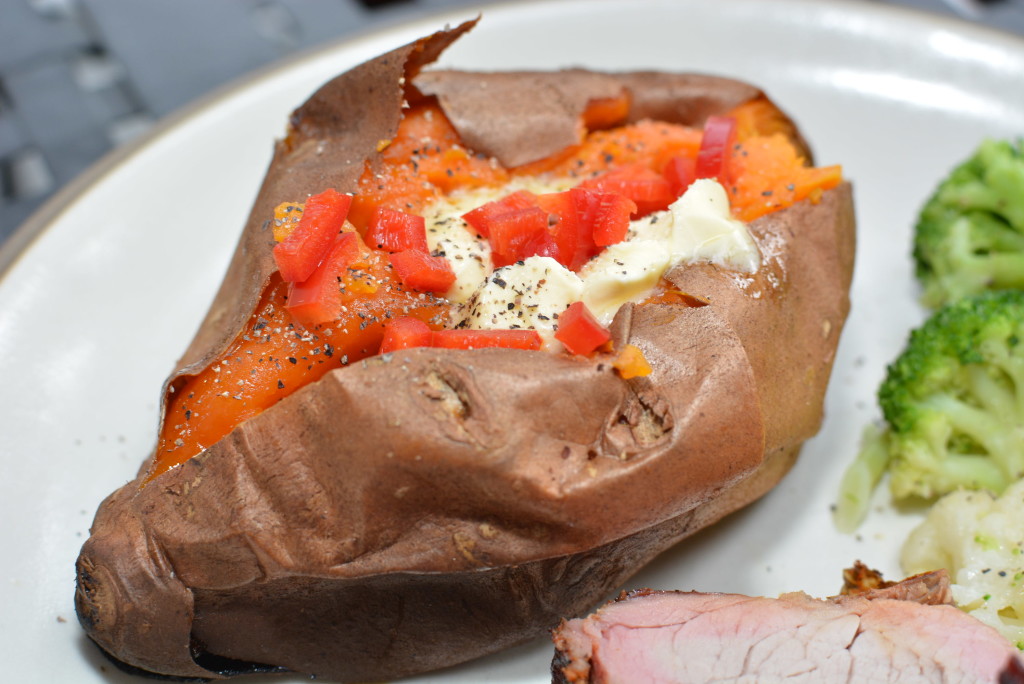 You're probably thinking to yourself "smoked sweet potatoes, really"?? But, let me tell you….these are amazing!!! Seriously, incredibly simple to prep, the smoker does all the work, you can top them as desired, and the flavor is much more enhanced through the wood chips compared to cooking them via oven, stove, or even grill!!! If you have access to a smoker, I highly recommend trying this!!
My hubby was smoking a pork shoulder a few weeks back and I mentioned how I was in the mood for sweet potatoes as a side dish. He threw out the idea of trying to put them on the smoker and although I was a bit hesitant, I went ahead with it. Turns out, my hubby did a great job and his idea was definitely a new favorite of mine! With summer coming up, I see a lot of grill/smoker usage coming up and this will surely be made again….and again….and again, haha!!
Enjoy!!
Smoked Sweet Potatoes are a simple to make, flavorful side dish that pairs perfectly with any meal! Print the recipe below and be sure to give these a try!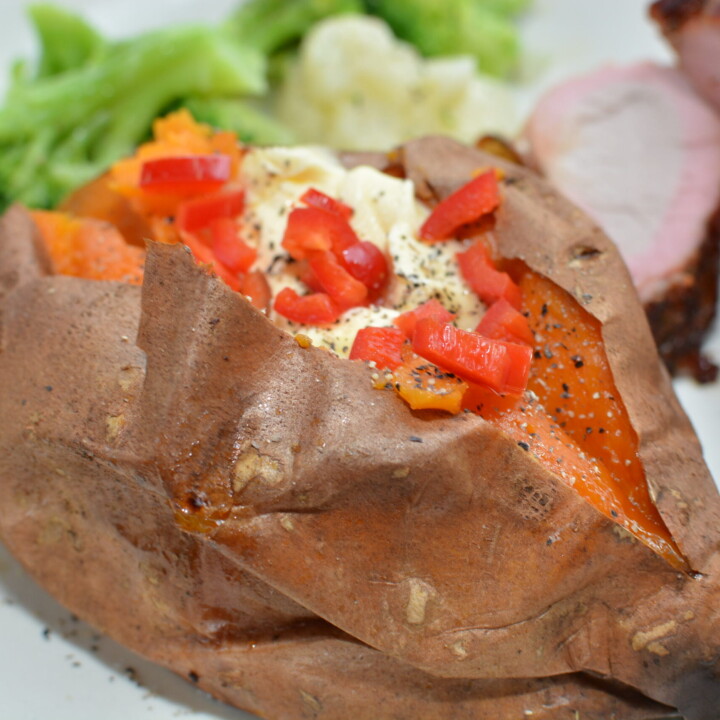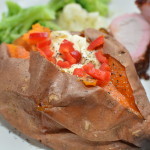 Print Recipe
Smoked Sweet Potatoes
If you love sweet potatoes, this is a must try version!! The wood chips add a flavor that really compliments the potato!! Top with desired toppings and you have a side dish (or meal) that is amazing!!
Ingredients
4

Sweet Potatoes, rinsed/dried

Butter

Toppings of choice (diced red pepper, brown sugar, salt, pepper, etc)
Instructions
Preheat smoker to 375 degrees.

Place potatoes on smoker (no need for foil) and allow to cook for about 1 hour (if smaller/bigger) you may need to adjust timing.

Remove from smoker and slice tops open.

Top with desired toppings.
Nutrition
Calories:
194
kcal
|
Carbohydrates:
45
g
|
Protein:
4
g
|
Fat:
1
g
|
Saturated Fat:
1
g
|
Polyunsaturated Fat:
1
g
|
Monounsaturated Fat:
1
g
|
Sodium:
124
mg
|
Potassium:
762
mg
|
Fiber:
7
g
|
Sugar:
9
g
|
Vitamin A:
32063
IU
|
Vitamin C:
5
mg
|
Calcium:
68
mg
|
Iron:
1
mg