Pork is the swiss army knife of proteins. You can grill it, bake it, boil it, dehydrate it, turn it into jerky, or my personal favorite, smoke it! Smoked Pork Tenderloin ends up moist and mild, with a characteristic smokiness. Just look at that smoke ring!
Few things in life are as satisfying as starting a smoker filling the back patio with mesquite. We are fortunate enough to have a Traeger pellet smoker. If you haven't heard of one, it burns little wood pellets as fuel. These pellets feed into the smoker at a specific rate. An onboard computer controls the rate to maintain a specific temperature that is set on the grill (or app!).
Traeger Grills pioneered this tech, and has been manufacturing pellet grills / smokers / patio heaters / wood burning stoves for years. Their newest line of technology incorporates well designed electronics to put control of your grill precisely at your fingertips. No need for guessing or checking, our smoker will run for days at a time, given we keep it fed with pellets!
A smoker slowly cooks your protein while ensuring moisture and flavor is retained!
Anyway, enough history and sales pitch (you really should buy a pellet smoker, take my word for it!). My husband loves to smoke anything he can think of on his Traeger. He's even smoked water (for the most amazing smoked ice for bourbon!). We were cleaning out our deep freezer, and came across a pork tenderloin, so decided a Saturday dinner of smoked sweet potatoes, fresh veggies, and of course the show stopper Smoked Pork Tenderloin was appropriate.
Pork just loves to be smoked, it really absorbs the smoky flavors from the burning wood, and you can really see it. The pink ring around the outside of the pork in the picture below is the smoke ring, and where all of that wonderful smoky flavor resides!
There's nothing better than perfectly smoked meat. This Smoked Pork Tenderloin is a great recipe to come back to again and again!
Once we fired up the smoker, we seasoned the pork and threw it on the grill…just a few hours later, we had the tenderloin to a perfect 145 degrees….let it rest for 10 minutes or so, then slice and devour!
If you're looking for other smoker recipes, check out some of my favorites below!
Enjoy!!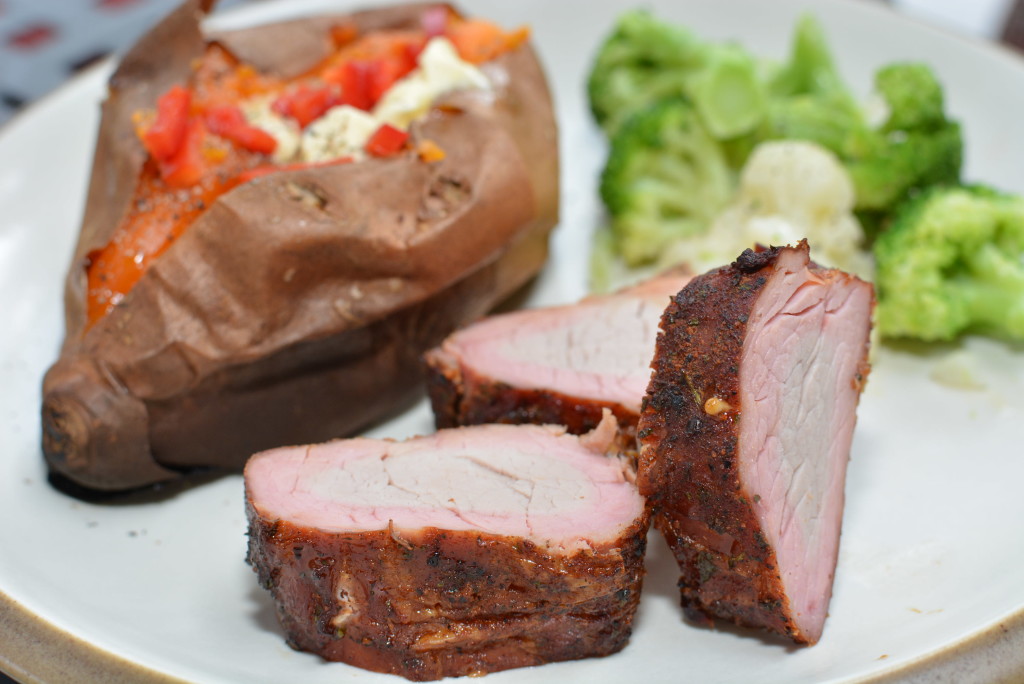 run, don't walk, to your local meat market or grocery store, grab a pork tenderloin, and print out the recipe below to get started!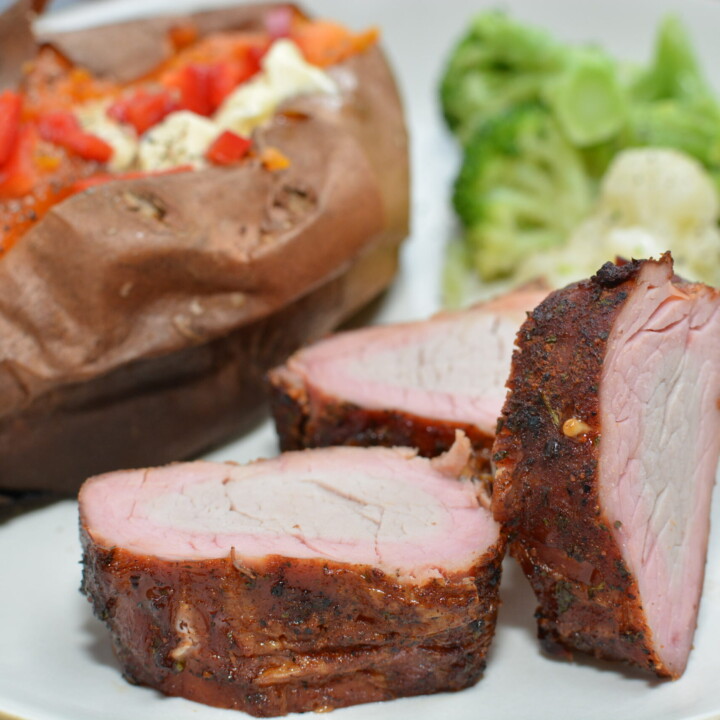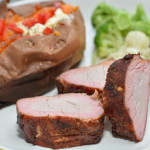 Print Recipe
Smoked Pork Tenderloin
This moist tenderloin is mouthwatering delicious! Tender, full of flavor, and simple to prep....let the smoker do all the work!!
Ingredients
2

lb

Pork Tenderloin

4

tablespoon

Seasoned Meat Rub (I use Chupacabra Rub)

1/2

cup

Apple Juice/Cider
Instructions
Brush the apple juice generously over all sides of the tenderloin.

Sprinkle seasoning (add more if desired) all over meat and rub in.

Preheat smoker to 225 degrees.

Place tenderloin on grates and close smoker lid.

Allow meat to cook for 2 1/2- 3 hours, or until internal temperature reaches at least 145 degrees (medium rare). Spritz every hour or so with apple juice.

Remove tenderloin from smoker and allow to rest for 5 minutes before slicing/serving!