Indulge in this mouthwatering Teriyaki Chicken Casserole Recipe that's both effortless and bursting with flavor. This simple yet flavor-packed casserole features an incredible combination of vegetable stir fry, rice, chicken, and a flavorful homemade Teriyaki sauce. Perfect for busy weeknights, this savory dish guarantees to be a family favorite!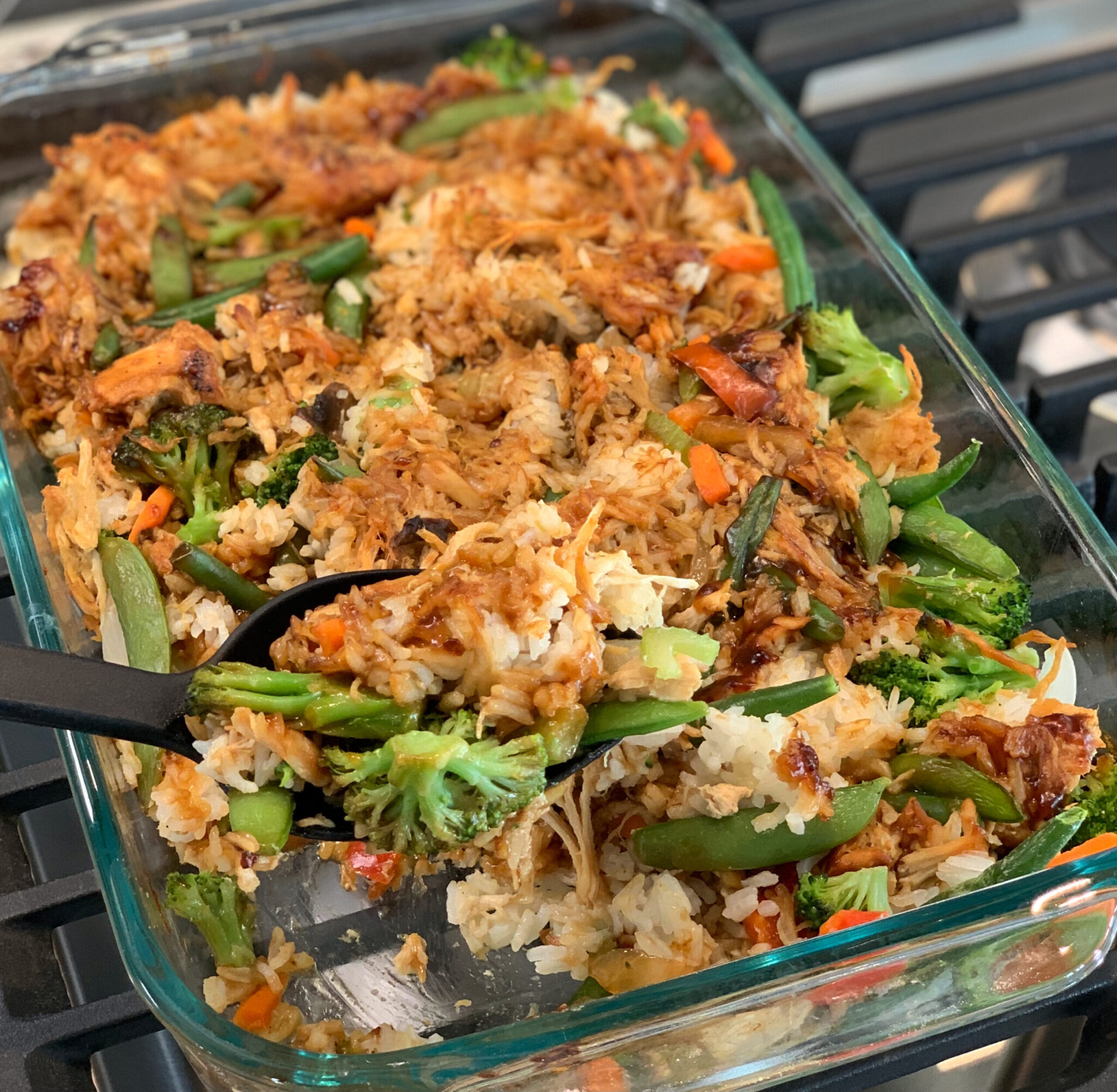 During the busy school months, casseroles are my go to meals to add to the menu. They typically are easy to make, loaded with flavor, and offer lots of variety. If you are a casserole lover like myself, also make sure you try my Ultimate Chicken Casserole, Creamy Chicken and Rice Casserole, and Chicken Bacon Ranch Casserole! All three are blog favorites!
Why You'll Love this Chicken Teriyaki Casserole
Quick and Easy to Prepare– from start to finish, you can have this easy casserole on the table in only 30 minutes.
Packed with Flavor– creating a homemade Teriyaki sauce boosts the flavors tremendously versus store bought. Tender rice, vegetables, and chicken combine to create a meal the entire family will love.
Leftovers Reheat Perfectly– if you're lucky enough to have leftovers, they reheat perfectly and are just as delicious for lunch the next day, or another dinner!
Can be Adapted to Fit Desired Tastes– you can change up the vegetables to fit your tastes, add more or less of the homemade Teriyaki sauce, and truly make this meal your own!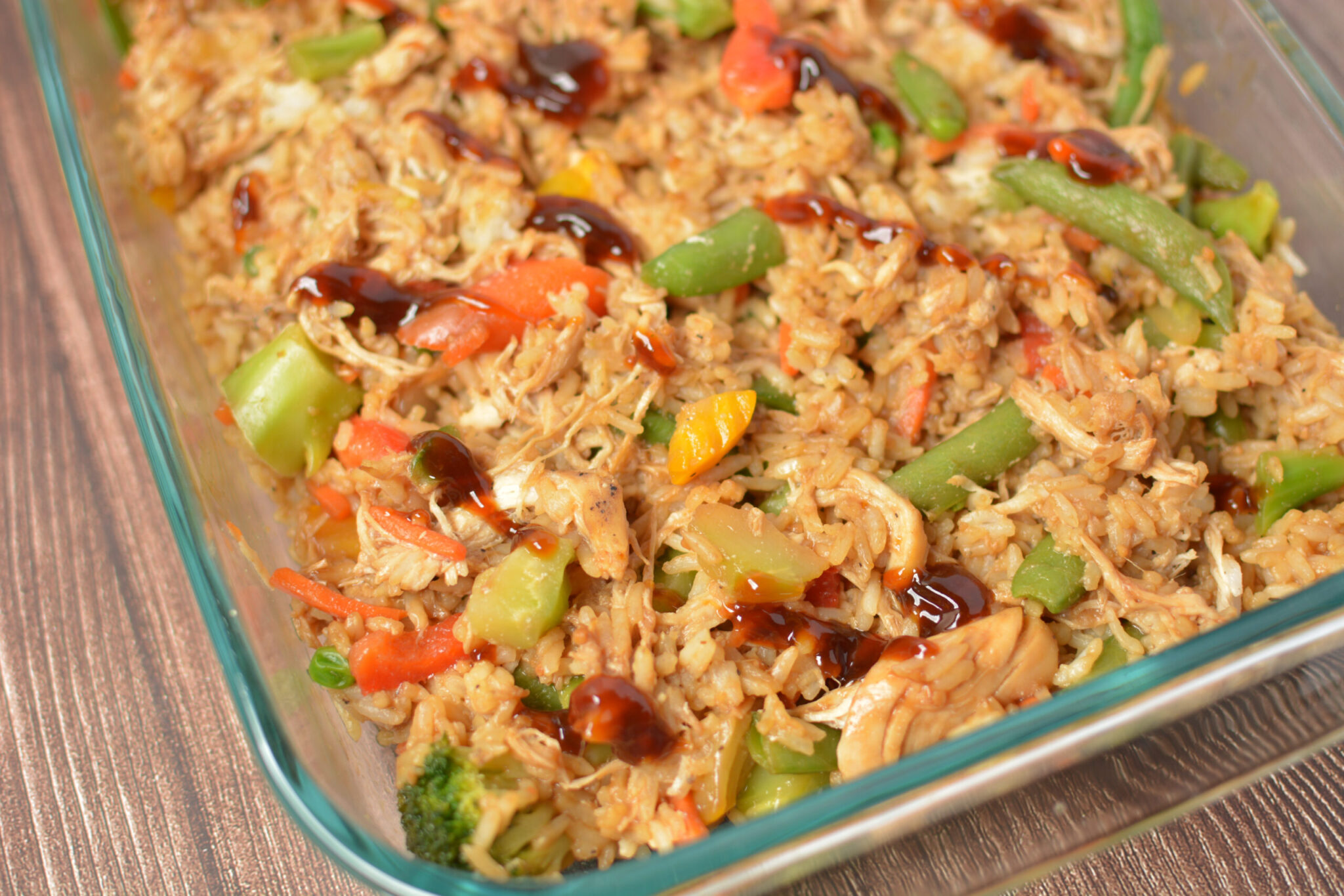 Ingredients for this Teriyaki Chicken Casserole Recipe
See printable recipe card below for exact ingredient amounts and step by step directions.
Soy Sauce- I use low sodium to cut down on the saltiness, this adds a salty and sweet addition to the sauce
Water- needed for the sauce
Brown Sugar- adds sweetness to the Teriyaki sauce, use light or dark
Ground Ginger- this is the perfect spice to add to Asian dishes, I use ground versus grated
Minced Garlic- I love using shortcut minced garlic from the store, however, fresh works great too
Cornstarch- helps thicken the sauce when combined with water to form a slurry
Chicken Breast- cooked and shredded or diced. I love using Rotisserie Chicken when I am short on time, or keeping a bag of cooked/shredded chicken in my freezer for recipes such as this one.
Vegetables- cooked. stir fry veggies or veggies of choice (you can find Asian Stir Fry veggies in the frozen section of your grocery store)
Rice– cooked, I use Jasmine rice, however, brown rice or any other type works great too
Variations
Change up the vegetables to fit desired tastes. Options such as kidney beans, asparagus, peas, bell peppers, green onions, mushrooms, or water chestnuts work great.
Buy an already made Teriyaki sauce or glaze from the store and eliminate the homemade version.
Use ground beef or cut up steak in place of chicken.
Quinoa or brown rice can be used in place of the white rice.
Chicken Thighs are a good option in place of boneless skinless chicken.
Fried Rice works great in this recipe!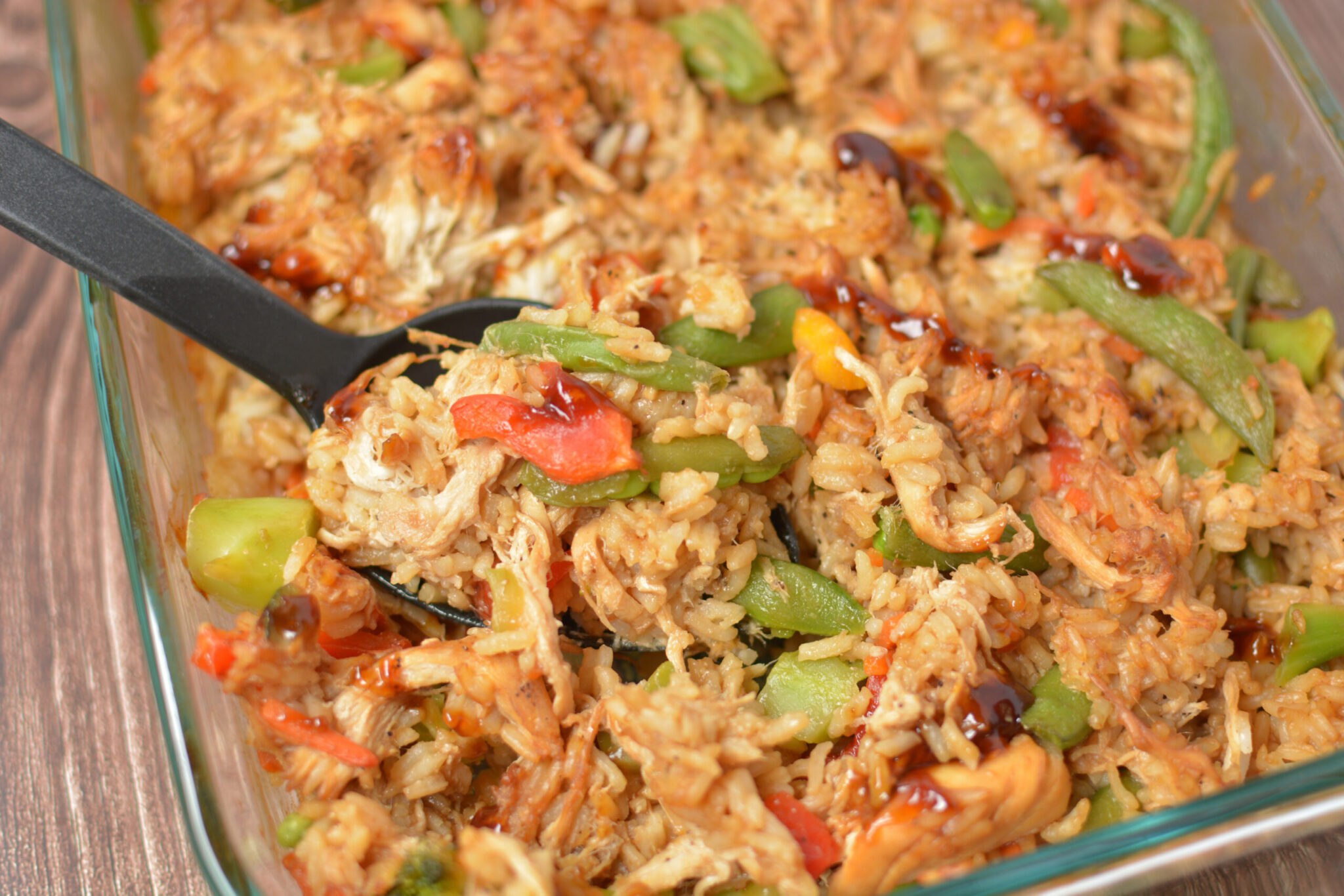 How to make Teriyaki Chicken Casserole
Grease a 9×13 baking dish and preheat oven to 350 degrees.
In a saucepan, combine the soy sauce, water, brown sugar, ginger, and garlic.
Over medium heat, cover and bring mixture to a boil.
Meanwhile, combine the 2 tablespoon water and cornstarch together in a small bowl.
Stir cornstarch mixture into boiling soy sauce mixture and stir until sauce thickens up.
Remove from heat and set aside.
Add shredded chicken, cooked vegetables, and cooked rice to your casserole dish. Stir to combine.
Pour teriyaki mixture evenly on top of pan and stir to coat entirely.
Place pan into preheated oven and cook 20 minutes.
Remove and serve! *You can add a splash of soy sauce or some additional Teriyaki sauce prior to serving if desired.
Storing Chicken Teriyaki Casserole
This meal not only makes a great dinner option, but it also can be a wonderful freezer meal option! Whether you choose to store in your freezer, or give to a friend/neighbor, here are some storage tips!
Prepare in Advance– this casserole can be fully assembled, just not baked, up to 24 hours in advance and stored in the refrigerator.
Leftovers– store in an airtight container in the refrigerator up to 4 days. Reheat in microwave when ready to serve or reheat using over, 325 degrees for about 20 minutes..
Freezer– this casserole is best frozen BEFORE baking. Simply cover the pan with tin foil or a cover and place in freezer up to 1 month. Thaw overnight and prepare as directed in recipe.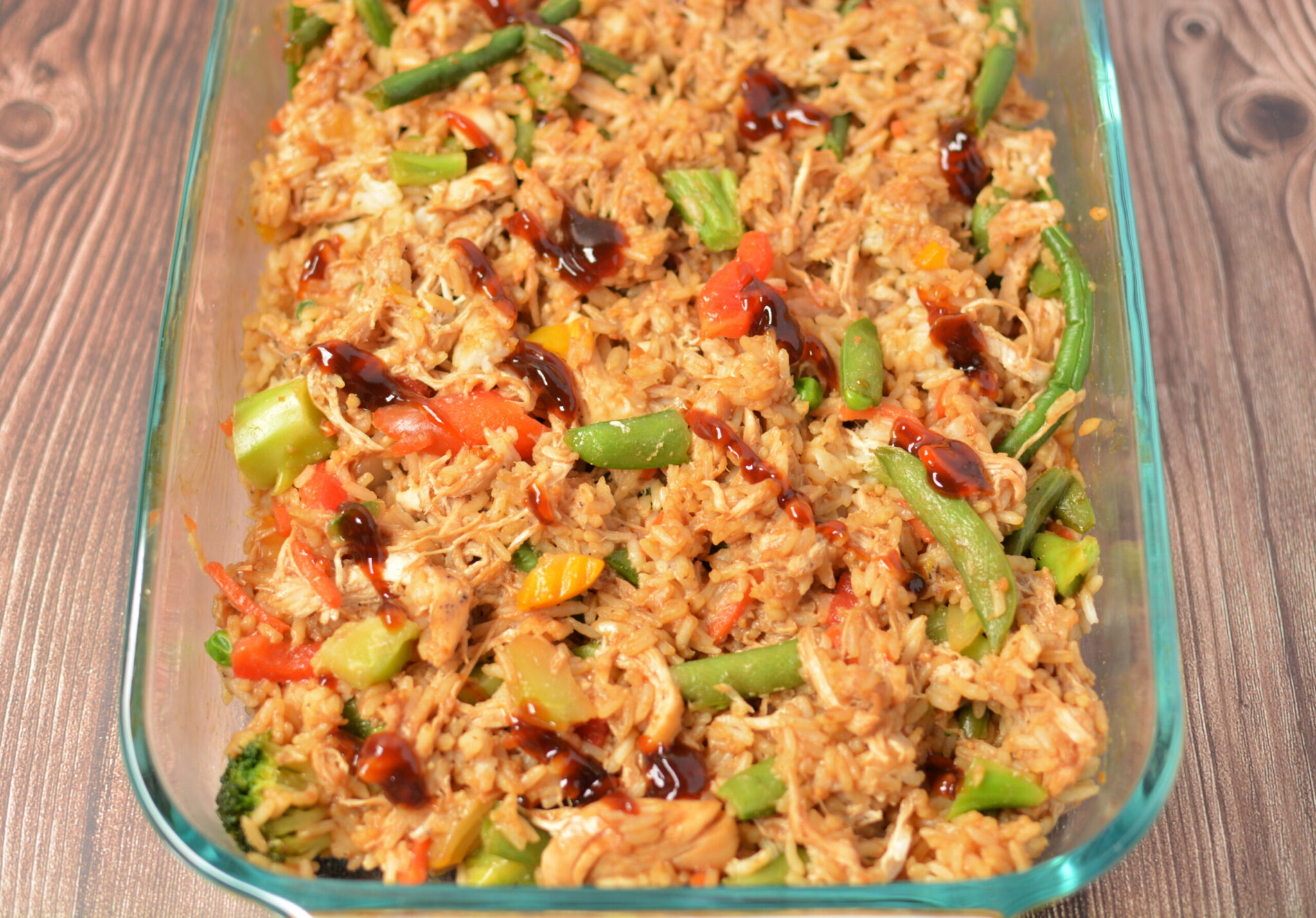 Frequently Asked Questions
Is Teriyaki Chicken healthy?
Absolutely! Since you are making the Teriyaki sauce from scratch, you can control a lot of the ingredients! Add in protein such as cooked chicken breasts, veggies, and rice are healthy additions too! Especially if using brown rice or Quinoa.
If I don't want to make homemade Teriyaki, which store bought version do you recommend?
I have tried several versions and love them all. My go to versions are low sodium and especially THIS organic one!
Can I halve this recipe so it doesn't make as much?
Absolutely! If cutting recipe in half, you will want to make it in an 8×8 baking dish.
Can I use the sauce recipe to make an easy Teriyaki chicken instead?
Absolutely! Create the sauce as directed and pour over some baked or grilled chicken breasts instead of adding to this casserole.
How do I adapt this recipe to be made in the slow cooker?
Add all ingredients as directed to the bottom of your slow cooker. Place lid on and cook on low for about 4 hours. Scoop and serve!
What is an easy way to cook the chicken for this recipe?
I love using Rotisserie chicken for my casseroles, however, I also love taking several chicken breasts and placing them in my slow cooker. Add about 1-2 cups of chicken broth depending on how many chicken breasts you added. Season as desired with salt, pepper, or an all-purpose seasoning. Cook on low 6-8 hours, or high for about 4 hours. Shred and allow to fully cool before storing in refrigerator or freezer.
What is your go to method to cook rice?
I love using my Instant Pot! The rice turns out fluffy and perfect each and every time! Instant Pot Jasmine Rice is a family fav!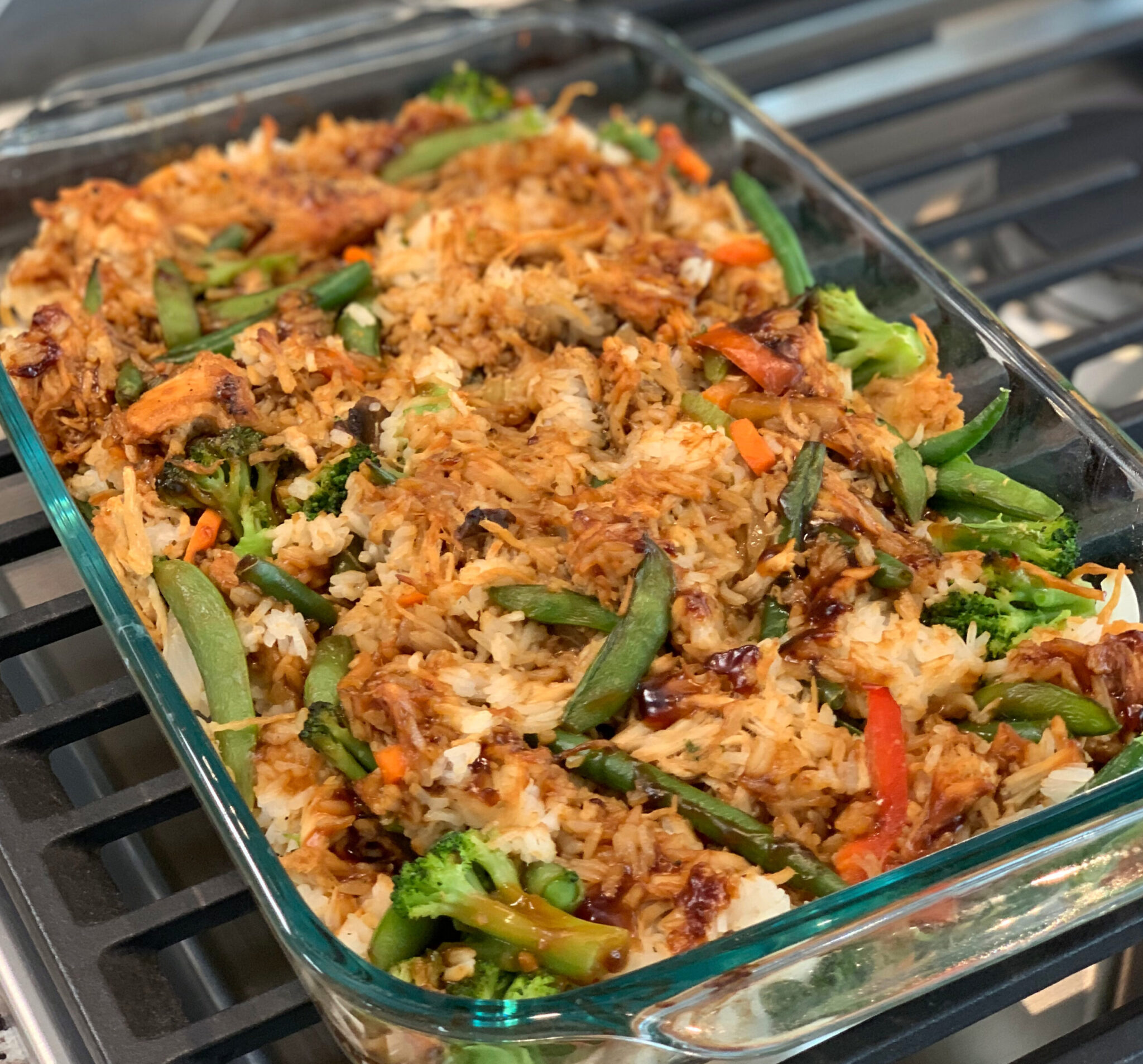 More Casserole Recipes to try
Melt in Your Mouth Chicken Bake a Quick and Easy Family Dinner Idea! Enjoy diced chicken, coated in a creamy Parmesan mayonnaise sauce, baked to perfection. It's juicy, tender, and ideal for any occasion! Serve over pasta, zoodles, rice, or on it's own!
Sloppy Joe Biscuit Casserole recipe is an easy, family-friendly, and delicious twist on the classic comfort food. This delectable dish combines the savory goodness of Sloppy Joes with the comforting flakiness of biscuits, creating a homemade casserole that's easy to make and impossible to resist.
Biscuits and Gravy Breakfast Casserole comes together using only 7 simple ingredients! Combining biscuits with breakfast sausage, eggs, white peppered gravy, and cheese, this hearty meal is a must try!
BEST EVER Tuna Noodle Casserole is a creamy, cheesy, packed with flavor, and a classic recipe the entire family will enjoy!
Cheeseburger French Fry Casserole is a one pan meal packed with flavor! Beef, cheese, a ketchup/mustard sauce, and fries…comfort food at its finest!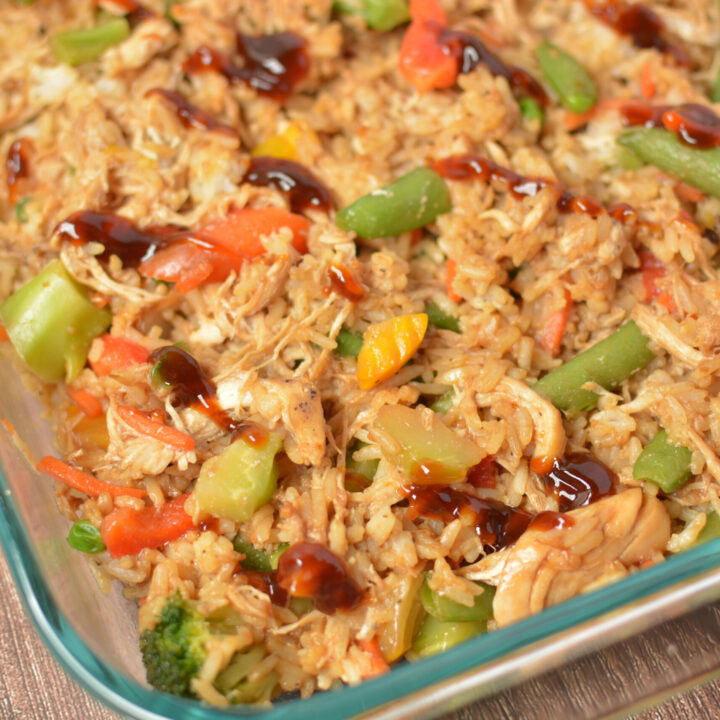 Print Recipe
Easy Teriyaki Chicken Casserole Recipe
Experience the ultimate flavor explosion with this easy Teriyaki Chicken Casserole Recipe, featuring a delightful blend of shredded chicken, vegetable stir fry, and a homemade Teriyaki sauce.
Ingredients
3/4

cup

soy sauce

1/2

cup

water

1/4

cup

brown sugar

3/4

teaspoon

ground ginger

1

teaspoon

minced garlic

2

tablespoon

water

2

tablespoon

cornstarch

1

lb

chicken breast, cooked/shredded

12

oz

frozen vegetables (cooked)

*stir fry veggies or veggies of choice

3

cups

rice, cooked
Instructions
Grease a 9x13 baking pan and preheat oven to 350 degrees.

In a saucepan, combine the soy sauce, water, brown sugar, ginger, and garlic.

Over medium heat, cover and bring mixture to a boil.

Meanwhile, combine the 2 tablespoon water and cornstarch together in a small bowl.

Stir cornstarch mixture into boiling soy sauce mixture and stir until sauce thickens up.

Remove from heat and set aside.

Add shredded chicken, cooked vegetables, and cooked rice to your prepared pan.

Pour teriyaki mixture evenly on top of pan and stir to coat entirely.

Place pan into preheated oven and cook 20 minutes.

Remove and serve! *You can add a splash of soy sauce prior to serving if desired
Nutrition
Serving:
1
cup
|
Calories:
423
kcal
|
Carbohydrates:
71
g
|
Protein:
23
g
|
Fat:
4
g
|
Saturated Fat:
1
g
|
Cholesterol:
43
mg
|
Sodium:
1284
mg
|
Potassium:
355
mg
|
Fiber:
3
g
|
Sugar:
7
g
|
Vitamin A:
2183
IU
|
Vitamin C:
5
mg
|
Calcium:
47
mg
|
Iron:
2
mg