BEST EVER Tuna Noodle Casserole– creamy, cheesy, packed with flavor, and a classic recipe the entire family will enjoy!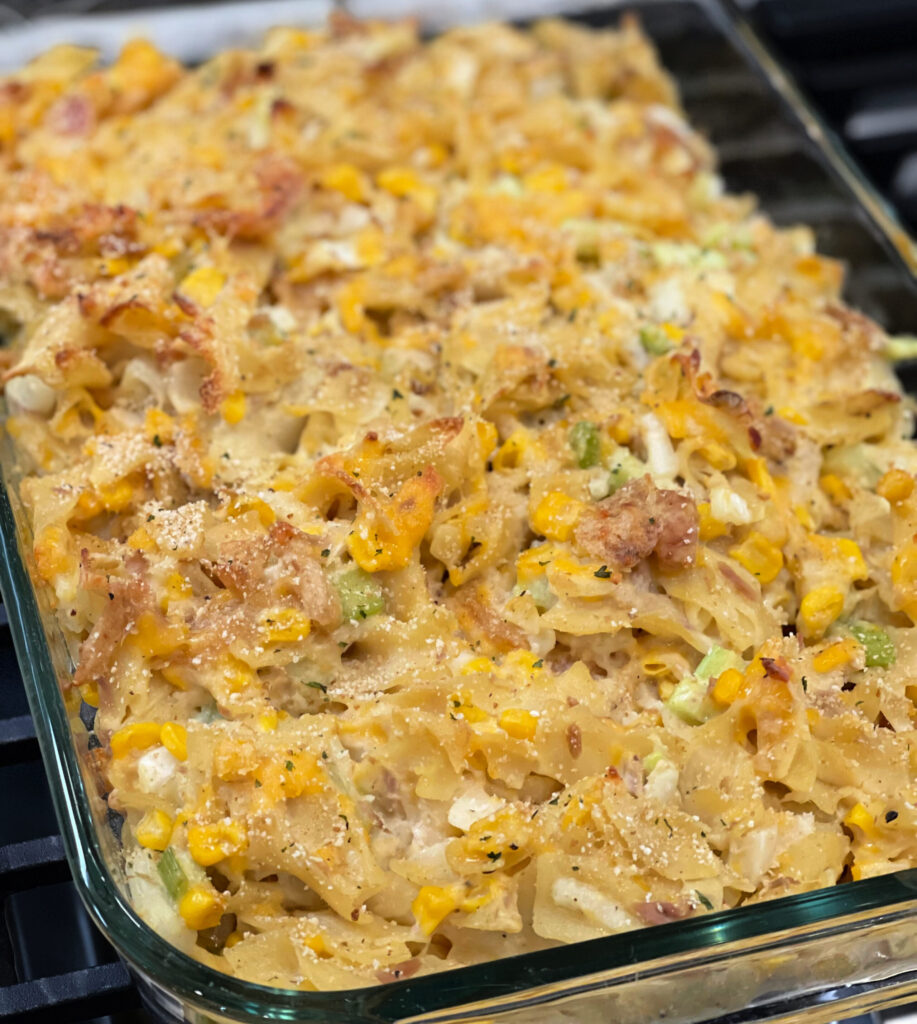 Tuna Noodle Casserole is a tried-and-true recipe that has been made by many for years. It's a recipe that screams comfort food, and mom seem to always make it best!
As a kid, my mom's tuna casserole was a favorite! I almost always went back for seconds and any time I found leftovers in the refrigerator, that was lunch the next day.
I remember going to a few friends' houses and staying for dinner. Their moms would make their version of tuna casserole and it just never compared to my mom's. Perhaps I was bias, but mom made it best!
Over the years, now that I have kids of my own, I have taken the recipe I grew up on and put my own twist on it. Adding a few favorites to the classic dish has made this our go-to casserole and one that is frequently requested by my kids.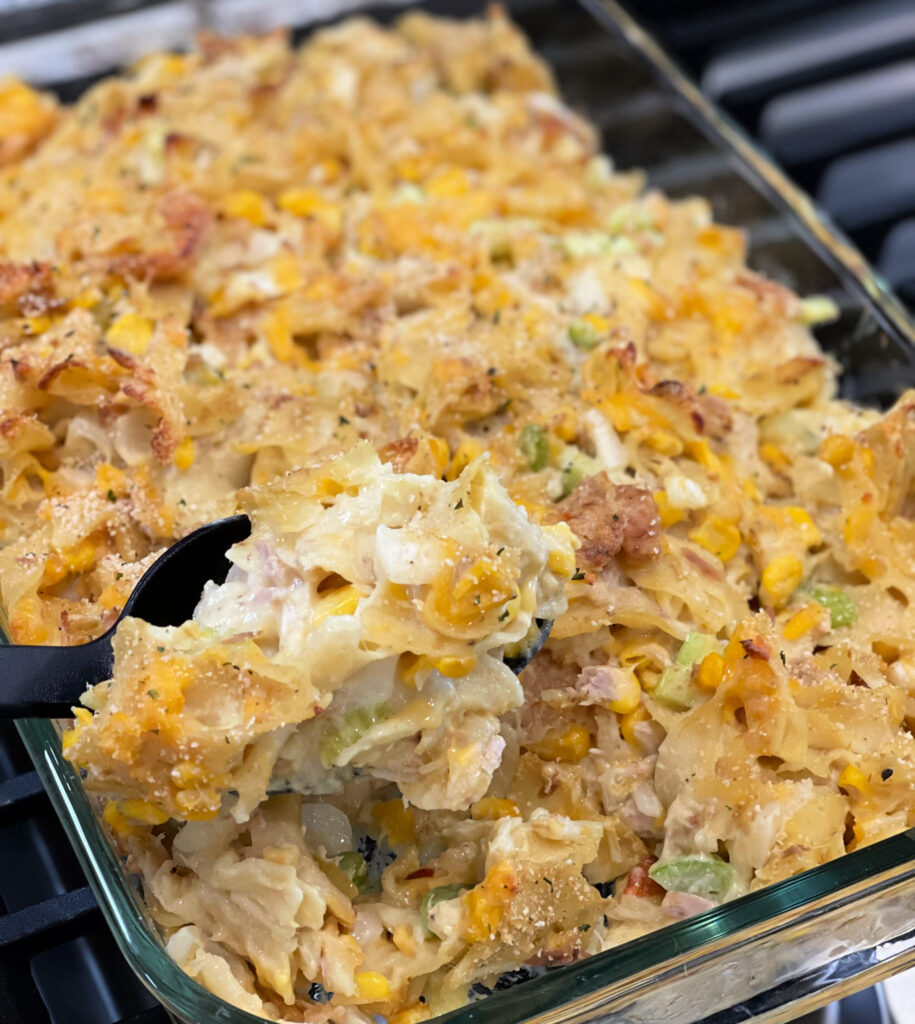 What is Tuna Noodle Casserole?
Tuna casserole is a casserole primarily made with pasta and canned tuna, with peas and corn sometimes added. The dish is often topped with potato chips, corn flakes, breadcrumbs or canned fried onions. Tuna casserole as we know it was created by the Campbell's Soup Company in the 1940s.  It is the original dump-and-bake dinner, always ready to go right from your pantry!
Why this Tuna Casserole is the BEST EVER
Perhaps I am bias, but after one bite of this dish, you'll understand why I had to name this the BEST EVER!
Classic Comfort Food- there is something so satisfying, comforting, and delicious about Tuna Noodle Casserole – which is why it has been popular for many generations.
Quick and Easy- from start to finish, this casserole is ready to enjoy in under an hour!
Budget Friendly- using a few pantry staples, this meal is one that helps stretch the budget.
One Pan Meal- since this casserole includes your protein, vegetables, and pasta, it is a one pan meal.
Ingredients Needed for Easy Tuna Casserole
With many ingredients being pantry staples, you may not even need to head to the grocery store to prepare this dish. Scroll below to recipe card for full ingredient amounts and step-by-step directions.
Cream of Chicken Soup- feel free to make your own at home if you desire, or use reduced fat/sodium versions
Mayonnaise- this adds such creamy flavor, however, if you aren't a fan of mayonnaise, feel free to use sour cream or plain Greek Yogurt
Milk
Onion- diced
Celery- diced
Tuna- make sure you fully drain the can or use the pouches
Egg Noodles- cooked until tender and drained
Cheese- I use shredded cheddar cheese, feel free to use any cheese you desire
Salt/Pepper- to taste
Veggies- the go-to method is using peas, however, my daughter has a newfound allergy to peas, so I use corn. Use whichever veggie you prefer
French Fried Onions- this adds such tasty crisp texture, but if you aren't a fan, simply omit
Breadcrumbs- I add these on top and use Italian seasoned breadcrumbs. See notes below for more topping suggestions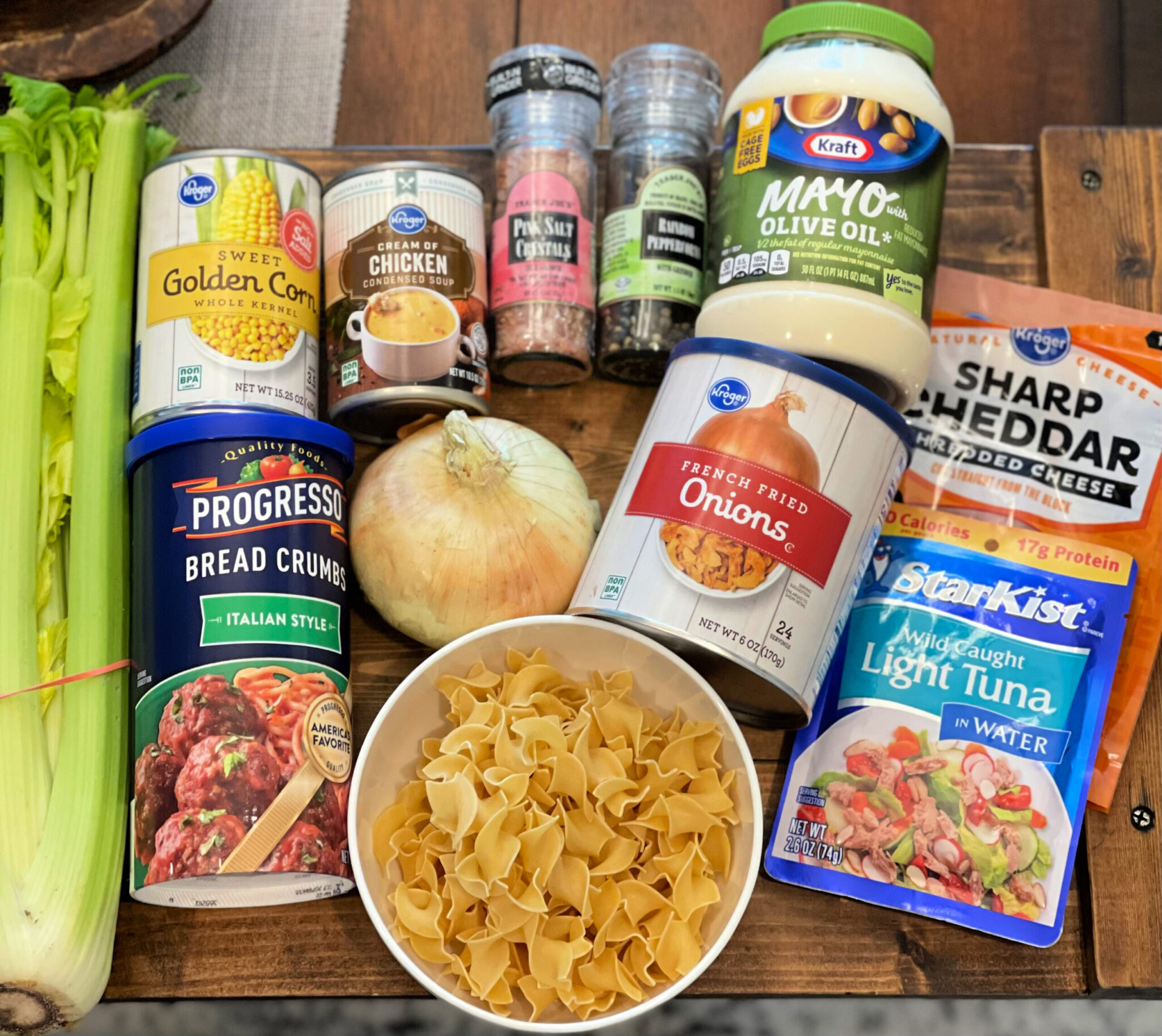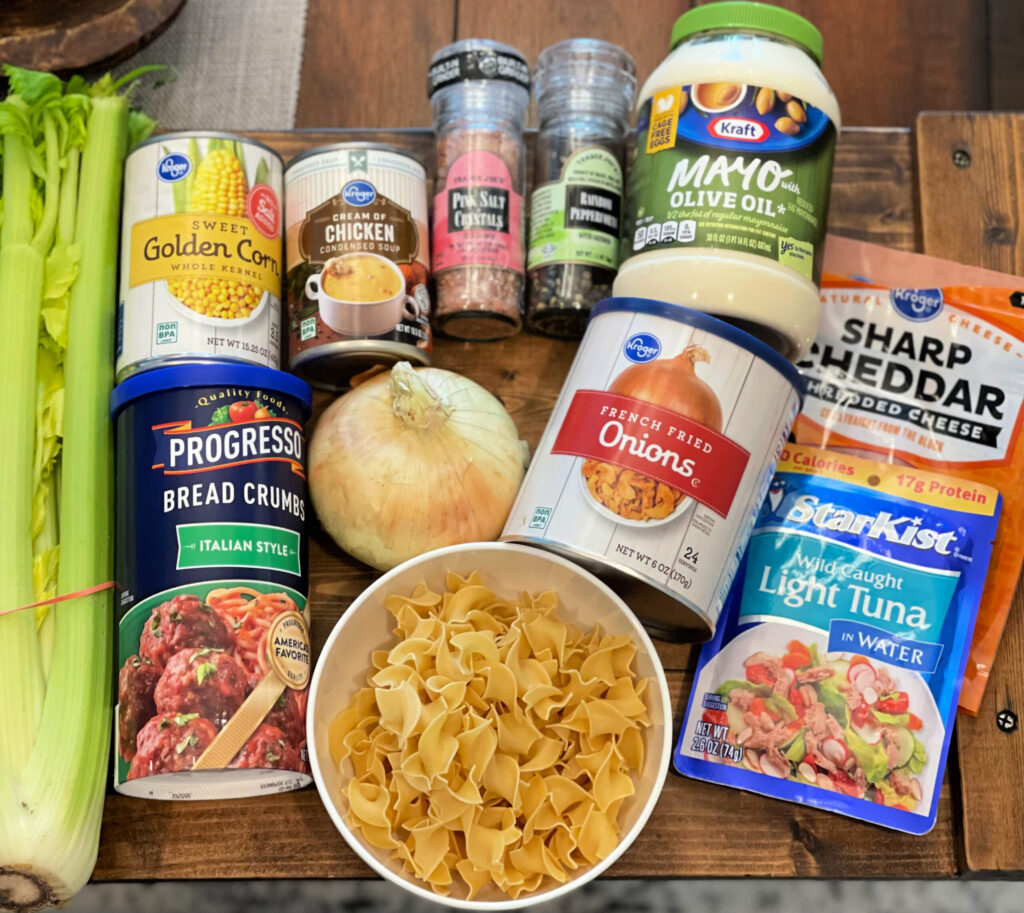 Topping Variations:
Ritz crackers or saltine crackers
Potato chips, crushed
Cornflakes, crushed or kept whole
Breadcrumbs
How to Make Tuna Noodle Casserole
Tuna Casserole is easy to make without any hard work needed! Here's how:
Cook Noodles- cook egg noodles until tender, about 8 minutes (check your box directions)
Combine Ingredients- add the cream of chicken soup, mayonnaise, milk, chopped onion, celery, tuna, cooked pasta, cheese, salt, pepper, veggies, and fried onions in a mixing bowl. Spread mixture into a 9×13 baking pan.
Bake- at 375 degrees for about 40 minutes, or until bubbly and golden brown on top. Serve and enjoy!
Make Ahead and Freezing Instructions:
To Make Ahead: You can prepare this casserole up to 2 days in advance. Cover with foil or plastic and store in refrigerator until ready to bake. Add additional cooking time if casserole is chilled. One thing to note about making this ahead, it won't be as creamy due to the pasta absorbing some of the liquids. Same great flavor though!
To Freeze: Undercook the noodles slightly. Assemble the dish in a freezer-safe container. Allow to cool completely, then cover tightly with plastic wrap and foil, and freeze for up to 3 months. Allow to thaw overnight in the refrigerator. Remember to add an extra 5 to 10 minutes to the cook time to compensate for it being cold.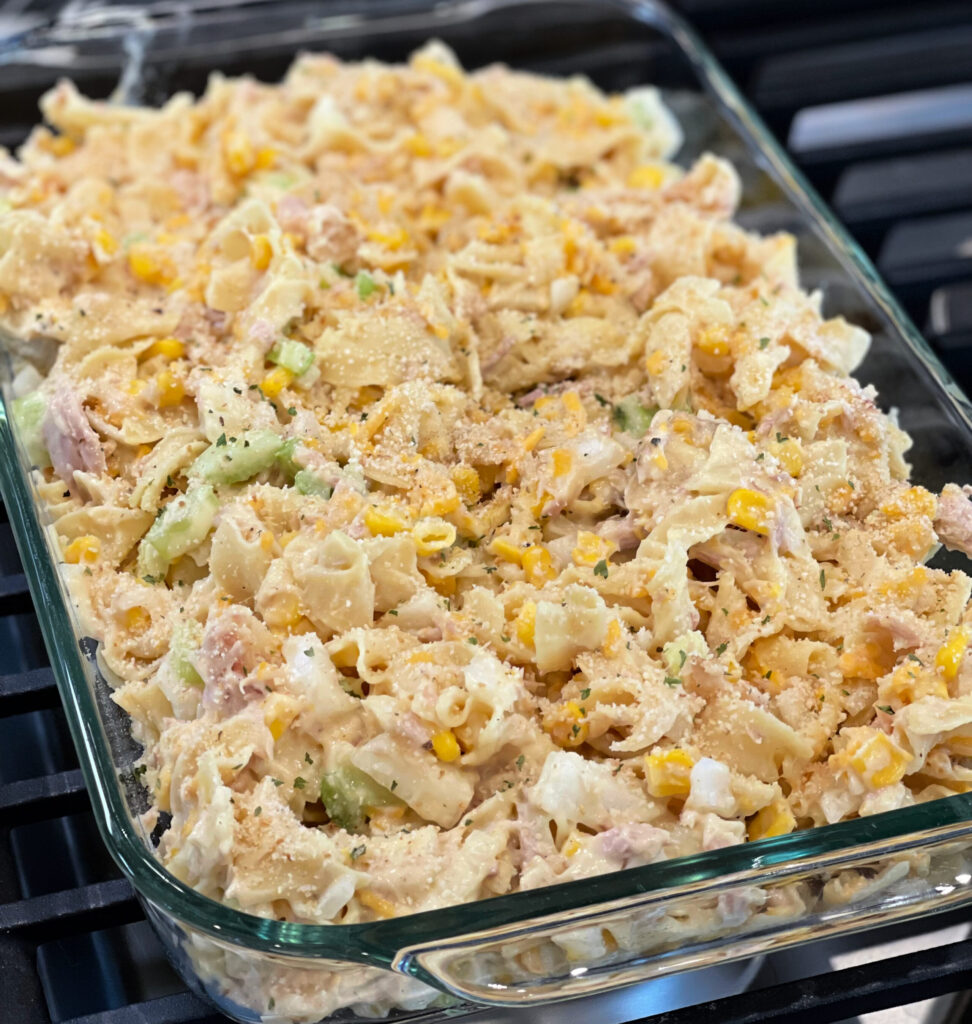 How to reheat Tuna Casserole
To reheat Tuna Casserole in the oven, cover the casserole with foil and bake at 350 degrees for 45 minutes or until hot and bubbly.
You can also reheat individual servings of Tuna Noodle Casserole in the microwave with excellent results.  Add a splash of milk to the casserole before reheating and mix it in so it is just as creamy as the first day.
Tips for the Ultimate Tuna Casserole
Don't overcook pasta! Egg Noodles are thinner than most pastas, so I always recommend taking a few minutes away from the cook time as the pasta will finish cooking in the oven once combined with everything else.
Coat egg noodles with olive oil to prevent clumping if you aren't adding them into the mixture right away!
Have fun with add in's and make this your own! Change up the cheese and veggies to make this fit your tastes. Give this a kick with some diced jalapenos, add in some bacon, etc. The possibilities are endless. See below for more ideas!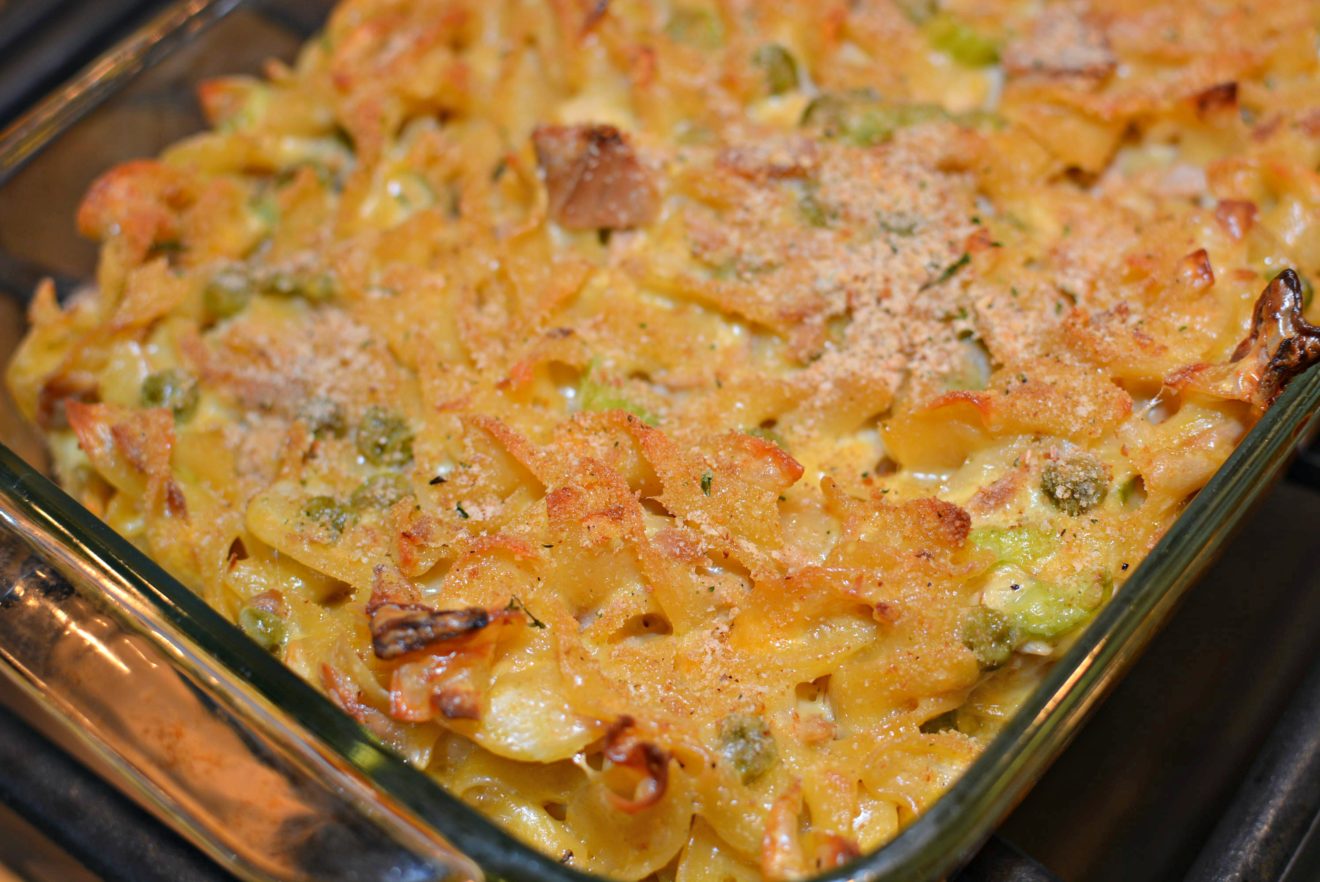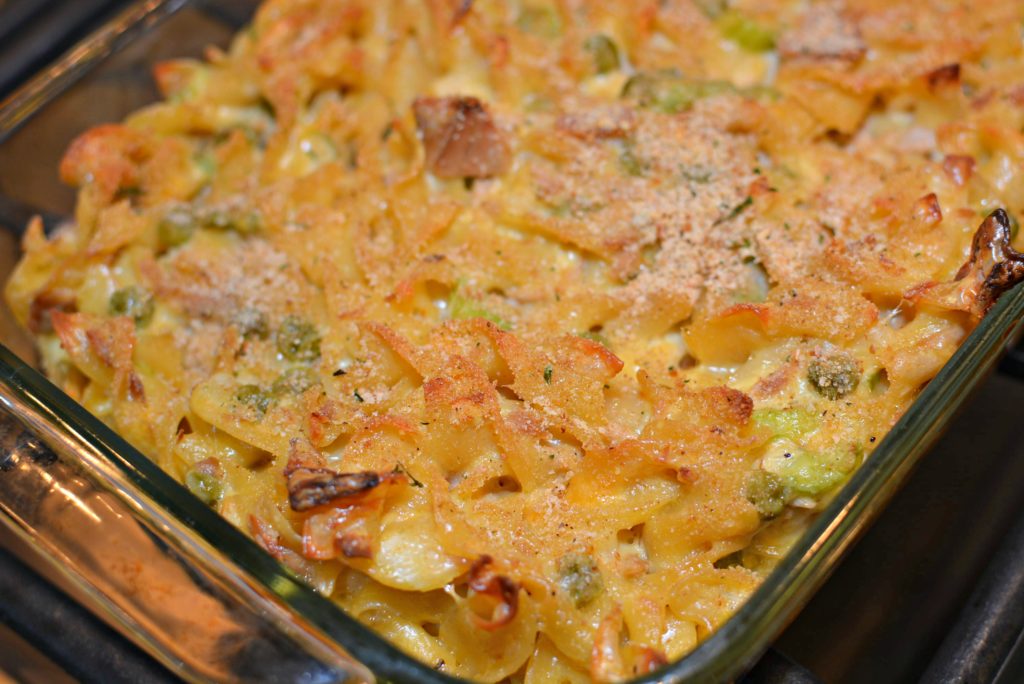 Tuna Noodle Casserole Recipe Variations
You can adapt this Tuna Noodle Casserole however you like!  Play around with the add-ins or even swap the tuna for a different protein to make a different casserole all together. Here are a few ideas:
Veggies- corn, broccoli, asparagus, zucchini, bell peppers, carrots, celery, etc. You will want to steam, roast or boil the veggies before adding to the pasta.
Cheeses- mozzarella, Asiago, Gouda, smoked cheddar, Monterrey, Pepper Jack, Havarti, Colby etc. are all great variations to try.
Protein- feel free to use canned chicken in place of tuna, or change the direction entirely and use cooked beef, sausage, turkey, bacon, or ham.
Add In's- diced jalapenos, tomatoes, green chiles, bell peppers, and/or tomatoes are great options.
What to serve with Tuna Casserole
Since this is a full meal in itself, you don't HAVE to serve this with anything. However, if you are like my family, you want a few items on your plate for variety. In that case, here are some great ideas to pair with this:
Side Salad
Fresh Fruit
Warm Bread– my family loves bread items, so I typically make my Garlic Monkey Bread to pair with this
More Casserole Recipes to try
Ultimate Chicken Casserole– a family favorite combining noodles, shredded chicken, cheese, and Fried Onions in one dish
Chicken and Stuffing Casserole– with tender chicken and veggies topped with savory stuffing, this is a one pan meal the entire family will enjoy
Million Dollar Spaghetti Casserole– layers of noodles, cheese, beef, and more combined into a spaghetti meal the entire family will enjoy
Chicken Bacon Ranch Casserole– tender chicken, crumbled bacon, and ranch seasoning over tender pasta
Biscuits and Gravy Breakfast Casserole– all the flavors of biscuits and gravy, made into casserole form!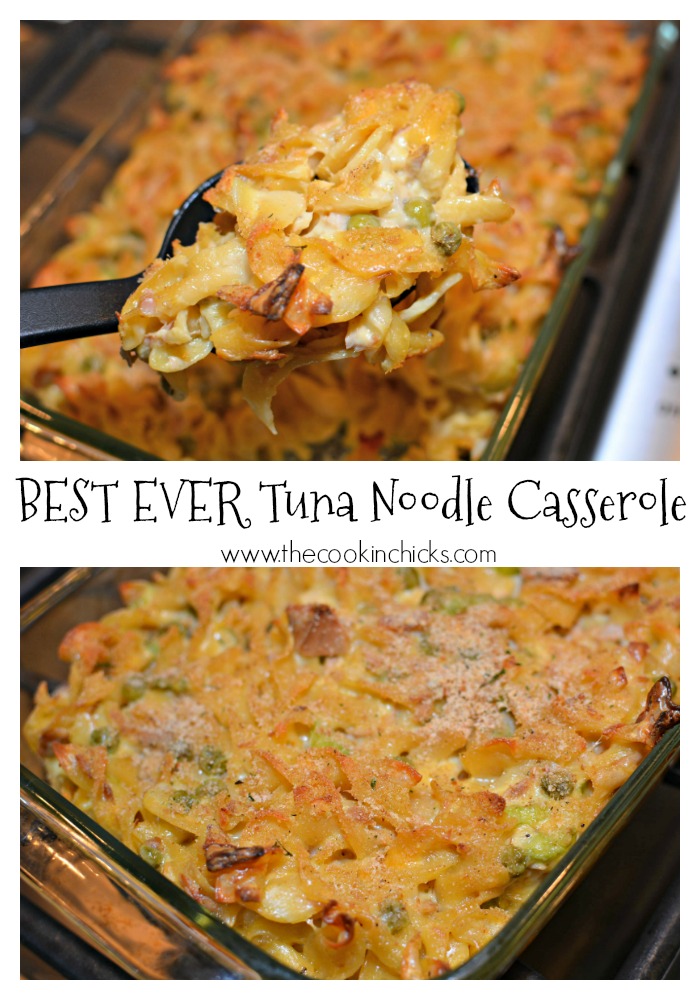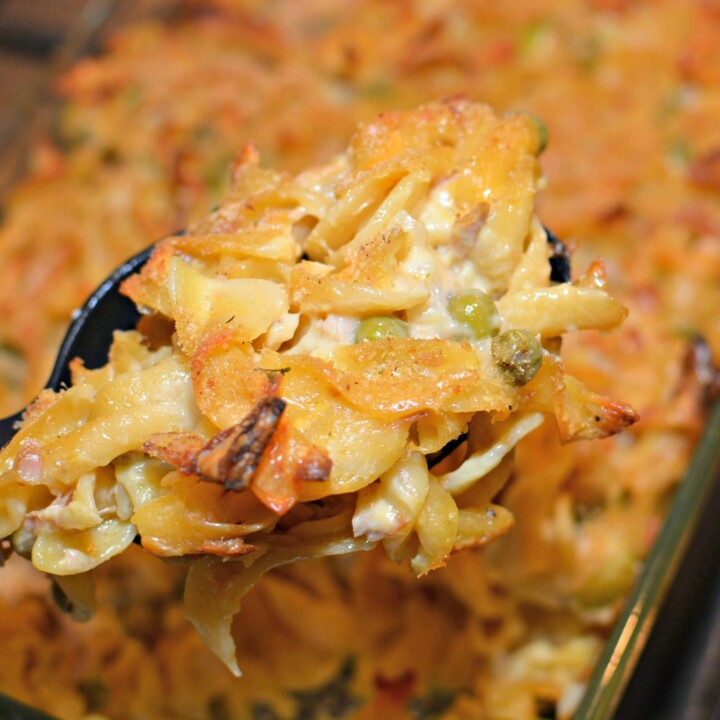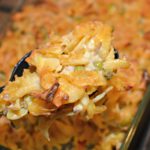 Print Recipe
Easy Tuna Noodle Casserole Recipe
Tuna Noodle Casserole is a classic American dish! Egg noodles combined with canned tuna in a creamy sauce leaves everyone satisfied. Adding in some peas creates an all-in-one dish that is budget friendly, family friendly, and the perfect "comfort food"!
Ingredients
10 1/2

oz

cream of chicken soup

1/2

cup

mayonnaise

1/4

cup

milk

1/2

onion, diced

1/2

cup

celery, diced

6

oz

albacore tuna, drained

8

oz

egg noodles, cooked and drained according to package directions

1/4

cup

cheddar cheese, shredded

1

cup

French Fried Onions

salt/pepper, to taste

bread crumbs, optional

1

cup

peas (I used canned, frozen works too)
Instructions
In a medium bowl, combine the cream of chicken soup, mayonnaise, milk, onion, celery, tuna, cooked pasta, cheese, fried onions, veggies, salt, and pepper.

Pour mixture into a 9x13 baking dish.

Sprinkle desired amount of bread crumbs on top.

Place pan in preheated oven, 375, and bake for about 40 minutes.

Remove from oven and serve! Enjoy!
Nutrition
Calories:
369
kcal
|
Carbohydrates:
36
g
|
Protein:
14
g
|
Fat:
19
g
|
Saturated Fat:
4
g
|
Polyunsaturated Fat:
9
g
|
Monounsaturated Fat:
4
g
|
Trans Fat:
0.1
g
|
Cholesterol:
59
mg
|
Sodium:
426
mg
|
Potassium:
380
mg
|
Fiber:
3
g
|
Sugar:
2
g
|
Vitamin A:
2584
IU
|
Vitamin C:
4
mg
|
Calcium:
83
mg
|
Iron:
2
mg
Recipe updated 10/18/2022