Indulge in the authentic flavors of Restaurant Style Tableside Guacamole that rivals your favorite Mexican restaurant. This easy recipe features a delightful blend of fresh avocado, zesty lime juice, succulent tomatoes, fiery jalapenos, aromatic garlic, onions, and vibrant cilantro. Whether it's a delectable appetizer, a satisfying snack, or a delightful accompaniment to any meal, this homemade guacamole is a must-try!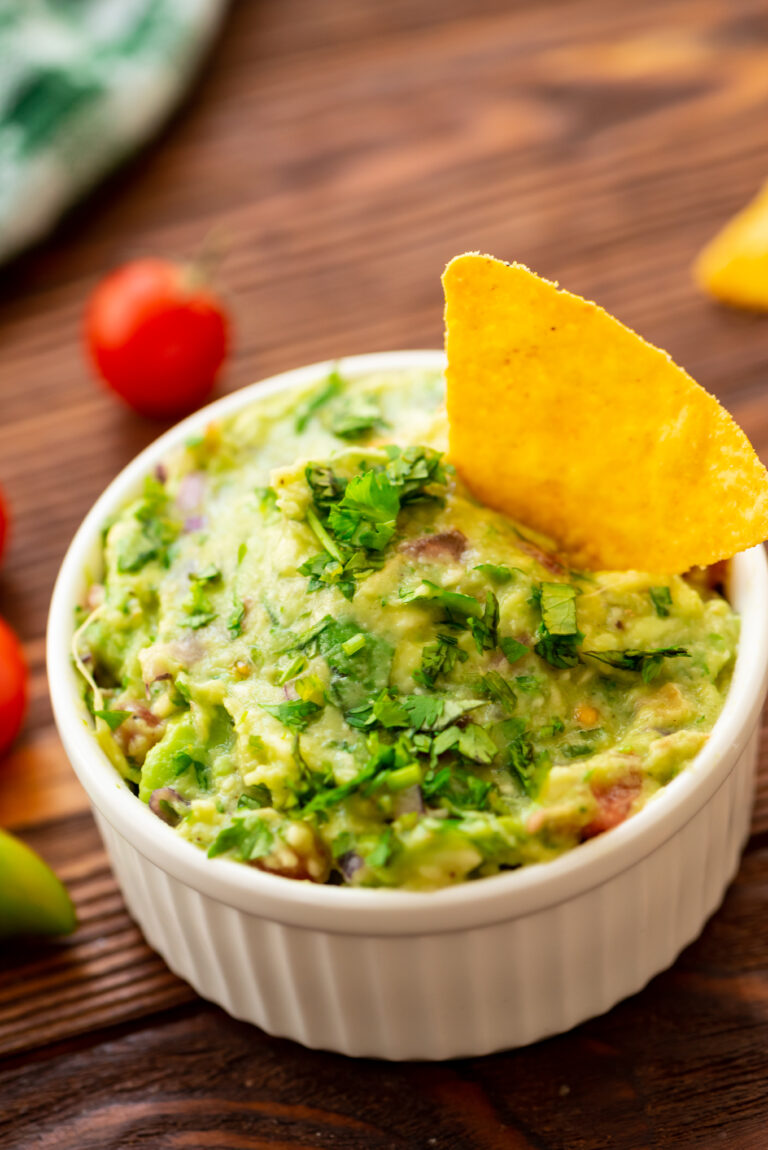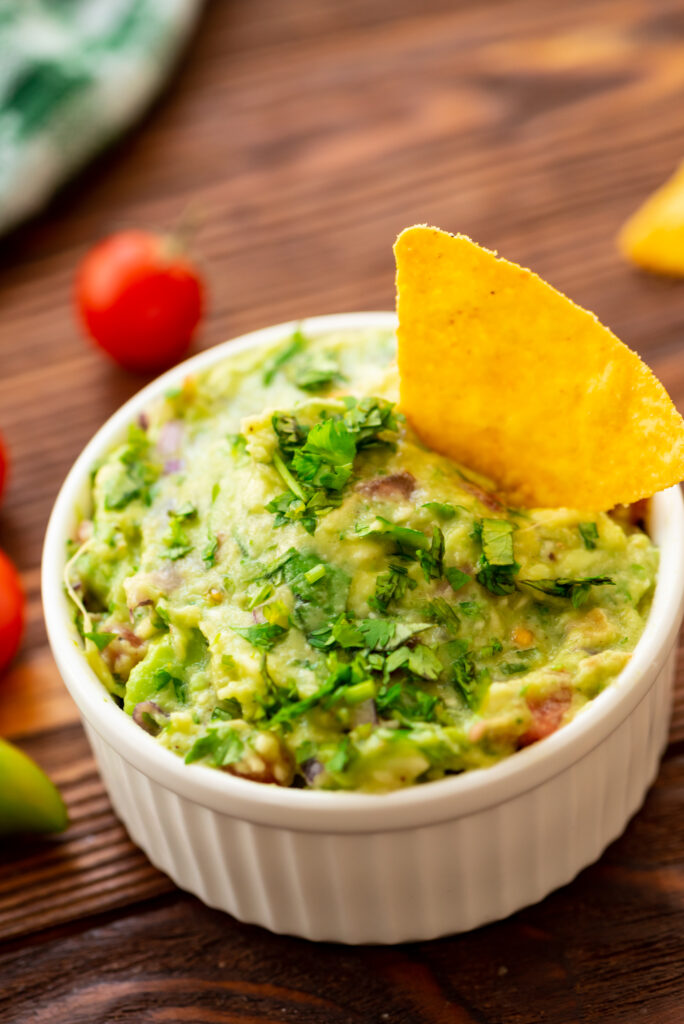 Easy to make Authentic Guacamole
Guacamole is a popular Mexican dip or spread that is made primarily from mashed avocados. It is typically prepared by combining ripe avocados with various ingredients such as lime juice, diced tomatoes, jalapenos, onions, garlic, cilantro, and seasonings like salt and pepper. Guacamole is known for its creamy texture, rich flavor, and vibrant green color. You can serve it as an appetizer, snack, or topping on any Mexican inspired dish. We love enjoying this with crunchy tortilla chips, on top of loaded nachos, chicken tacos, or on breakfast pizza!
Ingredients Needed for Homemade Guacamole
See printable recipe card below for exact ingredient amounts and step by step directions.
Avocados– Haas avocados are my go to in this recipe. They are known to be the creamiest and easiest to find at your grocery store.
Lime Juice– this adds a subtle sweetness, tanginess, and cuts through the creaminess of the avocado to enhance all the flavors together.
Tomato– aim to use Roma tomatoes in this recipe as they have less seeds and are a little more firm, which means they hold up better once combined.
Jalapeno– fresh, remove the seeds if you don't like a little heat in your guacamole.
Garlic Cloves– fresh minced is ideal, however, if you don't have any on hand, you can use garlic powder.
Onion– we use red onions as they are a bit sweeter and are our go to versus white onions.
Cilantro– fresh, chopped, if you don't like cilantro, feel free to omit.
Salt/Pepper– to taste, be sure not to skip the salt though as this helps all the flavors fuse together. Add a little at a time until it tastes just right.
After ordering tableside guacamole at several Mexican Restaurants, I have found that there are so many different variations. This version is closest to each and every one, however, feel free to add more or less of certain ingredients to fit your tastes as well.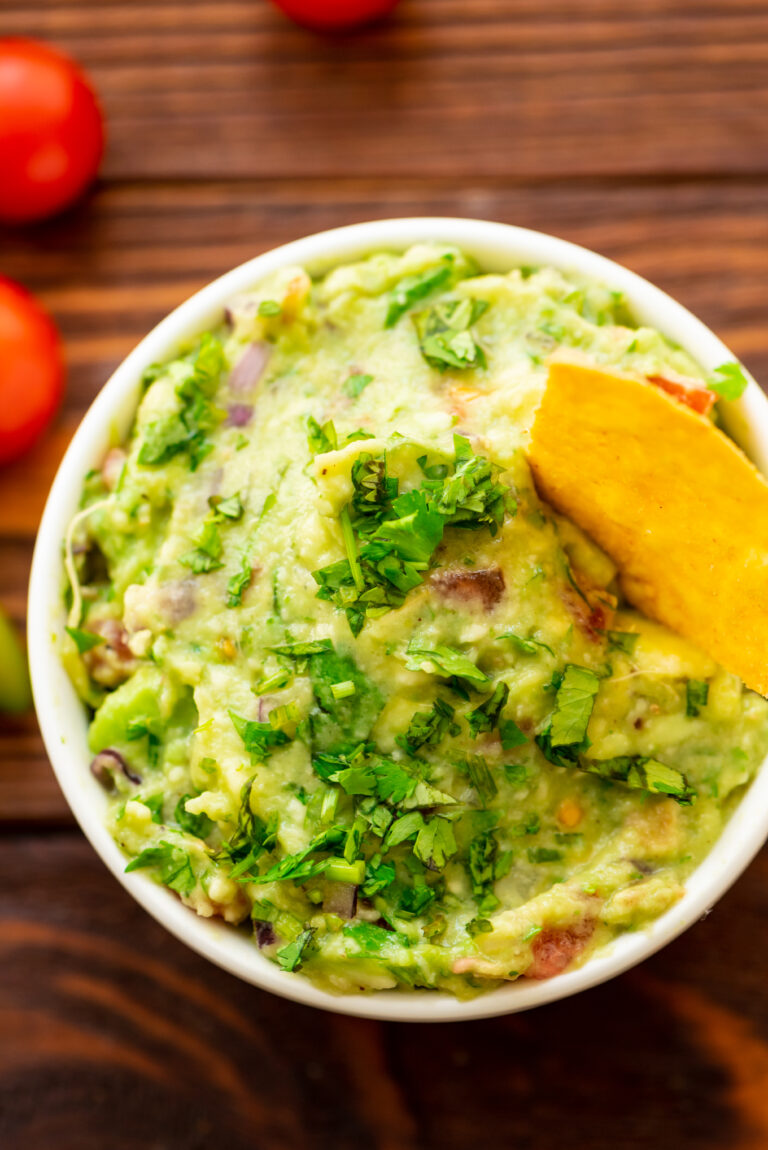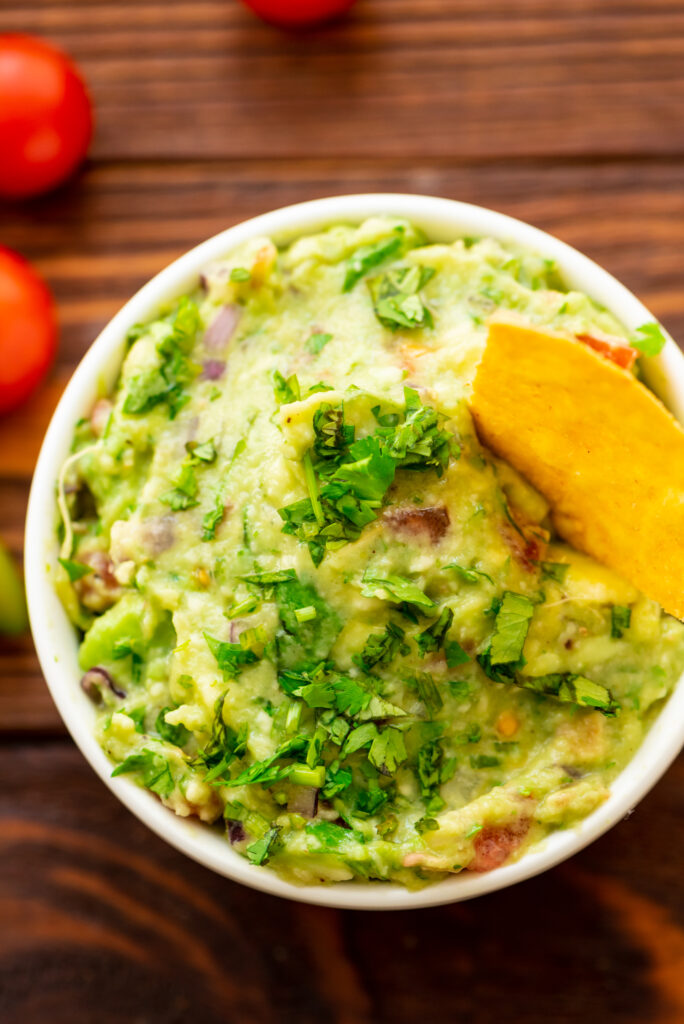 How to make Restaurant Style Tableside Guacamole
In a bowl, add in the avocados and lightly mash to desired consistency.
Stir in the lime juice, tomato, jalapeno, garlic, red onion, and cilantro.
Once combined, add in desired amount of salt and pepper. Serve!
How to pick out ripe avocados
The best guacamole comes from using fresh ingredients! You want to use ripe avocados, but ones that still have some firmness to them. Avoid mushy, too soft avocados as this will result in mushy guacamole and no one likes that!
Choose avocados with their stems still on them. When the stems have been removed, most likely you will end up with brown spots in your avocado once cut.
Ripe avocados have a dark green skin.
Give the avocado a squeeze. It should have some give to it, but firm is key.
If you have perfect avocados, but aren't ready to make guacamole yet, store in the refrigerator to slow the ripening process down.
To speed up the ripening process, store in a paper bag tightly closed on the kitchen counter. This speeds up the process by several days due to the gasses released.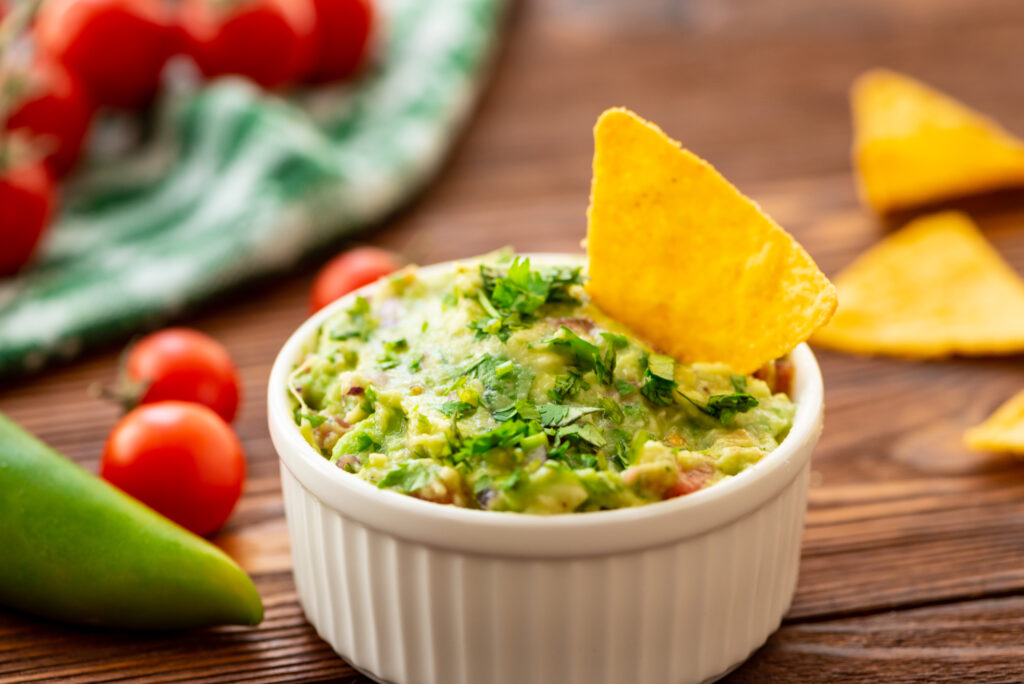 Tips for Success
After making this recipe hundreds of times, here are some tips so your authentic guacamole turns out perfect each and every time.
If you don't have a mortar and pestle to make the guacamole, you can use a potato masher or pastry blender to mash everything together.
Mash or blend the guacamole until desired consistency is reached. My family loves this chunky, so we don't mash too much, but its all up to preference.
If you aren't a fan of onions, leave them out or use green onions in its place.
Vinegar is a great substitute for lime juice if you don't have any on hand.
How to store leftovers
The one downside to guacamole is that it turns brown quite quickly. If you are serving this at a party or gathering, simply squeeze a bit extra lime juice on top as this slows the browning process down. If storing in the refrigerator, place a piece of plastic wrap directly on top of the container (touching the guacamole) as this prevents the guacamole from touching air.
Some say you can place 1/2 inch of cold water directly onto the guacamole and store in the refrigerator. Once ready to serve, you drain the water and enjoy! I have never tried that as I am always too nervous to potentially ruin it. If you do try it, be sure to comment below and let me know if it works!
What to serve with Easy Tableside Guacamole
The classic way to enjoy this dip is with tortilla chips. However, there are so many other great options!
More Mexican Inspired Recipes
Copycat Taco Bell Mexican Pizza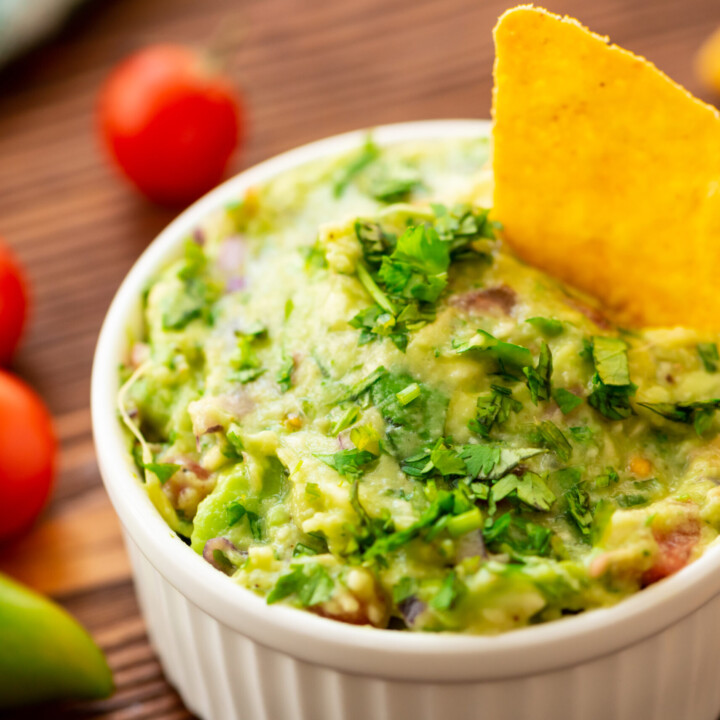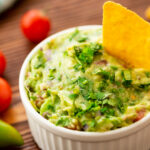 Print Recipe
Restaurant Style Tableside Guacamole Recipe
Ever wonder how to make the best Guacamole?? Well, look no further because this is just that!! The BEST! Delicious, fresh ingredients combined to create a dip or topping that is mouthwatering! Keep it chunky or make it smooth, either way, it'll be a hit with everyone
Ingredients
4

avocados

2

tablespoon

lime juice

1/2

tomato, seeded/chopped

1

jalapeno, minced

2

garlic cloves, minced

1/2

red onion, diced

1/2

cup

cilantro, chopped

salt/pepper to taste
Instructions
In a bowl, add in the avocados and lightly mash to desired consistency.

Stir in the lime juice, tomato, jalapeno, garlic, red onion, and cilantro.

Once combined, add in desired amount of salt and pepper. Serve!
Nutrition
Calories:
224
kcal
|
Carbohydrates:
14
g
|
Protein:
3
g
|
Fat:
20
g
|
Saturated Fat:
3
g
|
Polyunsaturated Fat:
2
g
|
Monounsaturated Fat:
13
g
|
Sodium:
11
mg
|
Potassium:
710
mg
|
Fiber:
9
g
|
Sugar:
2
g
|
Vitamin A:
399
IU
|
Vitamin C:
20
mg
|
Calcium:
23
mg
|
Iron:
1
mg