This post brought to you by Hormel Foods. The content and opinions expressed below are that of The Cookin' Chicks.
Before my hubby and I got married, we had a long distance engagement. I had moved with my family to Texas after getting engaged, and he was living in Chicago. He would fly down to visit me once a month for an extended weekend, and we would continue wedding planning, visiting family, etc. On one of his visits, my aunt and uncle had us over for dinner and she made this taco cornbread bake. Not only was my husband instantly a huge fan, but he personally requested the recipe from my aunt for us to make again in married life.
Once we got married and years passed, this became a family favorite that we all enjoy! Each night we eat dinner as a family, and the kids always say how "yummy" this is. The kids prefer to add sour cream to the top of theirs, whereas the hubby and I also add chopped tomatoes and salsa!
This dish is perfect for having company over, makes tons, and uses common ingredients. This dish uses one can of chili. I always choose Hormel chili because not only is it America's #1 selling chili, but they offer a wide variety of flavors, and it tastes amazing! It saves me the work of having to make a batch of chili, and tastes just as good! Definitely try this, you'll love it!!
Since September is National Family Meals month, try to plan some family dinners around all the busy schedules in your family. I enjoy family dinners together in my house because meals eaten at home have been proven to benefit the health and wellness of children and adolescents, to fight obesity, substance abuse and to make families stronger – creating a positive impact on our communities. Not only have I seen my kids open up about their days around the dinner time, but it has also brought us closer together and been a great connection for us each evening!!
Enjoy!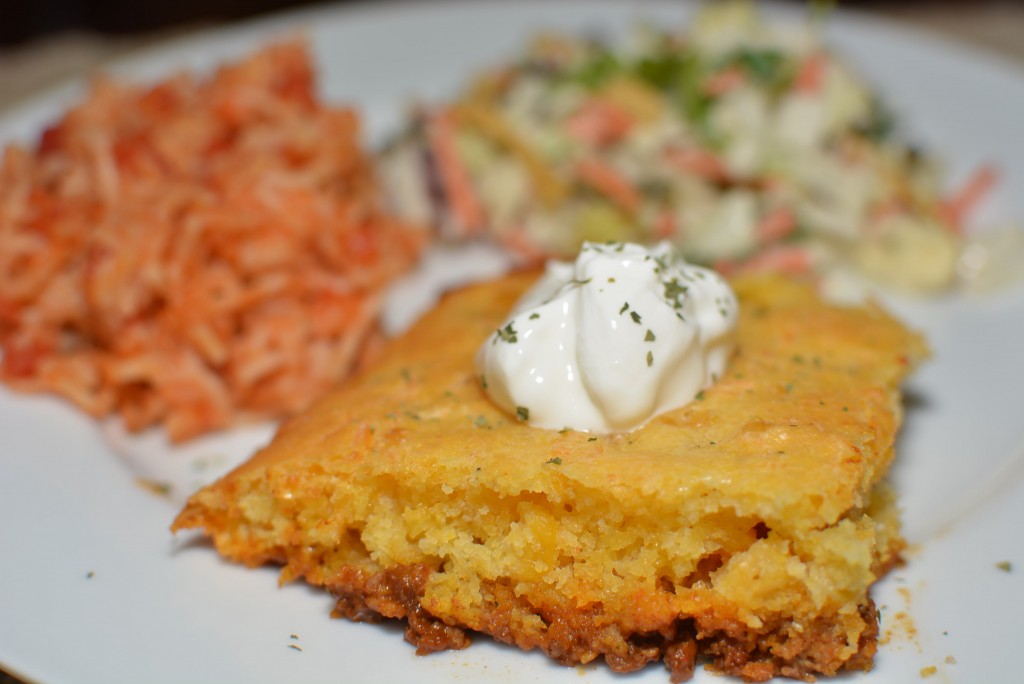 Ingredients:
1 lb ground beef or turkey
1 envelope taco seasoning, or 4 tbsp. homemade taco seasoning
1 can Hormel chili w/o beans
1 can Mexicorn (11 oz) drained
2 cups cheddar cheese, divided
2 boxes cornbread mix (8.5 oz boxes)
Chopped tomatoes, sour cream, salsa, etc.
Directions:
In a large skillet, cook meat until no longer pink. Drain fat.
Add in taco seasoning and cook according to directions (add water and allow to simmer).
Stir in 1 can Hormel chili w/o beans and 1 cup cheese.
Allow to simmer on low.
In a large bowl, combine the 2 packages cornbread and mix according to directions.
Add in Mexicorn and remaining 1 cup cheese to the cornbread. Mix well.
Remove meat from heat and pour mixture onto a cookie sheet.
Top with cornbread batter and spread evenly.
Bake in a preheated oven, 375, for about 20 minutes.
Remove from oven and cut into desired size pieces. Top with preferred toppings!!