Restaurant style Mexican Rice is easy to make and tastes even better than at the restaurants! Pairs perfectly with any Mexican dish, you'll definitely be going back for seconds!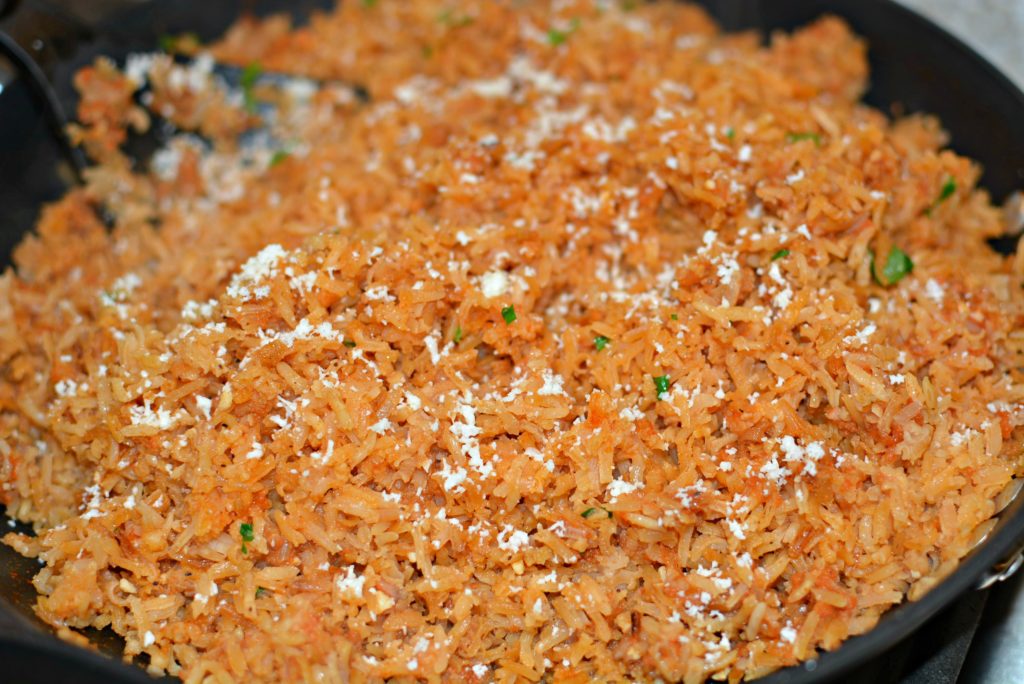 My hubby and I are big fans of Mexican food. We probably eat it at least two times a week, if not more. Most of the time when we go out to eat, we end up at a Mexican restaurant. There's just something about the chips and salsa, margaritas, and yummy meal choices! Plus, don't get me started on my love for good queso!! Yum!!
If you love Mexican food, check out these favorites:
I am obsessed with flautas, tacos, enchiladas, etc. but the real test at how yummy a Mexican restaurant is would have to be their rice and beans! You can have an amazing taco, but if the rice and beans are "eh", it is quite the bummer!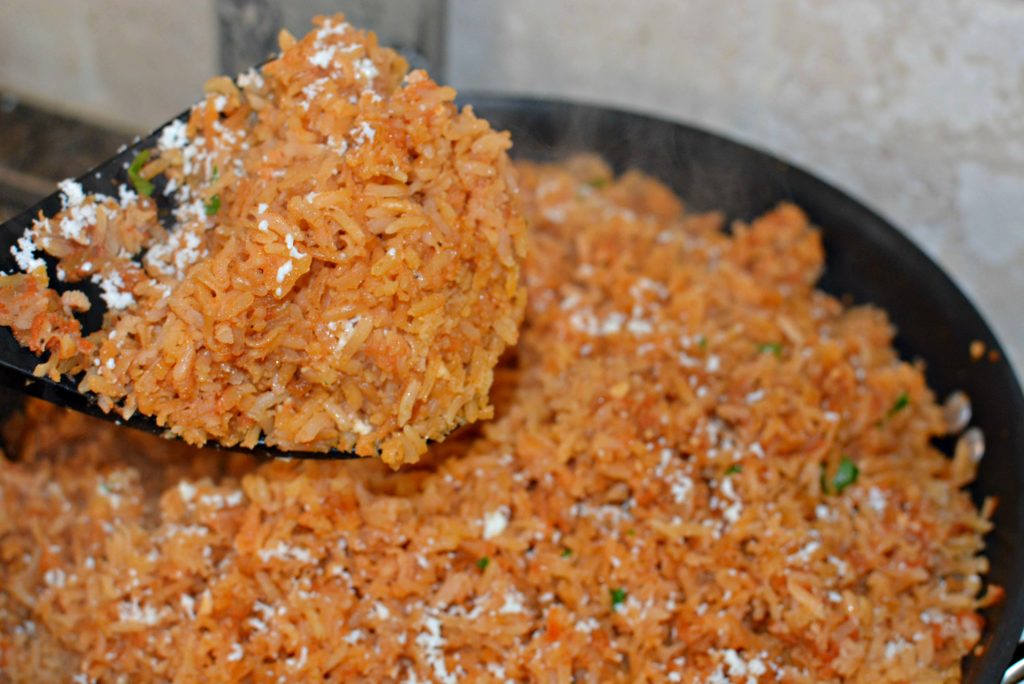 After coming home one evening from trying a new restaurant out and not liking their rice, I decided to attempt making my own. My first attempt was AWFUL. And by awful, I mean disgusting. Not even edible. The rice was wayyyyyy over cooked, lacked any type of flavor, and honestly, I have no idea how I went so wrong. I was hesitant to try again, but a few weeks later, after looking through books and recipes for inspiration, I decided to try again. The second attempt was good, but not great, so back to the testing I went.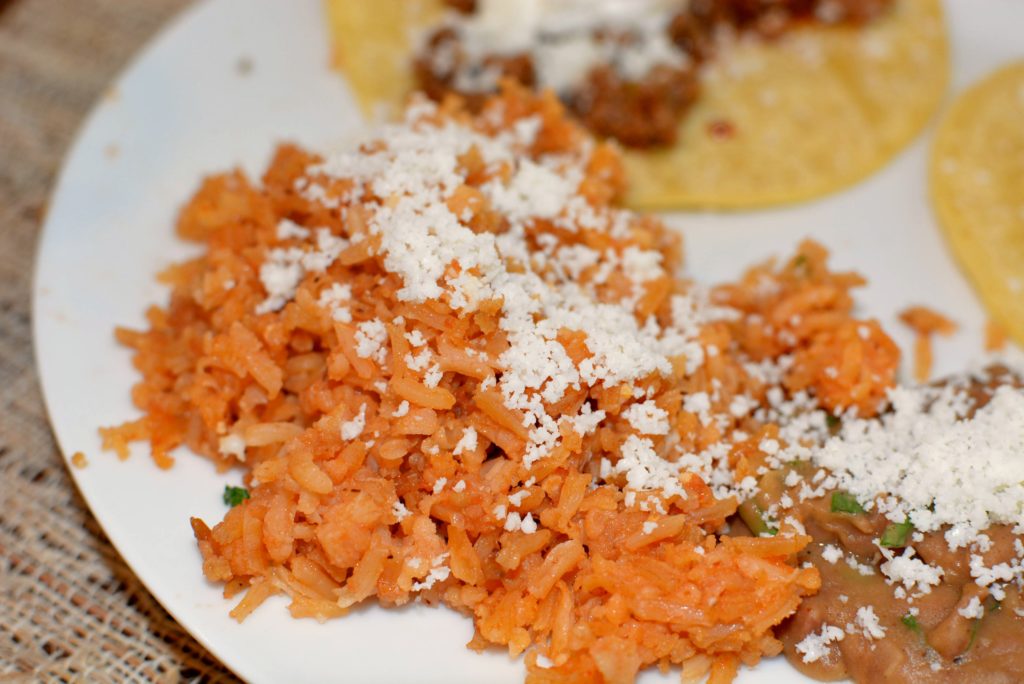 After a few tweaks, I would definitely say I nailed it! Now THIS recipe is a definite winner. It was quick to prepare, paired perfectly with our tacos, and my kids scraped their plates. It makes lots, so prepare for leftovers. However, since it stores perfectly that is okay!! This is also budget friendly and of course kid approved!
Next Taco Tuesday, whip this up with your meal and bring the restaurant to your home!
Enjoy my Restaurant Style Mexican Rice and be sure to keep me posted in the comment section below if you give this a try!
Authentic, flavorful Restaurant Style Mexican Rice is ready in no time! Next Mexican meal you prepare, add this to your plate! Print the recipe below to give it a try!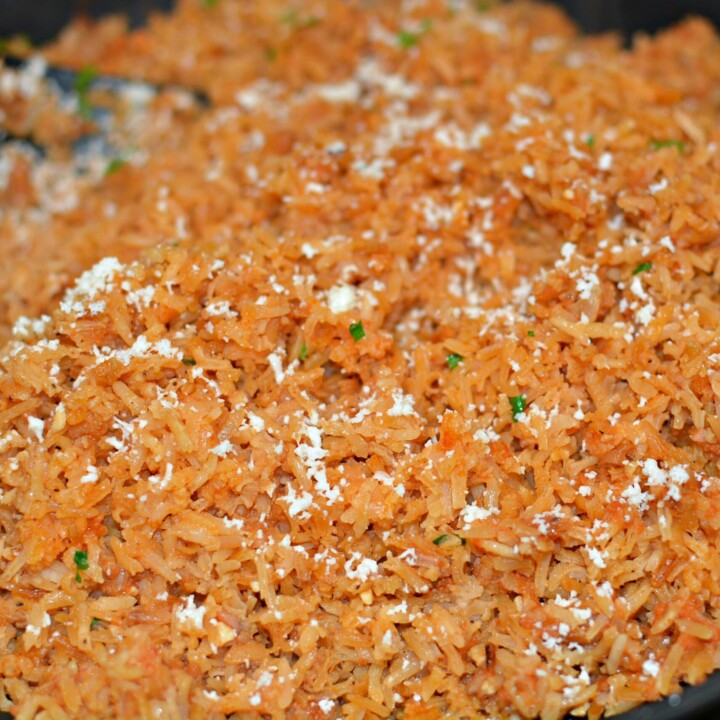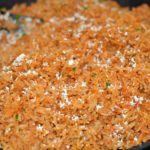 Print Recipe
Restaurant Style Mexican Rice
Restuarant Style Mexican Rice is budget friendly, easy to prepare, family approved, and tastes just like the restaurant, if not better!!
Ingredients
2

cups

rice (I use long grain)

1/4

cup

oil

8

oz

tomato sauce

1/2

cup

cilantro, chopped

3

teaspoon

salt

4

garlic cloves, minced

4

cups

chicken broth

1/2

teaspoon

cumin

1/4

teaspoon

ground black pepper
Instructions
In a large frying pan, heat the oil over medium high heat.

Add in the rice and cook until golden brown.

Add in the chicken broth, tomato sauce, salt, garlic, cumin, and black pepper.

Stir to incorporate all and cover pan with lid.

Reduce heat to medium low and allow to simmer for about 35-40 minutes, or until all liquid has been absorbed.

Fluff rice, stir in cilantro, and serve! *Sprinkle some cheese on top for additional flavor (I used Cotija)
Nutrition
Sodium:
1163
mg
|
Calcium:
23
mg
|
Vitamin C:
9
mg
|
Vitamin A:
156
IU
|
Sugar:
1
g
|
Fiber:
1
g
|
Potassium:
204
mg
|
Calories:
197
kcal
|
Trans Fat:
1
g
|
Monounsaturated Fat:
4
g
|
Polyunsaturated Fat:
2
g
|
Saturated Fat:
1
g
|
Fat:
6
g
|
Protein:
3
g
|
Carbohydrates:
32
g
|
Iron:
1
mg
Recipe updated 9/21/21