These Tasty Shrimp Enchiladas are cheesy, creamy, and come together in no time! A Tex Mex staple that has been turned into good ole comfort food at its finest!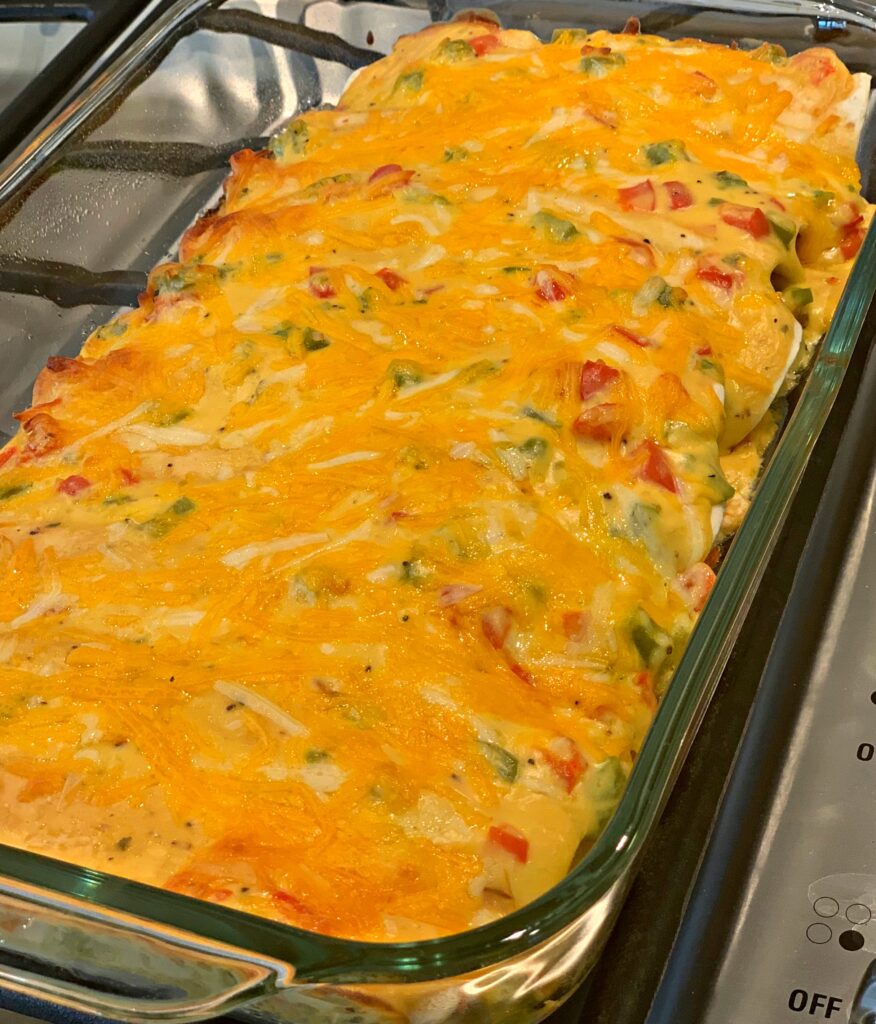 I don't know about your family, but mine is OBSESSED with seafood! Growing up, seafood was not a favorite of mine. Other than salmon, I wanted nothing to do with it. Once I got married and started exploring different foods, I began to love it. Now, I have 3 kids and a hubby that would happily enjoy seafood every night if they could.
Tasty Shrimp Enchiladas will impress your family and friends, but also taste great and aren't too hard to make!
A few weeks back, my grocery store was running a crazy sale on their salad shrimp. I had no idea what I was going to use it in, but I was able to buy 2 bags (1lb each) for only $2. Crazy, right? I would've bought more had they not limited each person to 2, haha!
I went home and tossed the bags in the freezer to use at a later date, once I figured out what to do!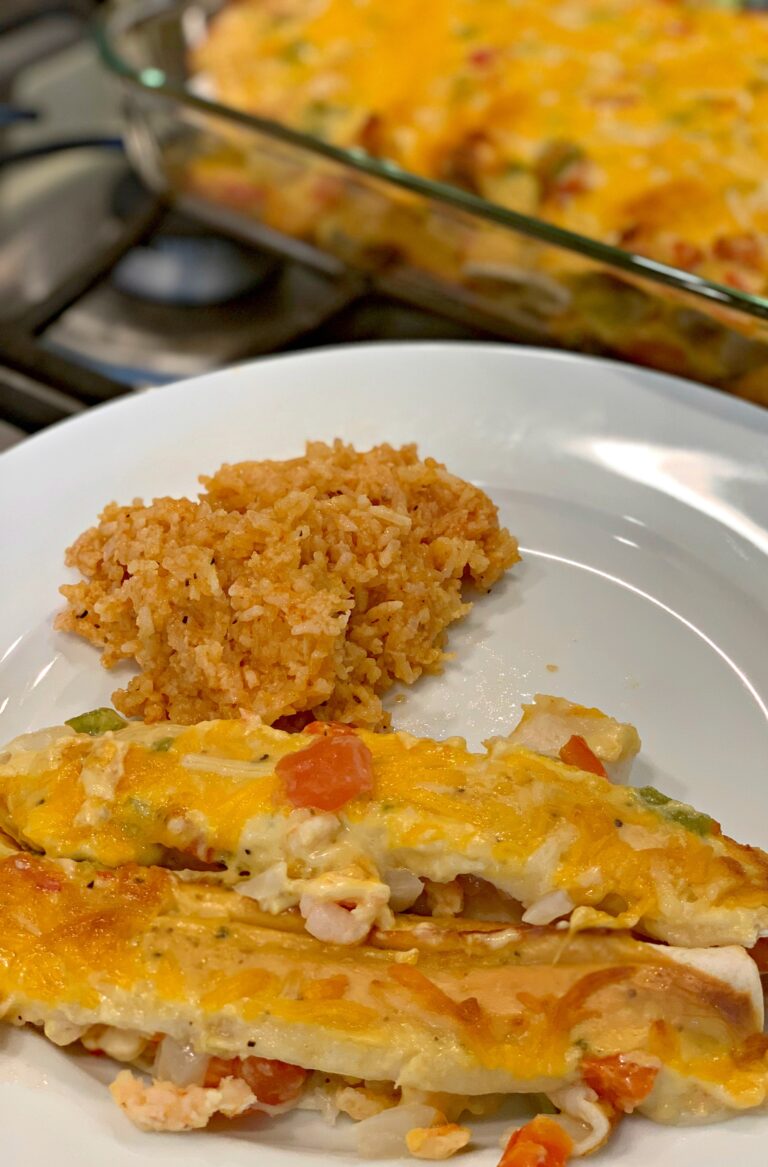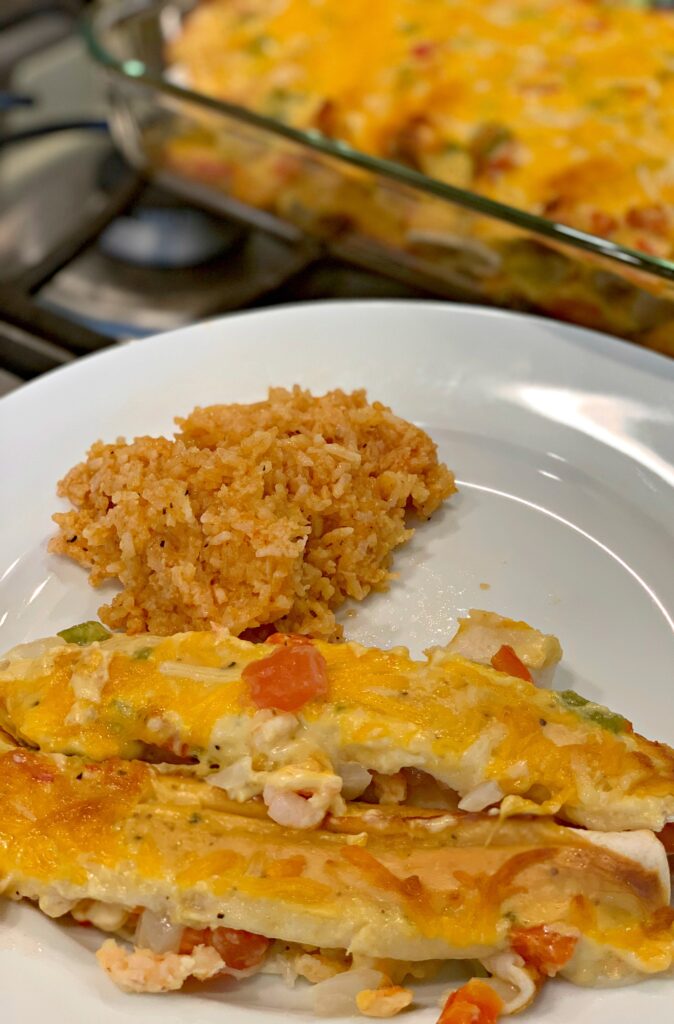 About a week later, I casually mentioned having to use the shrimp up to my husband and he gave the brilliant idea of using them in enchiladas. They were small, so perfect to use as filling rather than as the entire meal. I decided to make a cheese sauce for the top and include some veggies in it!
Not only were these quick to prepare and toss together, but we all thoroughly enjoyed it! My kids didn't even pick their red or green peppers out of these because they were too busy devouring their portions! I call that a win, right?!
My hubby typically orders seafood enchiladas or tacos from our favorite Mexican restaurant, so I was most curious about his opinion on how they compared. One bite in, he said these tasted even better than the restaurant! Wow, I'll take that compliment any day!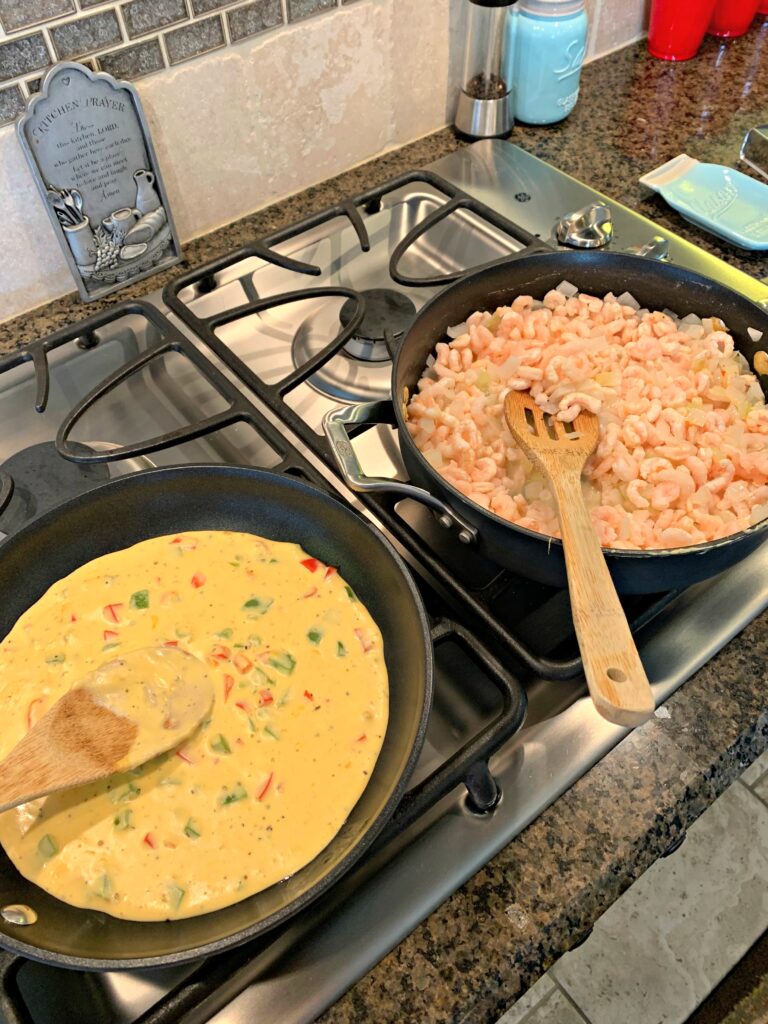 The recipe below makes about 10 enchiladas, in a 9×13 baking pan. We had enough for my family of five, as well as lunch leftovers the following day!
If you love seafood, or catch a great sale on shrimp at your grocery store, I highly recommend trying these! The creamy cheese sauce accented the flavorful shrimp perfectly!
If you have company over, they are sure to be impressed by this dish! I served mine with my Instant Pot Mexican Rice and it was delicious! (non Instant Pot version here)
For other great dishes, check below for some of my favorite content:
Raspberry Lemonade Summer Cocktail
Shortcut Frozen Limeade Margaritas
Enjoy and let me know what you think of my Tasty Shrimp Enchiladas! I love hearing feedback! Don't forget to sign up for my newsletter below! I send my latest (and greatest) recipes to your inbox so you never miss out!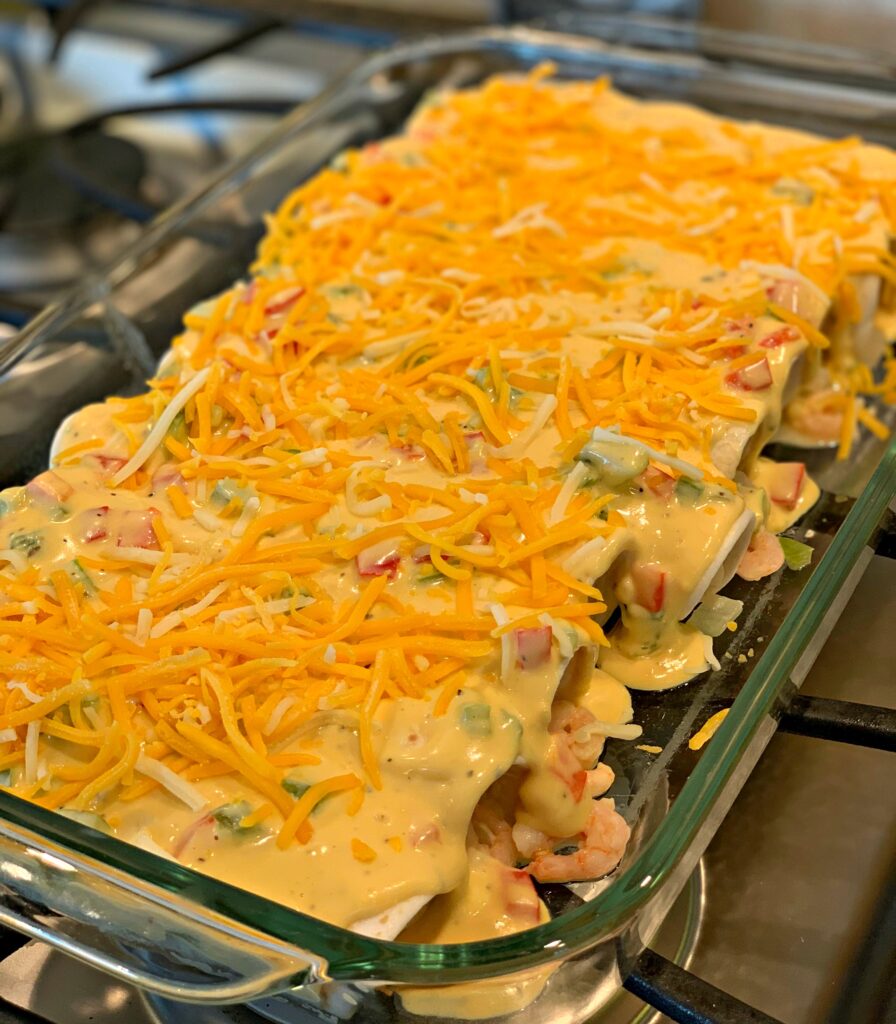 Make sure you print a copy of this recipe out. It's sure to become a family favorite you'll go back to over and over!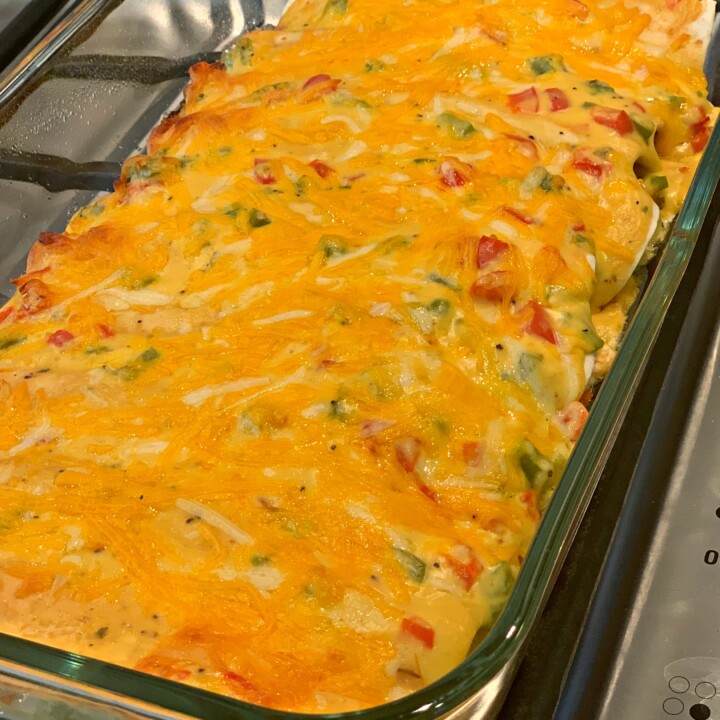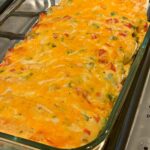 Print Recipe
Tasty Shrimp Enchiladas
These Tasty Shrimp Enchiladas are cheesy, creamy, and come together in no time! A Tex Mex staple that has been turned into good ole comfort food at its finest!
Ingredients
SAUCE

2

tablespoon

butter

1

red pepper, diced

1

green pepper, diced

1/2

teaspoon

oregano

1/2

teaspoon

garlic salt

1/2

teaspoon

black pepper

1

pinch

cayenne pepper

1

tablespoon

flour

3/4

cup

milk

1 1/2

cups

Mexican cheese, shredded

1/2

cup

sour cream

SHRIMP FILLING

1

tablespoon

butter

1 1/2

lbs

shrimp, peeled/deveined

*dice small or use salad shrimp

1

tomato, diced

1

onion, diced

1/2

cup

Mexcian cheese

10

flour tortillas
Instructions
Preheat oven to 350 degrees and spray a 9x13 baking pan with grease.

To create cheese sauce: melt the butter in a saucepan over medium heat. Add in the green/red pepper and sauté until tender. Sprinkle in the oregano, garlic salt, pepper, cayenne, and flour. Stir to combine and allow to cook for about 1 minute. Whisk in the milk and once slightly thickened, add in the cheese. Once cheese has melted, stir in the sour cream and remove from heat. Set cheese sauce aside.

To prepare shrimp filling: melt the butter in a skillet over medium heat. Sauté onion until tender. Add the shrimp and cook about 3 minutes. Add the tomatoes and cook an additional minute.

To assemble: fill each tortilla with the shrimp mixture. Roll the tortilla tightly up and place seam down in prepared pan. Once each tortilla has been filled and mixture used up, pour the cheese sauce evenly on top of pan ensuring you cover all enchiladas. Sprinkle 1/2 cup cheese on top and place in oven.

Bake for about 30 minutes, or until cheese is melted and pan bubbles.