Charro Beans are a classic Tex-Mex dish that combine tons of flavor to create a side that will compliment any Mexican dish!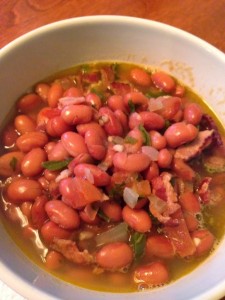 Before moving to Texas, I had honestly never even heard of Charro Beans. Maybe I'd seen a picture, I don't know, but I really don't have a recollection of these beans. Fast forward to living just outside of Dallas, and Charro Beans were a staple at every Mexican restaurant we frequented. Honestly, we judge Mexican restaurants on the quality of their Charro Beans! There are so many variations on these beans, and sometimes it comes down to a family recipe or an off-the-wall ingredient that really makes these beans.
After settling the debate with my husband regarding which restaurant has the best Charro Beans, we decided to go to work replicating the recipe (or as close as we could come to it!). After several back and forth taste tests within the family, we decided we had it nailed with this recipe!
Charro Beans are a great compliment to any Mexican dish. These are quick and easy to prep and will be your new favorite go-to beans!
The basis for any good Charro Bean recipe are the beans….don't skimp here and get these classic Bush's Pinto Beans referred to in the recipe card below. They have good flavor, but don't take the effort to soak and cook fresh beans. Trust me, you'll thank me later! Next are the flavors. Bacon is a key ingredient, and adds heartiness to the beans. We've tried several kinds of bacon, and honestly, you can't go wrong with any bacon (in any dish, right?), but we prefer to use Jalapeno bacon in these beans for no other reason than we enjoy the spice it adds.
Garlic, onion, tomato, cilantro and jalapenos should all be fresh. How finely you dice them up is completely your preference, but do what you like in terms of texture! For added protein (and texture), you can optionally add sausage or chorizo or any number of meats that will hold up to heating and simmering for a while.
Although this recipe may look daunting from the list of ingredients, it really comes together quite quickly, and makes for an amazing smelling recipe that will fill your house with spice and savory goodness!
If you love this recipe, check out everything you need below to make an amazing Taco Tuesday (or Taco ANYDAY) meal!
Best Ever Instant Pot Mexican Rice
Enjoy and be sure to let me know what you think in the comments below if you give these a try!
Don't forget to check out my recipe card below. You'll get ingredients, directions, and the ability to print out a card for yourself!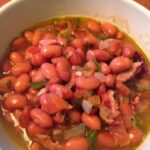 Print Recipe
Charro Beans
Charro Beans are a classic Tex-Mex dish that combine tons of flavor to create a side that will compliment any Mexican dish!
Ingredients
53

oz

Bush's Pinto Beans

1

lb

Jalapeno Bacon

1

cup

diced onion

2

cloves

garlic, minced

1

tomato, diced

1/4

cup

cilantro, chopped

3

jalapeno, diced

3

chicken bouillon cube
Instructions
Add entire can of beans + 1 can of water to a large pot, bring to a boil

Dice bacon and cook in separate skillet until cooked through

Remove cooked bacon from skillet and add to boiling pot of beans, saving bacon grease to cook remaining ingredients

Add onions to skillet (with bacon grease) and cook until soft

Add cooked onions to pot of beans

Add buillon cubes to pot of beans and allow to boil for 15 minutes

Add remaining garlic, tomato, cilantro, jalapenos to beans, and turn down to simmer

Simmer until ready to serve, at least 1 hour, but more time allows flavor to develop
Nutrition
Serving:
1
cup
|
Calories:
408
kcal
|
Carbohydrates:
33
g
|
Protein:
17
g
|
Fat:
24
g
|
Saturated Fat:
8
g
|
Polyunsaturated Fat:
4
g
|
Monounsaturated Fat:
10
g
|
Trans Fat:
1
g
|
Cholesterol:
38
mg
|
Sodium:
1239
mg
|
Potassium:
720
mg
|
Fiber:
9
g
|
Sugar:
4
g
|
Vitamin A:
240
IU
|
Vitamin C:
12
mg
|
Calcium:
102
mg
|
Iron:
3
mg