My go-to side dish with chili is cornbread. My hubby loves a good sweet cornbread, however, I am a big fan of loaded cornbread. Throw some jalapenos, corn, bacon, etc. in there and I am one happy girl.
Last weekend, for Superbowl Sunday, we made a big pot of chili. I decided to change things up from sweet cornbread and make a loaded version in my cast iron skillet (have I mentioned how much I LOVE that thing, hehe). The cornbread was the perfect side dish and complimented the chili perfectly. Since I added a bit extra jalapeno, it had quite the kick to it and my kids stayed clear of it, but it was delicious nonetheless. The best part about it, it's easy to change up. If you don't like jalapenos, leave them out. Love bacon? Add more! Change it up depending on what you prefer!!
Enjoy!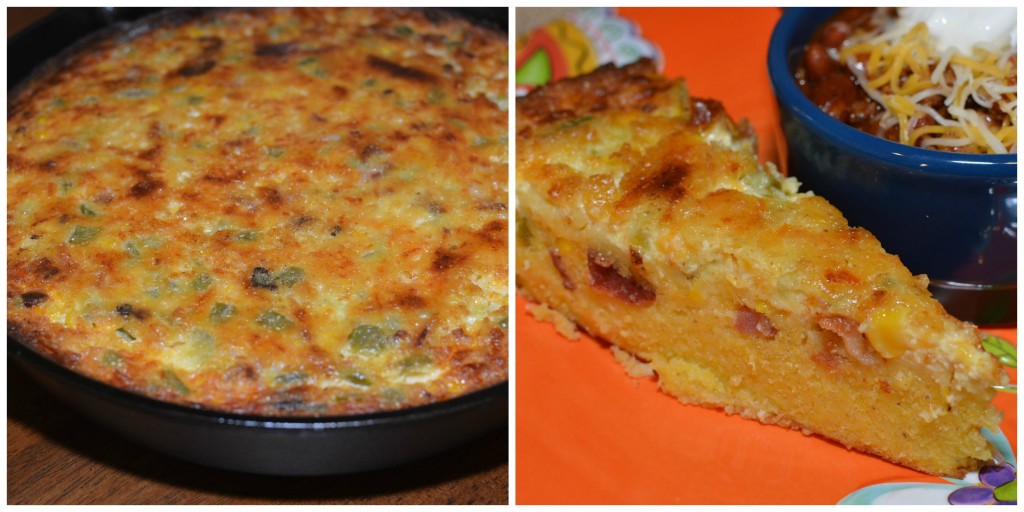 Ingredients:
3 cups cornmeal
3 eggs
2 1/2 cups milk
1/2 cup oil
1 1/2 cups cheddar cheese, shredded
2 tbsp. sugar
6 strips bacon, cooked and crumbled
1 can creamed corn
1 can diced jalapenos
Directions:
Preheat oven to 425 and place a few pads of butter around inside of cast iron skillet. (If using a baking pan, simply grease pan)
Place cast iron skillet, if using, into oven to preheat.
Meanwhile, combine the cornmeal, eggs, milk, oil, cheese, sugar, bacon, corn, and jalapenos in medium bowl. Mix until combined.
Once butter is melted in skillet and sizzling, remove from oven and pour batter evenly inside. If using baking pan, pour batter into pan.
Place in oven and allow to cook for about 25-30 minutes.
Remove from oven and allow to cool for 5 minutes before serving!