Game Day Chili- hearty beef chili made with two kinds of chili beans, tomatoes, and the perfect amount of spice to make this a crowd favorite. Make this quick and easy chili over the stove or in the slow cooker to save on time!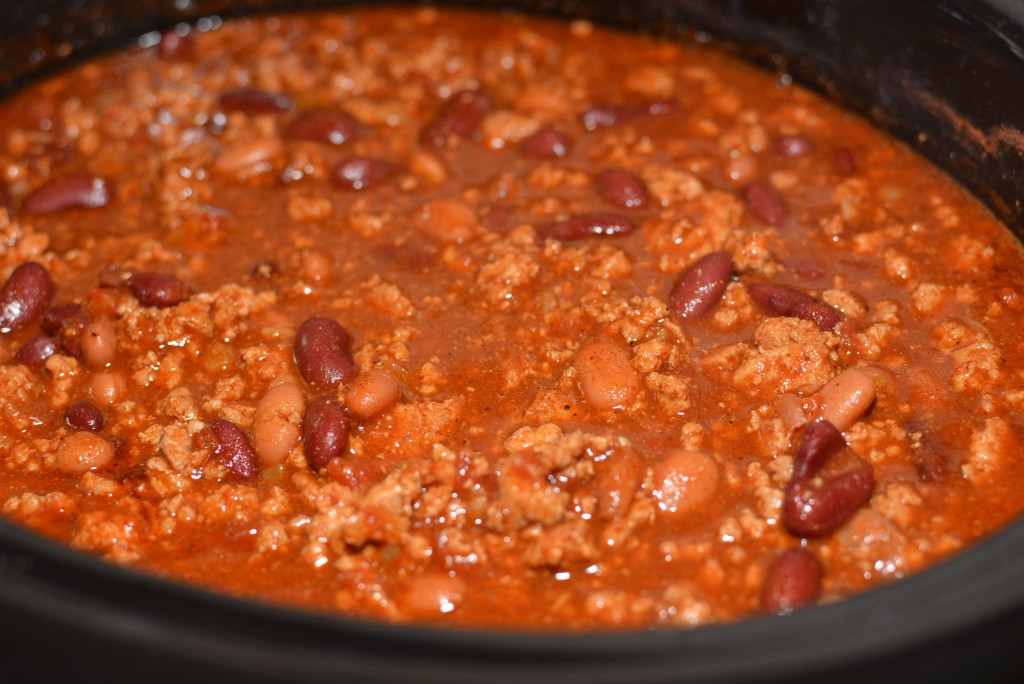 The BEST Chili Recipe
Are you a "beans in your chili" kind of person? Well, hopefully you answered yes because this chili includes TWO types of beans! In my opinion, the best chili recipe is a base of ground beef, tomato, spices, and BEANS. I love the number of fiber beans add to this recipe and I promise you won't regret adding them. Feel free to swap the beans for a different kind such as black beans, garbanzo beans, or cannellini beans
Serve with a loaded cornbread or sweet cornbread and you have a meal the entire family will enjoy!
This is truly the best chili recipe ever. It's filling, flavorful, and fool-proof delicious. Game Day Chili is perfect for college football Saturday, Super Bowl Sunday get-togethers, or any cold winter day.
Why You'll Love It
Quick and Easy- whether you choose to make this chili in the slow cooker or on the stove-top, it can be ready to simmer in under 10 minutes!
So Much Variety Available- add some more heat, change up the meat, or have fun with the toppings. So many great options to choose from.
Freezer Friendly- you can freeze leftovers and simply pull them out when needed.
Meal Prep- chili is an excellent meal prep idea because it will literally give you chili for days. This particular recipe serves about 8 and you can easily double it and freeze for later!
Ingredients for Game Day Chili
*See Printable Recipe Card below for exact amounts and directions!
Ground Beef: This chili is sure to be packed with protein with your ground beef and beans. Find the exact measurements in the recipe card down below!
Diced, medium onion: Some diced, cooked onions will fill your kitchen with an irresistible scent and leave your chili with an even more flavorful taste!
Can of Mexican tomatoes: Alternatively, you can use Rotel or tomatoes with onion and jalapenos—it depends on how spicy you want your dish to be!
Can of chili beans: You can't make chili without the chili beans!
Kidney beans: Kidney beans are also a powerful protein—high in protein and fiber. You can bet you're going to get your daily value after this bowl!
McCormick chili seasoning: Can't have a game day chili recipe without the chili seasoning! Choose McCormick to pack in that beloved chili seasoning flavor!
V-8 tomato juice: While some opt to use tomato paste or tomato sauce, our secret ingredient is V-8!
Salt/Pepper: You can use as much or as little salt and pepper as you want! It's entirely up to you and your personal preference!
How to Make Classic Chili
Gather all of your ingredients!
Prepare and chop up all of your veggies and ingredients as needed. In this case, it would be your diced onions—unless you bought those pre-chopped!
Place your brown ground beef and diced onion together in a Dutch oven and cook for about 5 minutes. Then you're going to want to drain the fat and add in salt and black pepper as desired.
Next, you're going to add your beans, tomatoes, V-8 juice, and chili packets. You can adjust V-8 juice and chili seasonings to taste.
Stir it in evenly and then let it simmer until it's warm and ready to serve!
Now it's time to serve up in some big bowls and top it off with some cheddar cheese, Fritos/corn chips, diced onion, and sour cream for an abundance of fun flourish and flavor! Time to enjoy your delicious bowl of chili and the football game!
How to Make Slow Cooker Beef Chili
This Game Day Chili recipe can easily be made in the slow cooker. Here are the few simple steps.
Simply cook the ground beef and onions first as directed above.
Add the rest of the ingredients and ground beef to the slow cooker and simmer on low for about six to seven hours, only on high for about three to four.
Serve in bowls with desired toppings.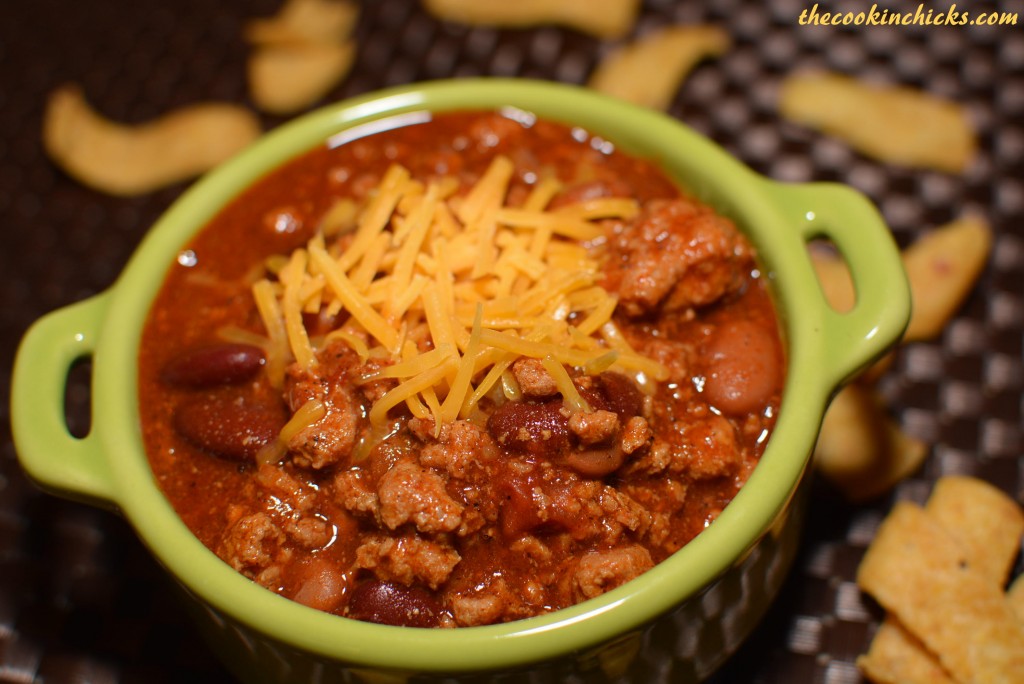 Variations to try
Red bell pepper:

Bell peppers

in general, no matter what the color, could work in any chili. It will add some nurturing

vitamin c

and some subtly sweet flavor and crunch!

Poblano peppers:

Compared to the mild

green bell pepper

, this pepper adds more palpable heat. It's another 'take it or leave it' kind of ingredient—it's not for everyone—but if you want a

spicy chili

your options are unlimited!

Green Chiles:

These mild New Mexico peppers come pre-chopped and can be found in small cans at any major

grocery store

. They can also bring a little spice, so if you like some

medium heat

, there are plenty of ways to spice this recipe up!

Jalapeno Pepper:

Pretty sure everyone knows about jalapeno peppers—so add at your own risk! This would really spice things up!

Hot sauce:

Now this is a suggestion that can really pack a punch of spicy,

great flavor

. If you're not a huge fan of spice though, you can easily sit this one out!

Red pepper flakes:

Red pepper flakes are a great way to add just a little heat without it being too much!
Topping Ideas for Game Day Chili
Tortilla chips: You can opt to use crushed or strips of tortilla chips instead of Fritos if you'd like!
Green Onions: Green onions, also known as scallions, often make the perfect, colorful flourish to nearly any dish.
Frito Corn Chips: these add a crunchy, salty addition
Sour Cream: such a creamy addition
Cheese: shredded cheese is my favorite addition. I use Cheddar, but you can add any favorite cheese desired.
Crumbled Bacon: because bacon makes everything better, right?!
Leftover Chili Ideas
Do you have leftover chili and want to change things up? Here are some great options to try:
Chili Baked Potatoes- cook baked potatoes until tender and add scoops of chili with some toppings for a tasty meal option
Chili Nachos- make loaded nachos, but in lieu of meat, add scoops of chili
Chili Cheese Dogs- grill some hotdogs up and scoop some chili with shredded cheese on top
Chili Cheese Sliders- instead of sloppy joe mixture, use chili on slider buns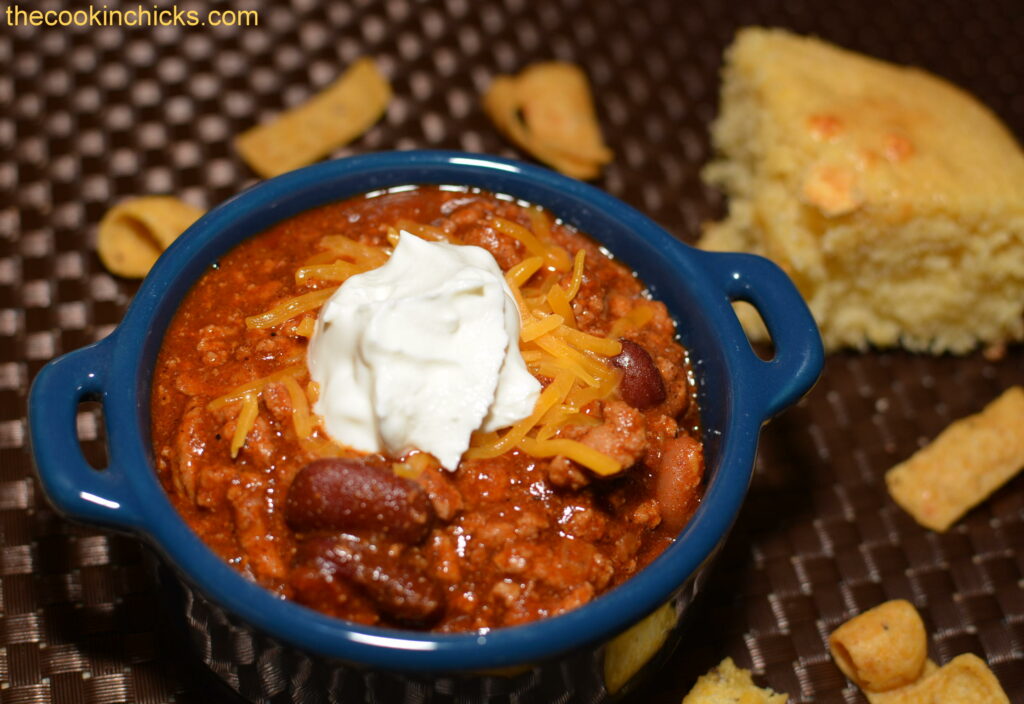 How to store Beef Chili
Store beef chili leftovers in an airtight container in your refrigerator for up to 5 days.
To reheat: Either place multiple servings of the beef chili back into the stockpot and heat over medium heat until boiling or place 1 serving of chili into a microwave-safe bowl and microwave on high for 1 minute and 30 seconds to 2 minutes.
How to Freeze Game Day Chili
Beef Chili is the perfect chili recipe to freeze! Here is how:
Let your beef chili cool completely.
Then, transfer it into an airtight container or freezer-safe gallon-size bag.
Remove as much air as possible and seal.
Freeze for up to 3 months.
What to serve with this Game Day Chili Recipe
This hearty chili is great on its own, but if you want to add a few side dish options, here are some tasty ones:
Loaded Cornbread- made in a cast iron skillet and loaded with bacon, cheese, peppers, and more!
Knock Your Socks Off Cornbread- a sweet, fluffy and moist cornbread that is a Southern favorite!
Southern Hush Puppies- fried cornbread nuggets that have a tender center and crisp outer coating!
Side Salad- to get those greens in!
Crusty Bread- perfect to dip into the chili as you're eating!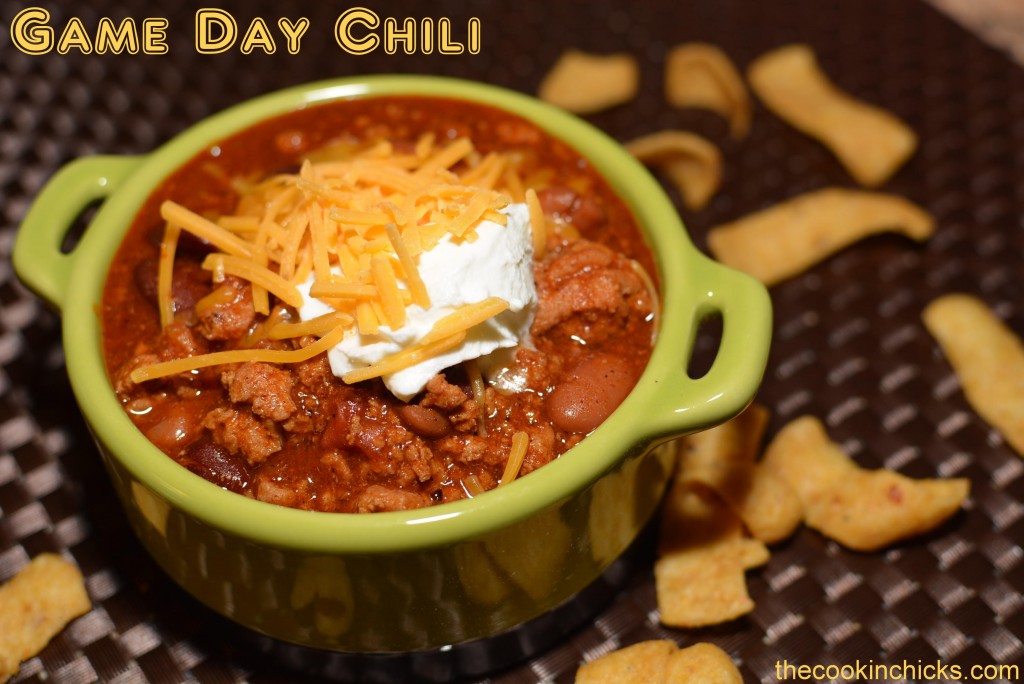 Other Great Game Day Recipes
Looking for other game day ideas? Here are some more easy recipes for you to whip up if you're feeling like cookin'!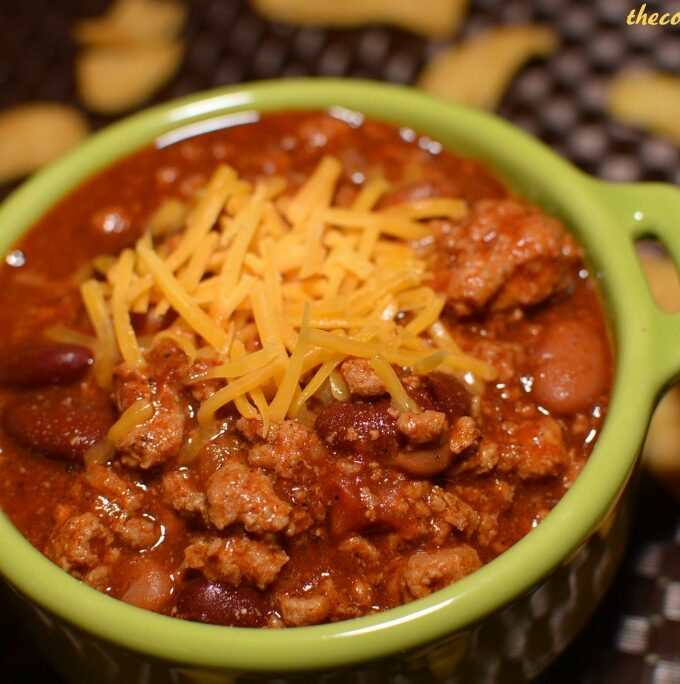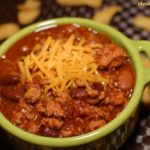 Print Recipe
Ultimate Game Day Chili
This Game Day Chili recipe is a sure-fire crowd pleaser, perfect for serving for football games during chilly weather.
Ingredients
3

lb

ground beef

1

medium onion

diced

Salt/Pepper to taste

1

can

Mexican tomatoes

Rotel OR tomatoes w/ onion and jalapenos

1

can

chili beans

2

cans

kidney beans

3

packets

McCormick chili seasoning

36

oz

V-8 tomato juice
Instructions
Brown beef and onion together in a skillet

Drain fat and add in salt/pepper

Add beans, tomatoes, V-8, and chili packets. Simmer until warm and ready to serve

Adjust V-8 juice and chili seasonings to taste

Serve with some cheddar cheese, Fritos, diced onion, and sour cream
Nutrition
Calories:
441
kcal
|
Carbohydrates:
2
g
|
Protein:
30
g
|
Fat:
34
g
|
Saturated Fat:
13
g
|
Polyunsaturated Fat:
1
g
|
Monounsaturated Fat:
15
g
|
Trans Fat:
2
g
|
Cholesterol:
121
mg
|
Sodium:
119
mg
|
Potassium:
556
mg
|
Fiber:
1
g
|
Sugar:
1
g
|
Vitamin A:
60
IU
|
Vitamin C:
5
mg
|
Calcium:
47
mg
|
Iron:
4
mg