Ingredients:
2 3/4 lb-3lb ground beef
1 medium onion, diced
Salt/Pepper to taste
1 can Mexican tomatoes (Rotel OR tomatoes w/ onion and jalapenos)
1 can chili beans
2 can kidney beans
3 packets McCormick chili seasoning
About 36-42 oz V-8 tomato juice
Directions:
Brown beef and onion together in a skillet.
Drain fat and add in salt/pepper.
Add beans, tomatoes, V-8, and chili packets. Simmer until warm and ready to serve!
Adjust V-8 juice and chili seasonings to taste.
Serve with some cheddar cheese, Fritos, diced onion, and sour cream!!
*This can also be made in the slow cooker. Just cook the turkey/onion as directed above. Add ingredients and turkey to slow cooker and simmer on low for about 6-7 hours, high for about 3-4.

GO SEAHAWKS!!!!!!!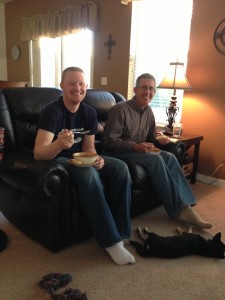 Hubby and Dad enjoying their chili : )