Nowadays, if you go online and type in "homemade mac and cheese", you will have TONS of recipes pop up! Now, some of them will be good…..but I promise you, this one is the BEST. Yes, I know, I probably am bias….but of the several versions I have made over the years, this one had my family ALL going back for seconds, wanting leftovers the next day, and then asking when I will be making it again. I don't know about you, but that to me, sounds like a winner!
This dish is cheesy, the noodles are tender, and the slightly crisp bread crumb topping really enhances the flavor. The greatest thing about this is, it reheats perfectly! Have you ever tried to reheat mac and cheese and have it either get dried out or oily? Well, not this one! It stays just as tasty and makes great leftovers!
Whether serving for dinner, or as a side dish….don't pass this recipe up!!
Enjoy!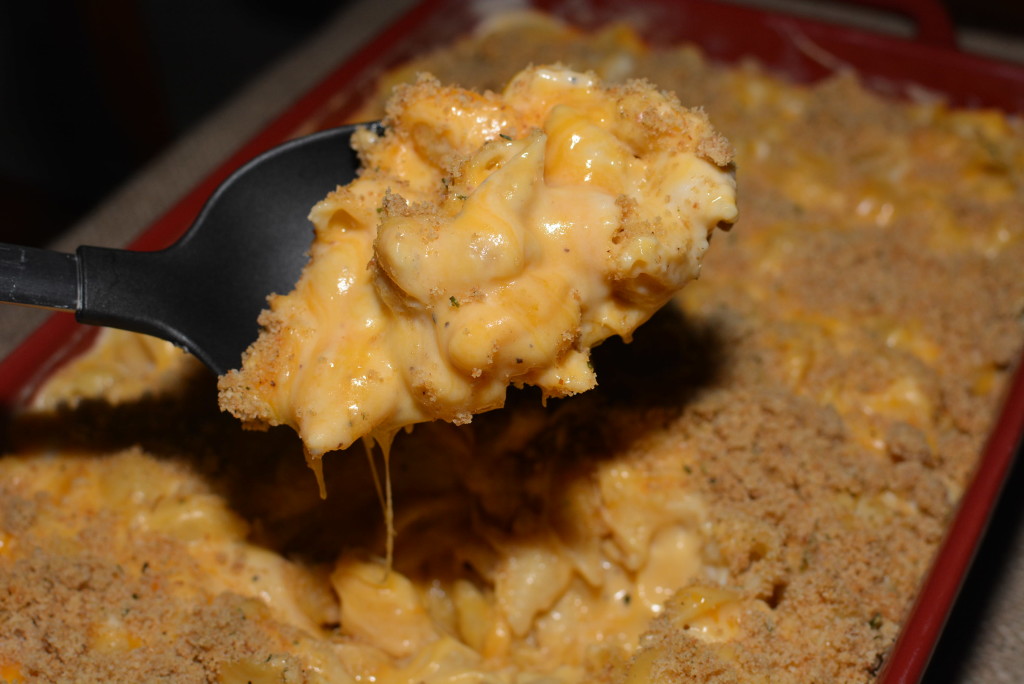 Ingredients:
1 lb pasta (I use shells, but up to you)
1/2 cup butter
1/2 cup flour
4 cups milk
6 cups shredded cheddar cheese
1 tbsp. salt
1 teaspoon pepper
2 tbsp. butter
1/2 cup Panko bread crumbs
Directions:
Boil pasta in water according to package directions.
While pasta is cooking, add butter to a large skillet.
Once butter is melted, whisk in flour.
When flour is dissolved, add in salt and pepper.
Slowly whisk in the milk, stirring until smooth and mixture has thickened.
Remove from heat.
Drain water from pasta once cooked and put pasta into a greased 9 x 13 pan.
Sprinkle cheese on top of pasta evenly.
Pour milk mixture directly on top of cheese and using a spoon, toss to coat.
Using same skillet as before, melt remaining 2 tbsp. butter and stir in the bread crumbs.
Sprinkle evenly on top of macaroni.
Place pan in preheated oven, 325, for about 15 minutes!
Serve!!
Recipe adapted from: That Which Nourishes