Cheesy, flavorful potatoes that are cooked in tin foil, create an easy to clean up side dish!! Perfect for any BBQ or gathering, these Grilled Cheesy Garlic Potatoes are delicious and sure to be a favorite with everyone!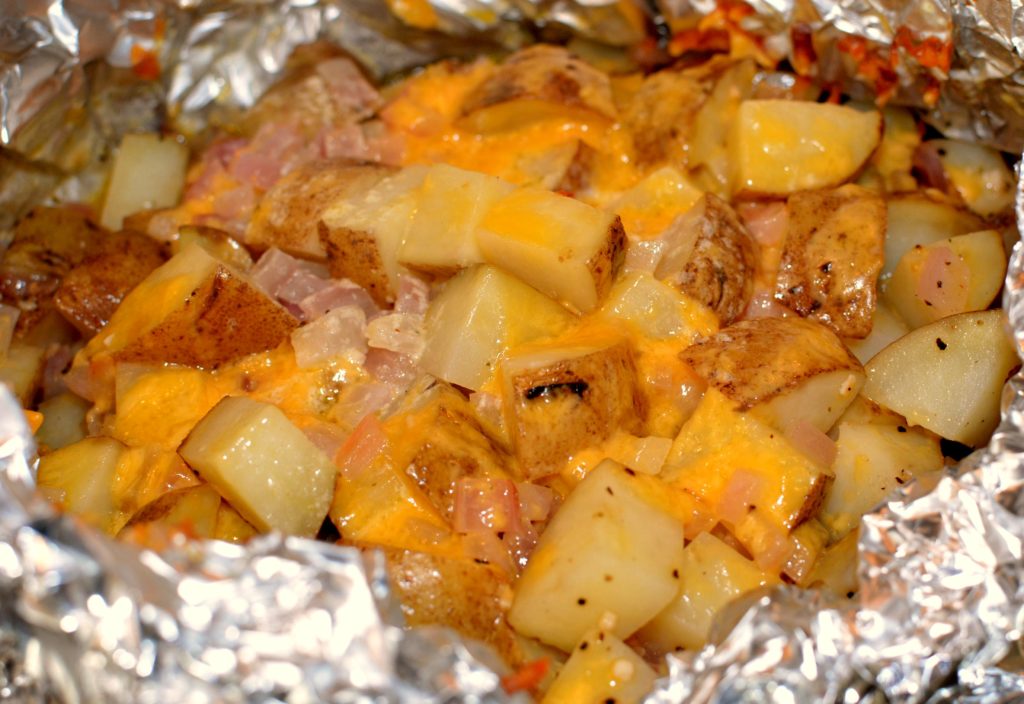 Living here in Houston, Texas, my family loves to grill. Not only does it help keep the house cool, but it cuts down on messes, as well as clean up duty!
Last week, my hubby grilled some steaks for dinner. Since nothing pairs better with steak than potatoes, I decided to create these Grilled Cheesy Garlic Potato foil packets and have him add them to the grill. My kiddos were big fans of the cheese in these, whereas I was a fan of the onion especially. All the flavors created a perfect side dish and dinner was fabulous! There's really nothing better than the combination of cheese + garlic + potatoes if you ask me…..and this flavor profile really complements a good steak perfectly.
These Grilled Cheesy potato packets are simple to make, impossible to screw up, and unforgettably packed with flavor!
Here's an underrated positive for these…..once wrapped and thrown on the grill, it's really very difficult to mess this recipe up. As long as you ensure the potatoes have cooked long enough to soften, it's nearly impossible to overcook! I like my potatoes on the softer side, so I can stir in the cheese and really get a great flavor in every bite. This recipe lends perfectly to that….even better, you can focus on other sides (or steaks, in this case) while these are cooking….no need to flip, turn, or move around!
Clean up is a breeze as well since all you have to do is package up the leftovers, if there are any, and simply toss the tin foil into the garbage! Score!! Your grill and tools all stay clean with this easy cook!
From my family to yours, hope you enjoy!!
If these Grilled Cheesy Garlic Potatoes look like a winner in your family, check out these other popular sides to prepare for your next BBQ!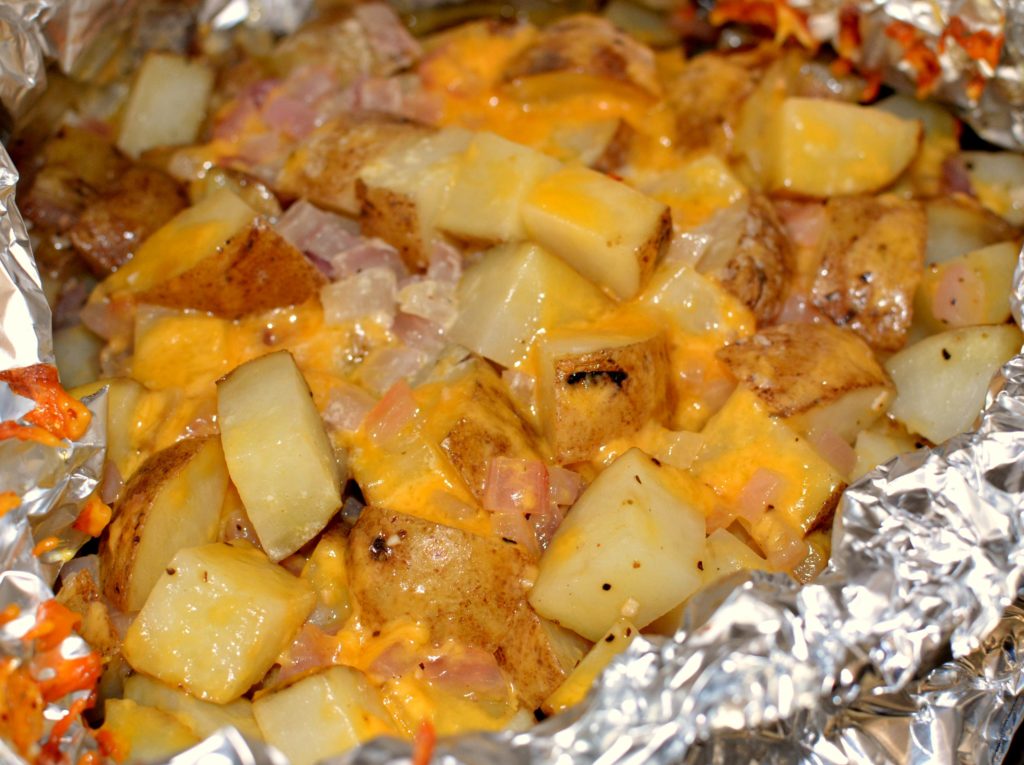 Ready to make the cheesiest grilled potato packets? Click below to print out the recipe today!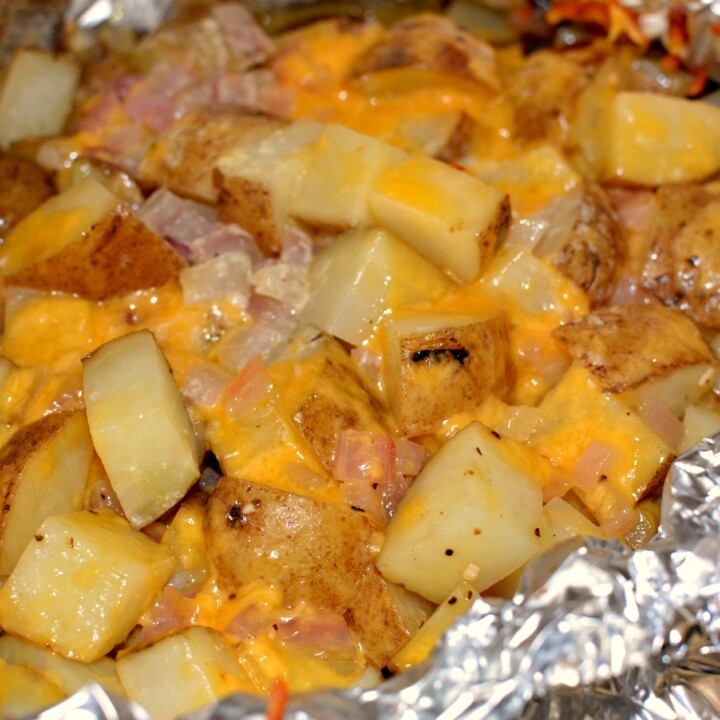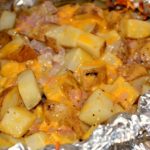 Print Recipe
Grilled Cheesy Garlic Potatoes
Grilled, tender potatoes that are cheesy, packed with flavor, and cooked conveniently in a tin foil packet.
Ingredients
6

baking potatoes, cubed

1

white onion, diced

3

tablespoon

butter, sliced

1

tbsp

olive oil

6

garlic cloves, minced

1

teaspoon

parsley

salt/pepper to taste

1

cup

cheddar cheese, shredded

1/2

cup

parmesan cheese, shredded
Instructions
Toss the potatoes with the onion, butter, olive oil, garlic, parsley, salt, and pepper.

Spray a large piece of tin foil with cooking spray to avoid sticking.

Add potato mixture to center of tin foil and seal all sides to create a packet.

Place tin foil packet on pre-heated grill and cook for about 10 minutes before flipping to other side and cooking another 10 minutes.

Carefully open the packet and sprinkle in both types of cheese.

Reseal tin foil packet and allow to cook for another 5 minutes, or until cheese is melted.

Remove packet from grill and carefully open to serve!!
Notes
You can also add chopped bacon if desired!