This easy Delicious Homemade Crusty Bread recipe is sure to be a hit! Crispy crust on the outside and soft, airy bread on the inside!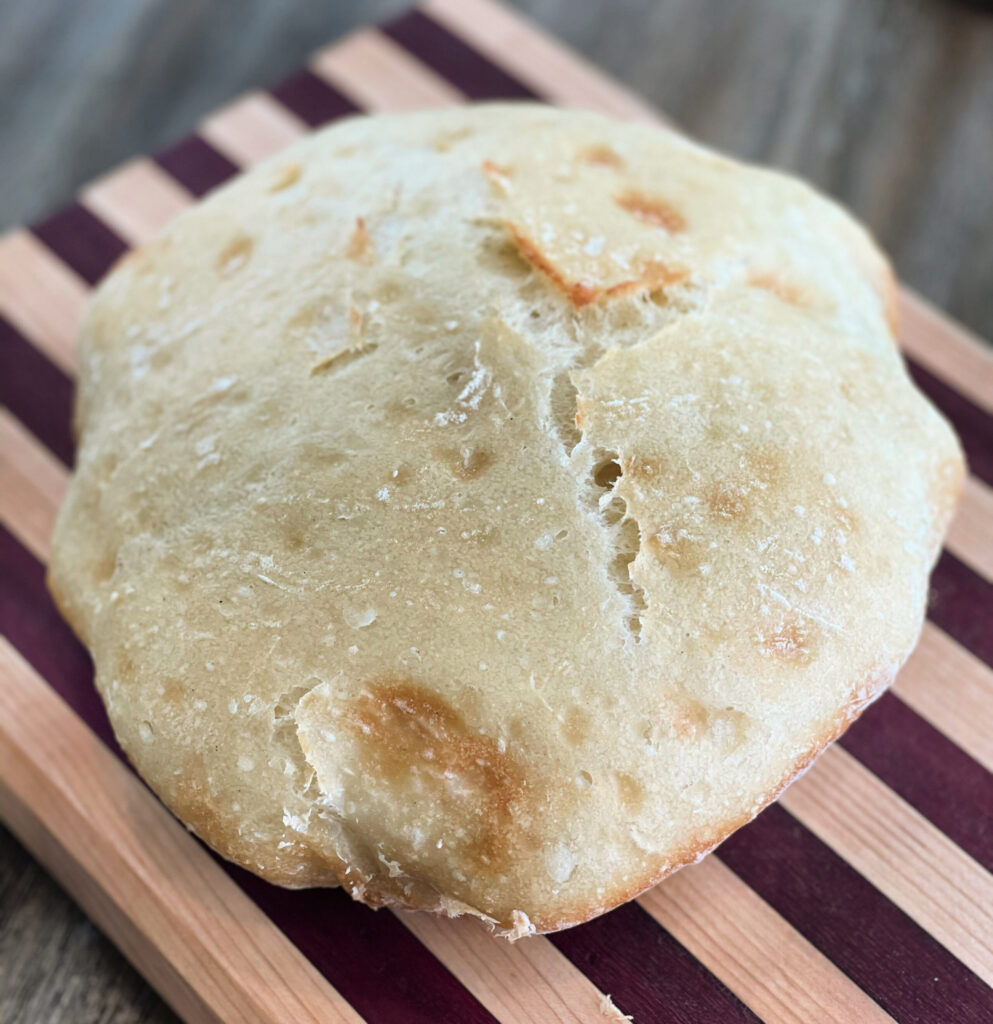 Homemade Crusty Bread
Have you tried making homemade bread? Well, up until last week, the only "homemade" bread I made was either a quick bread (no yeast), or from the bread machine.
Each and every time we go to the grocery store, my hubby and I end up at the bakery. All the fresh bread varieties are fun to incorporate into different meals.
Out of curiosity, I asked my hubby one afternoon if he thought "crusty bread" would be difficult to make. After looking through some recipes, we discovered it was MUCH easier than originally anticipated.
As in….only 4 ingredients and little to no work!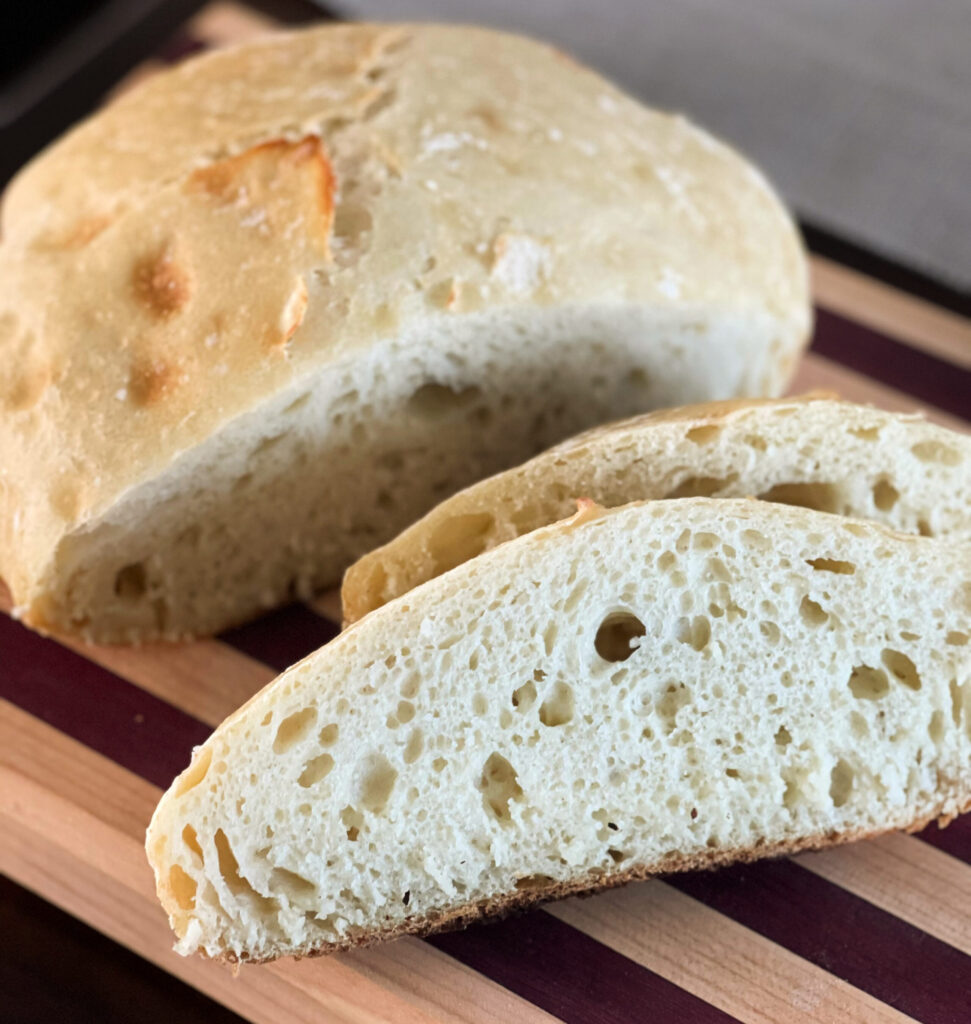 After putting the dough together, letting it rise, and then baking it…. the house smelled incredible, and our mouths were watering.
We bit into the first slice, and it was ROCK hard! As in, epic fail!
We were both incredibly bummed as we had compared our version to a few others and didn't understand where we went wrong.
Thank goodness I am not posting the recipe to our first attempt. I now can refer to that loaf as one large hockey puck. Horrible!
I was a bit discouraged and didn't intend on trying to make batch number two so soon, but with some help from my hubby…we set out to work on adapting "hockey puck" into edible bread.
We were incredibly careful about not over-mixing, I think that was our main issue from attempt one.
We added a bit more water, less flour, and crossed our fingers hoping for better luck!
The bread baked up, smelled just as yummy as the first time, but this time…our mouths weren't watering. We were skeptical. Hopeful, but cautiously optimistic.
When it was ready to slice and our bread knife went into it, it was PERFECTION!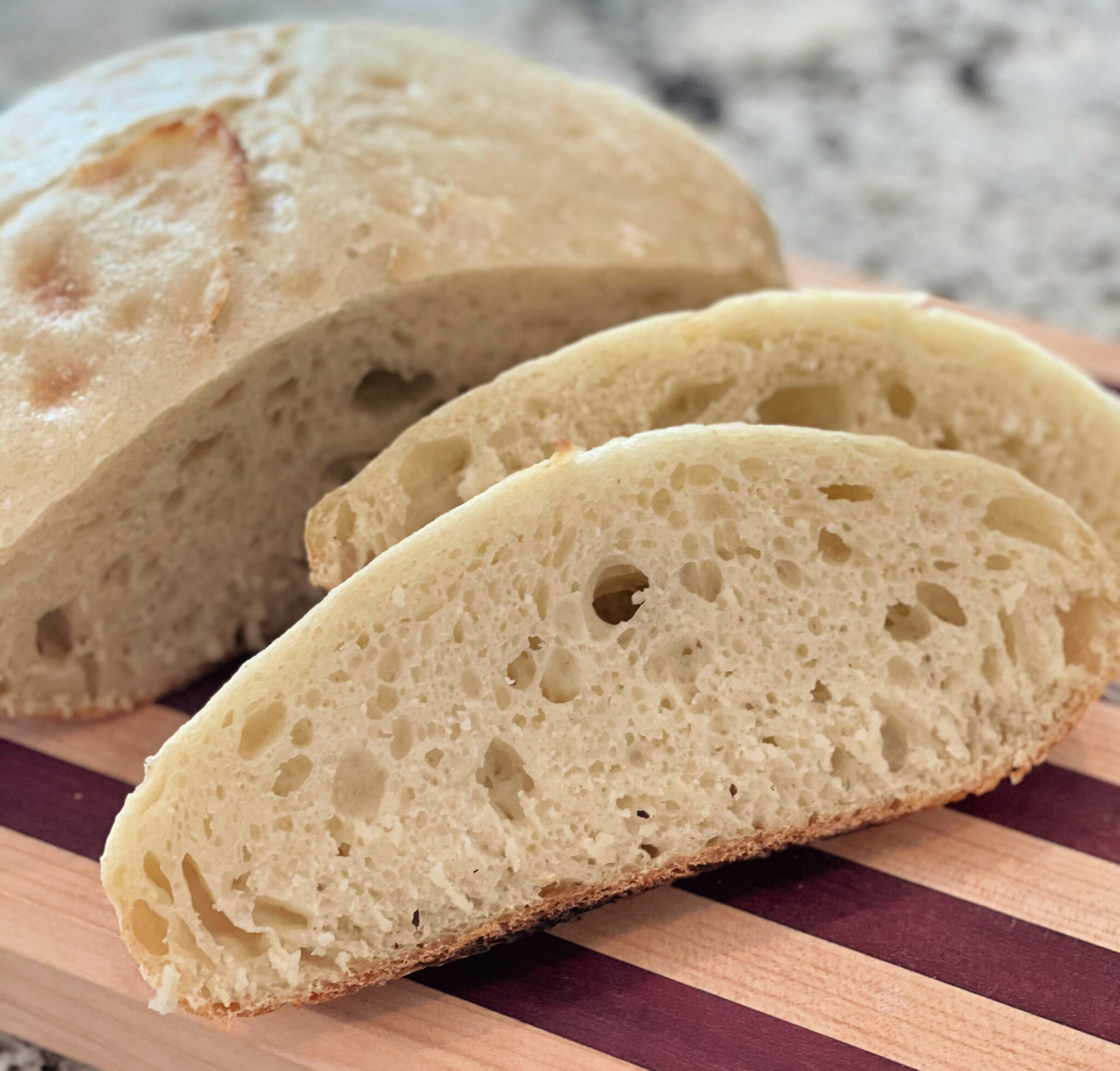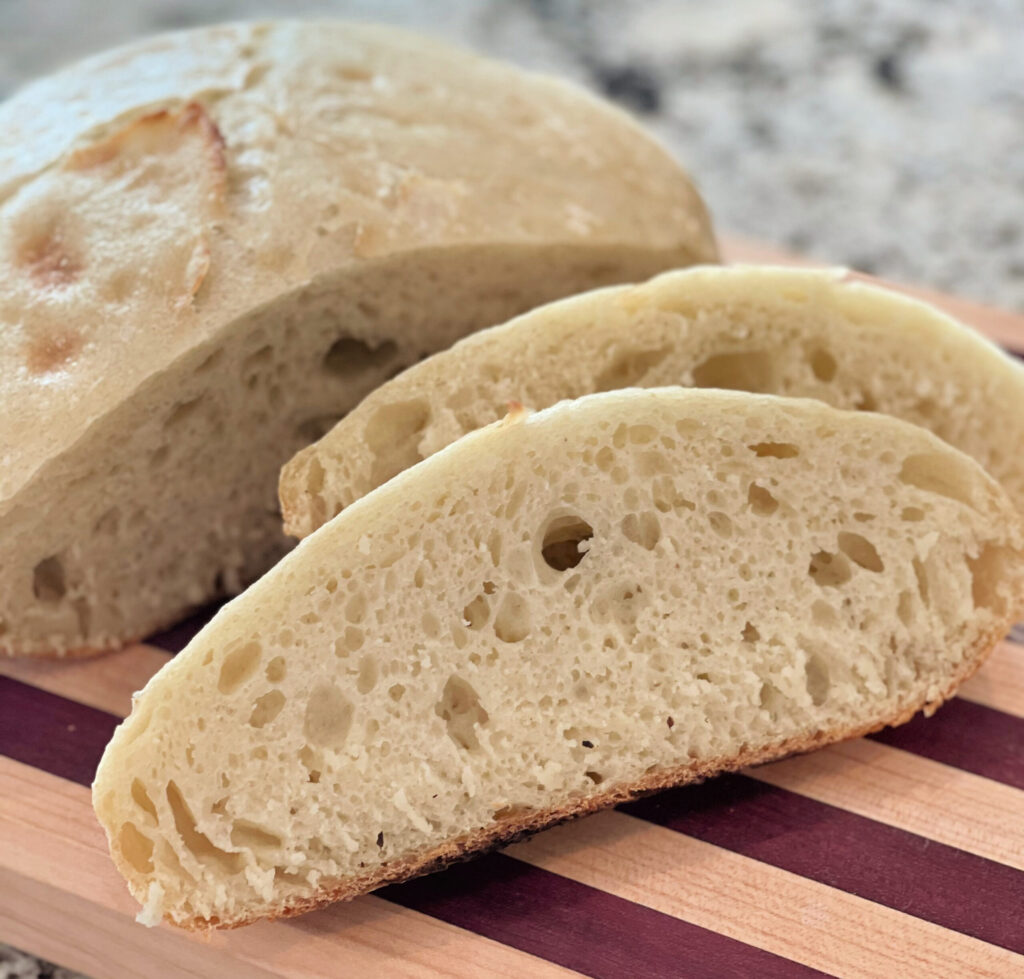 The knife sliced easily! The middle had the best texture and consistency, and the crust was perfectly crisp!
Truth be told, it was hard not to devour the entire loaf right then and there.
We practiced some self-control only having the one slice and saved the rest to go with dinner.
This Delicious Homemade Crusty Bread paired perfectly with my Broccoli Cheese Soup and the entire family loved it!
We ended up with a few slices left after dinner and saved them to use as "toast" the next morning with some homemade jam!
If you're thinking making bread can be a daunting or long task, give this a try! It'll change your mind and may just go down as a new favorite of yours!
Of course, be sure to let me know your thoughts below, as well as come connect with me on Instagram HERE!
Click HERE for directions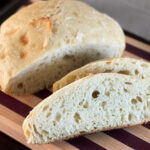 Print Recipe
Delicious Homemade Crusty Bread
This Delicious Homemade Crusty Bread comes together using only 4 ingredients! Being so easy, you'll forget all about store bought!
Ingredients
3 1/4

cups

flour

*all purpose

1

teaspoon

salt

2

teaspoon

active dry yeast

1 1/2

cups

warm water
Instructions
**SEE LINK ABOVE FOR DIRECTIONS**
Nutrition
Calories:
195
kcal
|
Carbohydrates:
40
g
|
Protein:
6
g
|
Fat:
1
g
|
Saturated Fat:
1
g
|
Sodium:
295
mg
|
Potassium:
83
mg
|
Fiber:
2
g
|
Sugar:
1
g
|
Vitamin C:
1
mg
|
Calcium:
10
mg
|
Iron:
2
mg