Nothing beats a warm bowl of soup on a chilly winter night. This Broccoli Cheese soup is hearty, tastes fresh, and is full of cheesy flavor!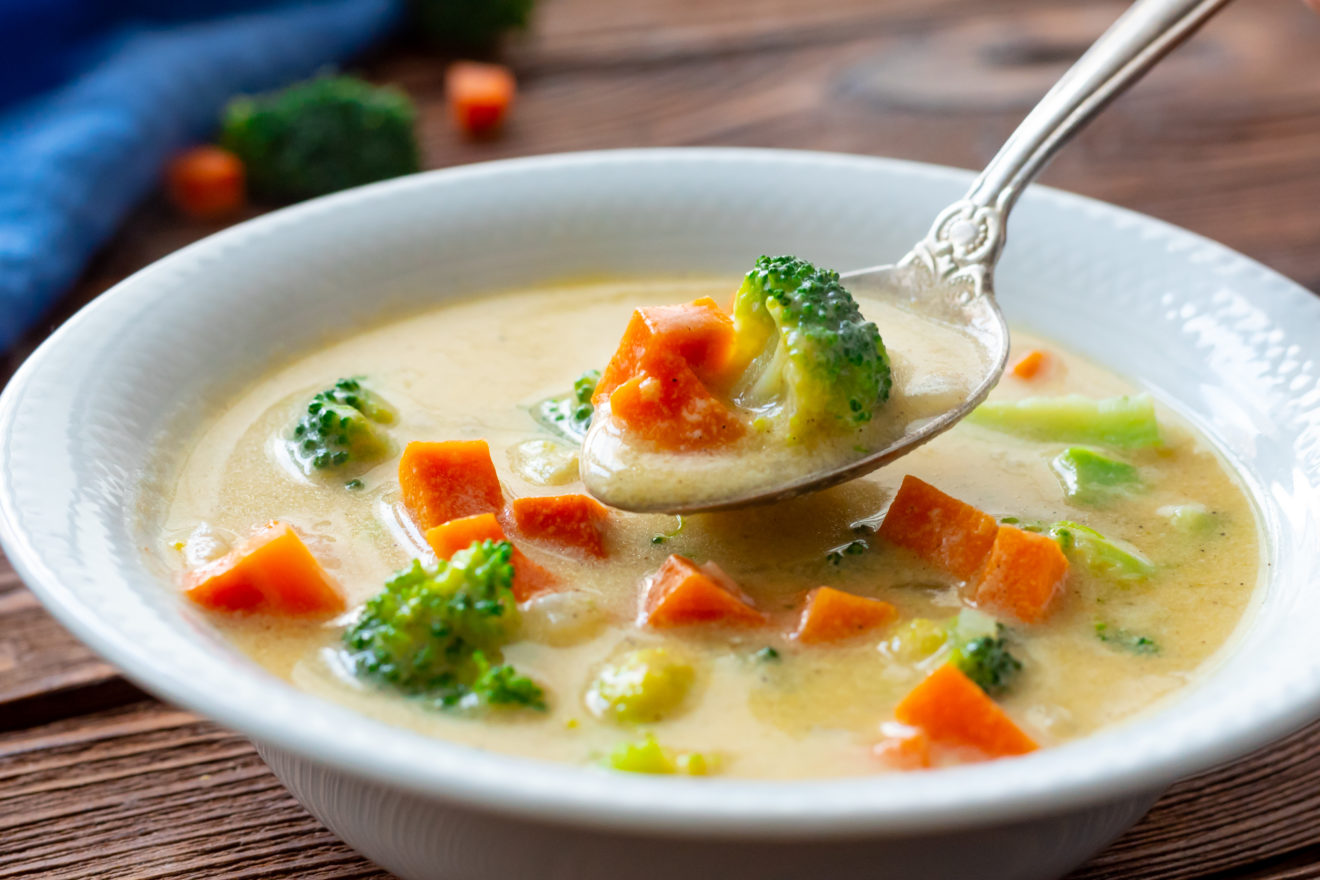 Growing up in Chicago, I have fond memories of walking home after school during the cold, cold winters. I remember the sting on my cheeks from the wind, and the chill in my bones from the subzero temperatures. I remember snowball fights with my friends, and not being able to feel my fingers and toes after hours of playing outside! My favorite activity was always walking down to the neighborhood sledding slope, and spending hours running up the hill and sliding back down.
This Broccoli Cheese Soup is ready in 30 minutes, and is packed with flavor!
Of course, after all of this play, nothing beat coming home to a warm, home cooked meal. My mom always had something for my brother and I, ready to warm us up. Soup was a staple growing up, whether it was this Broccoli Cheese soup or something else. Soup has always had a comforting effect on me, and I love being able to warm my kiddos up as well (even though it's only for a day or two a year in Houston, ha!).
This soup is the perfect combination of fresh, perfectly tender veggies and smooth, creamy cheddar cheese. Adding in some hot sauce really kicks up the flavor, and really, you're welcome to up the spice if you are looking for that deeper flavor profile!
This soup can be on the table in 30 minutes or so, and is always rewarding when the kids (and husband) gobble it down like they haven't eaten in a week! If you are on the fence, check out all of the comments below, with ideas to really enhance this classic recipe!
If you love this recipe, check out some of my other favorite soups below!
Mom's Vegetable Beef Noodle Soup
Enjoy!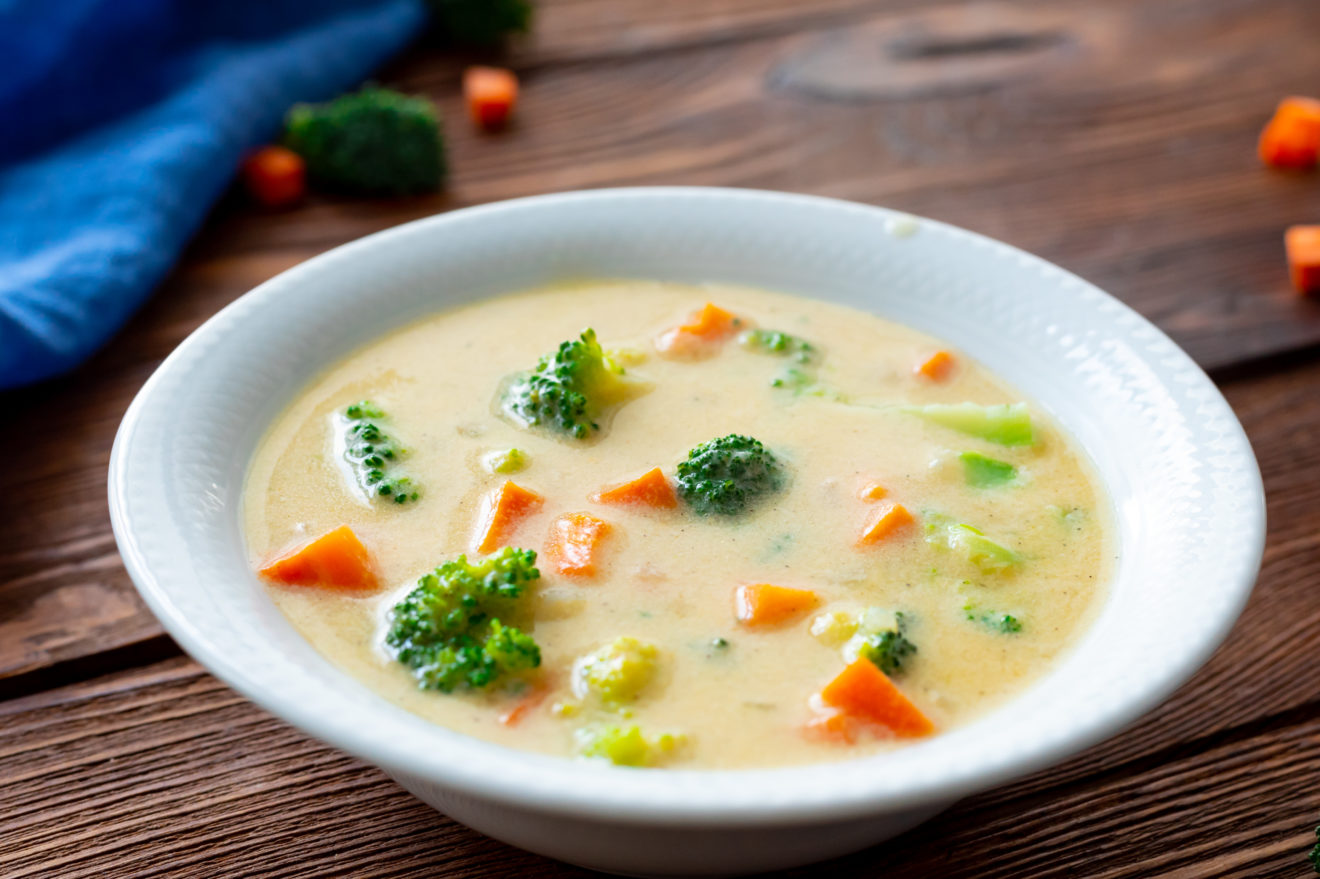 P.S. – Don't forget to click below on the recipe card to get your printed recipe!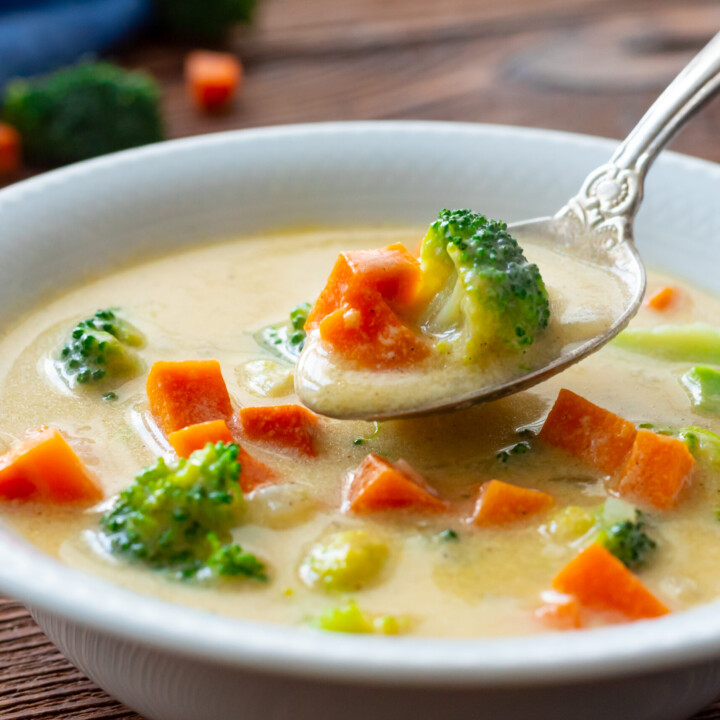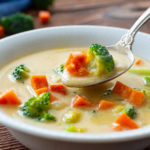 Print Recipe
Broccoli Cheese Soup
A hearty, flavorful soup that comes together in no time!
Ingredients
3

tablespoon

butter

1

onion, chopped

3

tablespoon

flour

2

cups

whole milk

3

cups

vegetable broth

1 1/2

lbs

broccoli florets

1

cup

carrots, diced

1

teaspoon

salt

1

teaspoon

ground black pepper

1/2

teaspoon

hot sauce

2

cups

cheddar cheese, shredded
Instructions
Heat the butter in a large saucepan/dutch oven.

Add in the onion and saute for about 4 minutes, or until soft.

Sprinkle flour onto the onions and cook another 2-3 minutes, or until no more lumps appear.

Add in the milk and vegetable broth.

Bring to a rapid boil, then reduce heat and allow to simmer for about 15 minutes.

Add in the broccoli and carrots.

Cook about 15-20 minutes, or until vegetable are tender.

Add salt, pepper, hot sauce, and cheese and stir until cheese is melted.

Serve warm with crusty bread!!