These cake balls are a must try for any chocolate cake lover! Bite sized balls made of crumbled cake mixed with frosting and covered in candy coating, what more could you ask for, right?!?!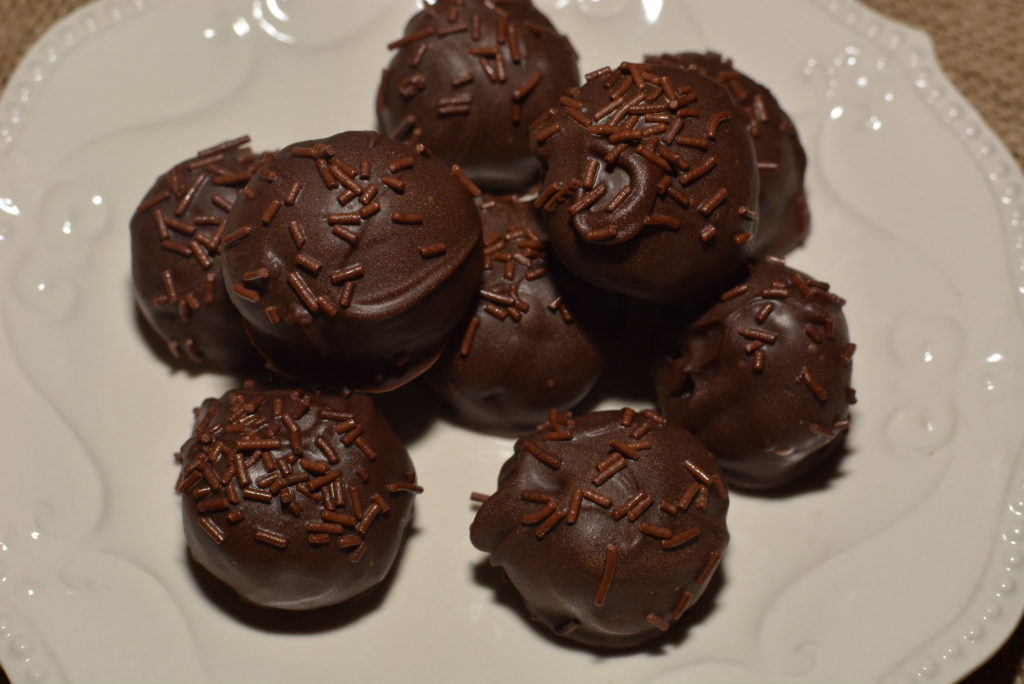 For a few years now, both my hubby and I have been huge fans of Starbuck's chocolate cake balls. Yes, I know, a coffee shop serving cake balls, odd right? However, they have the best ones ever. I never even tried duplicating them because in my head, I figured they were WAY too hard to make, time consuming, and there was no way I could come close to how amazing they were. Well, I was wrong.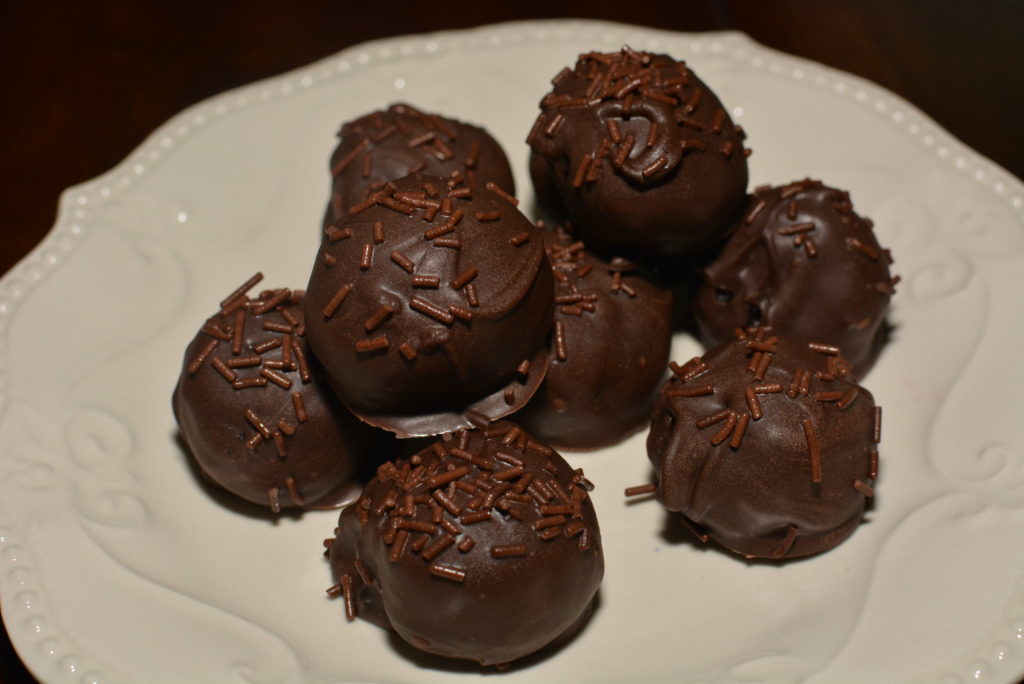 Fast forward a few years, and I finally decided to make my own. Paying $1.99/each was a bit high when first off, I wanted two (haha), and second of all, I knew I could make tons of them for a fraction of the cost. After trying a few different versions, amounts of frosting, candy coatings, etc., I can finally say that I have mastered the most delicious cake ball ever…..or in my hubby and my opinion!
Just the right amount of frosting for consistency, perfect candy coating, some sprinkles, all combined with a moist, chocolate cake. The result…..mouth watering tastiness!!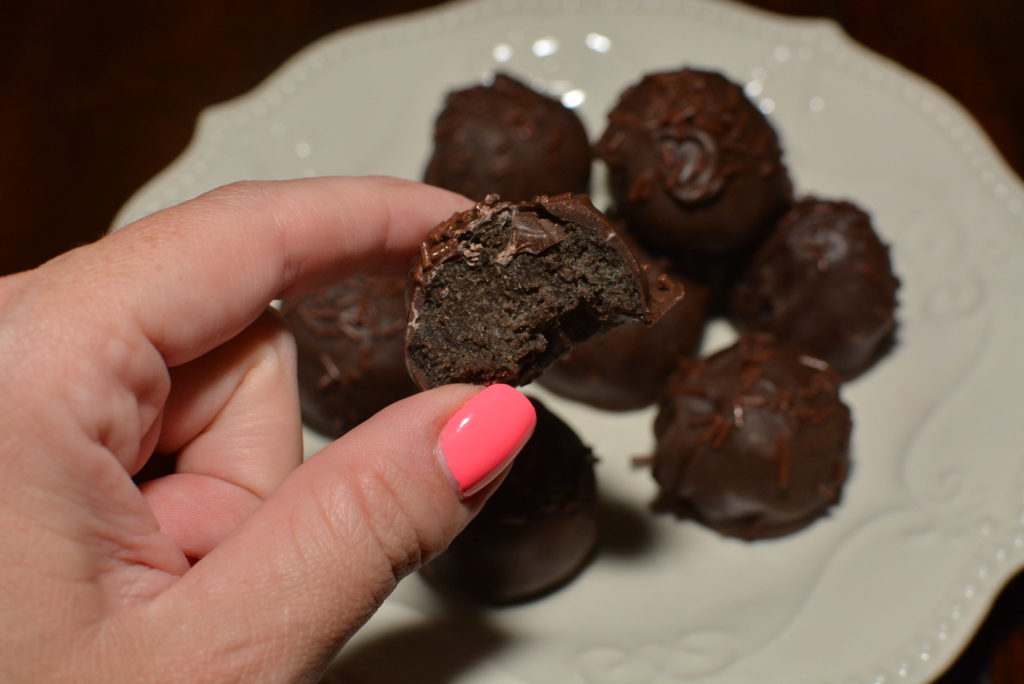 I sent some into work with my hubby and they were gone in minutes! My kiddos, all three, gave these two thumbs up and even passed some around to the neighborhood kids and everyone enjoyed them!
If you love chocolate, cake, and dessert in general….you'll LOVE these! So many different varieties to be tried, so stay tuned for a few more versions coming up in the next few weeks/month!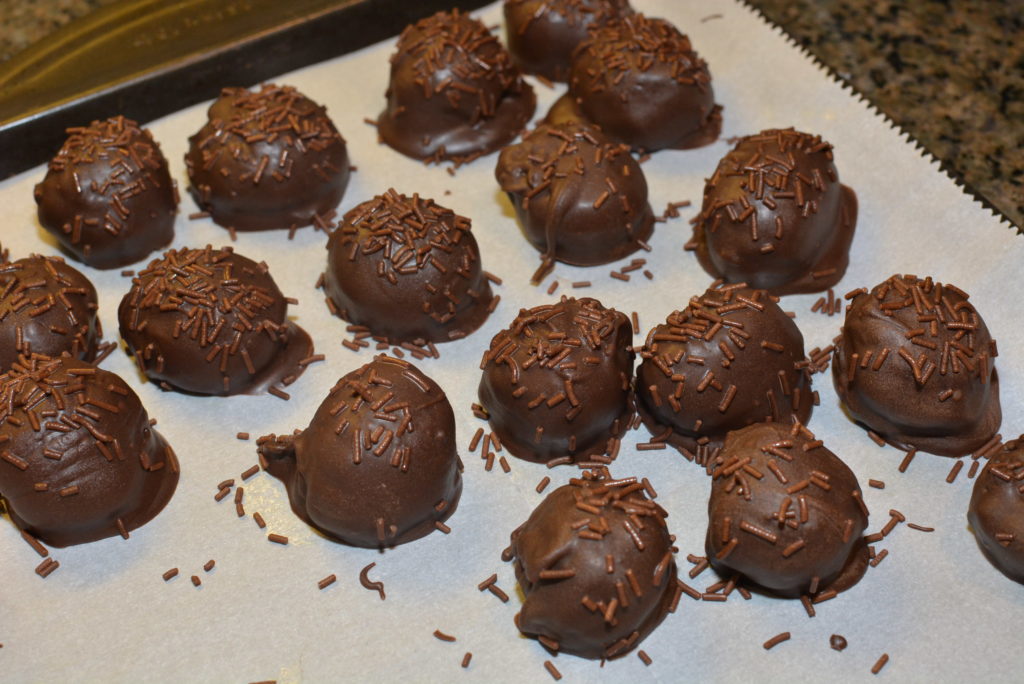 Now, this recipe uses store bought cake mix and frosting. If you want to make your chocolate cake from scratch, feel free to do so!!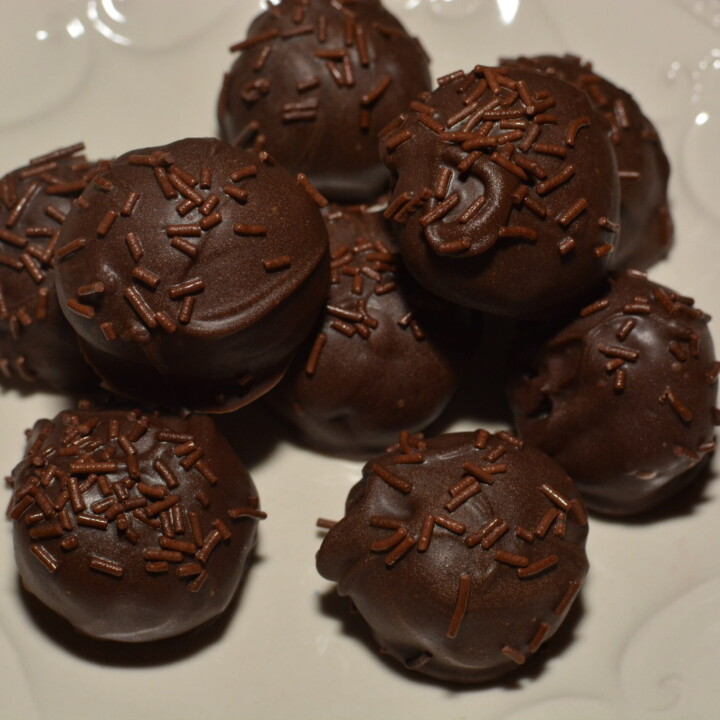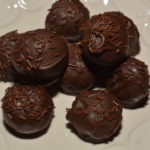 Print Recipe
Chocolate Cake Balls
A bite sized sweet treat made using crumbled cake, frosting, candy coating, and sprinkles!
Ingredients
1

box

Devils food cake mix (plus water, eggs, and oil as called for on box)

1

can

chocolate frosting (you only use half, but you can't buy a half can, hehe)

2

packages (16 oz)

chocolate candy coating

sprinkles, if desired
Instructions
Heat oven to 350 degrees and cook cake according to box directions.

Once baked, remove from oven and allow to cool completely.

Crumble cake into large bowl. You can use your hands to fully crumble, or a mixer, up to you.

Mix in about 1/2 container of chocolate frosting. It should equal around a cup. You don't want the cake mixture too moist, so don't use more than half the frosting tub.

Roll cake mixture into 1 inch balls and place on a parchment lined cookie sheet.

Place cookie sheet into freezer for about 45 minutes.

In a microwave safe bowl, add the candy coating and microwave in increments of 30 seconds, stirring in between, until fully melted.

Remove cake balls from freezer and using a fork, dip each ball into the chocolate thoroughly coating it entirely.

Place coated ball back onto parchment paper and continue process until all have been coated.

*If using sprinkles, sprinkle them on every 5-8 balls to prevent chocolate from drying before sprinkles have been added.

Serve and enjoy! *Store in a room temperature, air tight container