Shortcut Texas Sheet Cake Cookies are soft, flavorful cookies made with a cake mix and topped with an incredible fudge frosting! Made in under ten minutes, these are favorites with everyone!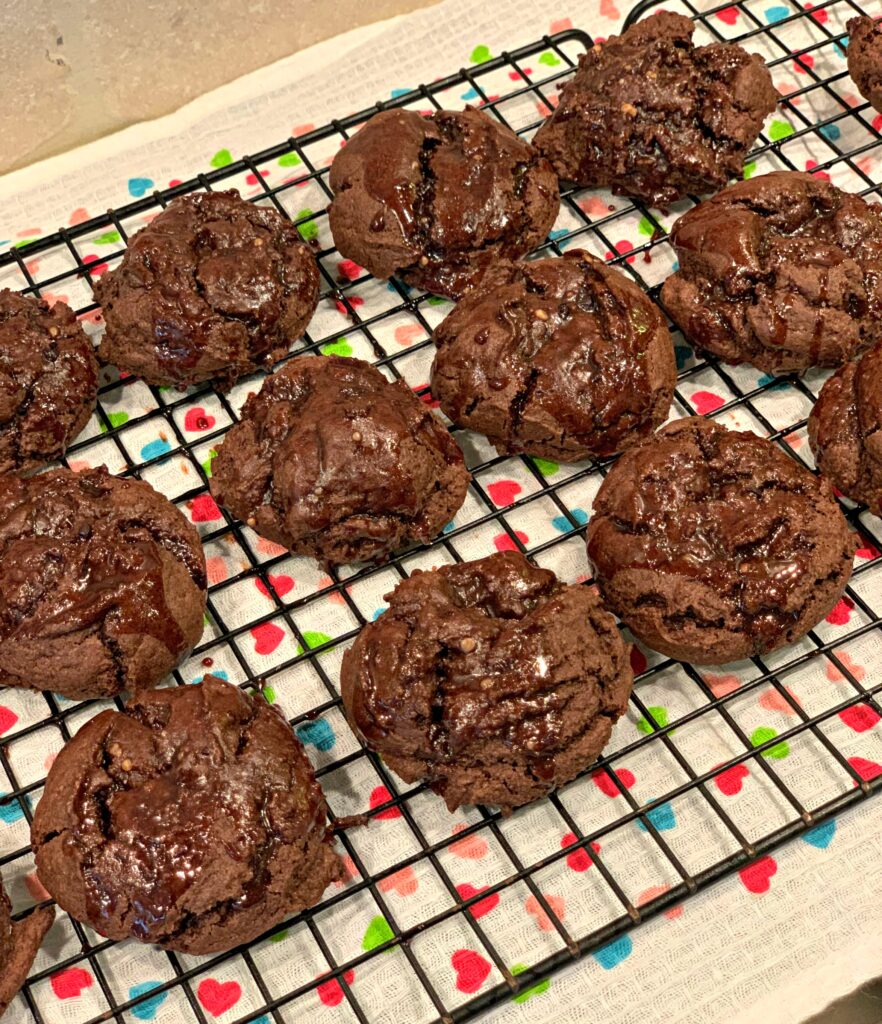 One of my favorite cakes to make is my Texas Sheet Cake. Not only is it incredibly easy to whip up, but anytime I bring it somewhere, its always a hit! The frosting alone is incredible, but when paired with the chocolate cake…..it definitely makes my top five favorite dessert list.
To simply the cake even further, I've put them into shortcut cookie form. Yep! You read that right! Texas Sheet Cake, only in cookie form! Same amazing taste, but even more simpler and easier to enjoy! No need for a fork, simply grab a cookie and you're set!
With it being Spring Break for my kids this week, I have been trying to do a little something with them each day. The weather hasn't been too cooperative, so one of the afternoons, we spent baking. Since my kids love cookies, I knew they would love these! Plus, using a boxed cake mix, they were able to make the cookies entirely on their own.
While the kids made the cookies, I whipped up the frosting. Once cookies came out of the oven, my kids used spoons to drizzle the fudge like frosting on top and they were ready to devour.
My kids enjoyed theirs immediately afterwards, while the frosting was still semi "wet". Personally, I waited about an hour so it was less messy and the frosting had set a bit. Not only were the cookies moist and soft like cake, but the frosting was chocolatey, fudgy, and just the right amount! The cookies literally melted in our mouth!
When my hubby came home from work, I had whipped up a batch of my Instant Pot Chili, cornbread casserole (recipe coming soon), and these tasty cookies for dessert. Needless to say, he had one happy stomach! He devoured two cookies quickly and said how much he enjoyed them! Without me even telling him what type they were, he said they tasted a lot like "the cake I bring places". AKA….my Texas Sheet Cake, hehe!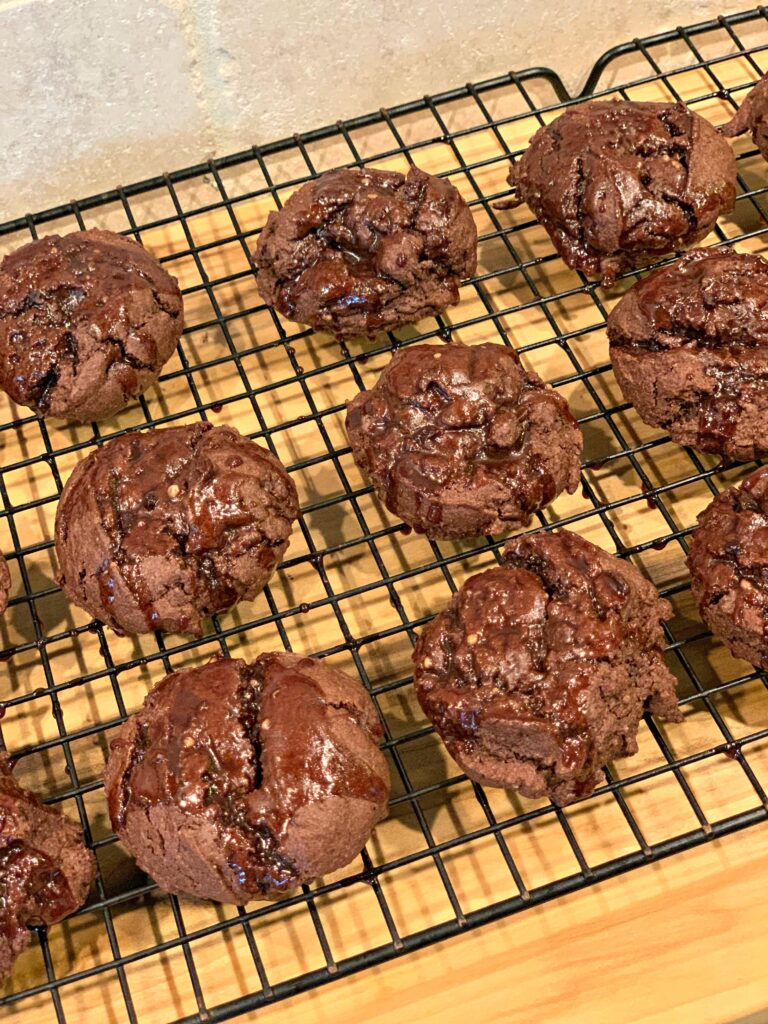 If you're looking for a quick dessert option, less mess, but all the flavor of a hit dessert….look no further! Enjoy!
*Be sure to sign up for my newsletter below! Simply add your email address and you're good to go! I'll send you my latest recipes directly to your inbox! Plus, I do monthly, free prize giveaways for my subscribers only! Coming up this month is an Instant Pot!
I also make Texas Sheet Cake Bites that you may want to try, https://thecookinchicks.com/texas-sheet-cake-bites/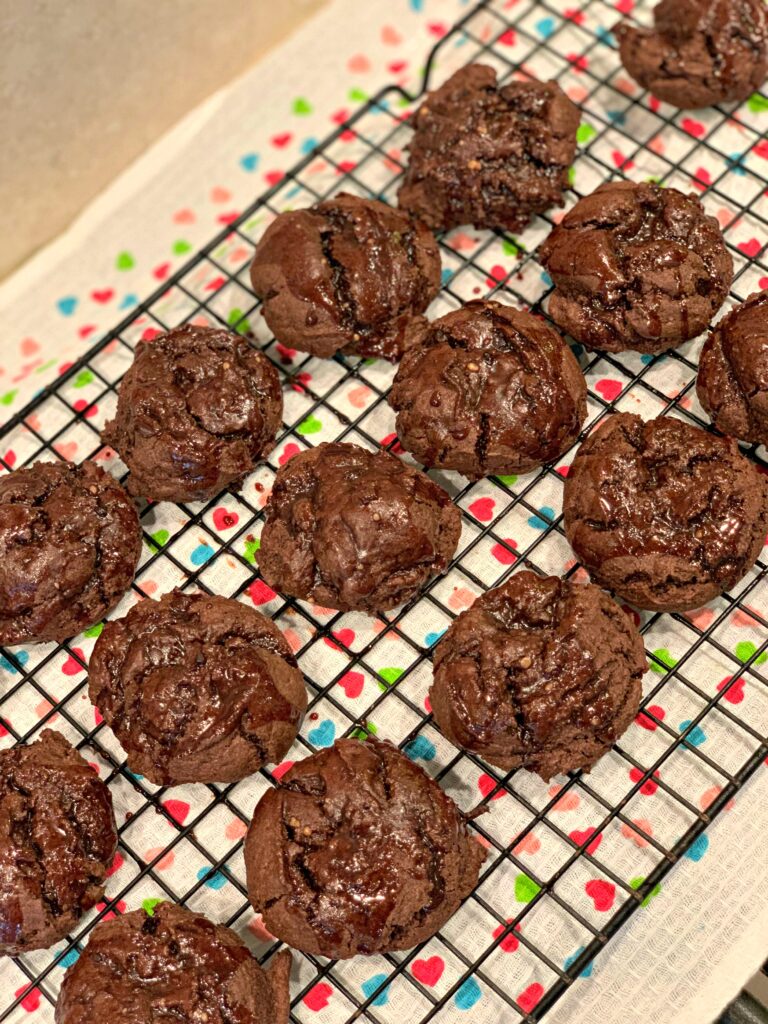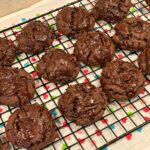 Print Recipe
Shortcut Texas Sheet Cake Cookies
Soft, flavorful cookies made with a cake mix and topped with an incredible fudge frosting! Made in under ten minutes, these are favorites with everyone!
Ingredients
1

box

chocolate cake mix

2

eggs

1/3

cup

oil

1/2

cup

butter

2

tablespoon

cocoa powder

3

tablespoon

milk

2 1/2

cups

powdered sugar
Instructions
In a medium bowl, combine the cake mix, eggs, and oil.

Stir to full combine, ensuring no clumps.

Using a medium cookie scoop, scoop the cookies onto a parchment lined cookie sheet.

Bake cookies in a preheated oven, 350 degrees, for about 7-8 minutes.

While cookies are baking, melt the butter in a small saucepan.

Whisk in the cocoa powder, milk, and powdered sugar until smooth.

Remove cookies from oven and move to a cooling rack.

Place cooling racks on top of the parchment lined cookie sheets to easily catch the frosting run off.

Spoon frosting evenly on top of cookies and either eat immediately, or wait a bit to allow frosting to set up. Enjoy!
Medium Cookie Scoop: https://amzn.to/2VW9MV8