If you're a fan of the hit show "Fixer Upper", you know Joanna Gaines. Not only is she extremely talented at that show, but she can also add having a hit cookbook to her talents! These chocolate chip cookies will go down as my new favorite recipe and one you don't want to pass up!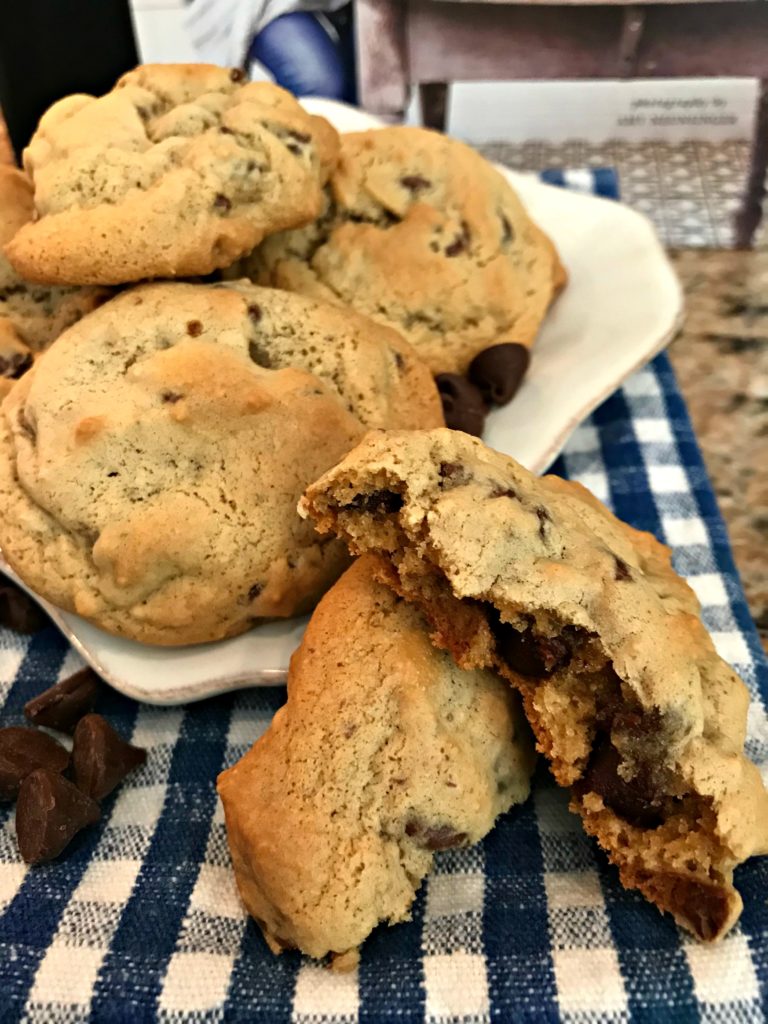 For Mother's Day this year, my mom bought me a cute wine glass and the newly released Joanna Gaines cookbook. When I opened the bag from her and saw the cookbook, I immediately began flipping through all the amazing recipes! This cookie recipe however, jumped out at me!! Not only did the cookies look extremely plump (unlike typically flat cookies), but when I read she cut the butter in half, I was intrigued!
I put the cookbook on my counter to go through as I meal planned and truth be told, a few days passed and unfortunately, I didn't have a chance to add some recipes in.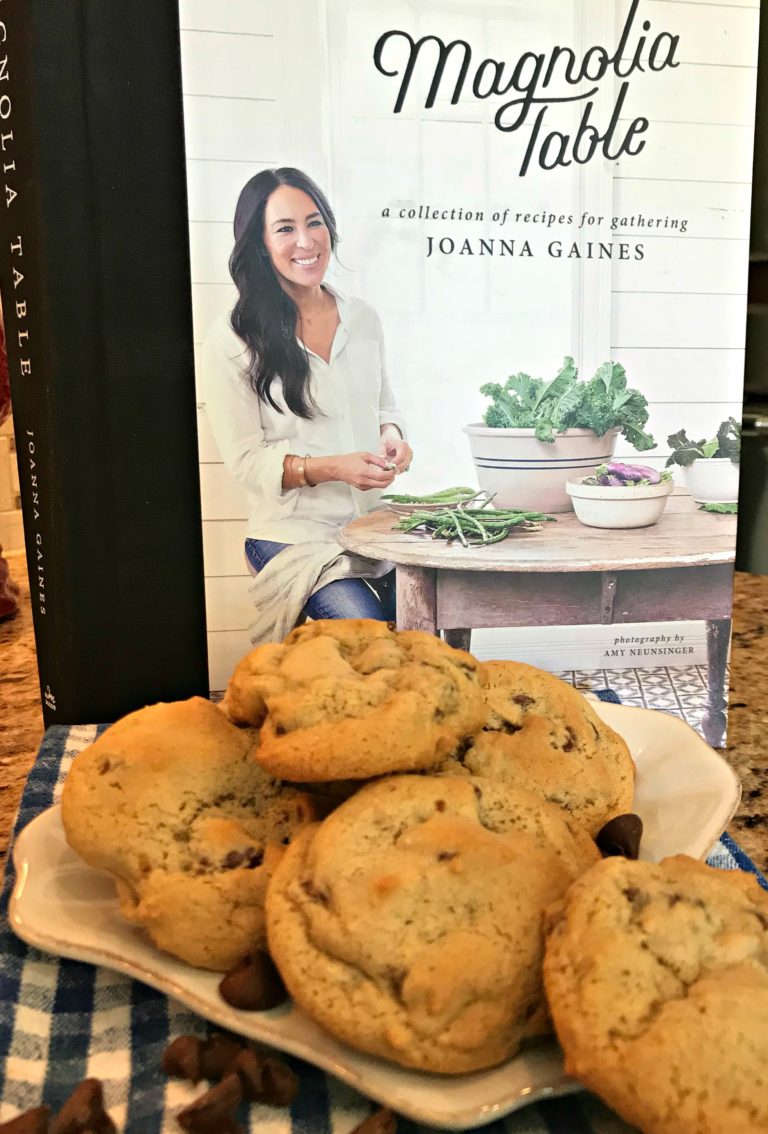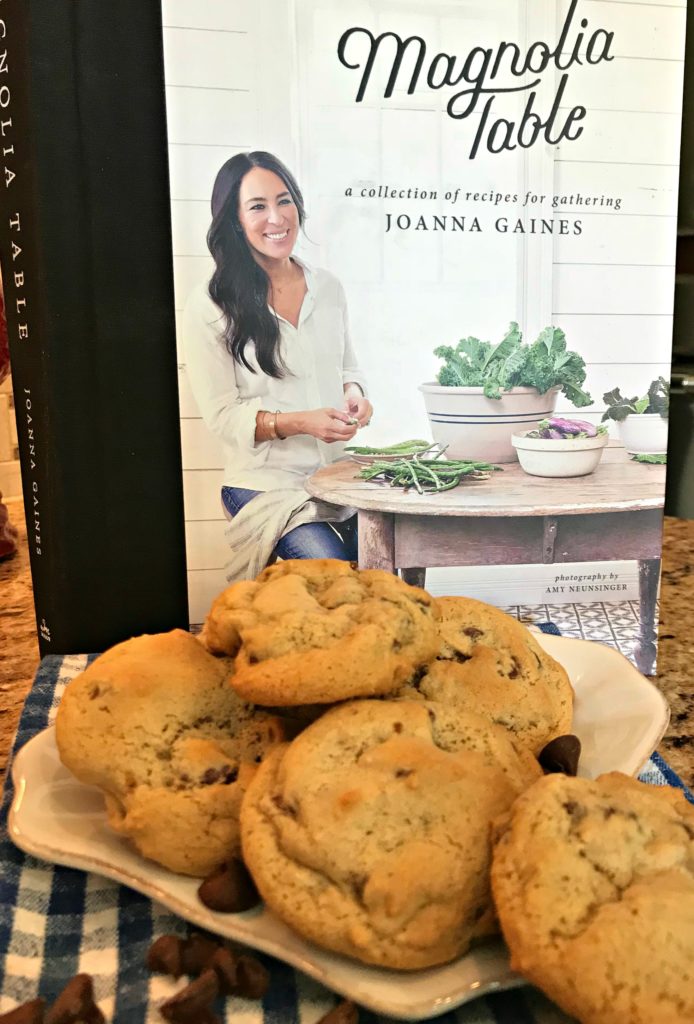 Luckily for me, my mom had bought herself the cookbook and she called me up a few afternoons ago saying she had just made a batch! Since she lives only about one mile from me, she popped over with a bag of these tasty treats and let me test them out for myself. She and I (as well as my kids and hubby), both agreed, BEST. COOKIES. EVER!
THE PERFECT CHOCOLATE CHIP COOKIES CAN BE HARD TO FIND, DON'T PASS BY THESE COOKIES WITHOUT TRYING ONE!
These had just the right amount of sweetness to them, were soft, but not crumbly and fall apart, packed with chocolate chips, and quite pretty. Yes, I described a cookie as pretty because lets face it, no one likes a flat, limp, cookie, right?!
I have added a few recipes to my meal plan in the next few weeks and will have to keep you posted on how each turn out! In the meantime, I highly recommend ordering the cookbook for yourself because she has great stories, tips, techniques, and of course, recipes!
I am sad to see "Fixer Upper" ending, but this cookbook proves, she's full of many talents!
Enjoy!
IF YOU LOVE THIS RECIPE, CHECK OUT SOME OF MY OTHER TOP DESSERT RECIPES HERE:
Secret Ingredient Chocolate Chip Cookies
Shortcut Texas Sheet Cake Cookies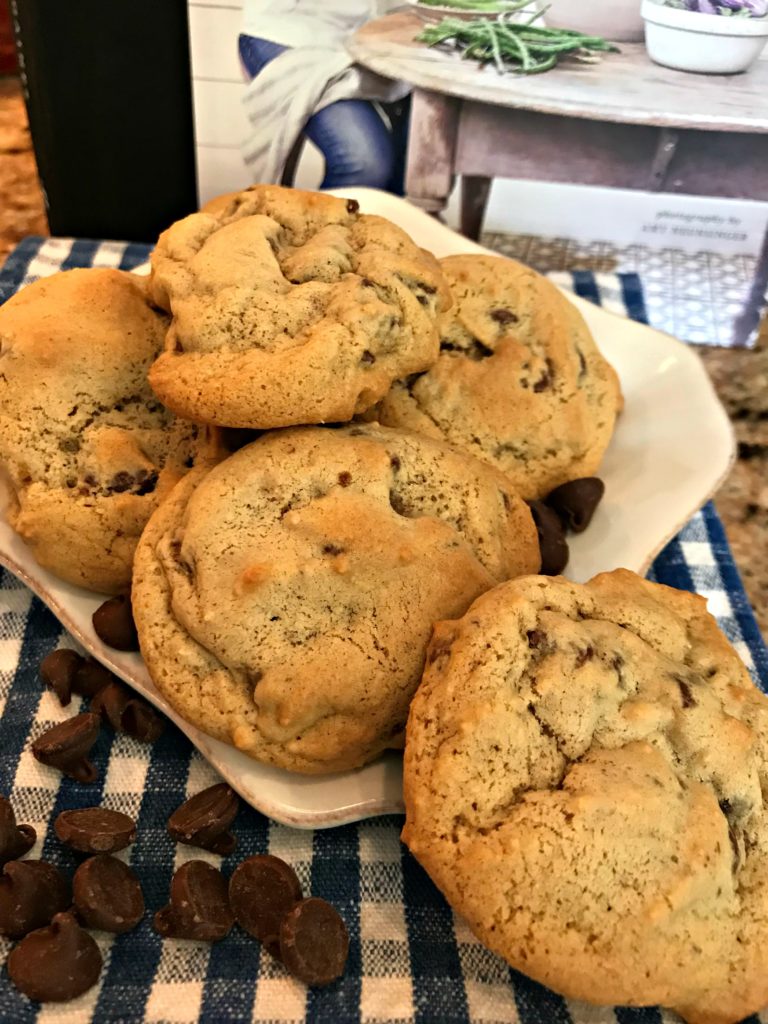 DON'T FORGET TO PRINT YOUR RECIPE BELOW TO GET STARTED MAKING THE BEST CHOCOLATE CHIP COOKIES TODAY!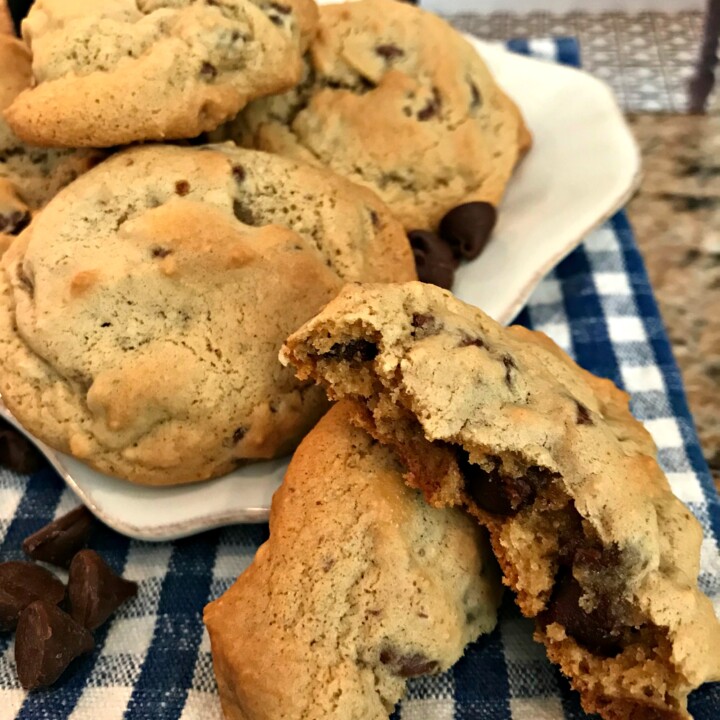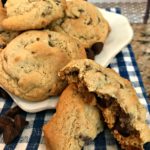 Print Recipe
Joanna Gaines' Chocolate Chip Cookies
"Fixer Upper" star Joanna Gaines knocked it out of the park with these chocolate chip cookies! Soft, puffy, and packed with chocolate chips, these cookies may be your new favorite too!
Ingredients
2 1/2

cups

all purpose flour

1

heaping tsp

baking soda

1/2

teaspoon

salt

8

tablespoon

unsalted butter, softened

2

cups

light brown sugar, packed

2

eggs

1 1/2

teaspoon

vanilla extract

1 1/2

cups

semisweet chocolate chips
Instructions
Preheat oven to 350 degrees (F) and line a cookie sheet with parchment paper. *Or use non stick cookie sheets

In a medium bowl, combine the flour, baking soda, and salt together. Set aside.

In a separate bowl, cream together the butter and brown sugar until fluffy.

Add in the eggs, one at a time.

Pour in the vanilla and stir until combined.

Slowly pour flour mixture into butter mixture and stir until combined.

Fold in the chocolate chips.

Drop dough by large spoonfuls onto prepared cookie sheet.

Place in oven and bake until lightly browned, 10-11 minutes.

Allow cookies to cool on pan 1 minute prior to removing and placing on cooling rack

Continue process until all dough has been used. Enjoy!