Craving something sweet? Soft, chewy, and packed with gooey chocolate, these Ultimate Chocolate Chip Cookie Bars are an easy, delicious treat.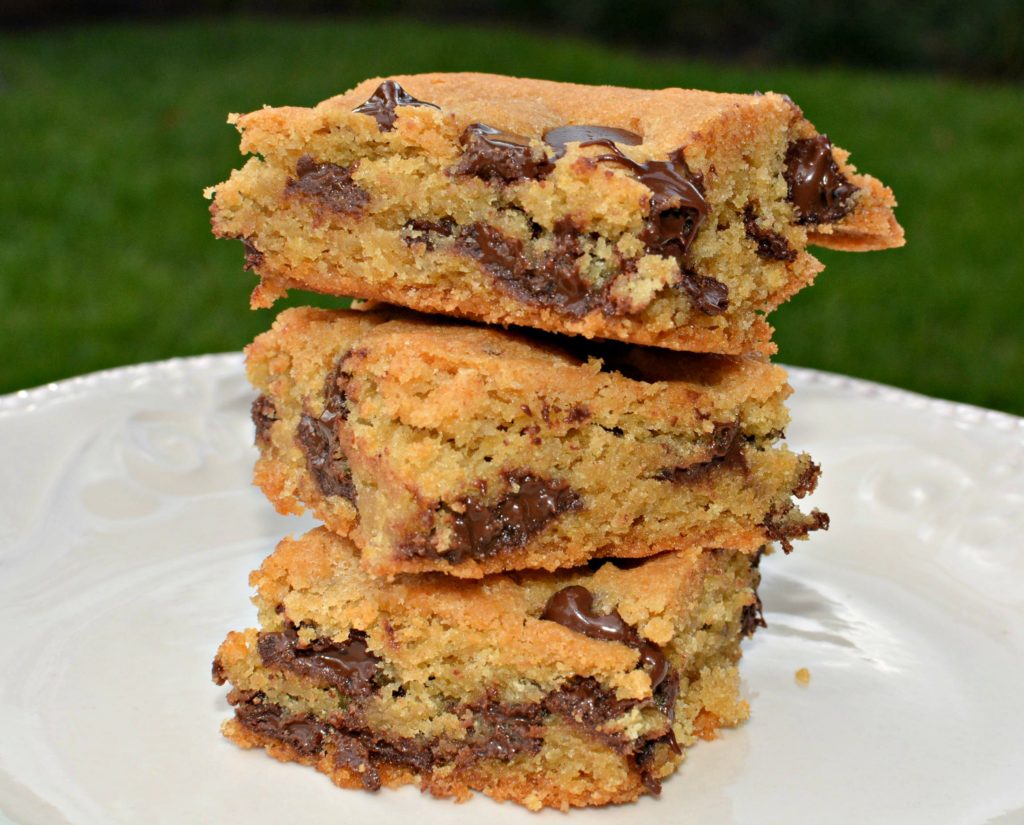 For several years, I refused to make cookies. I don't know specifically why, but they always seemed like wayyyyyyy more work than muffins, brownies, bars, etc. I would make batch after batch of brownies but skip the cookies. Don't get me wrong, I knew how to make them, had several family recipes, but just never had the motivation.
Fast forward a few years, my hubby bought me cookie dough scoops for my stocking one Christmas. I remember taking it out, looking at him skeptically, but being willing to give cookies yet another go. I think he was subtly trying to tell me he wanted some homemade cookies, ha-ha!
My first batch was chocolate chip cookies and they turned out amazing. The scoop made the process much easier and from that point forward, I decided to incorporate cookies into my regular baking cycle again.
However, you are probably reading the title and wondering how I got sidetracked onto cookies, especially when this is a cookie bar recipe, right?!? Well, over the years, since I was anti cookie…. I would make these bars anytime the kids (or hubby) requested chocolate chip cookies. I tweaked them and this recipe is a definite winner! They can be ready for the oven in no time, and if you are serving a lot of people, cut the bars into smaller pieces and it provides plenty for all!
Soft and chewy chocolate chip cookie bars are beyond easy to make and full of chocolatey goodness with nice notes of brown sugar, vanilla, and salt.
The great thing about these cookie bars is the fact they can be made ahead of time. If you have an occasion to serve these at, simply prepare the day before, stick in an airtight storage container, and you are set! They can also freeze perfectly, so you don't have to enjoy the entire batch at once!
Ingredients Needed for these easy Chocolate Chip Cookie Bars:
Butter- softened 
Brown Sugar
White Sugar
Vanilla Extract
Eggs
Flour- all purpose
Salt
Baking Soda
Chocolate Chips- I prefer semi-sweet, but feel free to use whichever chocolate you prefer
How to make Chocolate Chip Cookie Bars:
In a medium mixing bowl, cream together the butter, brown sugar, white sugar, and vanilla extract.
Add in the eggs, one at a time.
Carefully stir in the flour, salt, and baking soda. Mix until just combined.
Fold in the chocolate chips.
Grease a 9×13 baking pan and spread cookie dough evenly onto bottom of prepared pan.
Place pan in preheated oven, 350 degrees, for about 20 minutes.
Once baked, remove from oven and allow to cool slightly before slicing into bars and serving!
Frequently asked questions:
How do I freeze these? Allow the bars to cool completely. Place them in an airtight storage container or Ziploc bag. If stacking the cookies, be sure to separate layers with parchment paper.
Can I change up the chocolate chips? Sure! I use semi-sweet, but you can use dark chocolate, milk chocolate, white chocolate, peanut butter chips, cinnamon chips, and even butterscotch!
How do I keep these ooey gooey? By slightly undercooking these bars, that will keep the texture perfectly gooey, similar to a brownie!
When will I know these are fully baked? The edges of the pan will be set, and the cookies will take on a slightly golden color to them. A toothpick should come out clean once inserted in the center!
How long do these bars last? They will keep in an airtight container for up to 3 days room temperature or frozen up to 3 months.
Love cookies? Check out these other great recipes:
Secret Ingredient Chocolate Chip Cookies
Peanut Butter Chocolate Chip Cookies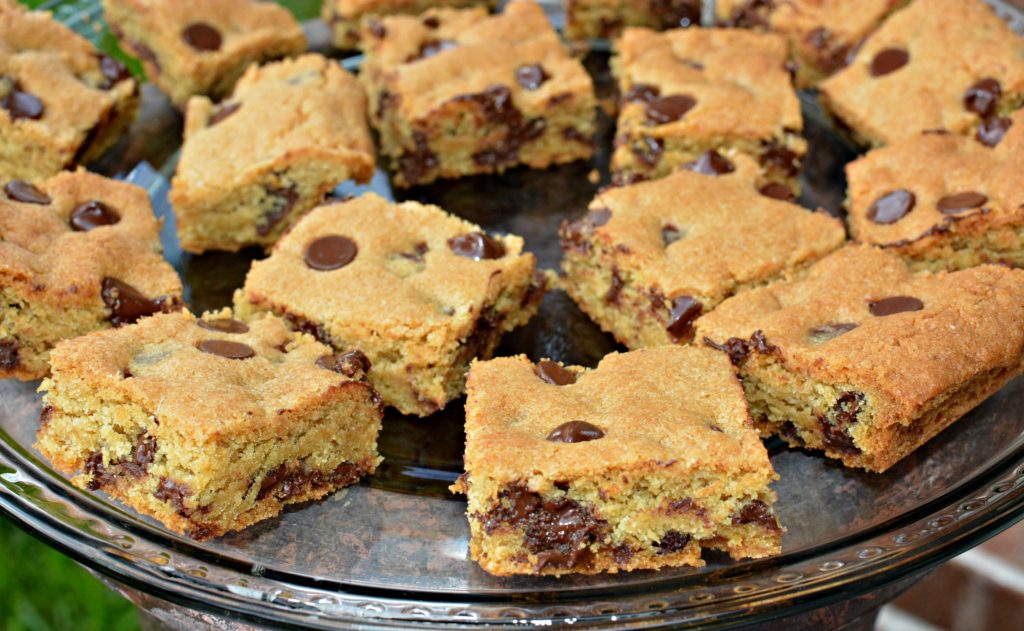 All the flavors of classic cookies baked conveniently into a bar! Perfect for any occasion, or simply that sweet tooth craving! Print or save the recipe below and be sure to give these a try!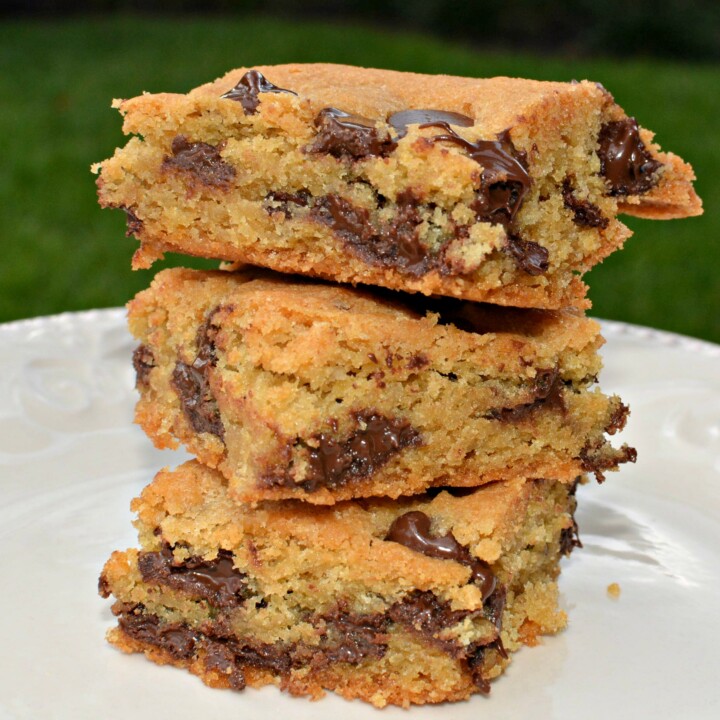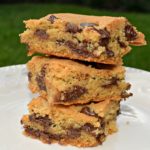 Print Recipe
Chocolate Chip Cookie Bars
Quick to prepare, these cookie bars are packed with flavor, chewy, and a crowd pleaser!
Ingredients
1

cup

butter, softened

1

cup

brown sugar

1/2

cup

sugar

2

teaspoon

vanilla extract

2

eggs

3

cups

flour

3/4

teaspoon

salt

3/4

teaspoon

baking soda

2

cups

chocolate chips
Instructions
In a medium bowl, cream together the butter, brown sugar, white sugar, and vanilla.

Stir in the flour, salt, and baking soda until combined.

Fold in the chocolate chips.

Spread onto a greased 9 x 13 baking pan.

Bake in a preheated oven, 350, for about 20 minutes.

Remove from oven and allow to cool for about 5-10 minutes before cutting/serving.
Nutrition
Calories:
386
kcal
|
Carbohydrates:
53
g
|
Protein:
4
g
|
Fat:
18
g
|
Saturated Fat:
11
g
|
Polyunsaturated Fat:
1
g
|
Monounsaturated Fat:
3
g
|
Trans Fat:
1
g
|
Cholesterol:
54
mg
|
Sodium:
279
mg
|
Potassium:
55
mg
|
Fiber:
1
g
|
Sugar:
34
g
|
Vitamin A:
435
IU
|
Vitamin C:
1
mg
|
Calcium:
48
mg
|
Iron:
2
mg
Recipe updated 3/17/22