This Red, White, and Blue Fruit Pizza is an ideal patriotic dessert, suitable for all occasions! With a Pillsbury sugar cookie dough crust, delightful cream cheese frosting, and a medley of fresh fruit toppings, indulge in the ultimate sweet treat anytime!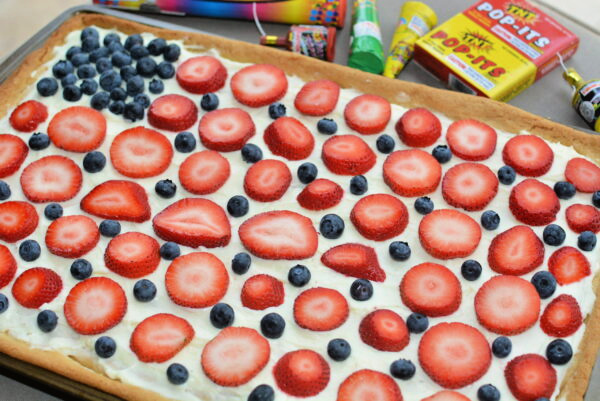 Red, White, and Blue Fruit Pizza
Don't you just love a Patriotic celebration? BBQ foods, music, gatherings, fireworks, and more! Adding Patriotic themed dishes into the occasion is always a hit, which is why I love making this Fourth of July fruit pizza, strawberries, and my Red, White, and Blue Jello Trifle for any occasion such as Labor Day, Memorial Day, Flag Day, Fourth of July, and more!
Plus, since Summer is berry season, it works out perfect because you can use up those fresh blueberries and strawberries!
What is Dessert Pizza?
When you think of pizza, you most likely think of crust, red sauce, cheese, and toppings! Well, dessert pizza is very similar in the fact it has a crust, sauce, and toppings, only it comes in the form of sugar cookie dough, cream cheese frosting as the sauce, and the toppings are fresh fruit medleys of your choosing.
Of course, you can change up the dessert pizza to fit your tastes such as using chocolate chip cookie dough in place of the sugar cookie, or using white frosting in place of cream cheese, so many different variations that result in an incredible "pizza".
Why this Flag Fruit Pizza is the best!
Quick and Easy– using store bought sugar cookie dough, this can be prepped in no time!
Flavor Packed– soft and tender crust, with a creamy topping, and fresh fruit, the ultimate flavor combinations!
Adaptable for any occasion– using different fruits, this can be color coordinated to fit any Holiday or occasion!
Feeds as many as needed– being baked in a cookie sheet, you can cut the pieces to feed as many (or as little) as needed.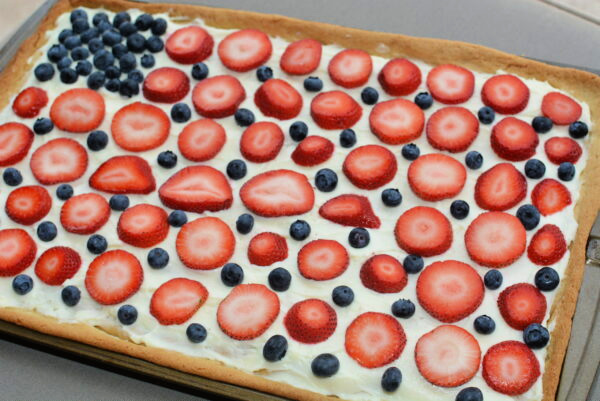 Ingredients needed for Red, White, and Blue Fruit Pizza
See printable recipe card below for exact ingredient amounts and step by step directions.
Pillsbury Sugar Cookie Dough– 2 tubes, softened
Cream Cheese– allow to soften a bit
Sugar– this combines with the cream cheese for a sweet, creamy frosting
Assorted Fruit– sliced
How to make Fourth of July Fruit Pizza
Spread dough out evenly (about 1/4 inch thick) on prepared cookie sheet.
Bake at 350 degrees until golden brown. Let cool completely.
Beat cream cheese and sugar until smooth.
Spread over cooled cookie.
Top with assorted fruit slices. Chill in fridge.
Pro Tips for the best Red, White, and Blue Fruit Pizza
Be sure to grease/spray your cookie sheet to ensure none of the pieces stick to the pan when serving.
Wash/dry your fresh fruit and cut into evenly sliced pieces.
For easier slicing, use a pizza cutter.
Have fun with the fruit combinations. If you have a favorite fruit, use it! You can't go wrong with any combination!
Make sure the cookie crust is fully cooled before spreading the cream cheese frosting otherwise it will melt the frosting and result in a messy result.
How to store 4th of July Fruit Pizza
Store leftovers in an airtight container in the refrigerator for up to 3 days. Do not keep out at room temperature for too long as this has cream cheese frosting and I wouldn't risk it. As for freezing, I haven't had great results freezing it in the past, so I recommend enjoying it within 3 days of preparing.
Frequently Asked Questions
Can I make this Red, White, and Blue Fruit Pizza ahead of time?
Absolutely, however, I recommend only making parts of this recipe ahead of time and assembling when ready to serving. Cook the cookie crust up to 1 day in advance and cover/store in refrigerator. Slice fruit and store in a covered bowl. When ready to assemble, simply prepare as directed.
How do I prevent my fruit pizza from getting soggy?
Try to avoid assembling this fruit pizza any earlier than 2 hours ahead of when it will be served. The juices from the berries tend to soak into the crust making things a bit soggy. If assembled and served within a few hours, it will be great. Even if its been several hours, or even 1 or 2 days, it will taste great, just will be a bit softer.
Can I use homemade sugar cookie dough in place of the store bought Pillsbury cookie dough?
Absolutely! When I am not short on time, I love to make homemade sugar cookies. Try this yummy recipe if interested!
What fruits can I use in place of just the blueberries and strawberries?
The sky is the limit on this one! If you're not trying to use just red and blue patriotic fruit, you can use blackberries, raspberries, strawberries, banana slices, kiwi, grapes sliced in half, and more! I haven't had good luck with apples as they turn brown way too fast, but if you're in the mood, it works too!
More Summer Dessert Recipes to try
Strawberry Pop Rock Jello Shots– add a little fun to any party and serve these Strawberry Pop Rock Jello Shots! Great flavor and an added fun popping crunch to enhance the texture!
Mini Banana Cream Pie– comes together in no time and is a favorite with all! Easy to make, refreshing, and just the right size!
Strawberry Pretzel Salad– an old-fashioned treat everyone will enjoy! A perfect blend of salty and sweet. Featuring a buttery pretzel crust, followed by a light cream cheese layer, and mouthwatering strawberry Jell-O topping filled with more strawberries!
Strawberry Lemon Shortbread Bars– moist, dense, tangy, and sweet…perfect for Summer!

Biscuit Strawberry Shortcake– the perfect ending to any meal. Homemade biscuits and fresh berries shine in this classic dessert. Easy to prepare and packed with flavor!
Blueberry Buckle– a flavorful cake that has a delicious buttery flavor, with juicy berries and a tasty crumble on top!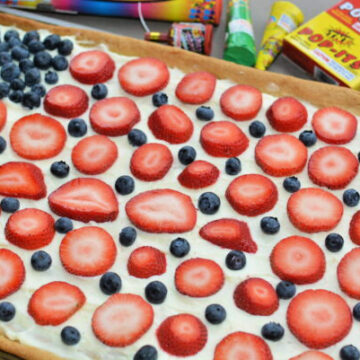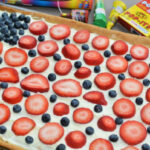 Print Recipe
Red, White, and Blue Easy Fruit Pizza
Delight in the vibrant flavors and patriotic colors of our Red, White, and Blue Fruit Pizza, featuring a scrumptious combination of fresh fruit toppings on a delectable sugar cookie crust!
Ingredients
2

tubes

Pillsbury Sugar Cookie Dough

16

oz

cream cheese

*softened

2/3

cup

sugar

Assorted Fruit

*sliced
Instructions
Spread dough out evenly on greased cookie sheet.

Bake at 350 degrees until golden brown, about 20 minutes. Let cool completely.

Beat cream cheese and sugar until smooth. Spread over cooled cookie crust.

Top with assorted fruits in any pattern desired.

Refrigerate until ready to serve!
Nutrition
Calories:
386
kcal
|
Carbohydrates:
46
g
|
Protein:
4
g
|
Fat:
21
g
|
Saturated Fat:
9
g
|
Polyunsaturated Fat:
2
g
|
Monounsaturated Fat:
9
g
|
Cholesterol:
35
mg
|
Sodium:
259
mg
|
Potassium:
123
mg
|
Fiber:
1
g
|
Sugar:
31
g
|
Vitamin A:
402
IU
|
Calcium:
32
mg
|
Iron:
1
mg