Discover how to create delicious homemade Chicken Gravy, whether you have chicken drippings or not. It's far superior to store-bought options! Perfect to serve over roasted chicken, mashed potatoes, or even Chicken Puffs!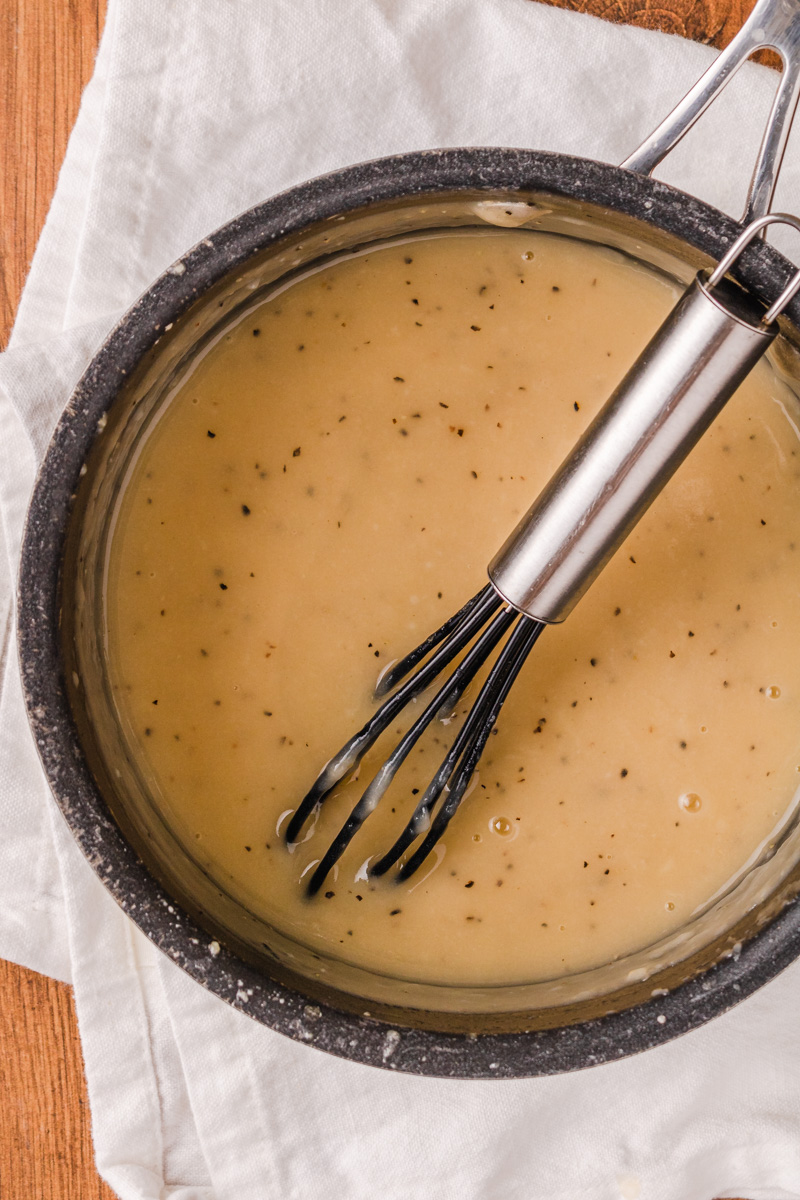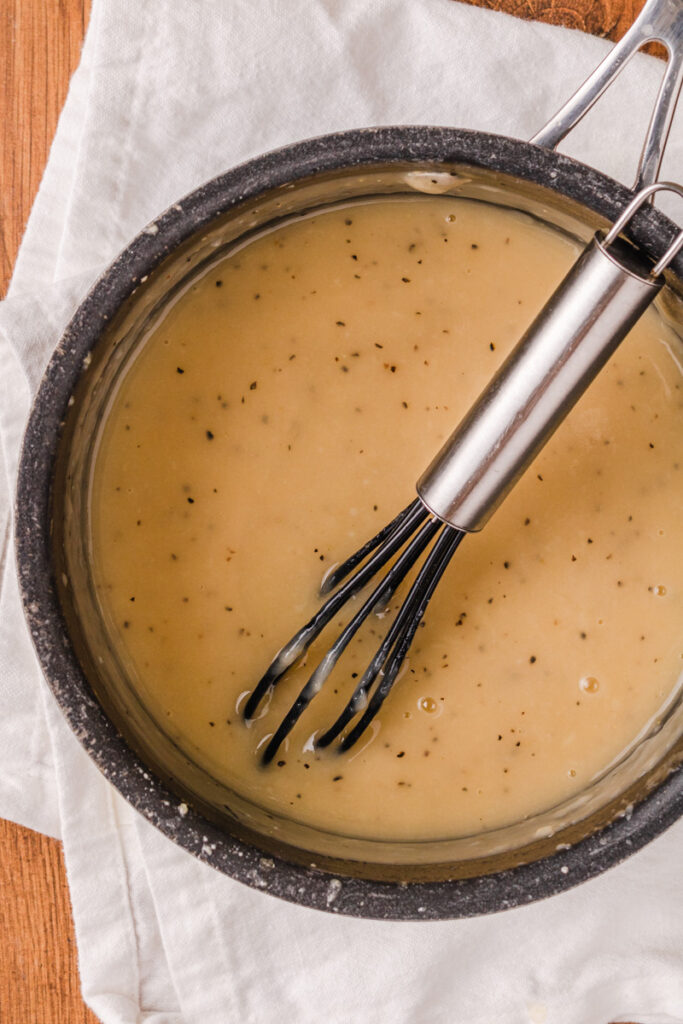 Easy Gravy made in only 5 minutes
There is something so comforting about chicken gravy. Especially when made from scratch. The flavors, creaminess, and warmth it brings to any meal. Whether poured over mashed potatoes, chicken, turkey, or rice..it's a family favorite.
When my husband and I first married, I made gravy from the powdered packet sold at the grocery store. To me, that was homemade. After all, I had to open the packet, mix it with water, and cook it over the stove-top, ha-ha! Fast forward to when I attempted homemade chicken gravy. Not only were my husband and I shocked at the flavor difference, but I was impressed at just how simple the gravy was to make. Ready to use in only 5 minutes, it was the same simplicity of store bought. Since that day, no more packet gravy has been made in my house!
Why you'll love this Chicken Gravy recipe
flavor packed– this takes food from bland to flavorful
easy comfort food– perfect to pour over any food desired from every day meals to special occasions
it can be made with or without chicken drippings– if you have drippings, use them, if not, stick with broth, either way is a success
quick– ready to use in only a few minutes
freezes perfectly– save time and make a batch to use at a later date
is versatile – make it YOUR perfect consistency and flavor
Basically, this recipe is a game changer. One taste and you will be hooked. Plus, since it uses ingredients that are pantry staples, you may already have all the ingredients needed to make this.
What are Chicken Drippings?
You may have read above that this gravy can be made with or without chicken drippings. Drippings are what's left in the roasting pan after cooking the chicken/turkey. This includes fat that has melted and any bits of meat that may have fallen off. This extra liquid will be poured away from the chicken into a separate bowl and used to make the chicken gravy. Using drippings adds way more flavor to the gravy, however, broth works great too!

Ingredients for Homemade Chicken Gravy Recipe
Using a few pantry staple ingredients, this chicken gravy can be made quickly and for any occasion. See recipe card at the bottom of this post for full ingredient amounts and step by step instructions.
Butter- provides the base of the roux and makes the gravy rich and flavorful. Use unsalted butter so you can add salt to taste.
Flour- is melted with the butter to thicken the gravy, use all-purpose flour.
Chicken Broth- use reduced sodium to avoid the gravy being too salty. You can also use chicken drippings in place of the broth.
Salt- adjust this according to taste. Start with 1 teaspoon and add more if desired.
Pepper- I love a peppery addition, some don't, so feel free to omit. You can also use some dried herbs such as Oregano, Thyme, Parsley, and/or Paprika.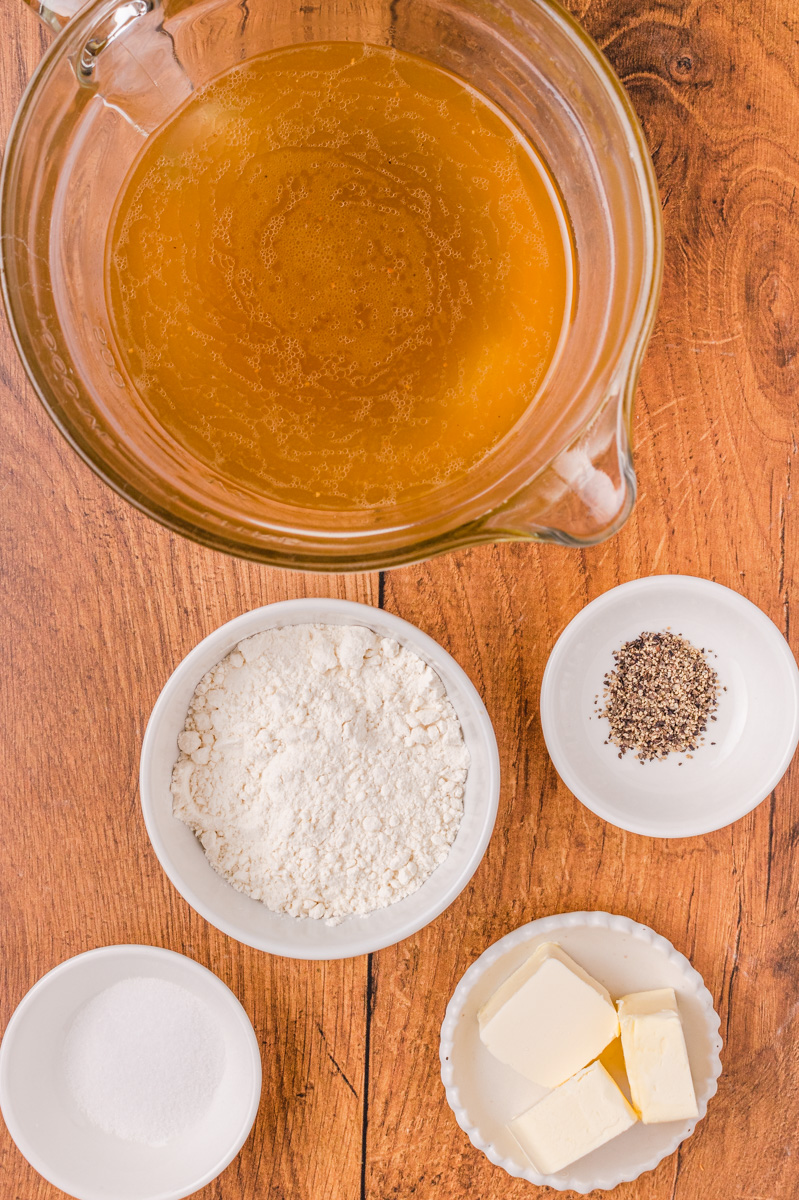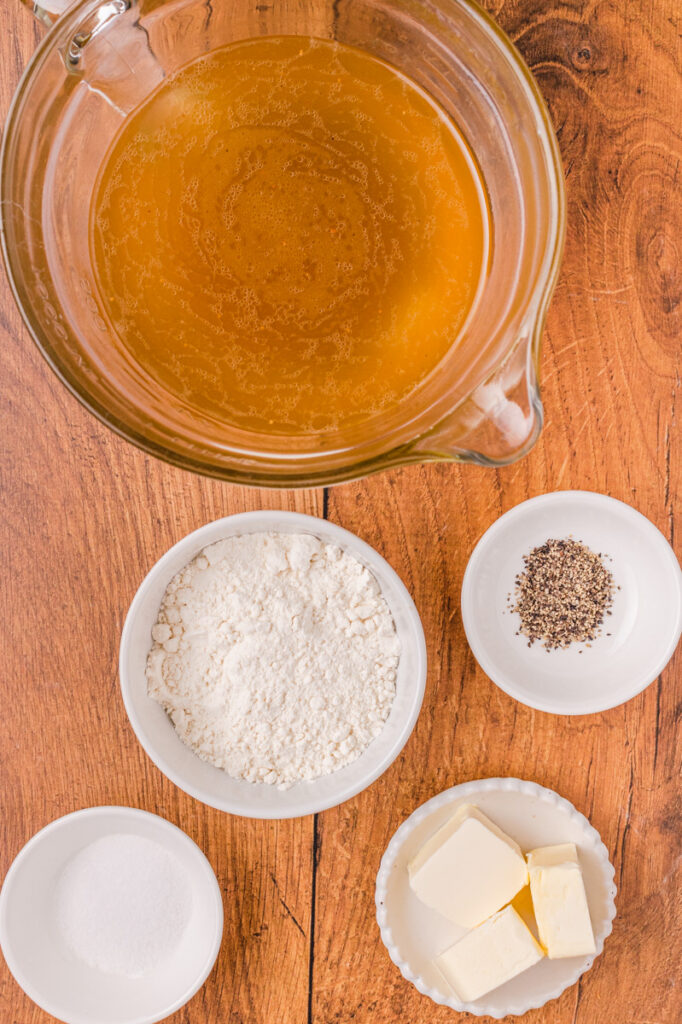 How to make Homemade Chicken Gravy
Check out these steps to see just how easy it is to make gravy from scratch!
Make the Roux: melt the butter in a saucepan over medium heat. Once melted, stir in the flour and whisk until combined.
Add in the broth: slowly pour in the broth (or drippings) and whisk until smooth.
Season: add in the salt/pepper and any additional seasonings desired and stir until consistency thickens up and becomes gravy like.
Serve: ladle over meat, potatoes, rice, and/or vegetables.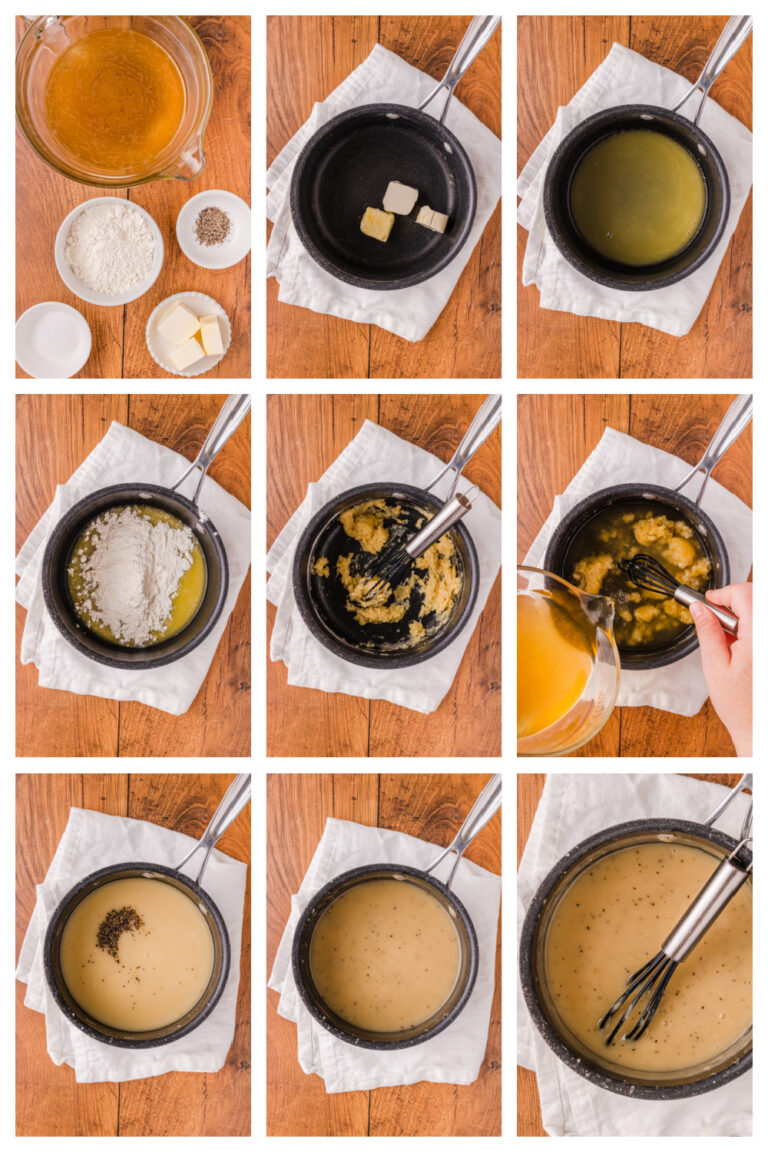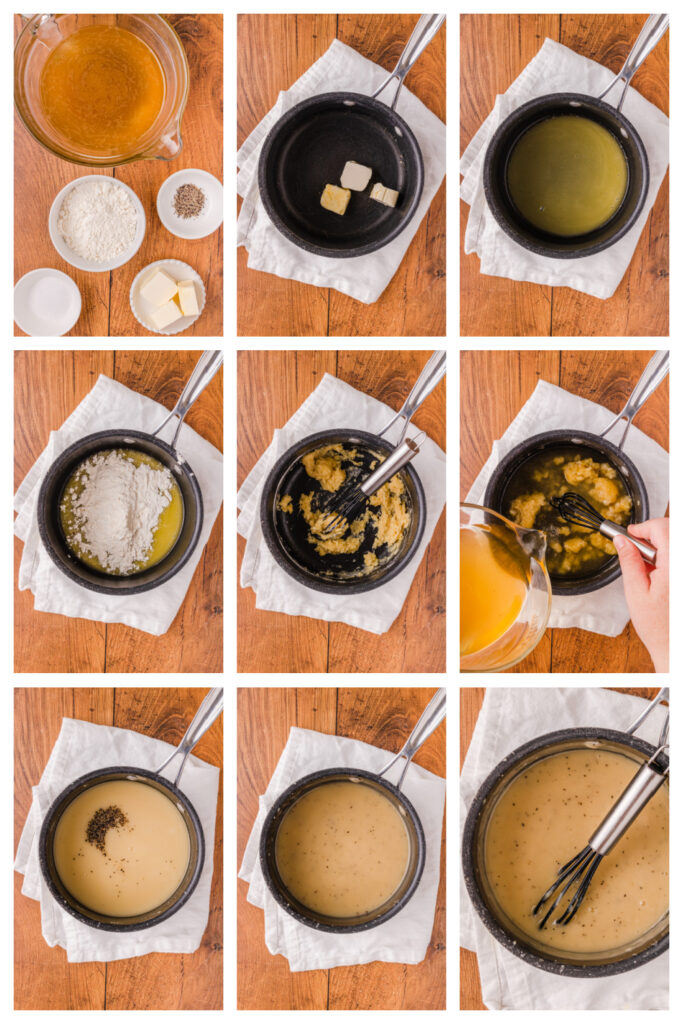 How to thicken gravy
Allow the gravy to simmer over low heat on the stove until desired consistency is reached. Once you remove the gravy from the stovetop and allow to cool slightly, the gravy will also continue to thicken. If after about 10 minutes, consistency is still not reached, you can add in a cornstarch slurry by adding a mixture of 1 teaspoon cornstarch with 1 tablespoon water. Stir into the gravy and allow to simmer over heat a bit.
How to thin gravy
Simply add additional chicken broth (or drippings) into gravy to thin the gravy out until desired consistency is reached.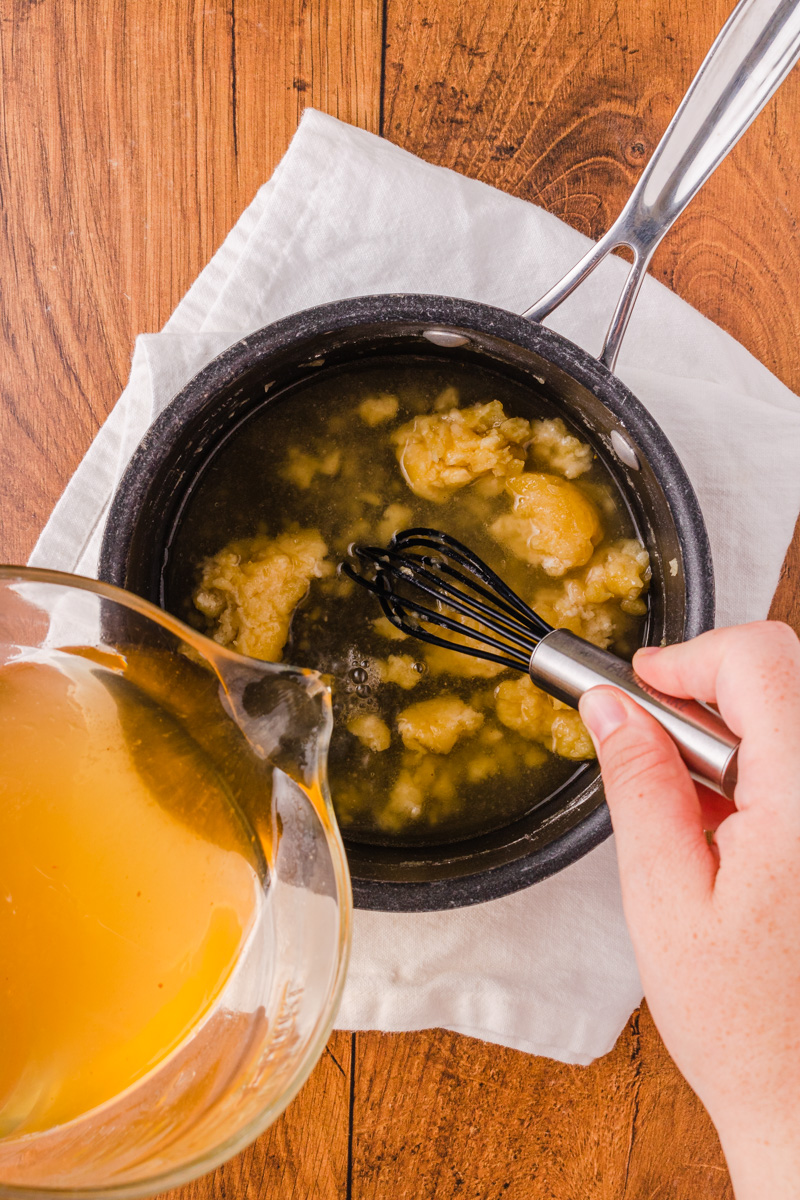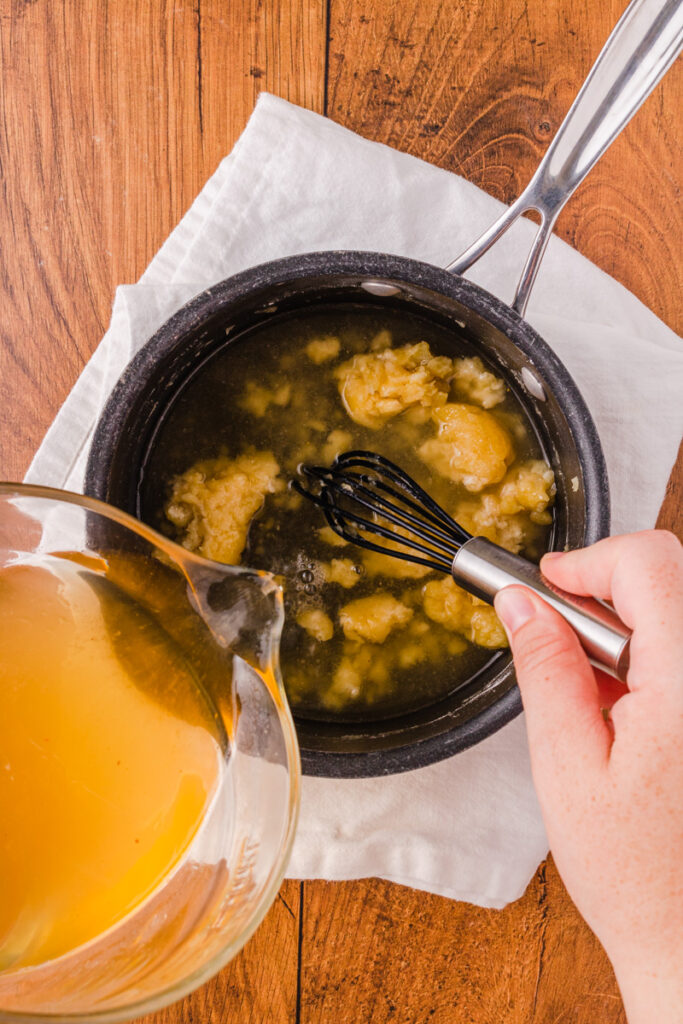 Tips for the best homemade chicken gravy
Add broth slowly and whisk, whisk, whisk. You want to get all the clumps out from the roux to make this smooth and creamy.
Season to fit your tastes. Add more or less to make it your own.
This gravy recipe calls for broth so make sure to use one that is high quality. The more flavor the better! You can also use stock.
It really only takes a few minutes. Don't walk away from the stove as this gravy thickens fast!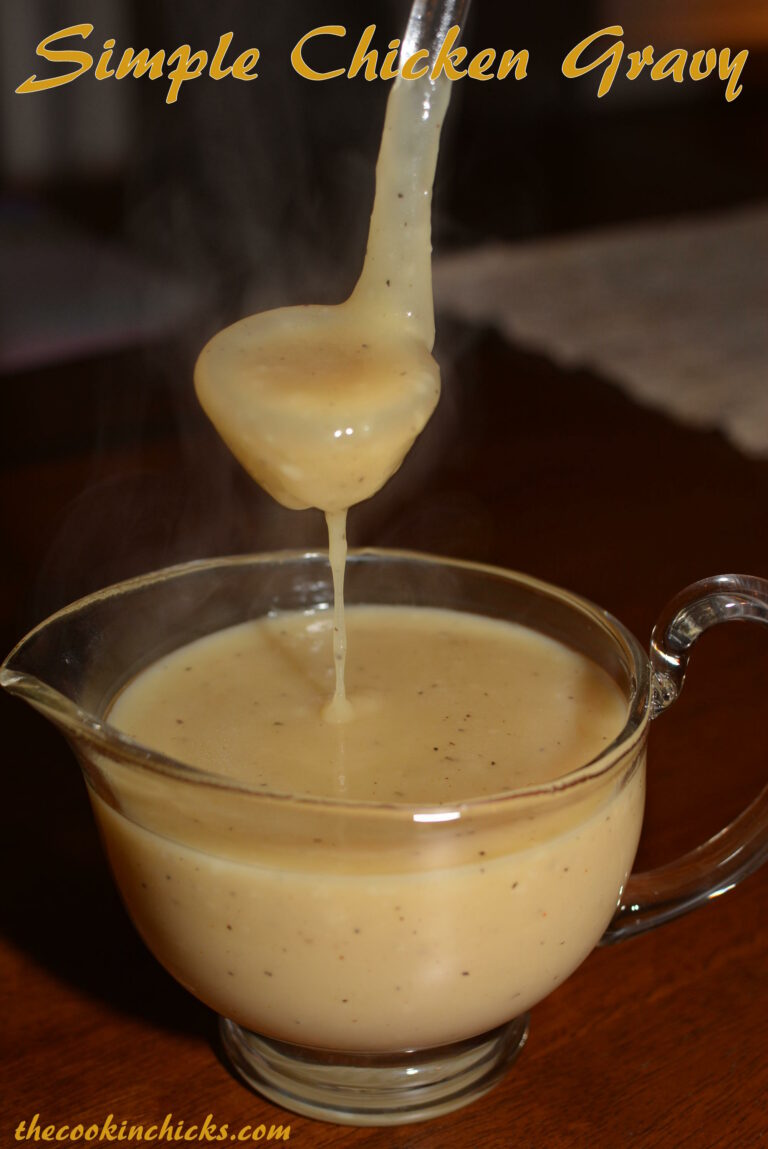 How to make Gluten Free Gravy
You'd have to use cornstarch to thicken the gravy versus using the flour. Bring the broth to a boil in a saucepan and use 2 tablespoons of cornstarch mixed with 1 tablespoon cold water. Stir the cornstarch slurry into the boiling stock until it thickens. Continue recipe as stated otherwise.
Recipe Variations to try
Change up the spices- add in some dried herbs to make this a bit more savory. Oregano, Sage, Rosemary, Thyme, and more are all great options
Use turkey OR chicken broth depending on what you are serving this over
Stir in 1/2 cup sour cream at the end for an added creamy variation
Storage
Refrigerator: Up to 4 days in an airtight container
Freezer: Up to 3 months in a freezer safe container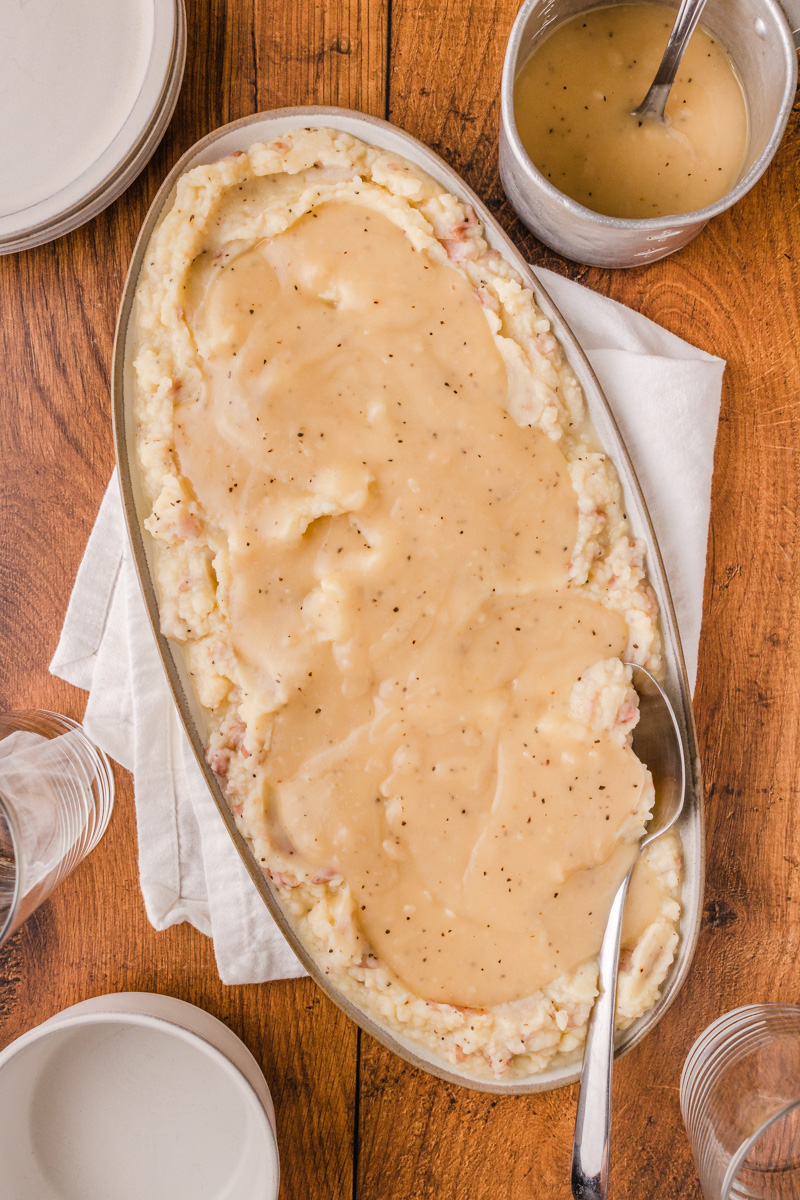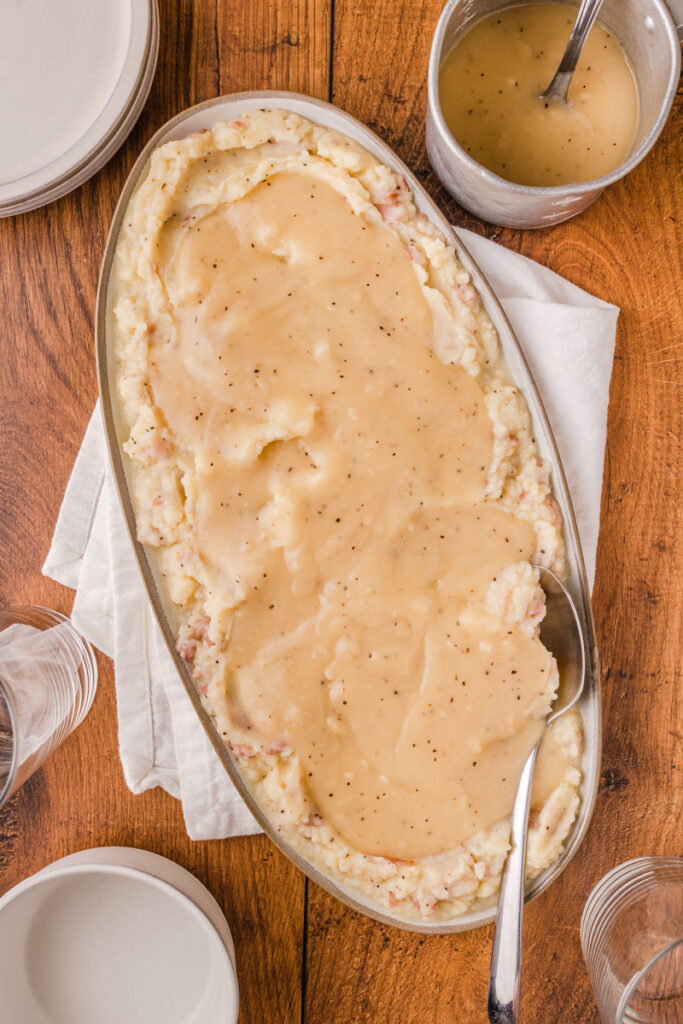 What to serve with Chicken Gravy
Chicken Crescents with Cream Cheese– a quick and easy dinner recipe that is kid approved! Shredded chicken combined with cream cheese and seasonings, wrapped in a crescent roll and baked to golden brown perfection!
Chicken Fried Chicken– quick-cooking, crowd pleasing, Southern comfort food at its finest! Crispy on the outside and juicy tender on the inside!
Instant Pot Garlic Mashed Potatoes– quick, fluffy garlic mashed potatoes made easily in the Instant Pot
Buttery Bread Machine Rolls– fluffy and flavorful dinner rolls made conveniently in the bread machine
Slow Cooker Whole Chicken– tender, juicy whole chicken cooked in the slow cooker
Air Fryer Ranch Chicken Tenders– crispy chicken tenders seasoned with Ranch seasoning and cooked in the air fryer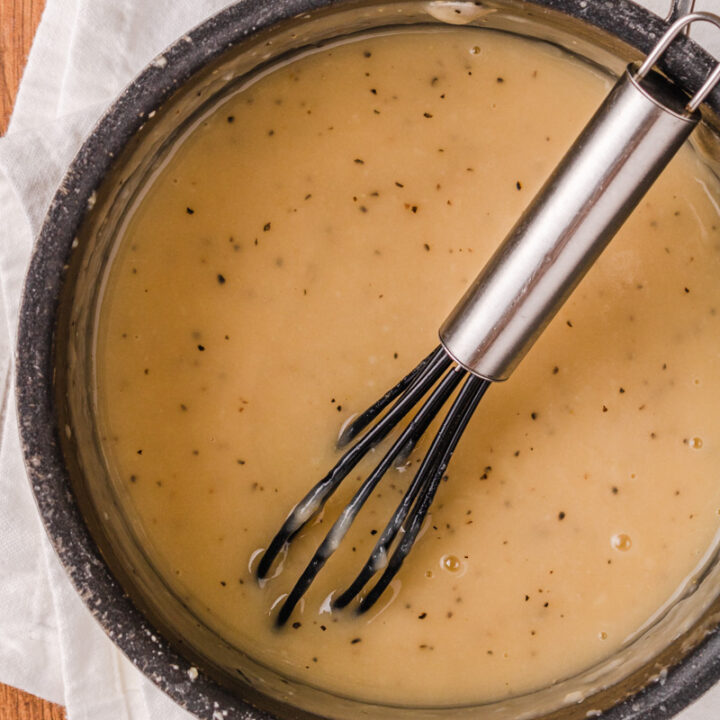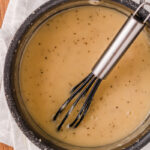 Print Recipe
Easy Chicken Gravy Recipe
Easy Chicken Gravy is hearty and delicious comfort food that can be made with or without drippings! Ready in only 5 minutes!
Ingredients
3

tablespoon

butter

5

tablespoon

flour

2

cups

chicken broth

1

teaspoon

salt

1/2

teaspoon

pepper
Instructions
Melt the butter over medium heat in a saucepan.

Add flour and blend thoroughly.

Slowly add in the broth, salt, and pepper.

Allow to simmer until mixture thickens.
Nutrition
Calories:
78
kcal
|
Carbohydrates:
5
g
|
Protein:
1
g
|
Fat:
6
g
|
Saturated Fat:
4
g
|
Cholesterol:
15
mg
|
Sodium:
725
mg
|
Potassium:
69
mg
|
Fiber:
1
g
|
Sugar:
1
g
|
Vitamin A:
177
IU
|
Vitamin C:
5
mg
|
Calcium:
6
mg
|
Iron:
1
mg
Check out my E-Book for 12 casserole recipes that are family friendly, blog approved, and packed with flavor!