Yesterday, my parents had my brothers family and my family over for an early 4th of July BBQ. Since I wanted to bring something festive, I decided to make this Jell-O trifle for us all to enjoy. Not only was it incredibly festive, but the entire family (especially kids) went crazy over it.
With raspberry, blueberry, and a creamy white layer…..this was a festive, yummy combination of flavors that was a hit!!
Hope you all have an enjoyable, safe 4th of July!!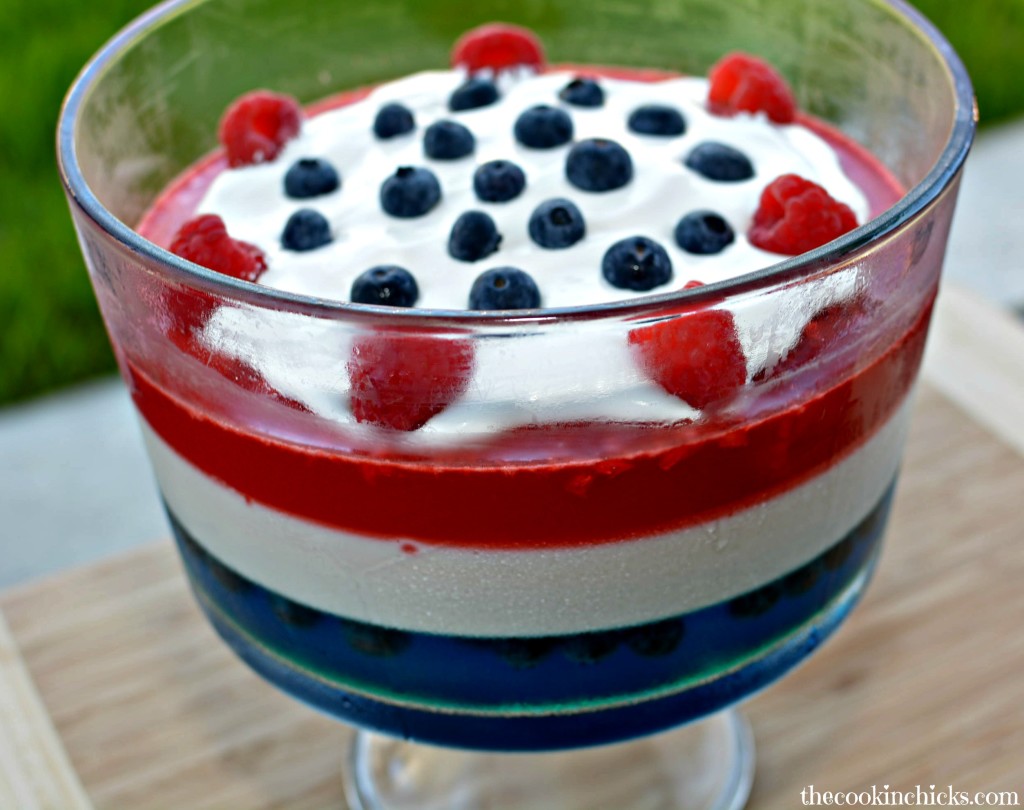 Ingredients:
3 oz. berry blue Jell-O
2 cups boiling water, divided
2 1/2 cups cold water, divided
1 cup blueberries
1 envelope gelatin
1 cup raspberries
1 cup heavy whipping cream
6 tablespoon sugar
16 oz. sour cream
 1 teaspoon sour cream
3 oz. raspberry Jell-O
Whipped cream (if desired)
Directions:
Dissolve berry Jell-O in 1 cup boiling water.
Add in 1 cup cold water and stir to combine.
Add in 1 cup blueberries.
Pour into trifle bowl or glass dish.
Put bowl/dish into refrigerator until set up, about 1 hour.
In a saucepan, pour gelatin over 1/2 cup cold water and stir until combined.
Add the heavy whipping cream, sour cream, and sugar and stir over medium heat until all is dissolved.
Pour carefully over blue Jell-O layer.
Set dish into refrigerator to set up, about 1 hour.
Combine 1 cup boiling water with raspberry Jell-O.
Stir in 1 cup cold water.
Add in 1 cup raspberries and carefully pour mixture over set up white layer.
Place dish back into refrigerator until set up, about an hour.
Once set up, top with whipped cream if desired and additional berries!!
Serve!!