This Cast Iron Skillet cornbread is made in a skillet, resulting in crunchy, buttery crust with a light, fluffy bread inside.  This cornbread will pair well with any meal!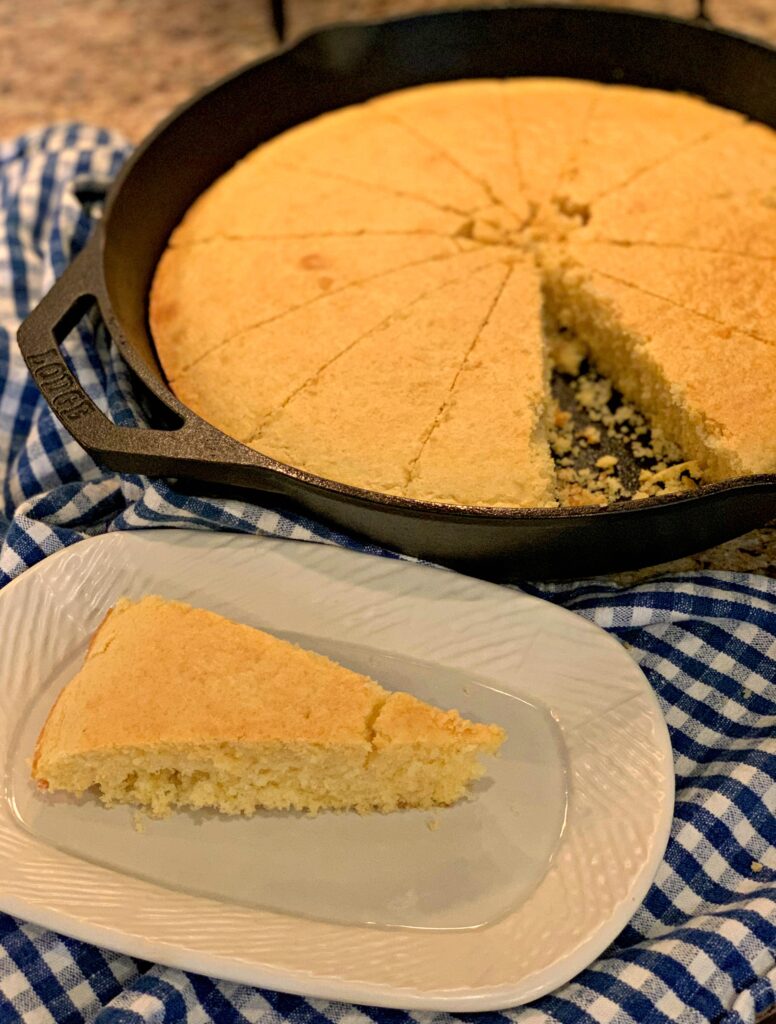 Superbowl, the ultimate sports championship and a great excuse for a get together!  During the last Superbowl, my parents had my family over for chili and cornbread! She made this cornbread in her cast iron skillet and we all thoroughly enjoyed it. Dipping it into chili really enhanced the flavor of not only the chili, but this Cast Iron Skillet Cornbread as well.  In fact, that's the only way I'll eat chili and cornbread going forward!
Cast Iron Skillet Cornbread is quick, easy, and such a classic flavor that will really complement any meal!
If you scroll through the cornbread recipes on my blog, you'll notice I LOVE my sweet cornbread. All the recipes I have shared over the years are great, but being sweet, sometimes you just need a classic non sweetened version, right?!
Everyone has their preference on whether they prefer sweet or unsweetened. I typically lean towards sweet, but I will say, this was quite tasty and really allowed the corn flavor to shine through versus the sugar taking over, haha!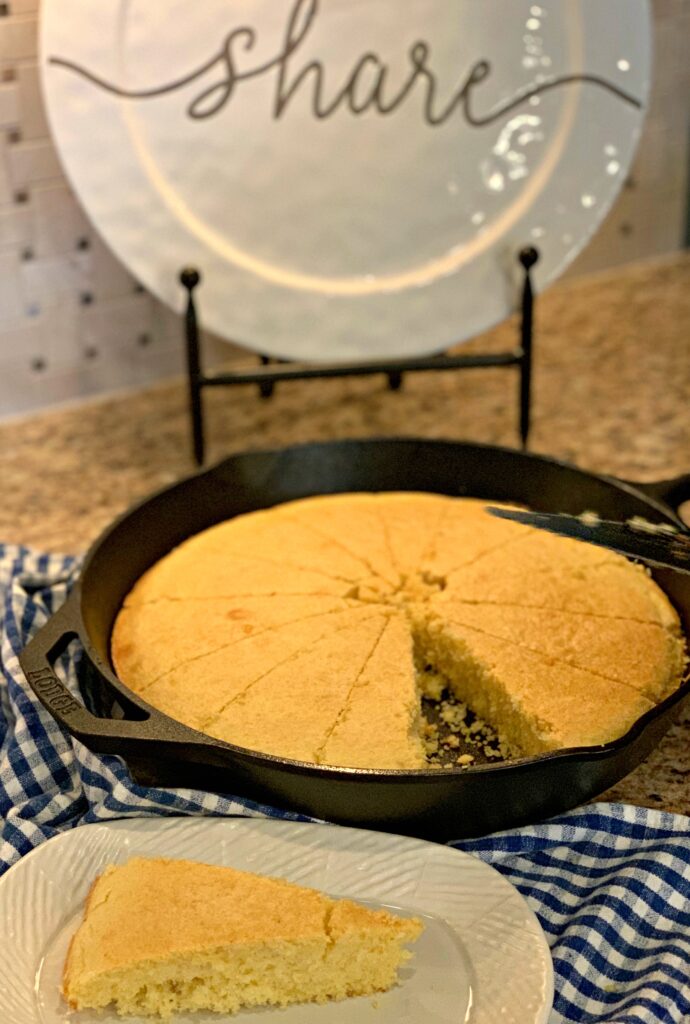 This cornbread was so simple to prepare, and I'm talking only 5 minutes or so!  Additionally, cooking it in the cast iron skillet enhanced the buttery crust and gave it a slight crunch. The inside of the cornbread was light and fluffy, just how we prefer it!
If you're looking for a new side dish to try, or something that pairs well with your chili dinner….I highly recommend trying this! Cast iron cooking at its finest!
Looking for some other Cast Iron Favorites?  Check out the recipes below!
Cast Iron Skillet Banana Bread
Enjoy and be sure to let me know what you think if you try it! You can even tag me in your pictures on Instagram using the hashtag #thecookinchicks.
*Don't forget to sign up for my newsletter below, where I'll send you my latest recipes directly to your inbox so you never miss anything! Plus, I do monthly prize giveaways for my subscribers only! Win win, right?!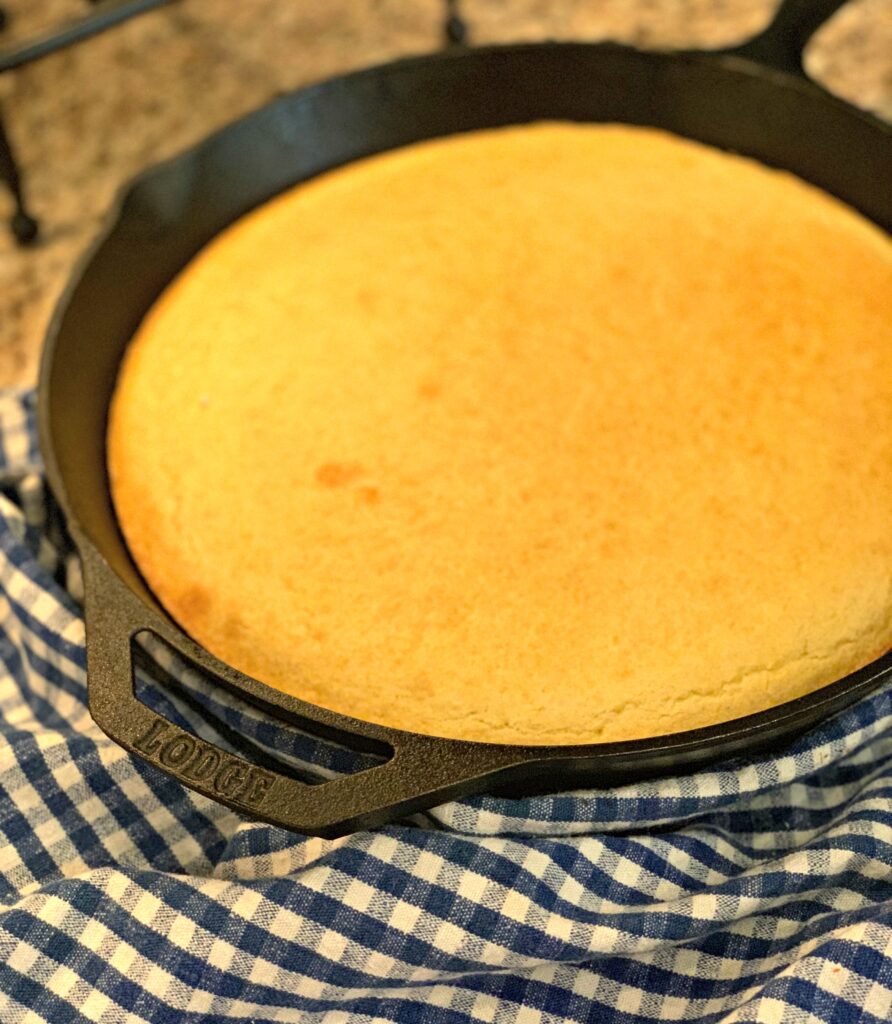 Make sure to grab a copy of the recipe below.  Just click print on my recipe card!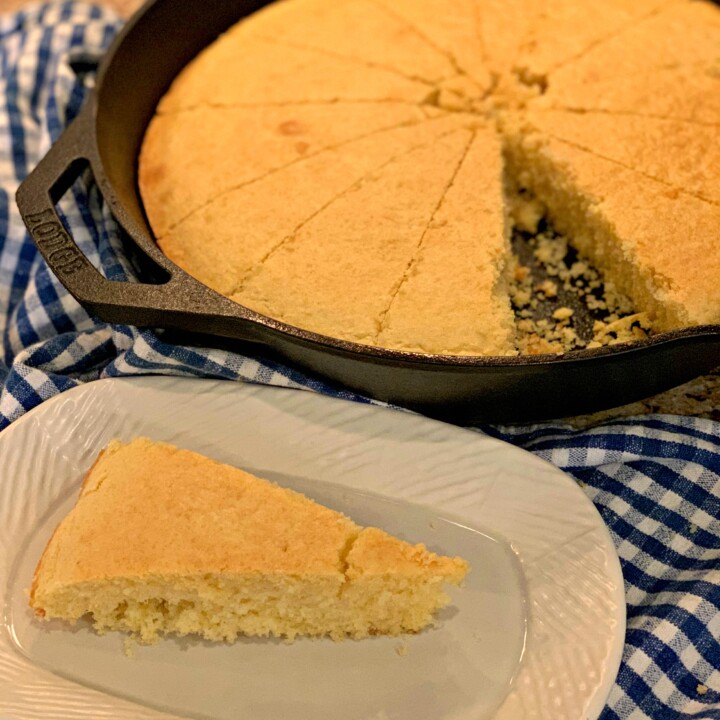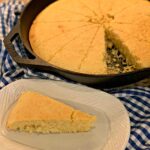 Print Recipe
Cast Iron Skillet Cornbread
This slightly sweet cornbread is made in the versatile cast iron skillet! Having a crunchy, buttery crust, and being light and fluffy on the inside, this pairs well with any meal!
Ingredients
1 1/4

cups

cornmeal

3/4

cup

flour

1/4

cup

sugar

1

teaspoon

salt

2

teaspoon

baking powder

1/2

teaspoon

baking soda

1/3

cup

milk

1

cup

buttermilk

2

eggs

8

tablespoon

unsalted butter, melted
Instructions
Preheat the oven to 425 degrees and place skillet into oven to warm up.

In a large bowl, combine the cornmeal, flour, sugar, salt, baking powder, and baking soda.

Whisk in the milk, buttermilk, and eggs.

Add in 7 tablespoon of butter (leave 1 tablespoon melted butter for the skillet).

Remove skillet from oven and lower temperature of oven to 375 degrees.

Pour remaining 1 tablespoon butter onto bottom of skillet and move around to coat evenly.

Pour batter into warm skillet and place into oven.

Bake for 22-25 minutes, or until cooked through.

Remove from oven and allow to sit for about 10 minutes before serving! Enjoy!
Notes
Recipe adapted from: The Food Network