Parmesan Roasted Brussel Sprouts are quick to prepare, packed with flavor, and will change the way you think of these little green veggies!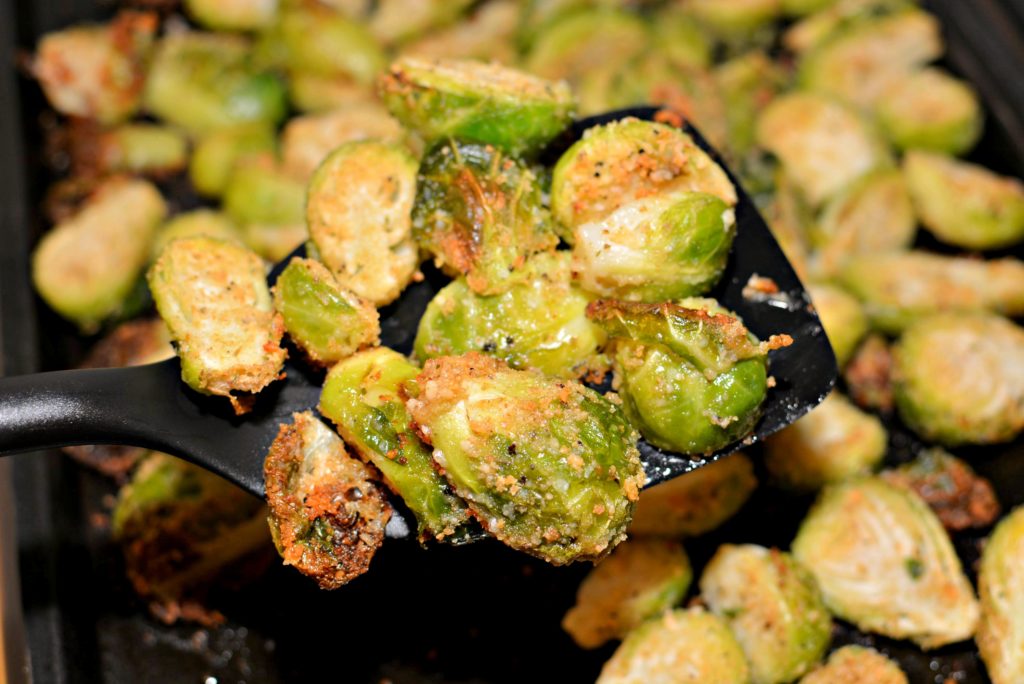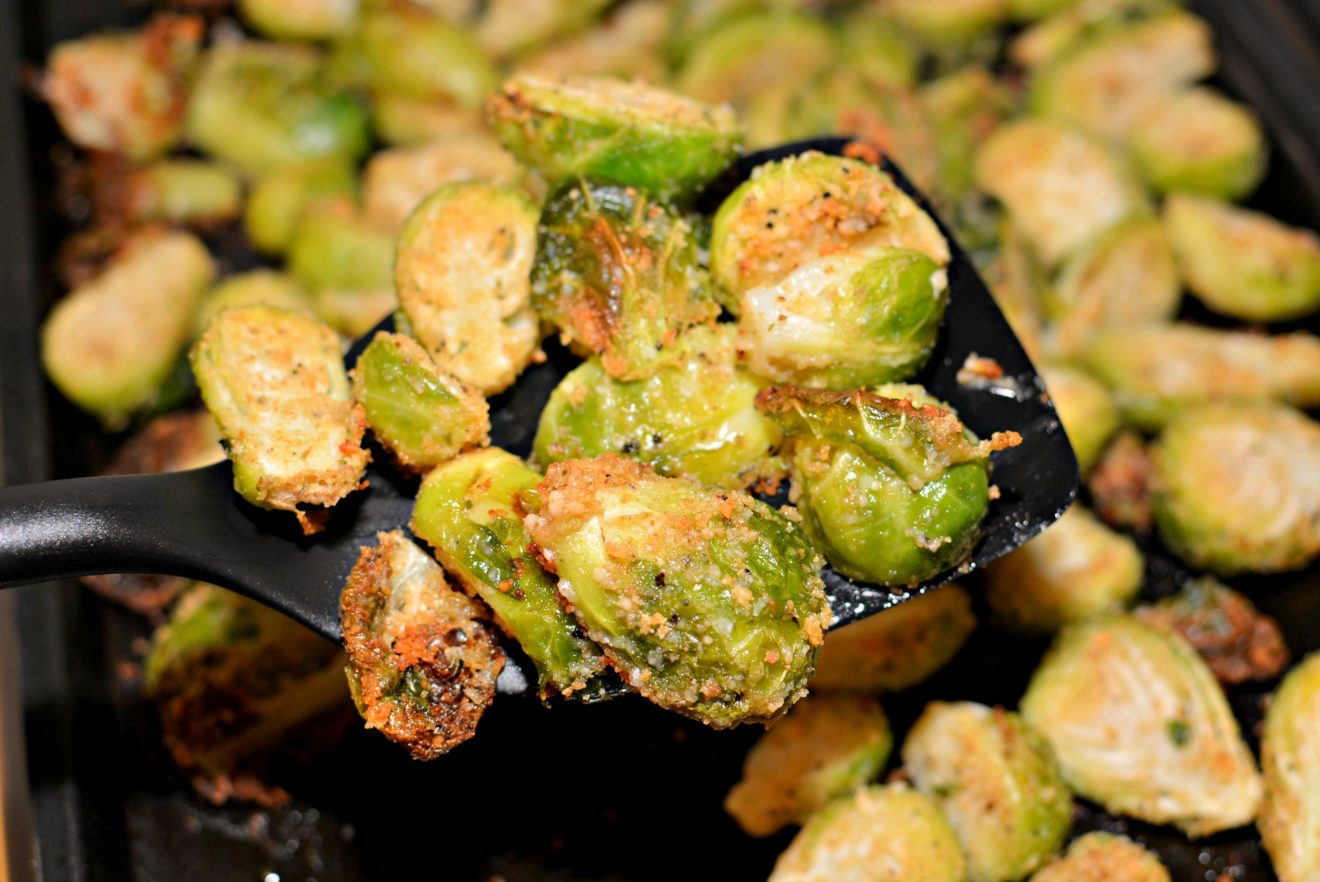 For most of my life, I adamantly refused to eat Brussel sprouts. I vaguely remember being a small kid and taking a tiny bite only to spit it out immediately in disgust. In my defense, I think I was only around eight or nine, ha-ha! From that point on, I never tried them again.
Fast forward to last year and my hubby and I were at a local brewery with some friends, and everyone ordered a few appetizers. One of which was roasted Brussel sprouts. Now, theirs had some tasty sauce over it, but Brussel sprouts nonetheless. My plan was to avoid the dish entirely, until everyone started raving about how tasty they were. Curiosity got the best of me and I decided to try a bite. Let me tell you. That first bite changed the way I look at those little green veggies.
Parmesan Roasted Brussel Sprouts are a quick and easy side dish ready in only 20 minutes!
No more looking at them in disgust, they are my new favorite veggie. Perhaps I matured since the age of eight or nine and green veggies are no longer banned from my plate.
Now, my hubby and I have since tried several versions of Brussel sprouts trying to replicate the ones we had. The sauce was similar to a sriracha, had a kick to it, but a tad salty as well. We have yet to master that version, but along the way, came up with this one which is also a great option! We'll keep trying combinations until we master the restaurants version, so stay tuned!
I am a big fan of anything garlic and Parmesan. Combine the two and I am one happy gal. I have now made these as a side dish a few times and each time, my kids actually go back for seconds. Given the fact that they are only seven, nine, and eleven, I must admit I am quite impressed. My daughter says these are her favorite, even over corn, which for her, is a really big deal!
Simply toss them in a bag with the ingredients listed, dump them onto a cookie sheet, and pop them into the oven. You have a simple, healthy, side dish that compliments any meal! I have even had them reheated the next day with lunch and they were just as yummy. That's always a perk since reheating veggies can be hit or miss at times!
Check out these other great veggie recipes:
Ingredients needed for these Parmesan Roasted Brussel Sprouts:
Brussel Sprouts
Olive Oil
Italian Breadcrumbs
Parmesan Cheese
Garlic Salt
Black Pepper
How to prepare:
Preheat oven to 425 degrees F and lightly grease a cookie sheet.
Place Brussel Sprouts, Olive Oil, Breadcrumbs, Parmesan cheese, Garlic, and Pepper into a large Ziploc bag and seal closed.
Shake around a few times and pour contents onto prepared cookie sheet.
Place cookie sheet into preheated oven and bake for 15-17 minutes.
Remove from oven and serve!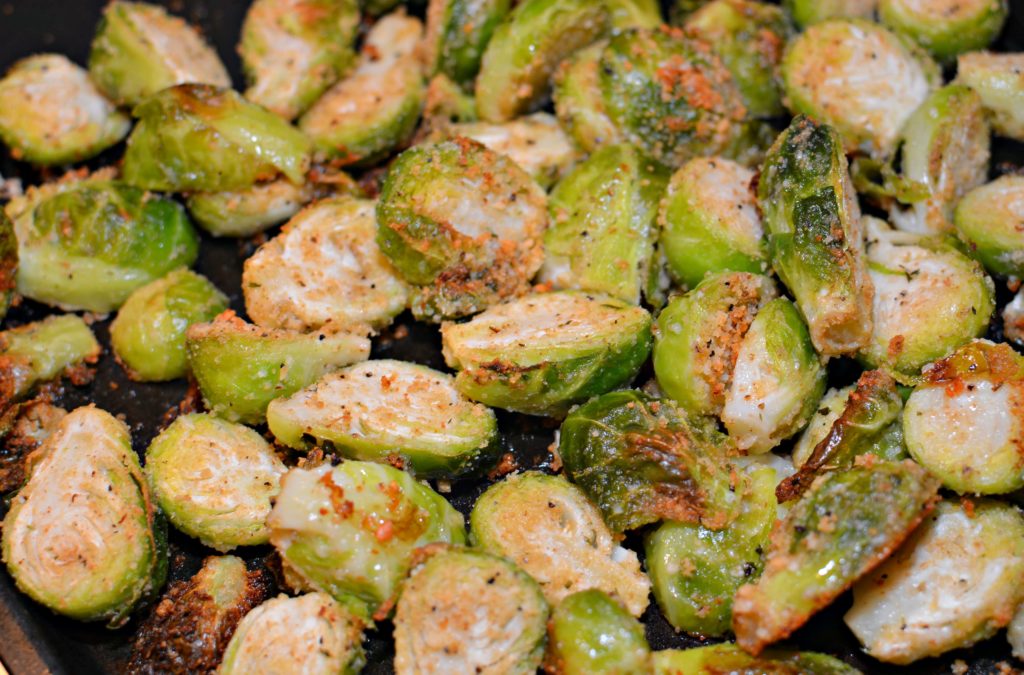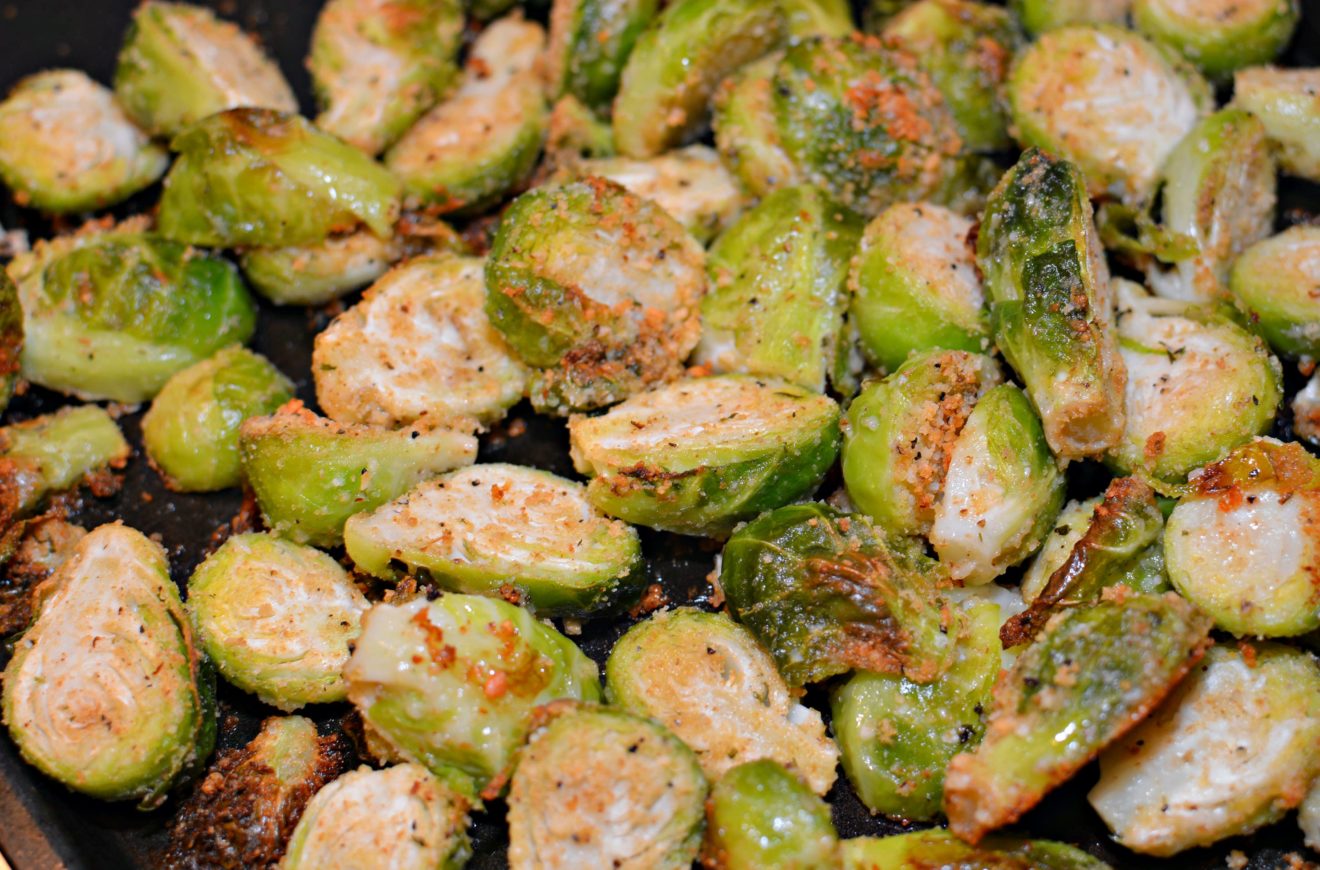 If you try these, be sure to come on back and drop a comment below letting me know what you thought. If you have a favorite version of these veggies, I would love to hear it! And lastly, if you use Instagram, I would love to see your creations, use #thecookinchicks
Parmesan Roasted Brussels Sprouts are a healthy and delicious side dish that are easy to make and are a tasty addition to any meal! Print the recipe below and give them a try!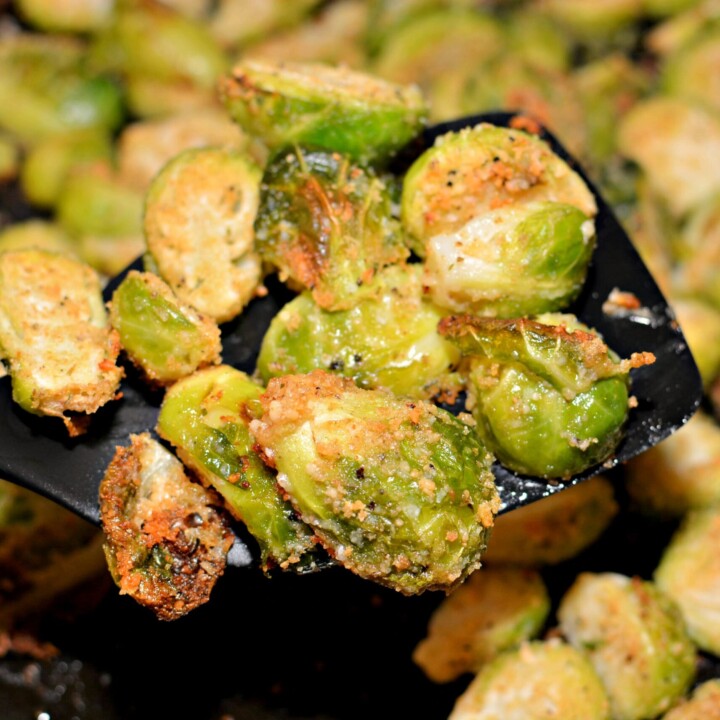 Print Recipe
Parmesan Roasted Brussel Sprouts
A quick, healty, flavorful dish that is quick to prepare and packed with flavor! Long gone are the days of avoiding these green veggies! Seconds anyone?!?!
Ingredients
1 1/2

lbs

Brussel sprouts, trimmed and cut in half

2

tablespoon

Olive Oil

3

tablespoon

Italian Breadcrumbs

1/2

cup

Parmesan cheese, grated or shredded

1

teaspoon

Garlic Salt

1/2

teaspoon

Black Pepper
Instructions
Preheat the oven to 425 degree (F) and lightly grease a baking sheet.


Place Brussel Sprouts into a gallon sized ziploc bag and add the olive oil, breadcrumbs, Parmesan, garlic salt, and pepper.

Seal the bag closed and give it a good shake until all is evenly coated.

Open bag and pour into an even layer on prepared baking sheet.

Place baking sheet into oven and allow to cook for about 15-17 minutes, or until slightly golden brown.

Remove from oven and serve! *Sprinkle additional Parmesan on top if desired.
Notes
Recipe adapted from: I Wash You Dry
Nutrition
Calories:
146
kcal
|
Carbohydrates:
14
g
|
Protein:
8
g
|
Fat:
8
g
|
Saturated Fat:
2
g
|
Polyunsaturated Fat:
1
g
|
Monounsaturated Fat:
4
g
|
Cholesterol:
7
mg
|
Sodium:
610
mg
|
Potassium:
465
mg
|
Fiber:
5
g
|
Sugar:
3
g
|
Vitamin A:
938
IU
|
Vitamin C:
97
mg
|
Calcium:
150
mg
|
Iron:
2
mg
Recipe updated 1/31/22