If you're looking for a super easy and extraordinarily delicious side dish, look no further! These Bacon Wrapped Green Beans can be prepped ahead of time and are the perfect compliment to any meal!
Bacon Green Bean Bundles
These green bean bundles are easy enough to pair with any weeknight dinner, but are also pretty enough to serve when guests come over.
Fresh green beans wrapped in bacon and roasted to perfection! Plus, these bundles can be prepared ahead of time, making them a time saver on busy nights!
You can dress them up even more by adding some of your favorite seasonings or even a sprinkle of brown sugar!
Pop them into the oven when ready to enjoy and about 20 minutes later, your guests and you can devour these tasty bundles!
Why these Bacon Wrapped Green Beans are the best
Every dinner needs a veggie side and these are just that! Plus, bacon is LIFE, so why not try it, right?!
Flavor Packed- as they roast, the beans and bacon caramelize adding tons of flavor.
Versatile- use frozen green beans OR fresh, whichever you have on hand!
Prepare ahead of time- these can be assembled the day before and simply popped into the oven when ready.
What Green Beans to use
Not all green beans are created equal. I highly recommend using thin green beans, or the smaller French green beans for this recipe. You'll find French green beans pre-packaged in bags in the produce section, they typically are not the ones found in bins. Of course, if you can't find French green beans, just get the smaller, thin ones that are readily available.
Frozen green beans work as well! To use frozen green beans, thaw them first then dry them very well so they don't make your bacon soggy.
Unfortunately, canned green beans just aren't good in this recipe. They are too soft and tend to collapse and fall apart, making these bundles not as pretty or tasty! Stick to fresh or frozen!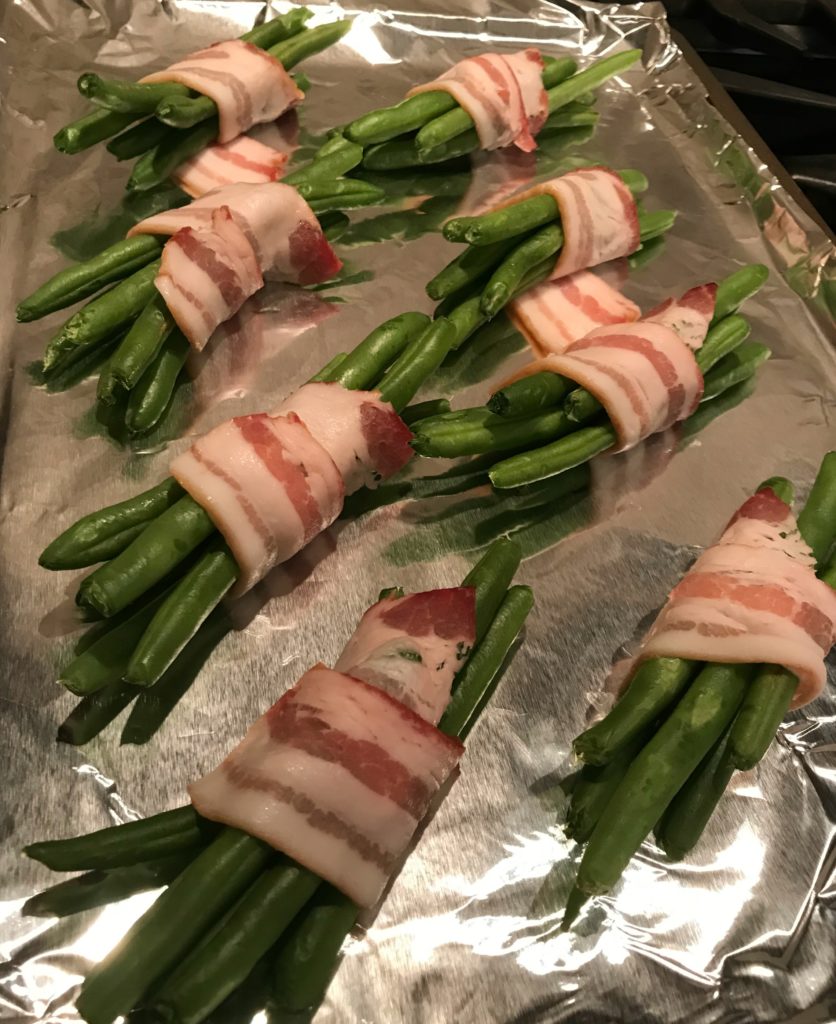 Ingredients Needed
For exact amounts, see printable recipe card below
Bacon- Choose regular cut bacon. Thick cut bacon needs a bit longer to cook which will cause the beans to overcook and get dried out.
Green Beans- Choose fresh or frozen green beans as they are easier to wrap. Frozen green beans need be thawed and patted dry.
Salt/Pepper- to taste, you can also use different seasonings and/or brown sugar.
How to make Green Bean Bundles
Let's make green bean and bacon bundles! It's super easy and the flavor is out of this world… I mean, bacon is incredible, right?!
Prep Green Beans- trim your green beans and place them in a pot of salted boiling water. Let them simmer for just 2 to 3 minutes, then immediately dunk them in cold water to stop the cooking process. Drain from the ice water and pat the green beans dry with paper towels. This process is called blanching and helps them keep their beautiful color and crispness.
Season- salt and pepper to taste, and even consider sprinkling some brown sugar on top to get a salty sweet combination.
Wrap- cut the bacon strips in half and then bundle about 8 to 10 green beans together, wrapping the bacon around the middle and securing with a toothpick.
Bake- Once all the green beans are wrapped with bacon, place them on baking sheets. Bake the green beans for about 15 to 20 minutes, until the bacon is crisp and the green beans are tender.
What to serve with Bacon Green Bean Bundles
These bundles are perfect as a snack, side dish, or even appetizer! Here are some great meal options to serve with these bundles.
How to prepare ahead of time
These bundles can easily be prepared ahead of time by blanching the green beans, seasoning and wrapping with bacon.
Place the green beans in an air tight container in the refrigerator up to 48 hours and then bake according to the directions listed.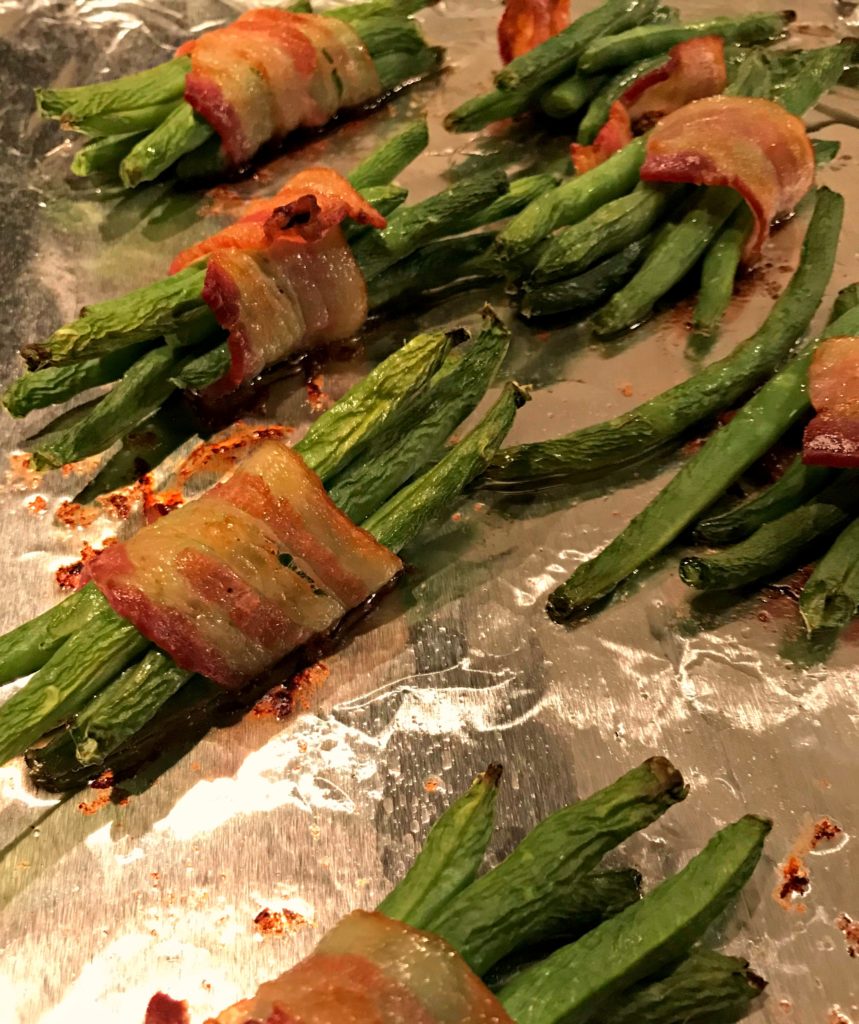 Storage
Once baked, allow to cool completely and store in an airtight container in the refrigerator for up to 5 days.
To reheat, you can pop into the air fryer for 375 degrees for about 5 minutes, or place in oven for a few minutes. You can reheat in the microwave, but won't get the same crispness as when fresh.
Variations
You can use this some method and bacon wrap asparagus, or add some asparagus into your green bean bundles to change things up.
Try fun flavors of bacon such as jalapeno for an added touch of heat, or maple for some extra sweetness.
Sprinkle a bit of your favorite seasonings on top of the bacon prior to going into the oven. Cajun, Lemon Pepper, All-purpose, etc. are all great options!
Add cheese on top once baked for a cheesy addition.
Recipe Tips
Feel free to cook these green bean bundles in the oven or in the air fryer, either way works great!
Precooked bacon can be used in place of raw bacon, just don't cook it as long.
Blanch the green beans prior to using to ensure color, crispness, and flavor is on point!
Save time and prep these ahead of time!
Serve these as an appetizer or snack if hosting company.
More Vegetable Recipes to try
Parmesan Roasted Brussel Sprouts– a flavorful and elegant side dish.
Cheesy Zucchini Bake– an easy Keto zucchini recipe that everyone will love.
Lemon Garlic Asparagus-an easy side dish with vibrant flavors that pair well with grilled or roasted meat.
Instant Pot Creamy Brussel Sprouts– the ultimate quick and delicious Brussel Sprouts recipe
Oven Roasted Green Beans– tasty and they are also very easy to make.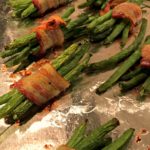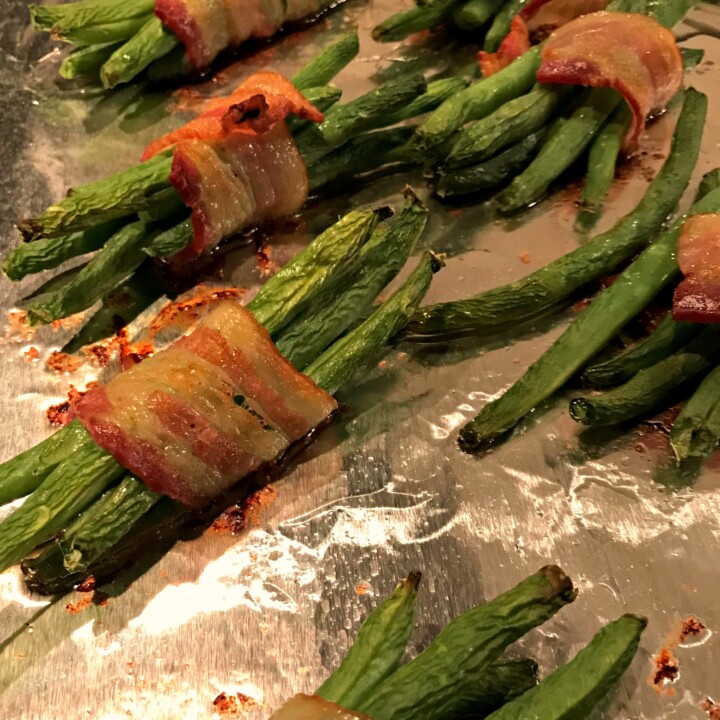 Print Recipe
Bacon Wrapped Roasted Green Beans
Quick to prepare, these green bean bundles are wrapped in bacon and roasted in the oven to create a tasty appetizer, snack, or side dish!
Ingredients
12

oz.

bacon (1 package)

16

oz.

green beans (fresh or frozen)

salt/pepper to taste
Instructions
Preheat oven to 350 degrees and place a sheet of aluminum foil on a cookie sheet to cover.

Lay out the bacon strips flat. Cutting the strips in half makes the fit better, but either way works!

Sprinkle green beans evenly with salt/pepper.

Gather about 8-10 green beans and roll them into the bacon.

Place the bundle seam side down onto prepared cookie sheet.

Continue until bacon and green beans are bundled. *Try not to touch the bundles to one another as it makes them difficult to separate once cooked.

Sprinkle a bit of brown sugar on top of the wrapped bundles if desired.

Place cookie sheet into preheated oven and bake for about 20 minutes.

Remove from oven and serve!
Nutrition
Calories:
195
kcal
|
Carbohydrates:
4
g
|
Protein:
6
g
|
Fat:
17
g
|
Saturated Fat:
6
g
|
Cholesterol:
28
mg
|
Sodium:
285
mg
|
Potassium:
204
mg
|
Fiber:
2
g
|
Sugar:
2
g
|
Vitamin A:
407
IU
|
Vitamin C:
7
mg
|
Calcium:
23
mg
|
Iron:
1
mg