This recipe has been one that I have had since I was a little girl. It has always been a favorite of mine and definitely my "go to" recipe when I have bananas to use up!! Not only is it simple to make, but it is moist, and full of flavor!! Hope you enjoy it as much as we do!! Whether you make muffins or loaves, you'll definitely want to try this!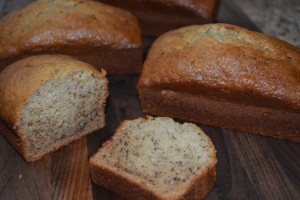 Ingredients:
1 cup sugar
1/2 cup oil
3 tbsp sour cream
2 eggs
1 tsp baking soda
3 bananas, mashed
2 cups flour
1/2 cup nuts (optional)
Directions:
Mix above ingredients in a mixing bowl for about 3-4 minutes, or until creamy and smooth.
Pour into greased loaf pan or muffin tray. *I use mini loaf pans, and it makes about 4.
Bake at 350* for about 40-45 minutes (less if making muffins).
Enjoy!