Blueberry Bread- moist quick bread stuffed full of fresh blueberries! Super easy to make and a perfect quick breakfast for busy mornings! A great way to use up those extra summer blueberries.

Also try my Blueberry Buckle and Blueberry Streusel Muffins, perfect for any blueberry lover!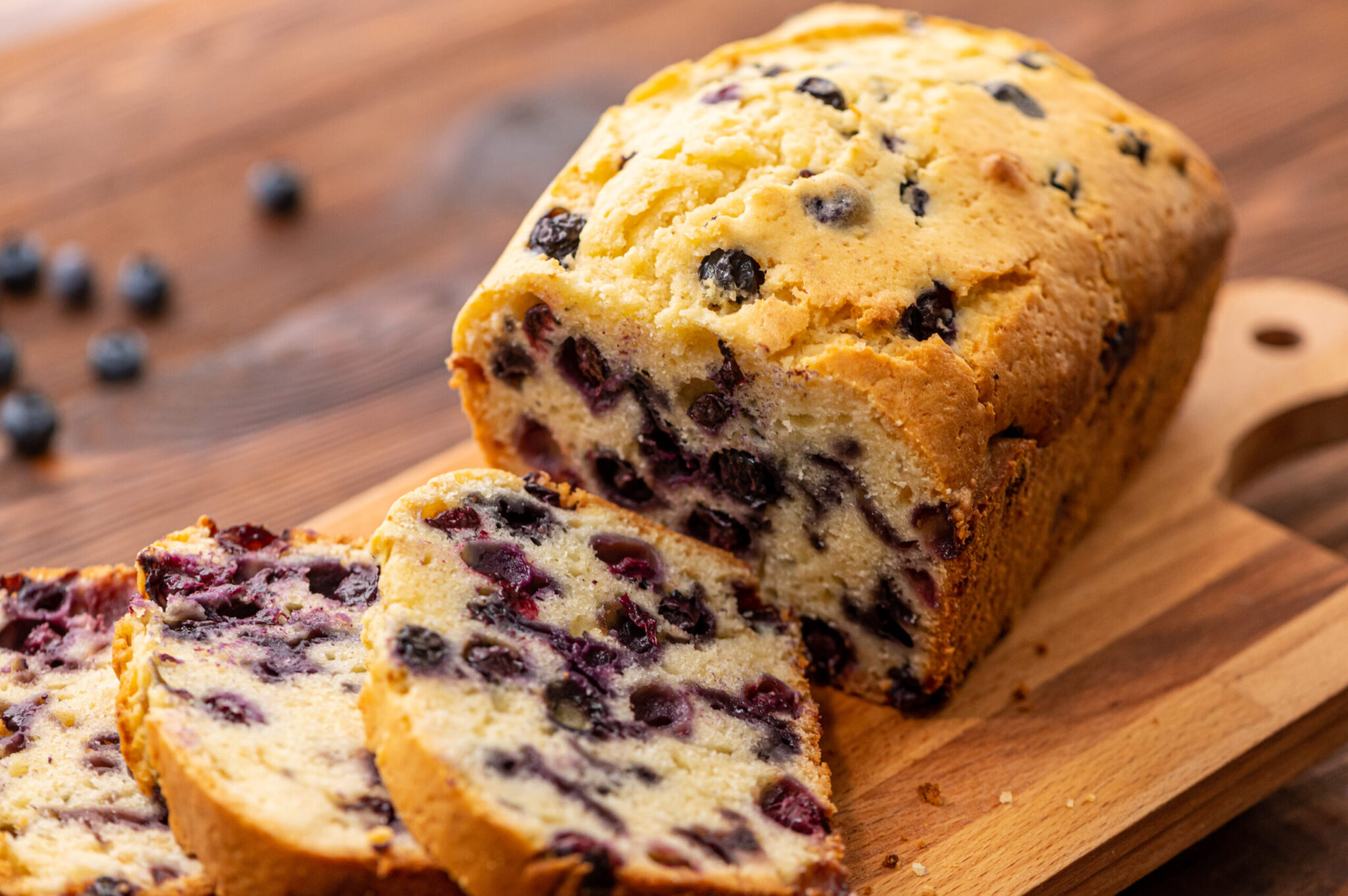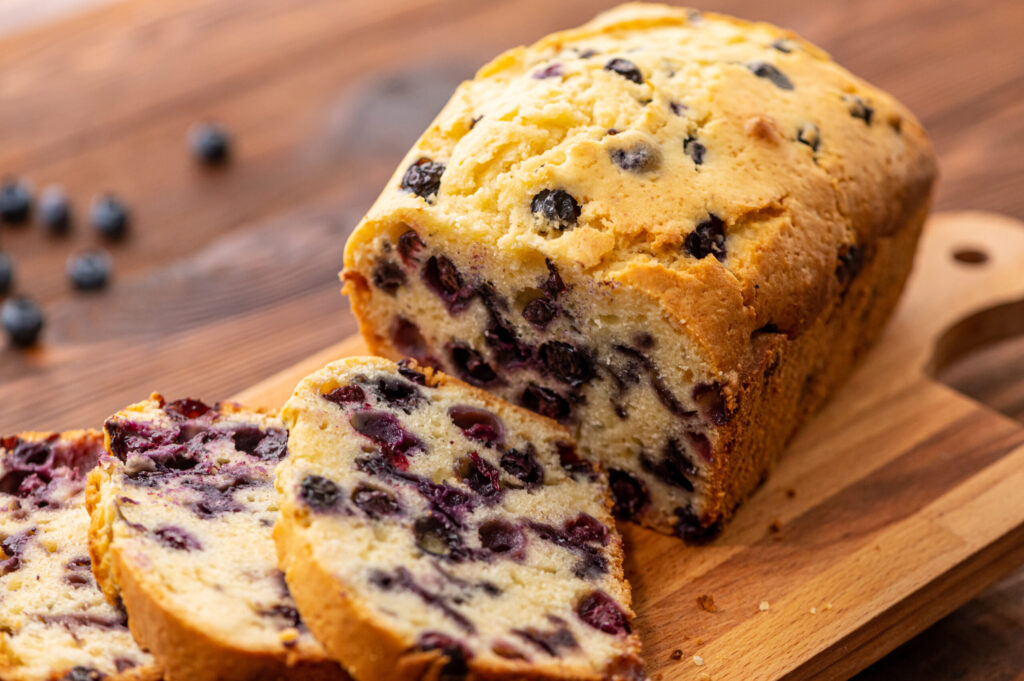 The Best Blueberry Bread
This Blueberry Quick Bread is the BEST recipe and uses only one bowl! With 1 1/2 cups of juicy berries throughout, each bite is tender, moist, and PACKED with flavor! The bread bakes up as the perfect breakfast treat, snack option, or even after dinner treat!
Typically, I make this recipe into mini loaves and I get about 4-5 loaves per batch! I like to keep a few out to enjoy for a few days, and also freeze one or two for later! That way, when the craving hits, I am ready and simply need to thaw or microwave a piece for a few seconds! Win win!
Why you'll love this recipe
Moist and Flavor Packed- thanks to the milk and butter, the bread is perfectly moist. Add in the juicy berries, you have a mouthwatering combination!
Quick to Prep- this bread is ready for the oven in less than 10 minutes! No mixer required!
Freezer Friendly- enjoy now or freeze for later, both options work great!
Perfect ANYTIME of the day- enjoy as a breakfast, snack, or evening treat! Warm or room temperature, the bread is a favorite!
Simple Ingredients- using only simple ingredients, you may already have everything needed on hand!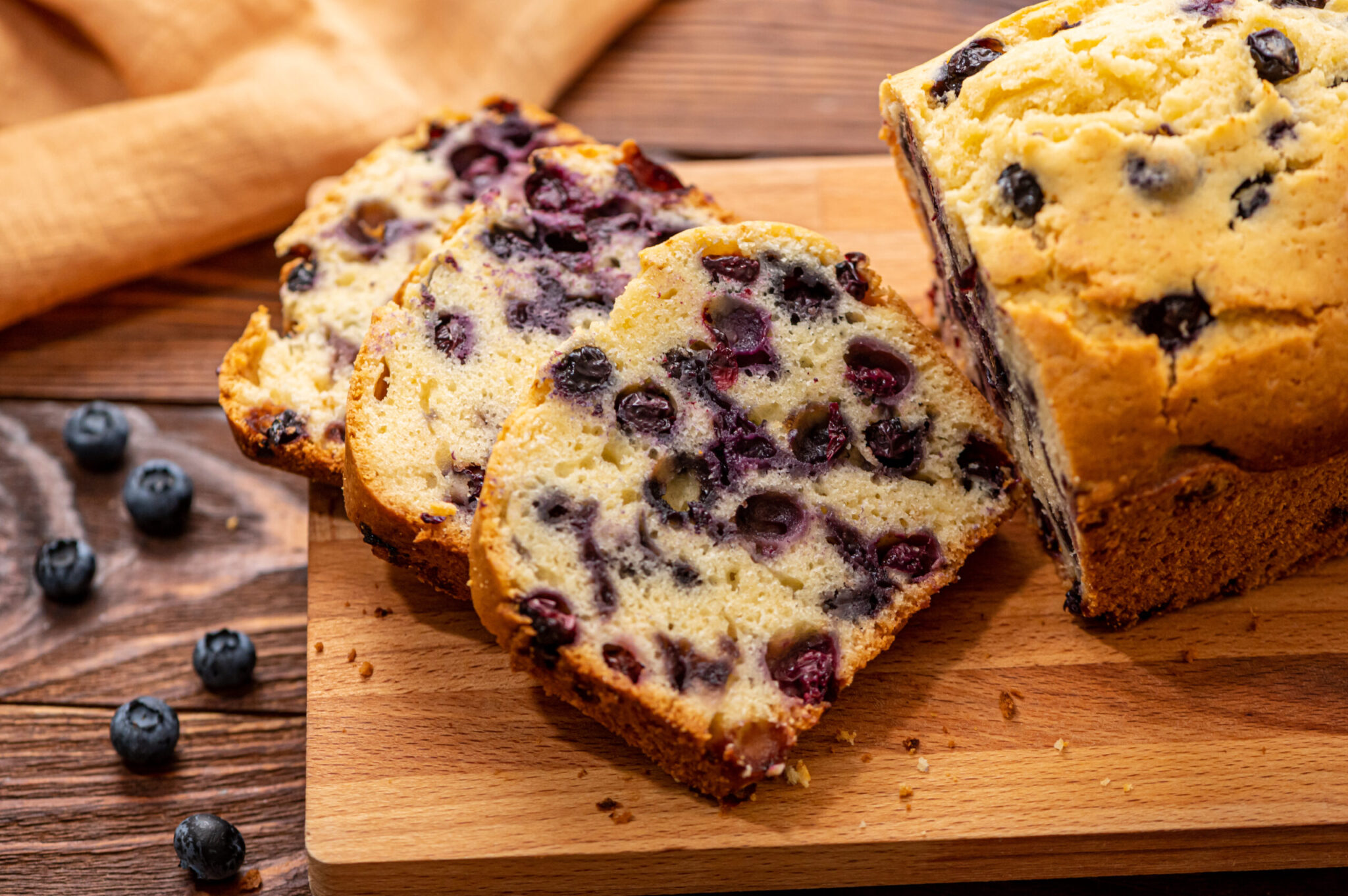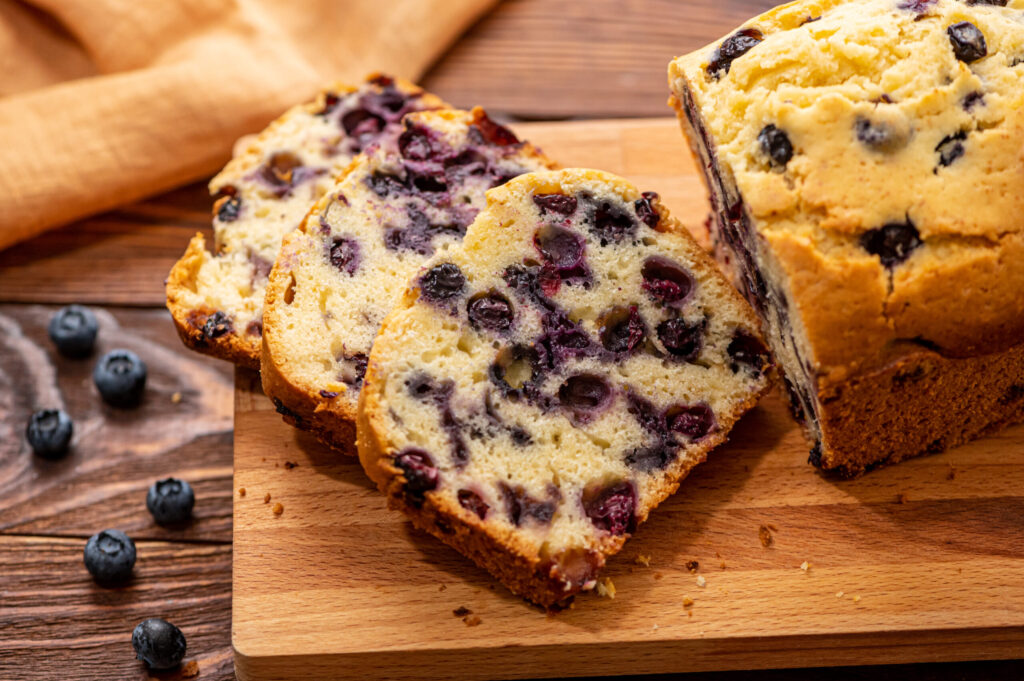 What are the health benefits of blueberries?
Often labeled a superfood, they are low in calories and incredibly good for you.
Low Calories, High Nutrients- high in fiber, vitamin C and vitamin K with only about 84 calories per cup of berries
Highest Antioxidant Capacity
Strengthens Metabolism
Improves Memory and Brain Function
Helps Strengthen Bones
Boosts Immunity
Blueberry Quick Bread Ingredients
Full printable recipe card at the bottom of this post
Sugar- Granulated Sugar
Butter- Softened
Eggs- This is the binding agent
Milk- Any kind works
Flour- All-Purpose
Baking Powder- This is the leavening agent
Blueberries- Fresh or frozen. Frozen will bleed creating a purple swirl effect, toss with 1 tablespoon flour to help minimize that if using frozen.
How to make Blueberry Bread from Scratch
Prep- grease loaf pan and preheat oven to 350 degrees.
Cream together- butter and sugar.
Combine Wet Ingredients- add in the eggs and milk.
Combine Dry Ingredients- add in the flour and baking powder.
Mix- until just combined and fold in blueberries.
Bake- pour batter into a loaf pan (or mini pans) and bake in preheated oven for about 70 minutes if large loaf, 35 if mini loaves. Remove and cool slightly before slicing.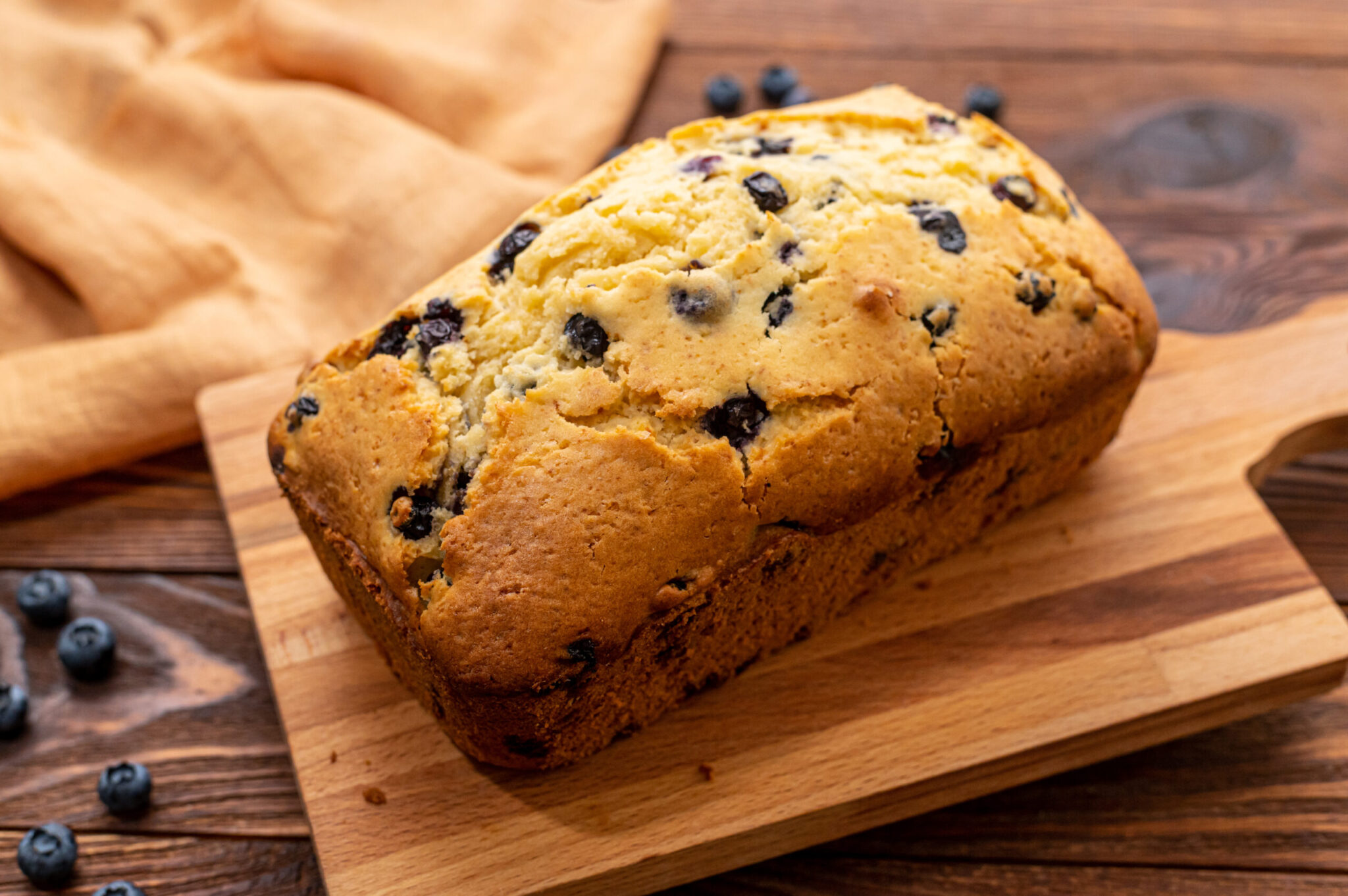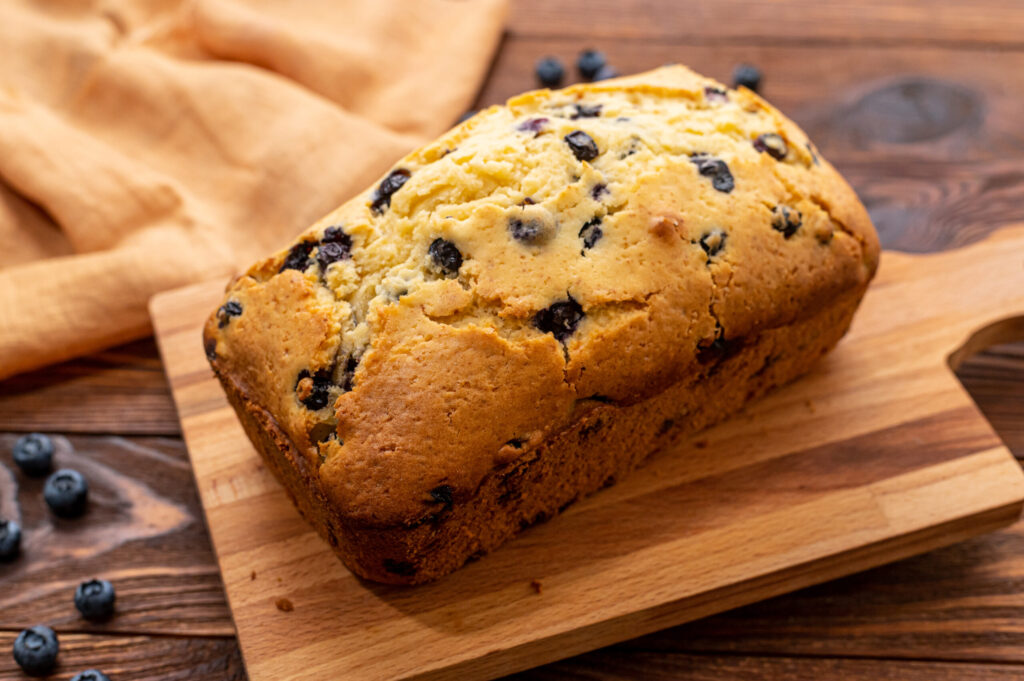 Fresh vs Frozen Blueberries
Nutritionally, there is no difference between fresh and frozen berries. They both have the same nutritional value. For this recipe, I normally use fresh berries, but you can use frozen berries if you'd like. I recommend coating the frozen berries in a bit of flour to try to avoid them staining the batter purple.
Fresh blueberries stay more intact throughout baking and will have more of a burst when you take a bite, but whatever you have available, will work great!
Tips for making the BEST Blueberry Bread
Measure flour correctly! Number one mistake I hear is adding too much flour or not enough. Scoop with a measuring cup and use a knife to level it off.
Do NOT over-mix! Stir until just combined. Over-mixing will cause the bread to be tough.
If using frozen berries, be sure to thaw them and dry them a bit before adding into the batter.
Use a toothpick test. To ensure the bread is baked to perfection, use a toothpick and poke it in the middle, top of the bread. If it comes out clean, you are good to go. If not, add a few minutes.
Don't overfill pan. The bread rises a bit, so 2/3 full is perfect!
For best results, bring the eggs and blueberries up to room temperature before mixing the bread ingredients together.
Variations to try
Add 2 tablespoon lemon zest and 1/3 cup lemon juice to make the best lemon blueberry bread recipe
Change up or add additional fruit! Raspberries, strawberries, or blackberries are great additions to the bread.
Make a tasty lemon glaze for the top, mix together 1 cup of powdered sugar, 2 tablespoons low-fat milk and 1 tablespoon fresh lemon juice. Drizzle your glaze on top of the warm bread.
Walnuts or pecans would be great in this if you'd like to add nuts!
Feel free to make this into muffins, mini loaves, or in a Bundt pan.
Storage Instructions
This bread is safe to store in an airtight container at room temperature for up to 2 days. After that, refrigerate to keep in an airtight container or bag to keep the bread fresh for up to 7 days.
Once cooled, wrap in plastic wrap, followed by aluminum foil (or freezer safe container) and freeze for up to 3 months.
Simply thaw and enjoy at room temperature or microwave with some butter on top when ready to enjoy!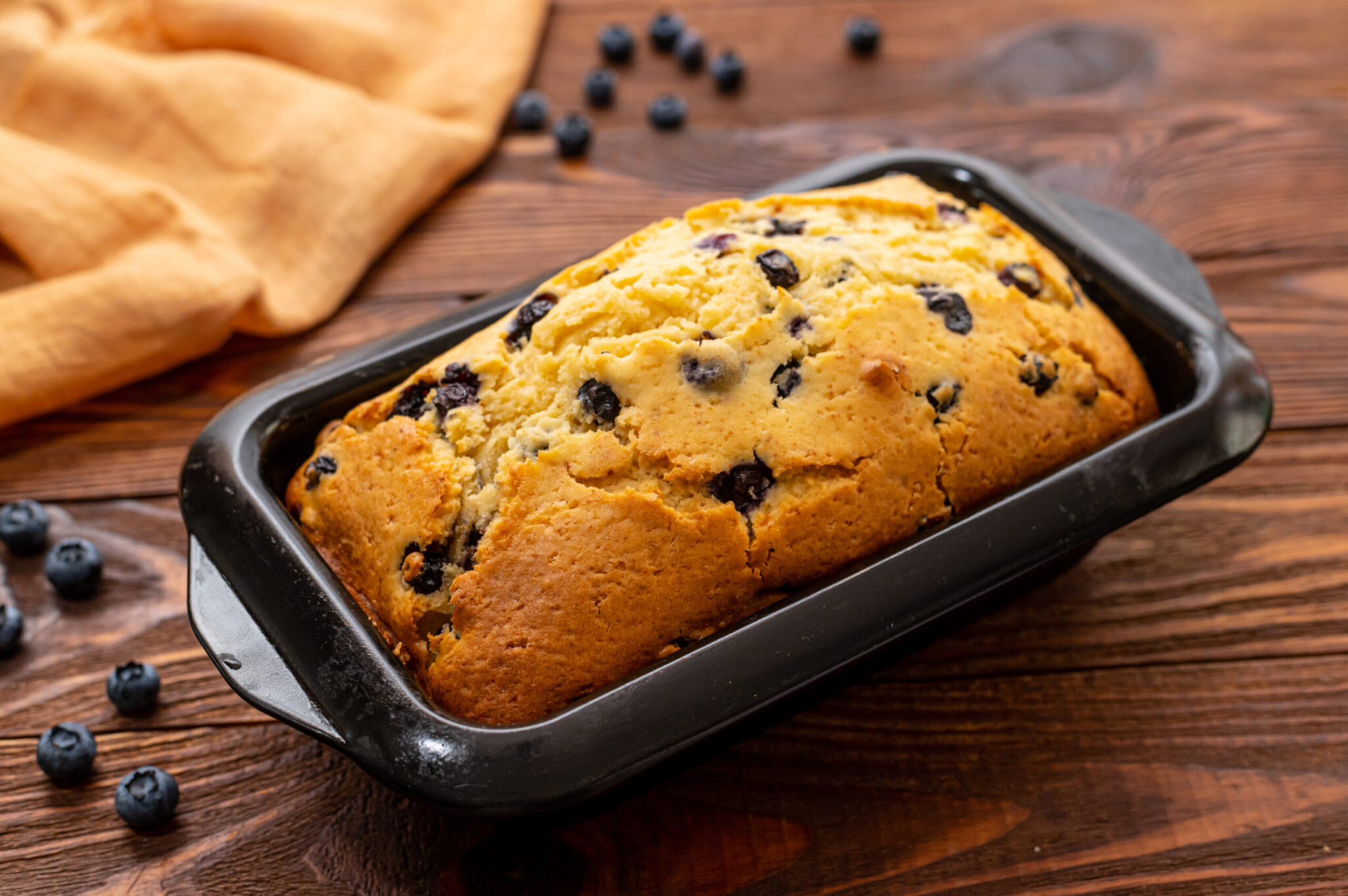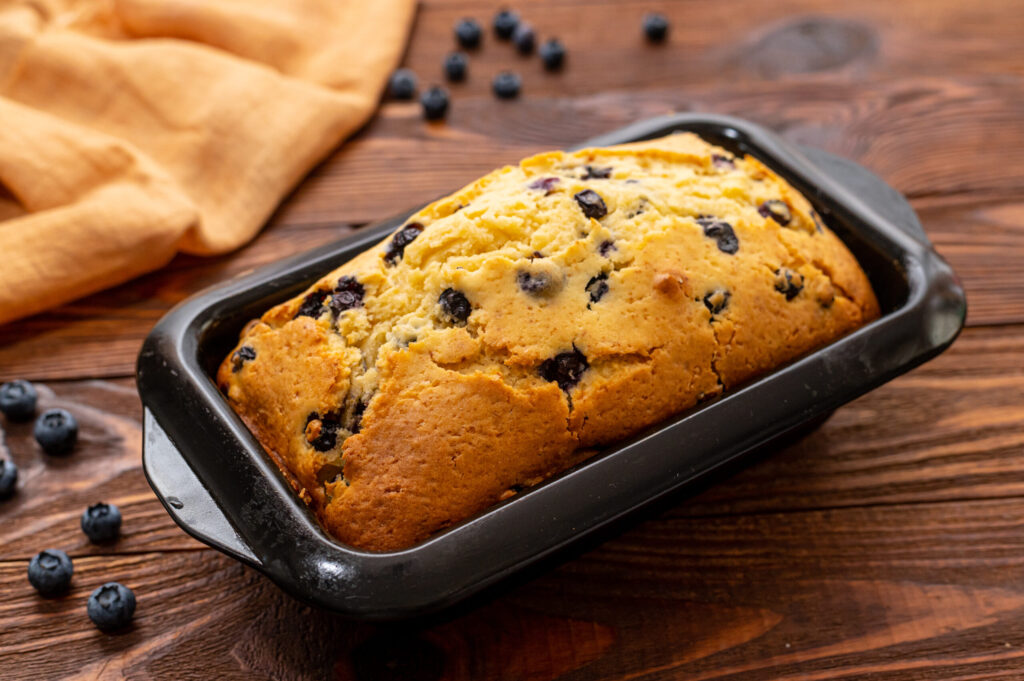 More Quick Bread Recipes to try
Snickerdoodle Bread– a sweet, buttery quick bread studded with luscious cinnamon chips with a crispy cinnamon sugar topping.
Southern Peach Bread– sweet, dense, and chock full of sweet Georgia peaches.
Cinnamon Applesauce Bread– moist and easy to make! It's is filled with Fall flavor.
Brown Sugar Quick Bread– full of flavor and incredibly easy to make. A no yeast bread made with staple ingredients and just 5 minutes hands-on time!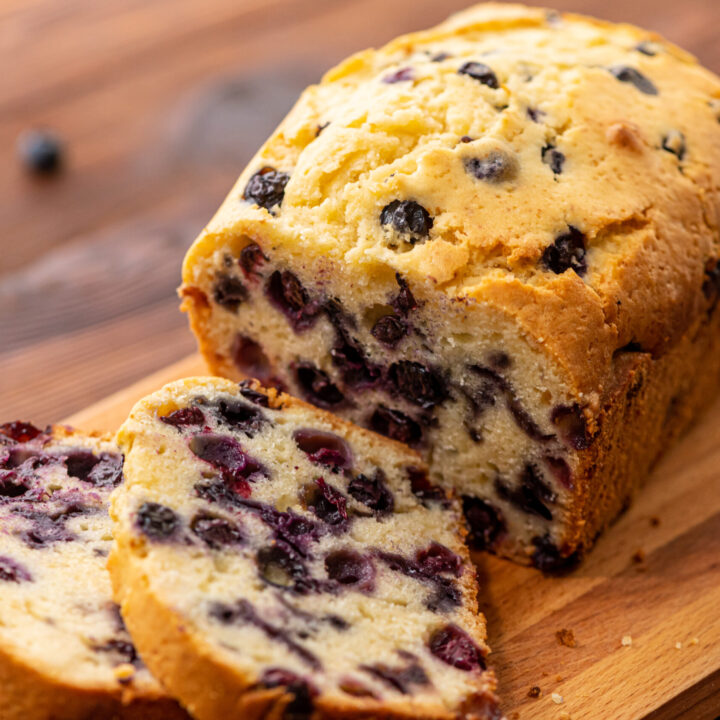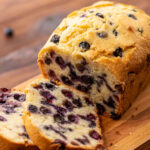 Print Recipe
Easy Blueberry Quick Bread Recipe
A tasty, moist, quick bread that is bursting with blueberries! This flavorful treat is a hit with all!
Ingredients
3/4

cup

sugar

1/2

cup

butter

2

eggs

1

cup

milk

2

cups

flour

2

teaspoon

baking powder

1 1/2

cups

blueberries (fresh or frozen)
Instructions
In a medium bowl, cream together the butter and sugar.

Add in the eggs and milk.

Add in th flour and baking powder.

Once all is combined, carefully fold in the berries.

Grease mini loaf pans, muffin pans, or a regular loaf pan.

Pour batter evenly into greased pan(s), about 2/3 full.

Place pan(s) in preheated oven, 350 degrees, for about 70 minutes if regular loaf, 35 minutes if mini loaves, or 30 minutes if muffins. *Every oven is different, so keep an eye on it

Remove from oven once toothpick comes out clean when inserted in center of bread.

Allow to cool slightly before removing from pans and serving! ENJOY!
Nutrition
Calories:
339
kcal
|
Carbohydrates:
48
g
|
Protein:
6
g
|
Fat:
14
g
|
Saturated Fat:
8
g
|
Polyunsaturated Fat:
1
g
|
Monounsaturated Fat:
4
g
|
Trans Fat:
1
g
|
Cholesterol:
74
mg
|
Sodium:
237
mg
|
Potassium:
114
mg
|
Fiber:
2
g
|
Sugar:
23
g
|
Vitamin A:
478
IU
|
Vitamin C:
3
mg
|
Calcium:
109
mg
|
Iron:
2
mg