Not only is this dish super simple, it is also is the perfect thing for parties, dinners, or any other occasion. I put this together and put the plate in the middle of our table. Within seconds, my whole family was digging in and plowing their way through it! My kids had such a fun time eating it since they saw the "chips" and fell in love he-he!! Definitely try it, what better way to end the work week right?
Ingredients:
2-3 boneless chicken breasts, about 1 lb
2-3 tbsp chipotle sauce (you'll find this in the Hispanic section of your grocery store)
3/4 cup bbq sauce
1/2 cup black beans (if using canned, make sure you rinse them)
Tortilla chips
1/2 red pepper, sliced
1/2 yellow pepper, sliced
1/2 red onion, chopped finely
1 cup shredded cheese (I used Mexican blend)
Sliced Green onions
Jalapeno, chopped (optional)
Sour Cream, Salsa, Guacamole
Directions:
Place the chicken in your slow cooker with chipotle sauce and bbq sauce. Cover and cook on low 6-7 hours, high 3-4. Using a fork, shred the chicken. Add additional bbq sauce if desired. Stir in black beans and keep slow cooker setting on low.
Preheat oven to 425. Place tortilla chips on bottom of cookie sheet or oven proof skillet. Top with entire chicken/bean mixture. Spread peppers and onions over the chicken mixture. Sprinkle cheese on top of peppers. Place in oven for about 10-15 minutes, or until cheese is melted. Sprinkle with green onions, jalapeno, and garnish with sour cream/guacamole/salsa.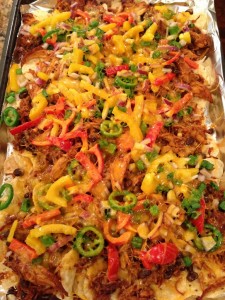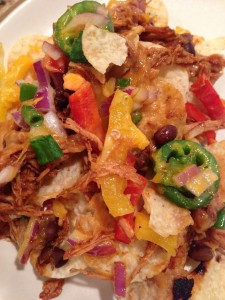 [AdSense-A]