I found this recipe online and thought bacon, chicken, and a crockpot, what could be better! It looked easy and tasty, so I got the ingredients and tried it tonight!! I was right!!! It was A-M-A-Z-I-N-G!!! It took me no time to prepare it and was the perfect family meal. Even my youngest child gobbled it up and trust me, he is super picky!!
Ingredients:
4 boneless, skinless chicken breasts (frozen or thawed)
3 tbsp real bacon bits
1 tsp garlic powder (or minced garlic)
1 pkg dry ranch dressing mix
1 can cream of chicken soup
1 cup sour cream
Egg noodles or pasta of your choice


Directions:
In your slow cooker, spray the bottom or place a liner inside. Place chicken breasts on bottom. Add in the rest of the ingredients on top of the chicken, excluding the pasta. Cover and cook on low for 7-8 hours or high 3-4. Once chicken is cooked, take a fork and shred it. Serve it over egg noodles or pasta of your choice.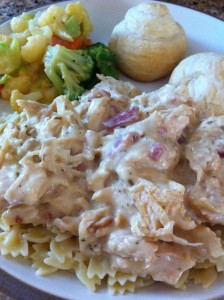 I completed the dish with veggies and crescents. The family went crazy over it and that made this mama quite happy. Hope your family enjoys it just as much 🙂