This post brought to you by Honeysuckle White® and Shady Brook Farms®. All opinions are 100% mine.
My family LOVES turkey burgers! Did you know turkey is healthful? Not only does turkey have more protein than beef, it has fewer calories than chicken and less fat than pork. It is about 58-76% less fat than ground beef!! Turkey can be a flavorful alternative to other proteins and offer all of the BBQ favorites – brats, burgers, tenderloins, and more!
There is a new line of turkey burgers! They have 6 varieties to choose from, including Savory Seasoned, Ready to Season, Cheddar Jalapeno, and Swiss, Bacon & Onion. They taste great hot out of the skillet or off the grill.
Last week, I picked up some Honeysuckle White ground turkey. When I got home and was trying to figure out what to make, I decided burgers were the way to go. Not only did my entire family go crazy over these, but my picky three year old son asked me to make them again that week!!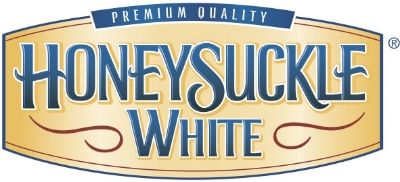 Ingredients:
3 lbs Honeysuckle White  or Shady Brook Farms  ground turkey
1/4 cup heavy whipping cream
6-8 dashes hot sauce
4 dashes Worcestershire sauce
Salt/Pepper
6 slices bacon, cooked
6 slices cheese, any type desired
Hamburger buns
Condiments of choice (ketchup, mustard, mayo, etc)
Directions:
In a bowl, combine the turkey, heavy whipping cream, hot sauce, and Worcestershire sauce.
Form turkey mixture into 6 patties (more or less depending on size desired and amount of people to serve)
Sprinkle salt/pepper on top of patties.
Cook on a preheated grill for about 6 minutes per side. When cooking, please ensure that the turkey reaches an internal temperature of 165 degrees Fahrenheit!
Once cooked through, add a slice of cheese to each burger.
Allow to cook an additional minute or so to melt the cheese.
Remove from grill and place each patty on a hamburger bun.
Add a few slices of bacon to each burger, followed by the condiments of your choice.
Enjoy!
For tips and recipes, visit Turkify.com
For a fun new app, be sure to check out the Grilling with Friends Facebook app and sweeps. The app allows one to plan every detail of your next grill out with tools like the menu builder, allows guests to sign up to bring food, beverages or extras (like a playlist) from the hosts original list or add your own items!