The easiest fries you'll ever make! These Air Fryer Frozen French Fries are super crispy and ready in under 15 minutes, you'll never cook them any other way!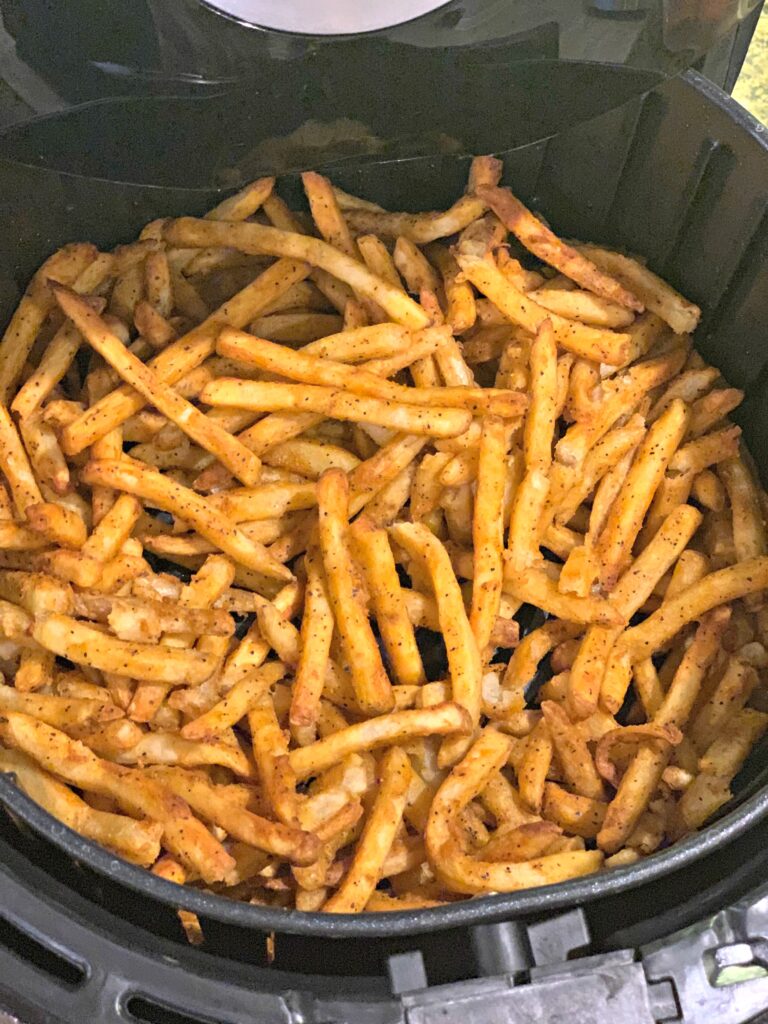 Air Fryer French Fries
Have you jumped into the Air Fryer craze? Well, first it was the Instant Pot. I was skeptical of it at first, but once I dove in…I now own two Instant Pot's and am obsessed. Then, it was the air fryer. Again, I was skeptical at first, but just got mine a few days ago and already LOVE it!
I had been hearing a lot of people talk about their love for the air fryer. Making things like chicken tenders, French fries, veggies, wings, and more! I was intrigued, but still not sold.
Well, then Costco did me in. You're probably wondering….how did COSTCO sway me?? Well, I made the mistake of browsing the middle area of Costco. Do you know how dangerous that is?? There are all sorts of good stuff in that area. If you've ever been, you know where I am talking about! The seasonal items, the clothes, toys, books, COOKBOOKS, and more!
I typically can show great restraint in that store (well, kind of), and I try to avoid the middle section. Well, this time I didn't. I had my hubby with me (also dangerous) and before I knew it, we finished shopping for groceries and ended up browsing for pool toys. That quickly led to buying swimsuits for the kids, and then somehow I was looking through cookbooks. The one that grabbed my attention was the air fryer book. I think it was because I was hungry and there were donuts on the cover. Smart publisher they are! I bought the book immediately, only problem, I didn't own an air fryer. Definitely frivolous, right?!
Once we got home and unpacked our groceries, I sat down to browse the cookbook. I immediately tagged the ones I liked and realized the whole dang book was tagged! After showing my hubby, he too found several to try and jumped on board the air fryer train.
We ordered ours off Amazon after reading through tons of reviews. Ours is a beast, 6.3 quart, because we have a family of 5. When I first unboxed it, I immediately thought it was too big, no where I was going to be able to store it, and already was thinking it would end up returned.
The first night, I tried chicken tenders. I breaded the chicken tenders I had bought previously, laid them in the baking tray, set the timer and about 12 minutes, later, crispy chicken tenders came out that used no oil! Amazing!
The second night, I tossed an entire bag of frozen French fries into the pan and set the timer once more. 15 minutes later, out came the most perfectly cooked fries ever. My kids said they were even better than McDonald's. Crispy on the outside, tender on the inside. It cut my cook time down from 30 minutes in oven, to 15! Way crispier too! Say goodbye to the guilt of indulging in french fries! When you are craving that salty, crispy hot fresh french fry, air frying is the only way to go. They taste just like they've been fried in oil, but they are not!
Since the chicken tenders I made were from the recipe book that came with it, I can't call it my own! See picture below for recipe! As for the fries, not quite a recipe, but more like a method. Nonetheless, I have included it below because its perfection at its finest!
Why make fries in the Air Fryer
Perfectly crispy every time! Plus they taste like deep-fried french fries, only healthier
Cook more evenly than in the oven. Long gone are the days where some fries are crispy, and others are still soggy
Done in only 15 minutes
No additional oil needed! Meaning, go ahead and pile your plate with fries!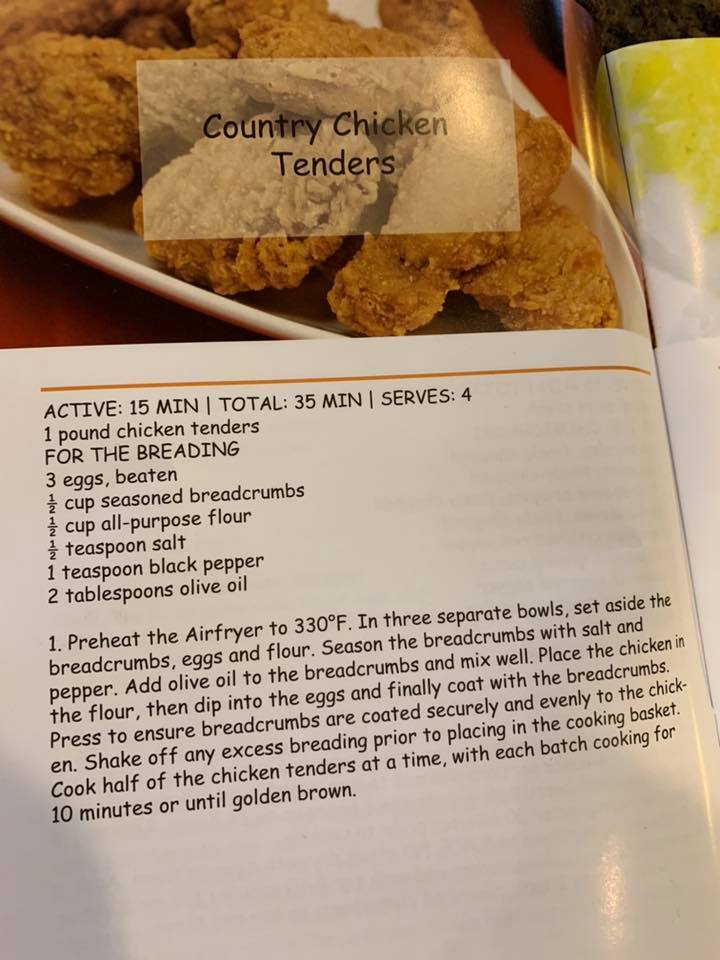 Ingredients for Air Fryer Fries
As you can guess, there are not too many ingredients to this simple recipe. Pick your favorite brand and type of frozen french fries and you're set.
Frozen French Fries: Choose your favorite: straight cut, steak fries, curly, shoestring, waffle, sweet potato, crinkle cut. Your cook time will vary depending on the fry you pick, but all will be perfectly crisp and delicious.
Optional Seasonings: if you're feeling adventurous, you can add more salt, onion powder, garlic powder, all-purpose seasoning, and/or any seasoning desired.
How to make Air Fryer Frozen French Fries
Detailed measurements and instructions can be found at the bottom of the page on the printable recipe card.
Place frozen French fries in air fryer basket.

Spread evenly over basket.

Air fry French fries at 400 degrees for 16 minutes.

About halfway through, shake basket around and toss fries to help them evenly cook. At this point, you can add a few minutes or deduct depending on desired crispness.

Serve with your favorite dip. My go-to fav dipping sauce is Chick Fil A Sauce and Alabama White BBQ Sauce. Also try my Southern Comeback Sauce
Seasoning Options
Although frozen fries come partially cooked, seasoned, and oiled, you can definitely add some seasonings to make them even tastier. Here are some great options to try…
Salt/Pepper- add a little, or add a lot, adjust to taste
Cajun Seasoning- this is a fav of mine since its both savory and adds a kick
Garlic/Onion Powder- adjust to taste, use both or one
All-Purpose Seasoning- I use an all-purpose seasoning on just about everything, my go-to is Chupacabra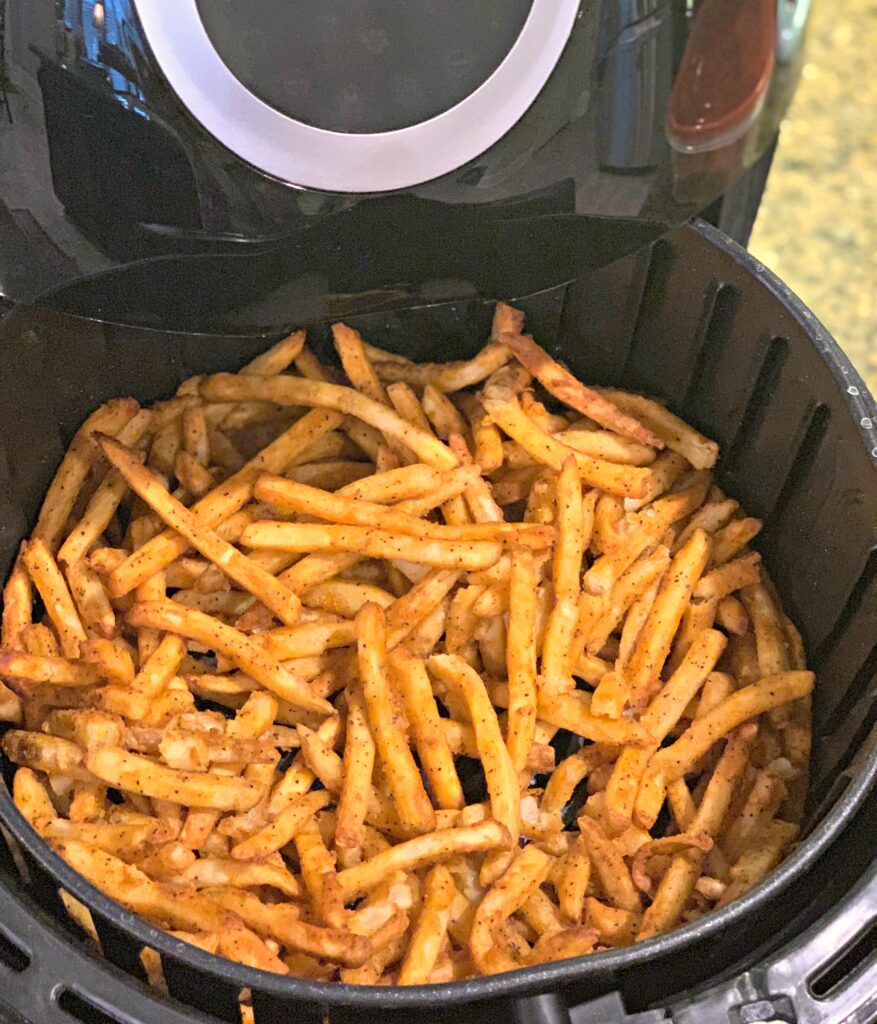 FAQ's
Do I need to preheat my air fryer?
Nope! You don't have to preheat the air fryer for this recipe.
How do I make fries crispy in the air fryer?
Make sure your fries are not crowded. Since you'll be shaking the basket halfway through, you don't have to place them in a single layer but make sure they have a bit of space between or around them.
Do I need to add oil for air fryer frozen french fries?
Nope! For this recipe, no oil is added. Many brands already use oil and salt on their fries.
Do I need to defrost frozen french fries beforehand?
Nope, in fact, I recommend keeping them in the freezer until ready to cook. This helps keep them perfectly crisp!
Storage
Once cooked, air fryer frozen french fries will last 4-5 days in the refrigerator. Wrap fries in parchment paper and store in an airtight container, but do not over-pack it. This helps the fries from getting soggy.
When reheating, place them back in the air fryer for 3-5 minutes at 375 degrees F. They'll never be quite as crunchy as when they're first cooked, but should still be tasty!
What fries to use
There are several types of fries available and so they all cook a bit differently. These are good suggestions for starting times, adjust accordingly.

Crinkle-Cut/Waffle Fries: 10 minutes
Sweet Potato Fries: 15 minutes
Lattice Cut Fries:  12 minutes
Shoestring Fries: 10 minutes
More Air Fryer Recipes to try
I love using my air fryer as much as possible because it makes the best main dishes, side dishes and more. Here are some tried and true air fryer recipes to try.
Air Fryer Mozzarella Sticks– homemade cheese sticks made perfectly crispy in the air fryer
Crispy Air Fried Onion Rings– the ultimate onion rings made way healthier
Air Fryer Ranch Chicken Tenders– crispy and delicious chicken tenders made quickly
S'Mores in the Air Fryer– the classic dessert we all enjoyed by the campfire, now made in the air fryer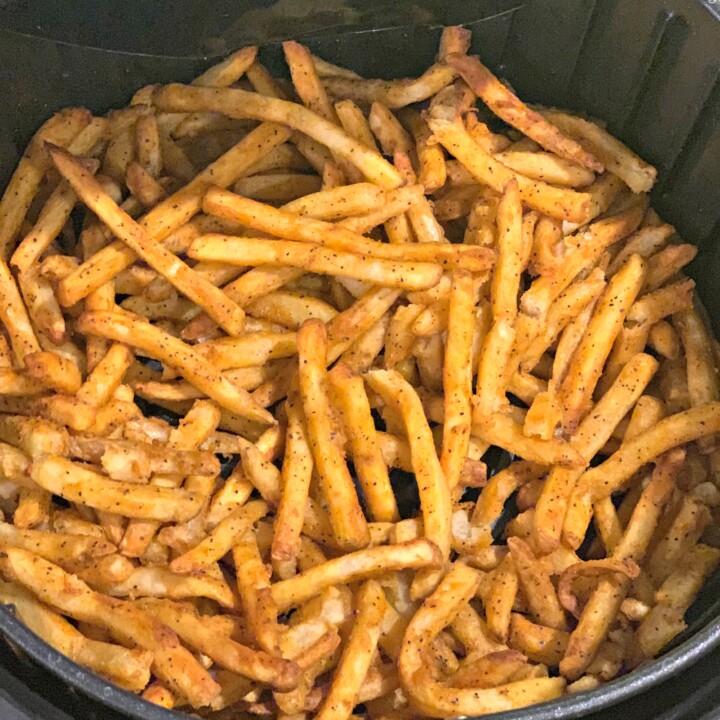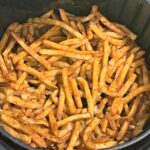 Print Recipe
Air Fryer Frozen French Fries Recipe
If you're cooking frozen French fries, you must try them in an air fryer! Perfectly crisp, delicious, and effortless! You'll never cook them any other way!
Ingredients
1

lb

frozen French fries

*we love Checker's frozen fries

Salt/Pepper (to taste)

*or buy the already seasoned fries
Instructions
Place frozen French fries in air fryer basket.

Spread evenly over basket.

Air fry French fries at 400 degrees for 16 minutes.

About halfway through, shake basket around and toss fries to help them evenly cook. At this point, you can add a few minutes or deduct depending on desired crispness.

Remove basket and serve warm!
Nutrition
Calories:
197
kcal
|
Carbohydrates:
23
g
|
Protein:
2
g
|
Fat:
11
g
|
Saturated Fat:
3
g
|
Polyunsaturated Fat:
1
g
|
Monounsaturated Fat:
7
g
|
Sodium:
370
mg
|
Potassium:
325
mg
|
Fiber:
3
g
|
Vitamin C:
5
mg
|
Calcium:
7
mg
|
Iron:
1
mg
Recipe updated 10/21/2022