These Crispy Air Fryer Brussel Sprouts are ready in no time and packed with flavor! Add these tasty greens to any meal or enjoy as a healthy snack option!!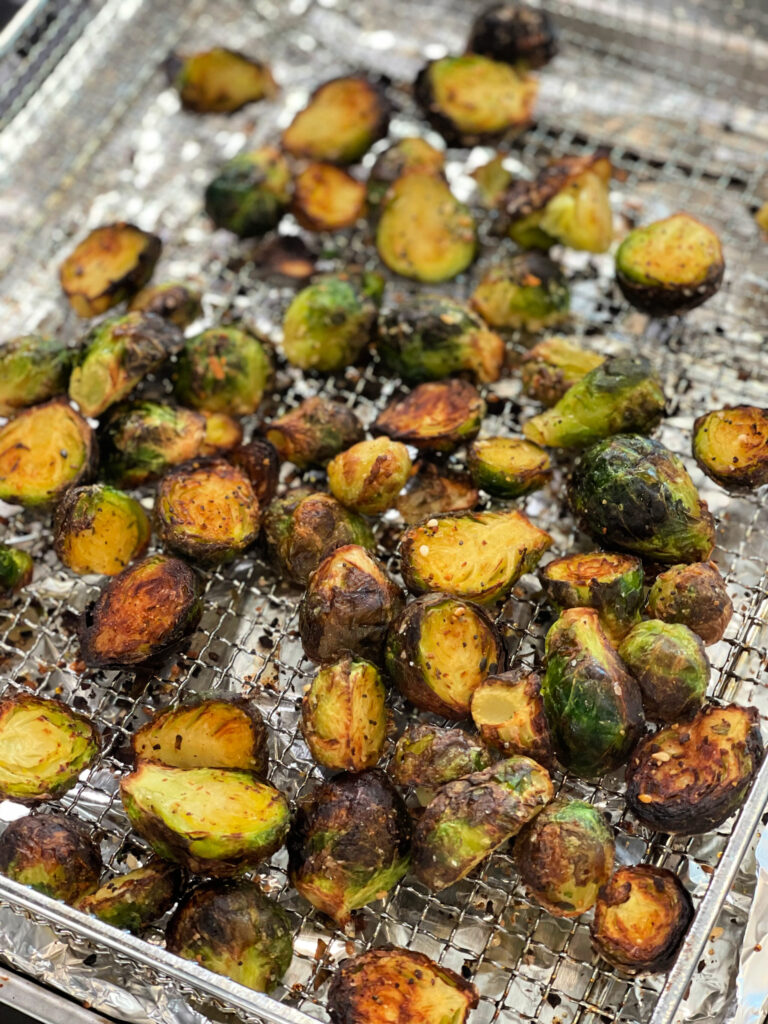 Have you jumped on board the air fryer craze yet?? If not, I am here to tell you that its quickly gaining popularity because of how amazing it is. For real!
First, the Instant Pot gained quick popularity. I was hesitant at first, but since so many people were trying them out, I bought one and can now say, I own two and use them weekly!
Once I learned the functionality of the Instant Pot, I started hearing about air fryers. My first thought was "ugh, not another kitchen appliance".
Over time however, I caved and bought one. I tried it out on frozen french fries and from there, was hooked. Yes, frozen french fries hooked me!
Why you ask? Well, I always hated preheating my oven for fries, putting them in the oven for the directed amount, only to realize they weren't "crispy" still. I would then turn on the broiler, crisp them up, aka slightly burn them, but overall…I wasn't in love.
Enter the air fryer and that forever changed. Now, I simply toss the bag of fries into the basket, set the timers, shake the basket halfway, and BOOM…perfect fries every time!
Since then, I have made onion rings, chicken tenders, s'mores, and lots of veggies in it! I am still playing around with what works and what doesn't, but its one of my favorite appliances.
The first air fryer I started out with was THIS one. It worked great, held enough food in a batch for my family of five, and was tried and true! No complaints!
However, as my hubby and I were walking through Bed, Bath, and Beyond one afternoon, we saw this Cuisinart 3 in 1 air fryer and immediately scooped it up. Best purchase ever! We were able to part ways with our toaster oven, toaster, and air fryer. Talk about an immediate increase in counter/pantry space, right?!
My kids now use it every morning for their toast, bagels, and pop-tarts, whereas I use it daily for veggies, fries, and other meals!! Highly recommend checking it out if you're on the fence!
Now, back to the brussel sprouts. Are you a fan?? Believe it or not, I always HATED brussel sprouts as a kid. Fast forward to my hubby and I on date night a few years back. We went out to dinner and one of the side dishes was roasted balsamic brussel sprouts. My hubby had me try a bite and from there, I was converted.
Since then, I have made Parmesan Brussel Sprouts in the oven, and creamy Brussel Sprouts in the Instant Pot. Since I didn't want my air fryer left out, I decided to try a crispy version a few nights back and WOW, talk about new favorite!
If you want to add different seasonings, you definitely can. Even a splash of Balsamic Vinegar prior to roasting! I kept these Crispy Air Fryer Brussel Sprouts simple and sometimes, that is just what a dish needs to be perfect, right?!
Next time you're looking to add some greens to your meal, or looking for a healthy snack, turn to your air fryer and give these Brussel Sprouts a try!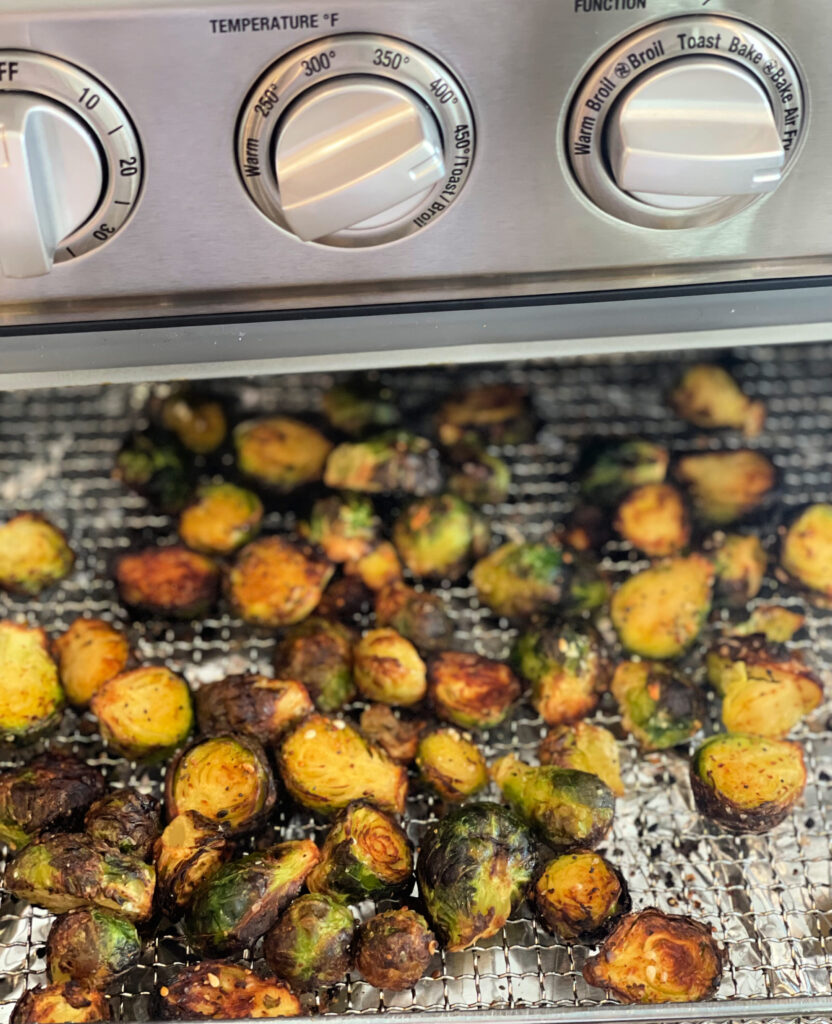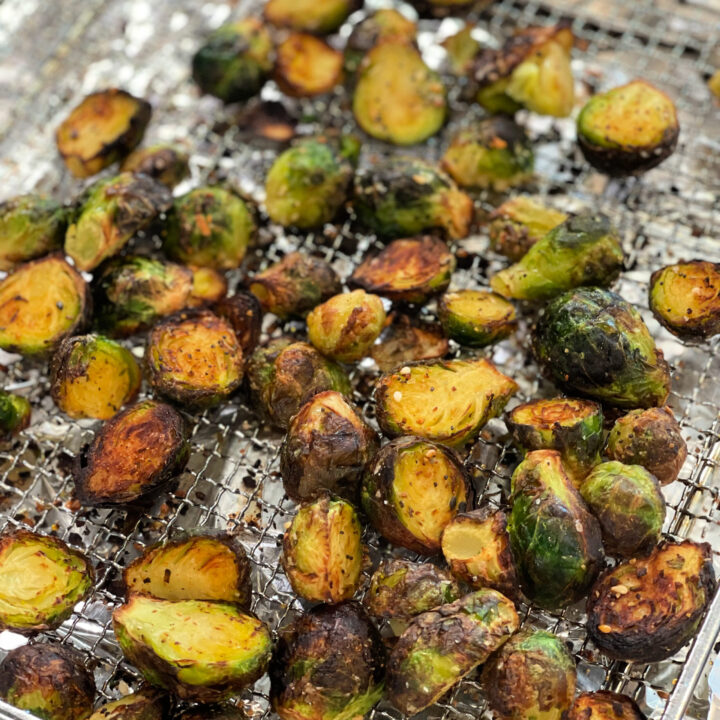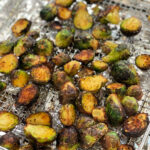 Print Recipe
Crispy Air Fryer Brussel Sprouts
These Crispy Air Fryer Brussel Sprouts are ready in no time and packed with flavor! Add these tasty greens to any meal or enjoy as a healthy snack option!!
Ingredients
16

oz

Brussel Sprouts

1

tablespoon

olive oil

1/2

teaspoon

salt

1/2

teaspoon

pepper

4

garlic cloves

*minced

1

teaspoon

seasoning of choice

*I use Chupacabra, but lemon pepper, Cajun, etc works great!
Instructions
Slice brussel sprouts in half.

Place halved brussel sprouts, olive oil, salt, pepper, garlic cloves, and seasoning into a gallon Ziploc bag.

Seal bag and shake around a bit to fully coat the brussel sprouts.

Open bag and place coated brussel sprouts into air fryer basket.

Air fry at 425 degrees for about 7 minutes.

Open air fryer and give basket a shake to toss the sprouts.

Close air fryer and allow to cook for an additional 7 minutes.

Remove basket from air fryer and serve immediately!
Nutrition
Calories:
88
kcal
|
Carbohydrates:
12
g
|
Protein:
4
g
|
Fat:
4
g
|
Saturated Fat:
1
g
|
Polyunsaturated Fat:
1
g
|
Monounsaturated Fat:
3
g
|
Sodium:
320
mg
|
Potassium:
472
mg
|
Fiber:
5
g
|
Sugar:
3
g
|
Vitamin A:
878
IU
|
Vitamin C:
97
mg
|
Calcium:
74
mg
|
Iron:
2
mg