As I was putting together my Christmas baking list this year, I came across these. I am not a huge cookie fan, but they looked so festive, that I decided I needed to make them. They are a soft sugar cookie, with a peppermint chocolate flavor as well. They turned out great and I ended up eating about 3 in one sitting, oops : )
Ingredients:
1 1/2 cups powdered sugar
1 1/4 cups butter, room temperature
1 tsp vanilla extract
1 large egg
3 cups all purpose flour
1 tsp baking powder
1/2 tsp salt
3/4 cup finely chopped Candy Cane flavored Hershey kisses
Granulated Sugar
About 30 unwrapped Candy Cane Hershey kisses
Directions:
Preheat oven to 350. In large mixing bowl, combine powdered sugar, butter, extract, and egg. Beat at medium speed until creamy. In separate bowl, mix together flour, baking powder, and salt. Add to wet mixture and combine thoroughly. Add in Candy cane kiss crumbles. The mixture will be a bit crumbly, that is normal. Shape dough into 1 inch balls and roll through granulated sugar. Place dough balls on cookie sheet, about 1 inch apart and bake for 10-12 minutes, or until set. Once cooked, quickly remove from oven and push Hershey kiss onto middle of cookie. Once cookies have their kisses on top, quickly move them to the freezer to cool. *This is important that you move them quickly as the Hershey kiss will begin to melt and you will want to keep it in its original form.
Once cookie is cooled, store in covered container.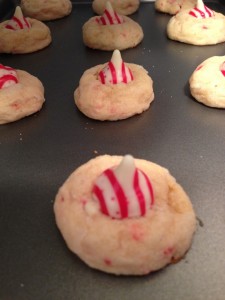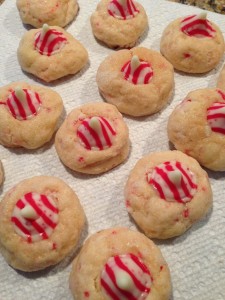 This was my first batch, the ones that went in the fridge, see how some are melting? Very important to move quickly to freezer to avoid this : )