Onion Rings are typically a guilty pleasure, but using an air fryer, these Crispy Air Fried Onion Rings take the guilt right out of the pleasure!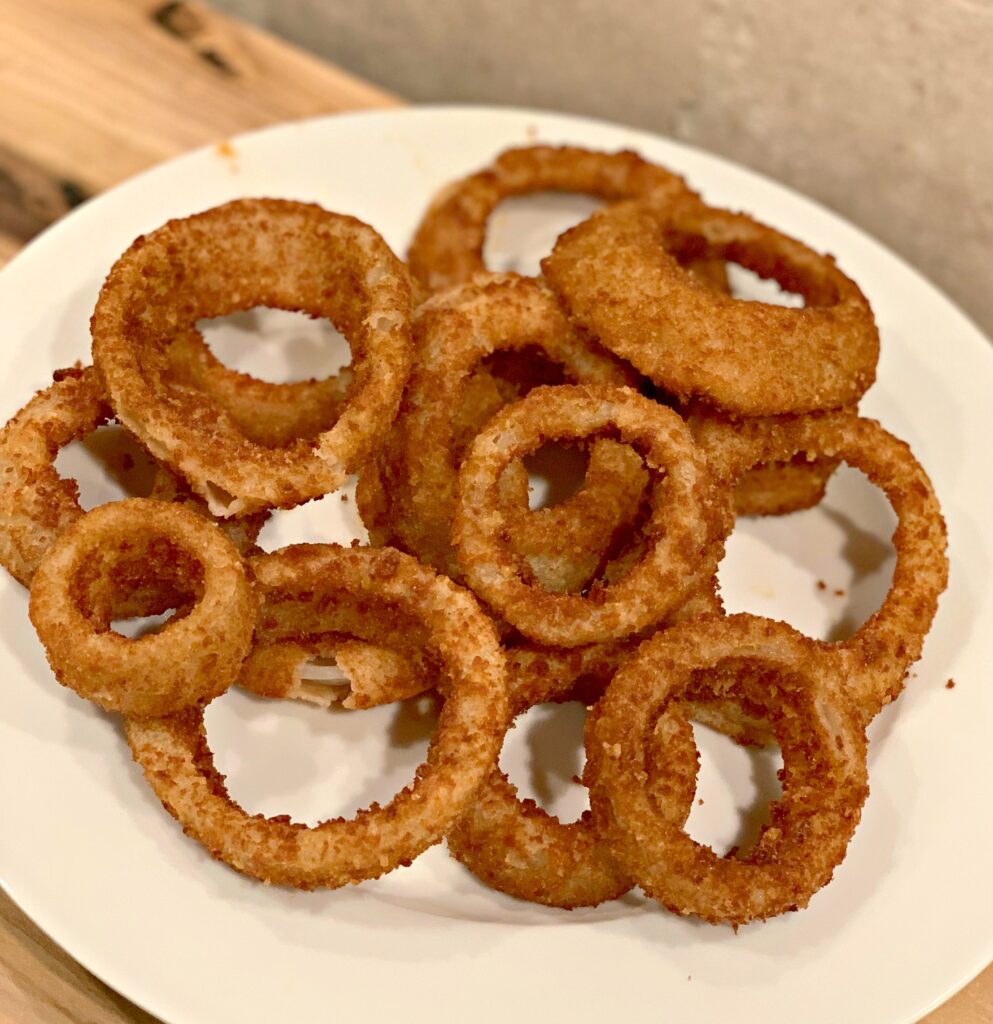 Have you jumped on board the air fryer craze?? First, it was the Instant Pot. Now, its the air fryer. I jumped in feet first with both appliances and am so glad I did.
Over the last year that I have had my Instant Pot (I now own two), it has quickly become my most used appliance! Anything from soups, pastas, meat, and even cheesecakes!
Well, when the air fryer craze started, I was 100% opposed. I didn't think I would use it, didn't see the point, and frankly, my kitchen can't hold many more appliances, haha!
My hubby scrolled through Pinterest one evening and saw a variety of air fryer recipes. Immediately intrigued, he began telling me to try it. His reasoning…..I needed to offer a variety of recipes for all my followers. Smart guy he is because that swayed me. I too agreed and now own what I call "the beast". I put my hubby in charge of ordering one because he likes to analyze reviews and always ends up with the best version to fit our needs. He told me he ordered ours and when that thing arrived, I realized IT WAS HUGE. Here is the one we have, https://amzn.to/2WcYQ9L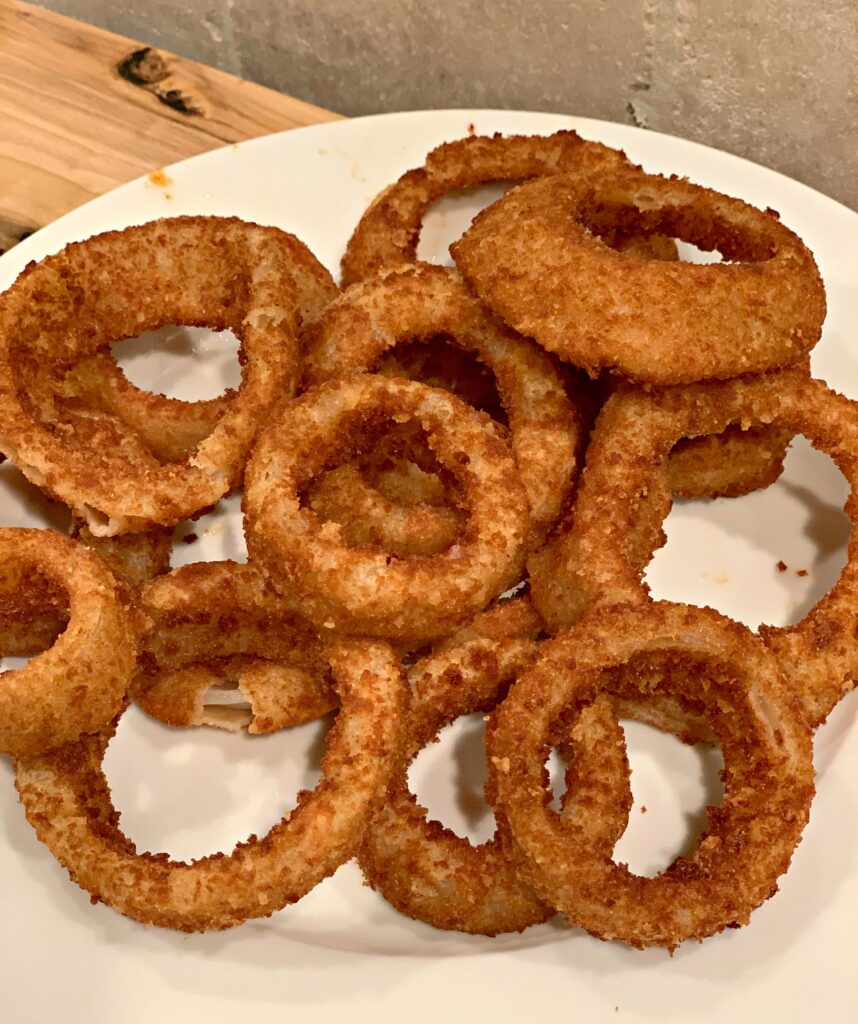 Since we are a family of five, he wanted to make sure ours had the biggest capacity and boy was he correct. I first made Air Fryer French Fries and was able to get the entire bag in one batch! We also have made chicken tenders and fit all in one layer! And finally, these onion rings. We did make a few batches, but that was only because I kept making them based on how tasty they turned out!
I don't know about you guys, but I love onion rings. Crispy, dipped in Southern Comeback sauce, and enjoyed as a side dish with burgers, or as an appetizer. I try not to indulge too much due to how unhealthy they are. When I realized I could "fry" things using the air fryer…I did just that!
These onion rings may even be better than the fried version! These are crispy, tender onions, simple, and much healthier! We enjoyed these with grilled burgers, but these would be a great appetizer option too!
If you haven't jumped on board the air fryer craze, you may just want to for this recipe alone! I have many more tasty options coming up so stay tuned! Sign up for my newsletter below and my latest recipes will be sent directly to your inbox!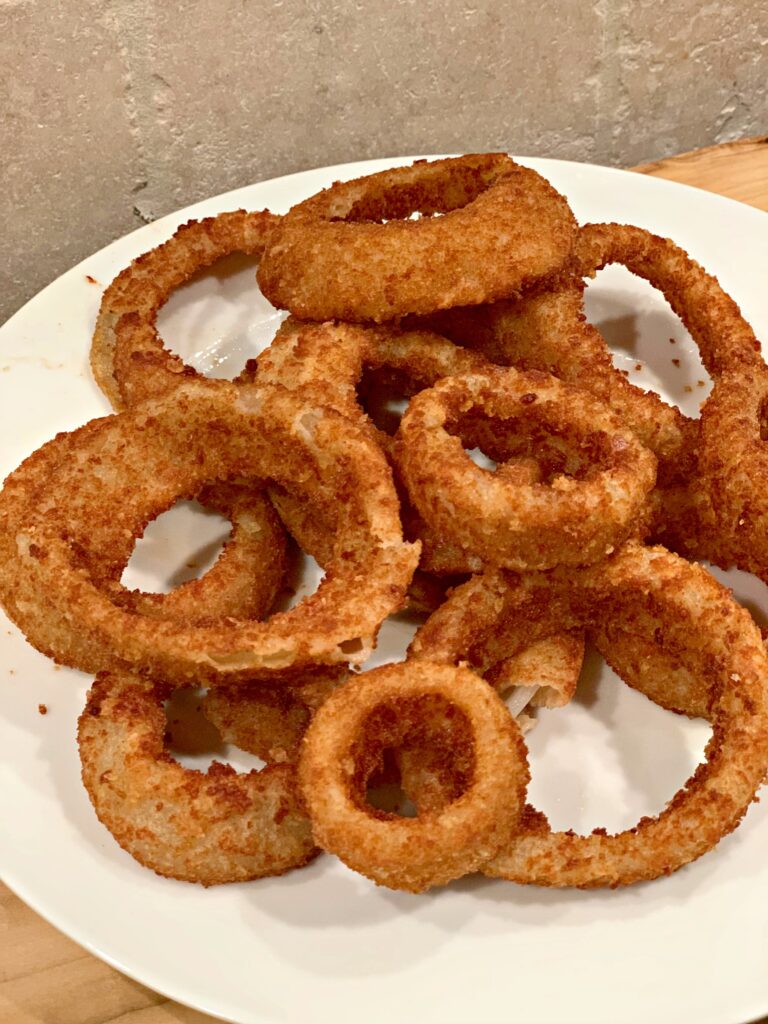 Enjoy and let me know what you think!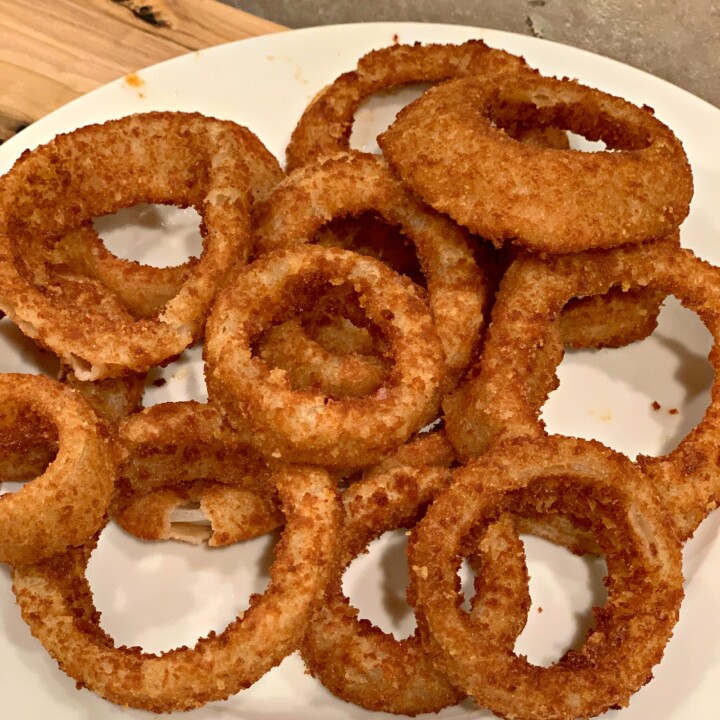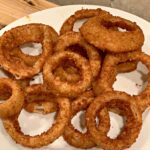 Print Recipe
Crispy Air Fried Onion Rings
Onion Rings are typically a guilty pleasure, but using an air fryer, these Crispy Air Fried Onion Rings take the guilt right out of it!
Ingredients
1/2

cup

flour

1

teaspoon

paprika

1/2

teaspoon

salt

1

egg

1

tablespoon

water

1

cup

seasoned breadcrumbs

cooking spray

1

sweet onion, cut into 1/2" rings
Instructions
In a shallow bowl, combine the flour, paprika, and salt.

In a separate shallow dish, combine the egg and water. Whisk to combine.

Place breadcrumbs in a bowl or 3rd shallow dish.

To coat onion rings, dip into the flour mixture, followed by the egg mixture and then breadcrumbs. Be sure to coat entire onion ring thoroughly.

Coat both sides evenly with cooking spray and place in single layer in air fryer basket.

Cook at 375 degrees for about 10 minutes, turning over one time 5 minutes through.

Once golden brown, remove from basket and serve!
Nutrition
Calories:
215
kcal
|
Carbohydrates:
39
g
|
Protein:
8
g
|
Fat:
3
g
|
Saturated Fat:
1
g
|
Trans Fat:
1
g
|
Cholesterol:
41
mg
|
Sodium:
715
mg
|
Potassium:
211
mg
|
Fiber:
3
g
|
Sugar:
6
g
|
Vitamin A:
364
IU
|
Vitamin C:
5
mg
|
Calcium:
81
mg
|
Iron:
3
mg