This quick and easy Asian Ramen Coleslaw is a fast and effortless salad that leaves everyone craving for seconds! This vibrant, zesty, and crunchy Asian Slaw recipe takes less than 10 minutes to prepare, making it an ideal choice for picnics, potlucks, BBQs, and beyond!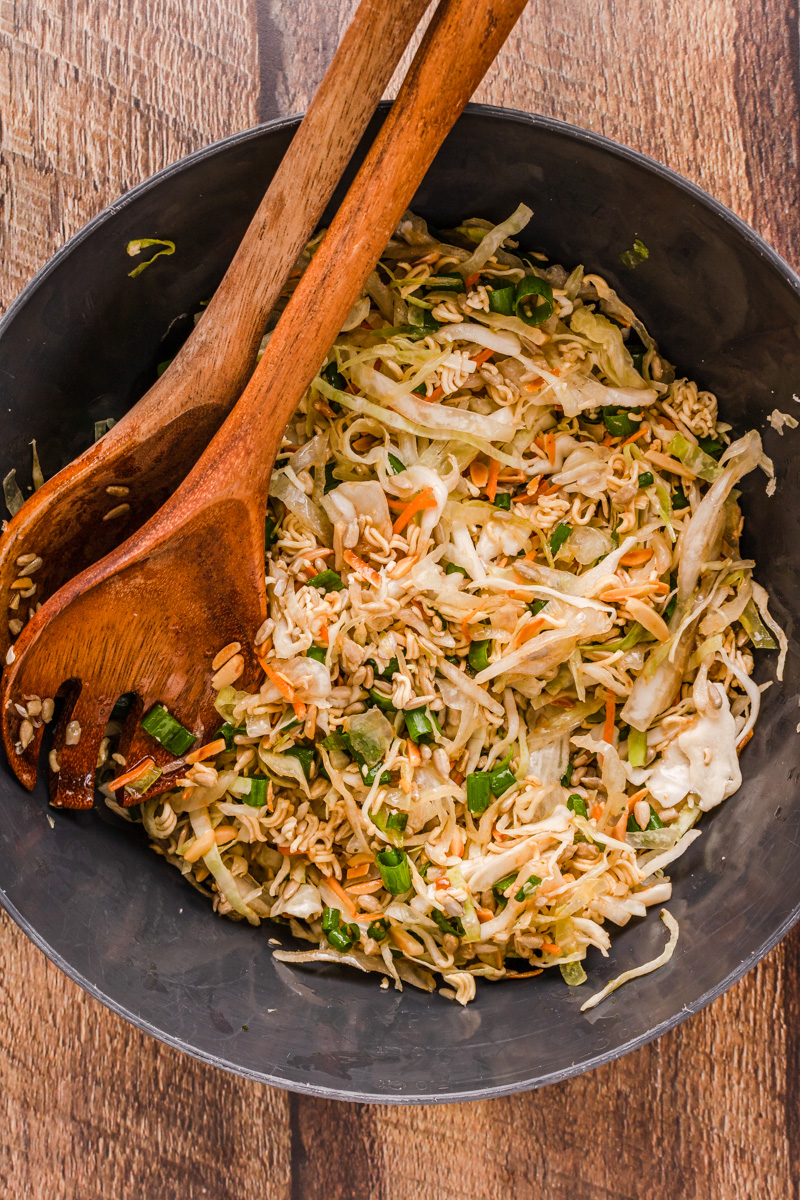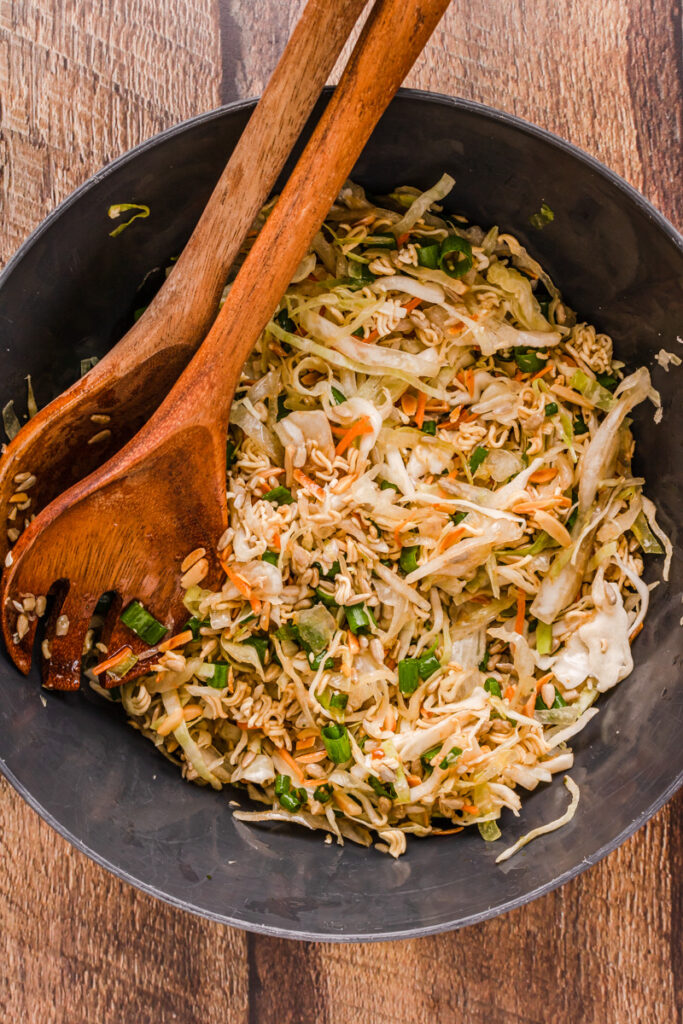 Chances are, you have seen this recipe, or a version of it floating around the internet. It is a classic side dish that is favored for any large gatherings due to how easy it is to prepare! No cooking needed, simply assemble and enjoy!
Ramen Noodle Asian Salad
Although I am not sure where this salad originated, I am thankful to whoever created it! The flavor combination of shredded cabbage, slivered almonds, sunflower seeds, green onions, and crunchy Ramen noodles is mouthwatering and one that I wouldn't have thought of on my own.
Since there is no cooking involved, you can basically open a few bags, toss the ingredients into a bowl, mix up, and enjoy! It doesn't get any easier than that, right?!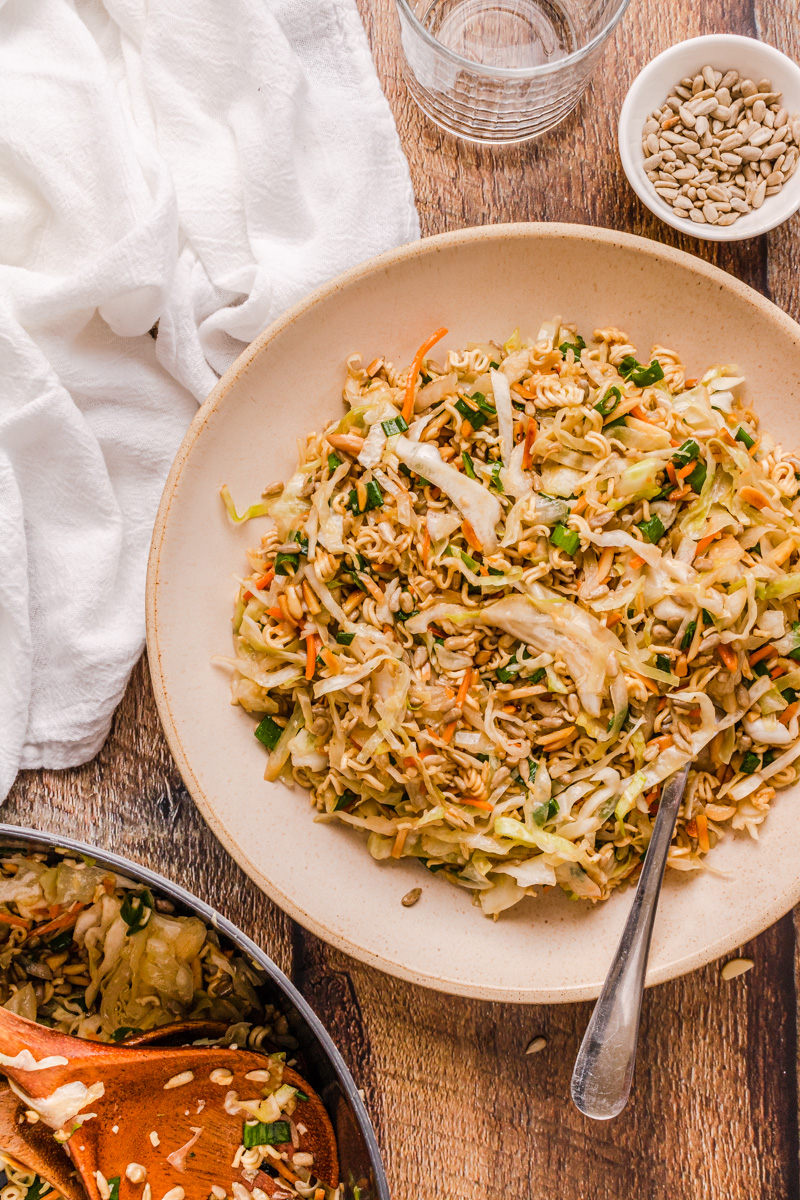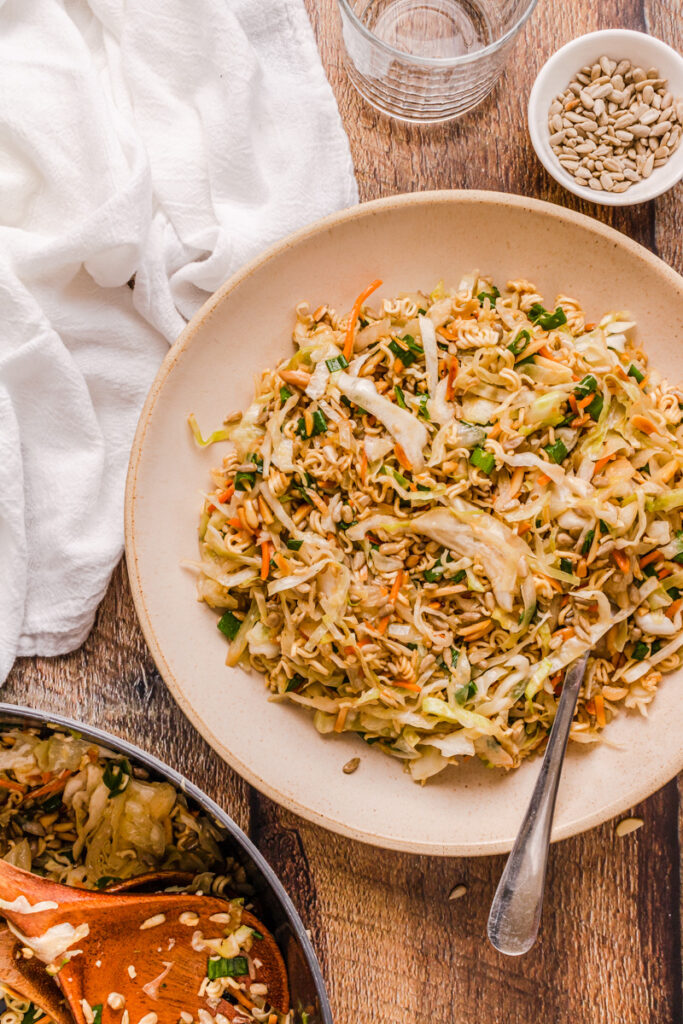 Ingredients Needed for Asian Ramen Coleslaw
See printable recipe card below for exact ingredient amount and step by step directions.
Cabbage– I buy the bags of shredded cabbage that include slivered carrots as well. This saves so much time and effort on the prep side of things.
Green Onions– chopped, this adds such a burst of flavor throughout the salad.
Slivered Almonds– don't skip the toasting part. It really enhances the crunchiness and adds a depth of flavor you don't want to miss out on.
Butter– use this to toast the slivered almonds.
Ramen Noodles– I use the Oriental flavored ramen noodles, setting the seasoning packed aside for the homemade sauce.
Sunflower Seeds– this adds to the crunchiness of the salad.
Soy Sauce– reduced sodium is what I use.
Red Wine Vinegar– if you don't have this on hand, feel free to use white wine vinega, rice wine vinegar, or apple cider vinegar as a substitute.
Peanut Oil– if you don't have any on hand, you can also use olive oil or any other oil available.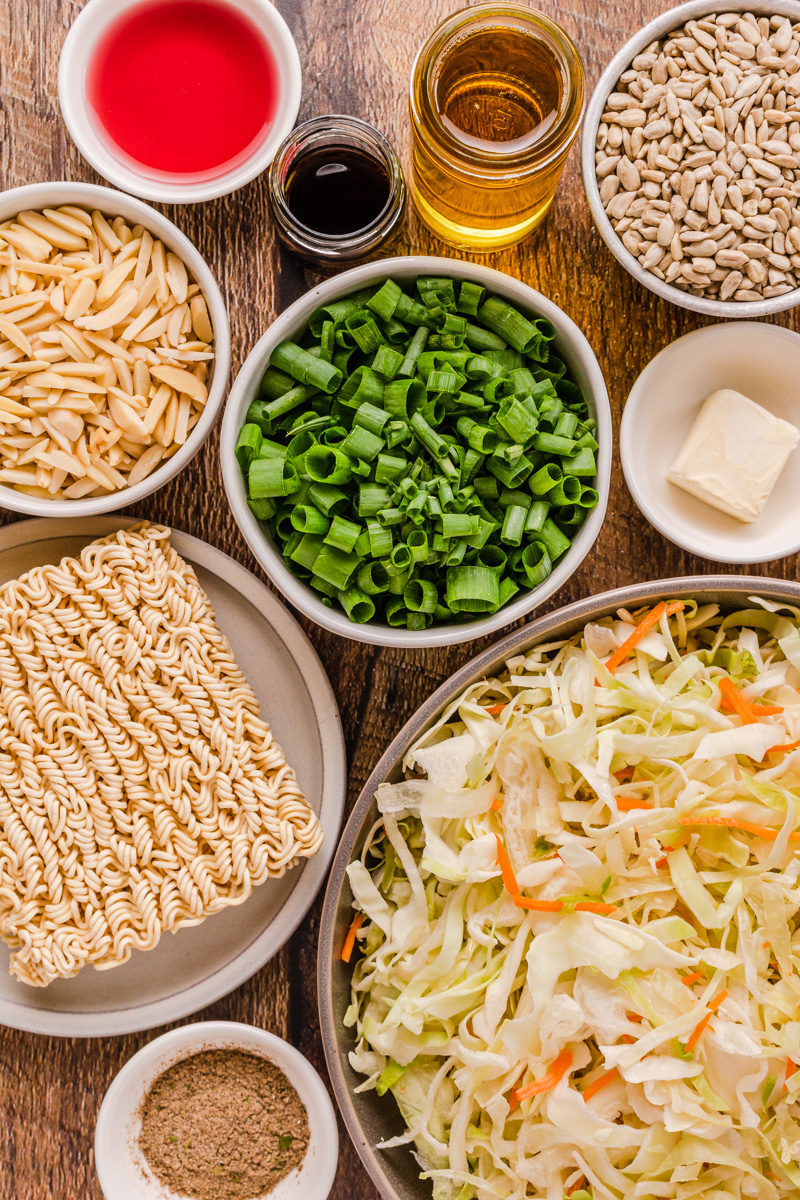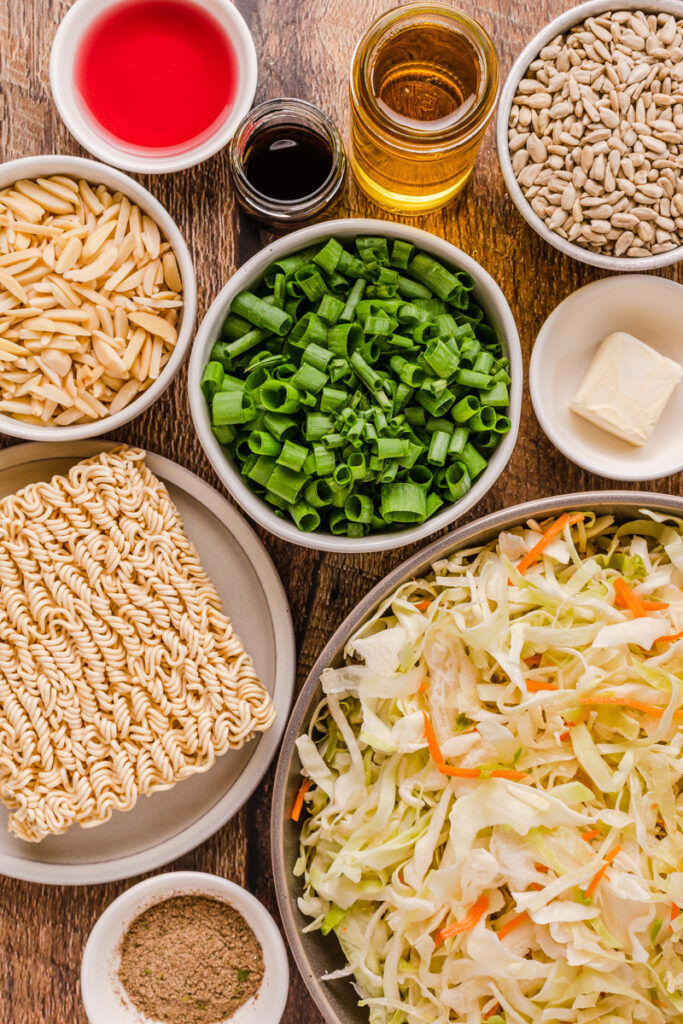 Optional Add In's and Variations
Add some Sesame oil into the sauce for an added flavor boost. No more than about 3-4 tsp.
Fresh garlic and ginger are great additions to this coleslaw.
Use different slaws such as broccoli slaw or carrot slaw.
Feel free to enhance this by adding in some shredded chicken such as Rotisserie, bell peppers, edamame, mandarin oranges, celery, radishes, cashews, and/or sesame seeds.
If you can't find Oriental Ramen noodles, you can use chicken flavored ramen in its place.
Add some ground black pepper to taste.
How to make Asian Coleslaw with Ramen Noodles
It couldn't be easier. Check out these simple instructions for making this salad.
In a skillet, toast the almonds in the butter. Set aside.
Crush the Ramen noodles and combine with the cabbage, green onions, toasted almonds, and sunflower seeds.
In a small bowl, combine the soy sauce, vinegar, oil, and seasoning packet from the Ramen noodles.
Pour dressing mixture over coleslaw before serving. Store in refrigerator until ready to serve!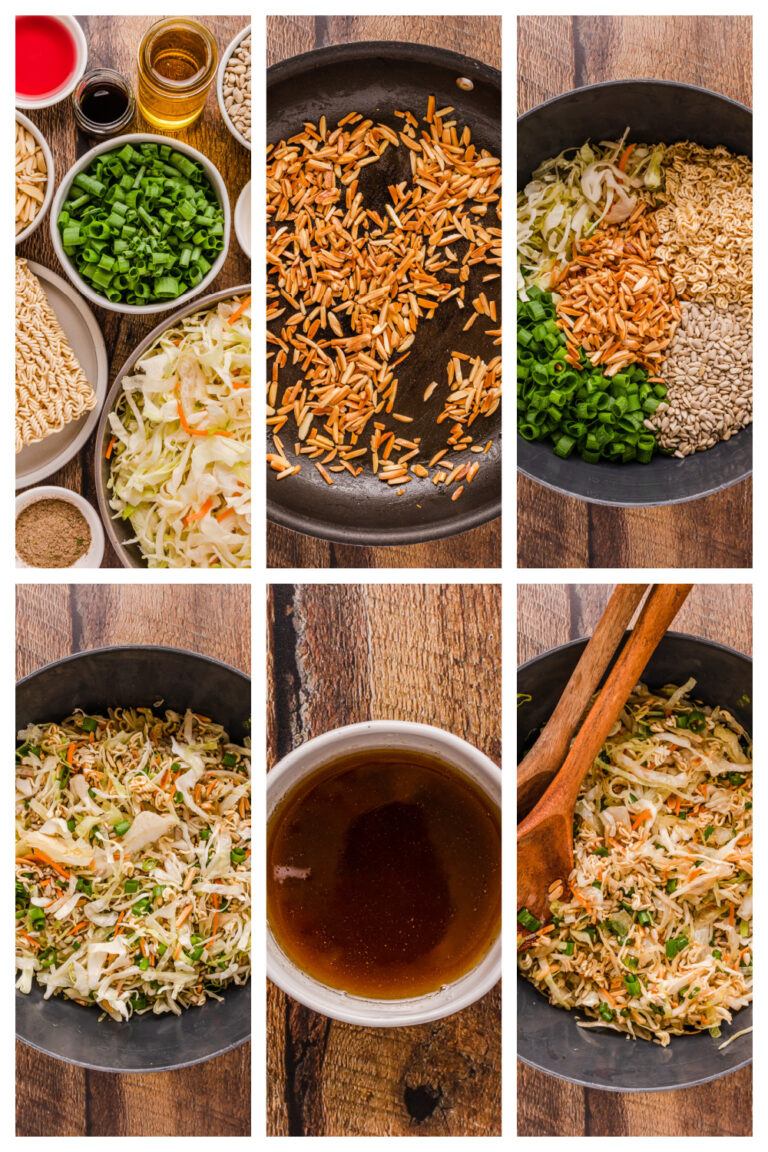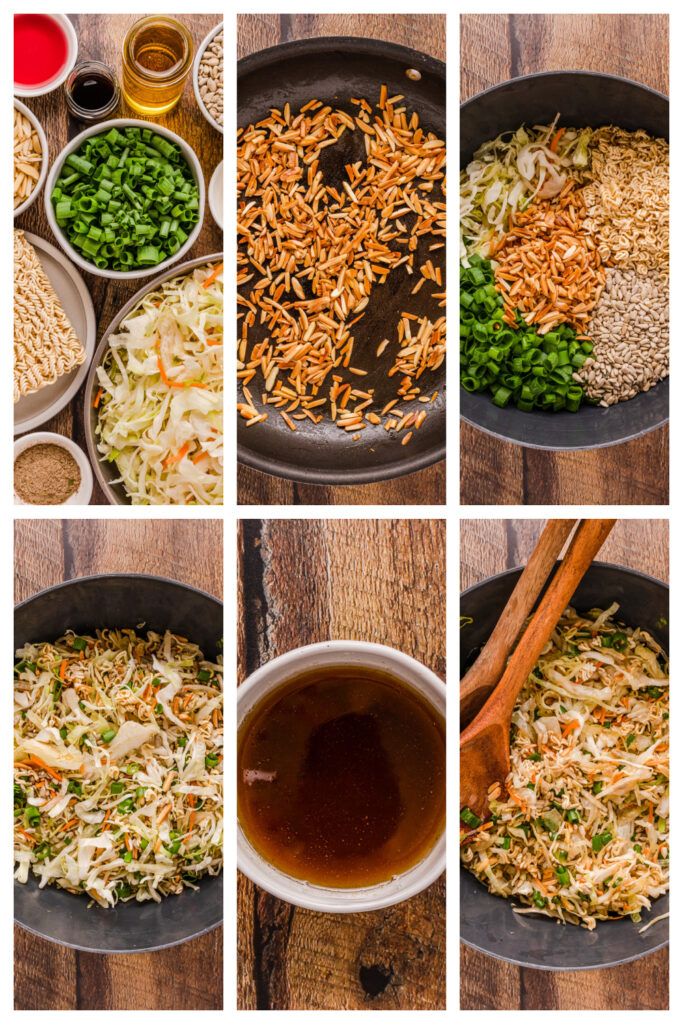 Tips for the best Ramen Salad
To make less of a mess, crush the Ramen noodles while they are still in the package. I typically go over to the sink and crush the package up a few times. On the off chance that the package rips, I am over the sink and the mess is container.
Use store bought slaw to save on the prep time.
Prepare this salad the night before needed. The liquid will soften the noodles and really fuse the flavors together nicely.
Use chow mein noodles in place of the Ramen noodles.
If you want to prepare this ahead of time, but want to save the crunch, feel free to prepare the salad and sauce separately and pour dressing over once ready to serve!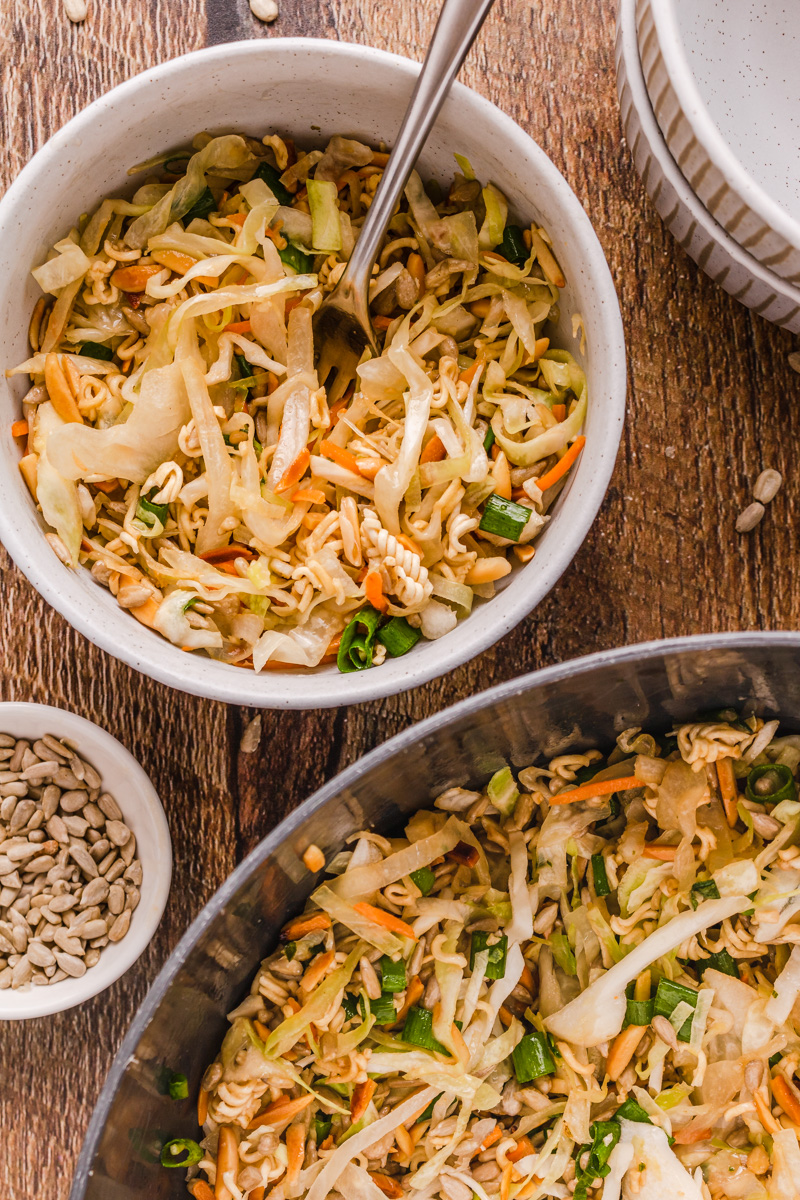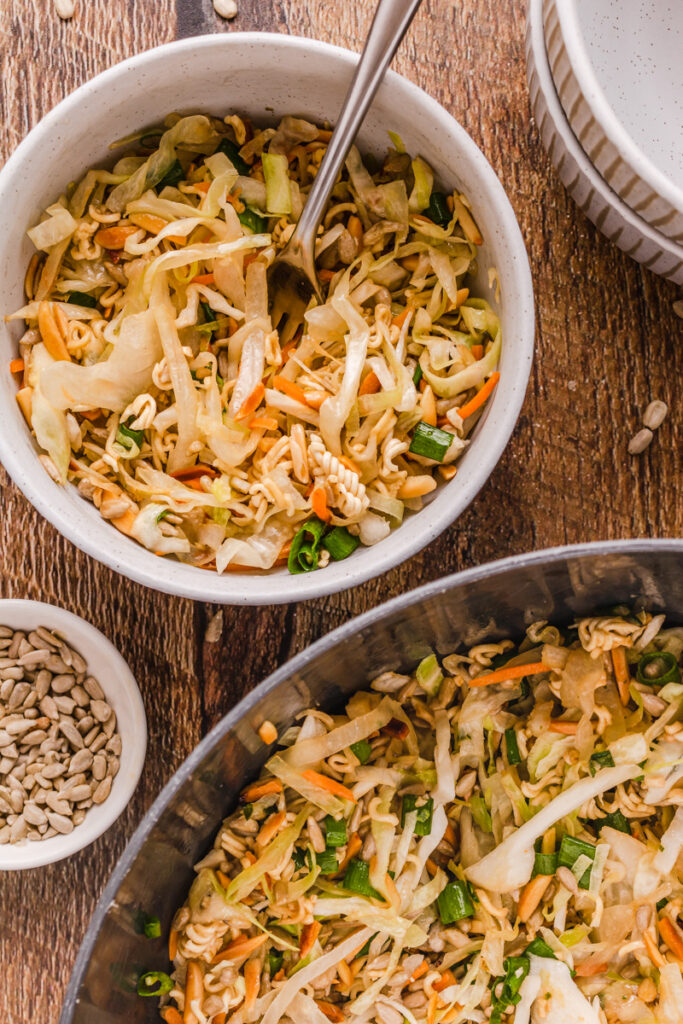 How to store leftover Asian Ramen Coleslaw
This ramen noodle coleslaw can be stored in an airtight container in the refrigerator for up to 3 days. When ready to serve, simply toss to recoat the ingredients with the sauce and serve. The crunch will diminish over time as the noodles will absorb some liquid and soften up, but the same great flavor will still be there.
Frequently Asked Questions
Are the Ramen Noodles supposed to be uncooked?
Yep! Leave these noodles uncooked as you want the added crunch. As the liquid coats the noodles, they partially soften and end up being the perfect texture.
Do I need to use the seasoning packed from the Ramen noodles?
Nope! If you want to control the sodium and additives a bit more, feel free to omit the seasoning packet and simply add in a bit of sesame oil.
How do I make this a bit healthier?
Feel free to use Kale in place of the cabbage, omit the seasoning packed to decrease on sodium, and adding in some dried fruits.
Do I need to add in the crushed Ramen noodles?
Although it isn't NEEDED, I definitely recommend adding this into the ramen noodle salad. This is what adds most of the crunch and makes up a good portion of the salad.
Where did Ramen originate?
Ramen originated from China but was made famous by a man named Momofuku Ando. He established Nissin Food Products and founded the Ando Foundation. In 1958, Momofuku invented Chicken Ramen, the world's first instant ramen, creating the instant ramen industry.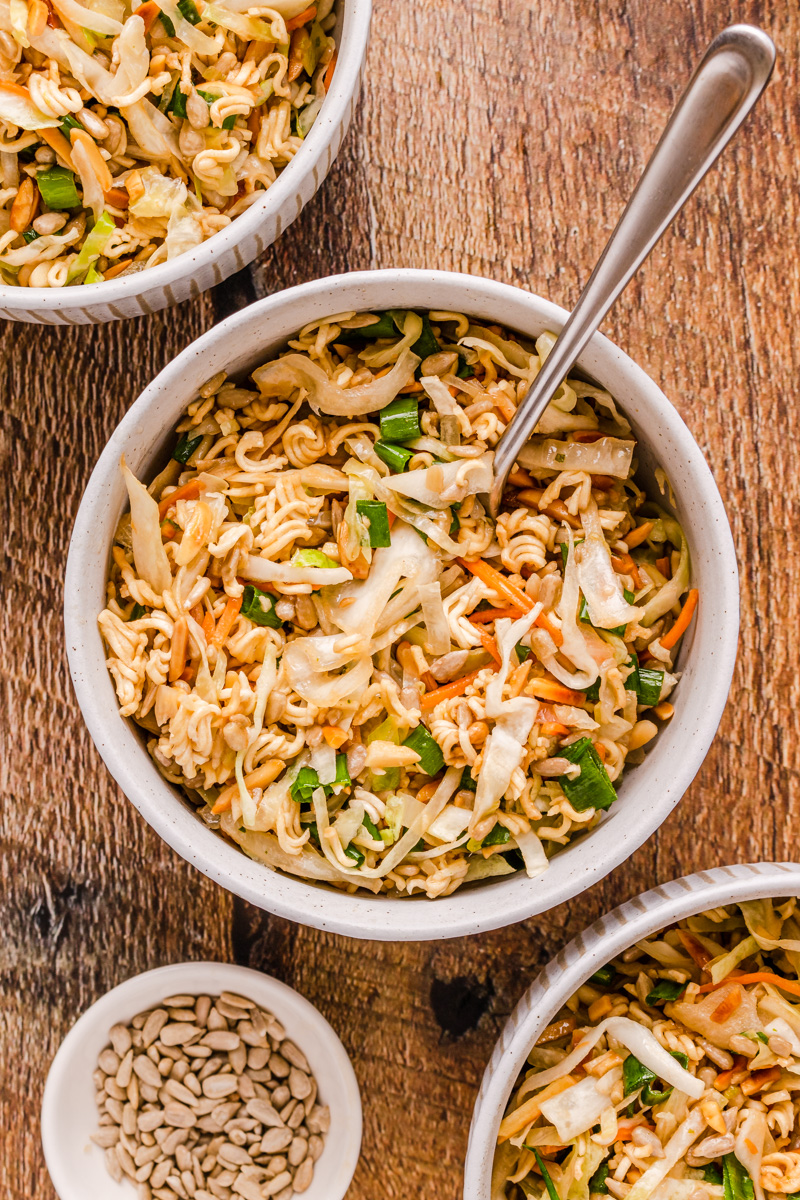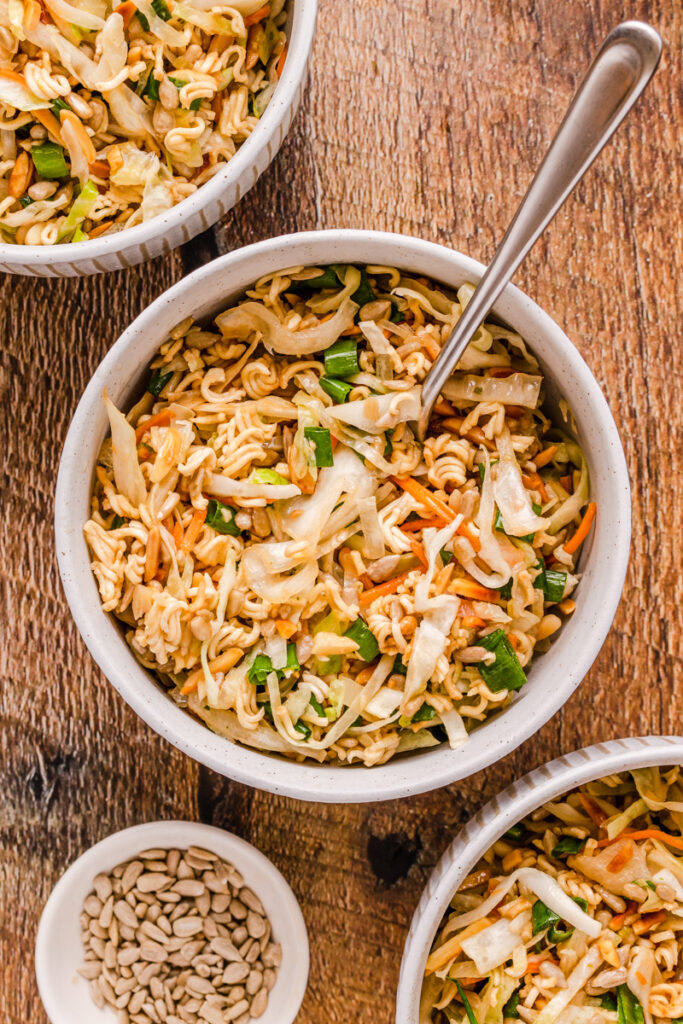 More Salad Recipes You'll Love
Strawberry Pretzel Salad– an old-fashioned treat everyone will enjoy! A perfect blend of salty and sweet.
Ultimate Potato Salad– a classic potato salad that includes hard boiled eggs, crunchy celery, onion, and more tossed in a creamy, tangy dressing!
Chopped Caprese Salad– a classic with the perfect trio of fresh mozzarella, fresh tomatoes and basil. Drizzled with a balsamic glaze, it is the perfect flavor-packed salad! 
Easy Italian Pasta Salad– a simple yet flavorful dish perfect for any occasion. Made with tender rotini pasta, juicy cherry tomatoes, crisp broccoli, tangy olives, and creamy mozzarella cheese covered in Italian dressing.
Egg Salad– comes together in no time and is packed with flavor! Serve on a sandwich, lettuce wraps, or on its own for a tasty meal!
Chicken Bacon Ranch Pasta Salad– a tasty pasta salad combining shredded chicken, crispy bacon crumbles, cheese and creamy ranch dressing.
What to serve Asian Ramen Noodle Coleslaw With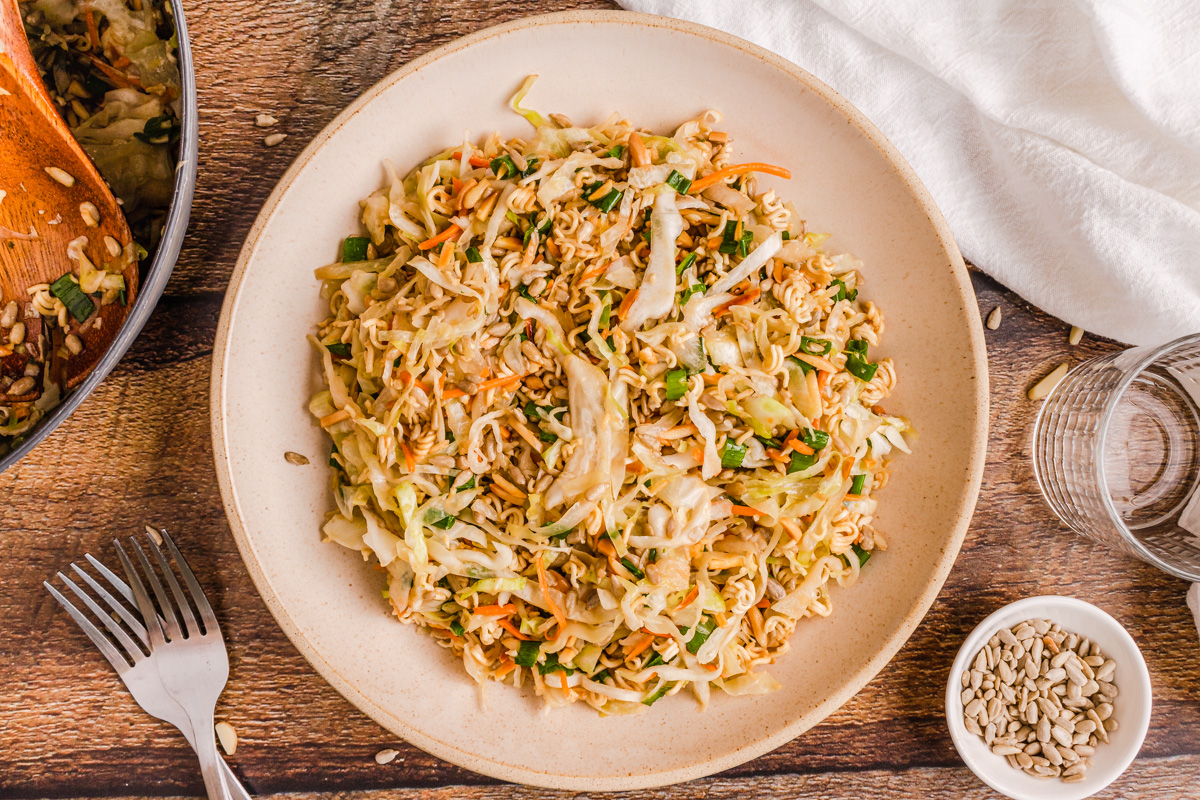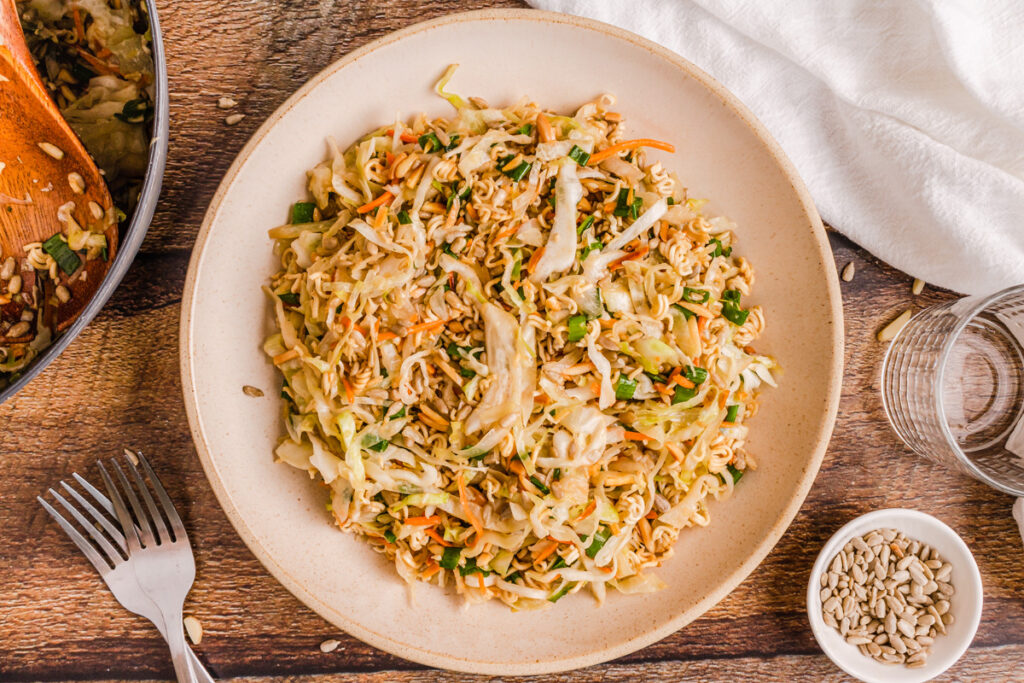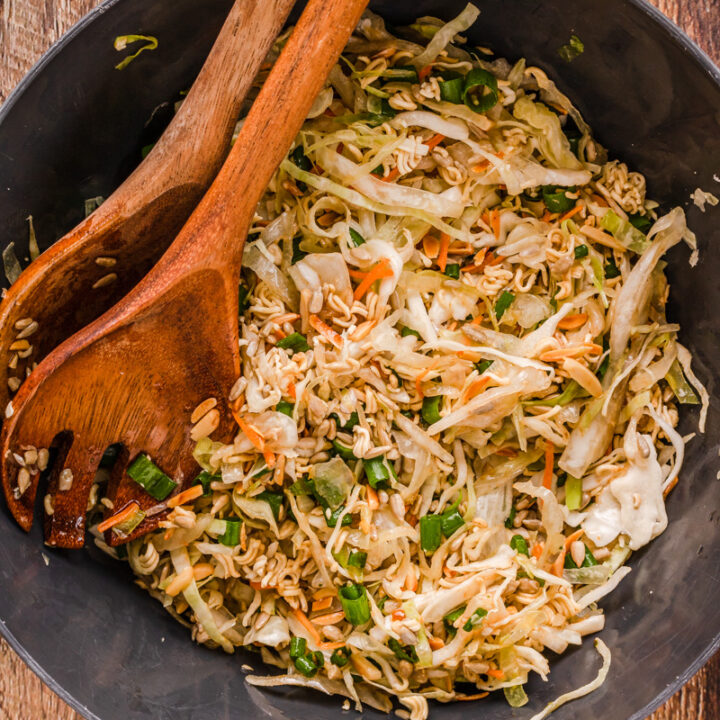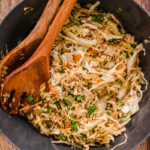 Print Recipe
Asian Coleslaw with Ramen Noodles
This tangy, crunchy, simple Ramen Coleslaw is packed with flavor and can be made in less than ten minutes! It disappears quickly because its so light and tasty!
Ingredients
1

package

shredded cabbage

1

bunch

green onions, chopped

3

oz

slivered almonds

1

tablespoon

butter

1

package

Ramen Noodles, oriental flavor, set aside flavor packet

1

cup

sunflower seeds, salted

1

tablespoon

soy sauce

2

tablespoon

red wine vinegar

*can use white vinegar if desired

1/2

cup

peanut oil

*or oil of choosing
Instructions
In a skillet, toast the almonds in the butter. Set aside.

Crush the Ramen noodles and combine with the cabbage, green onions, toasted almonds, and sunflower seeds.

In a small bowl, combine the soy sauce, vinegar, oil, and seasoning packet from the Ramen noodles.

Pour dressing mixture over coleslaw before serving.

Keep coleslaw refrigerated until serving! Enjoy!
Nutrition
Calories:
454
kcal
|
Carbohydrates:
17
g
|
Protein:
10
g
|
Fat:
41
g
|
Saturated Fat:
7
g
|
Polyunsaturated Fat:
13
g
|
Monounsaturated Fat:
18
g
|
Trans Fat:
1
g
|
Cholesterol:
5
mg
|
Sodium:
476
mg
|
Potassium:
290
mg
|
Fiber:
4
g
|
Sugar:
2
g
|
Vitamin A:
111
IU
|
Vitamin C:
1
mg
|
Calcium:
63
mg
|
Iron:
2
mg