Today, being the Fourth of July, we had a BBQ. We decided to try out a new burger recipe, and it was a hit. They were full of flavor, easy to prepare, and quite delicious! Hope you all are having a wonderful 4th of July!
Ingredients: (yields 4)
2 tbsp finely chopped onion
2 tbsp ketchup
1 garlic clove, minced
1 tsp sugar
1 tsp Worcestershire sauce
1 tsp steak sauce
1/4 tsp cider vinegar
1 lb ground beef
4 slices cheddar cheese (or any preferred cheese)
4 hamburger buns, split and toasted
8 cooked bacon strips
Toppings (lettuce, avocado, onion, etc.)
Directions:
In a large bowl, combine first seven ingredients. Crumble beef over mixture and mix well. Shape into four patties. Grill burgers, covered over medium-high heat or broil 3 inches from heat for about 4-7 minutes on each side, or until meat temperature reaches 160 and juices run clear. Top with cheese and grill additional one minute. Serve on buns with bacon and toppings of your choice!
I served it with fresh watermelon and potato salad!!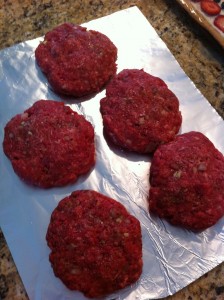 All ready for the grill!