Discover the ultimate party hit: Fireball Jello Shots! These 4-ingredient wonders are quick, easy, and sure to be a crowd-pleaser. Indulge in the delectable taste of spicy cinnamon and elevate any adult gathering with this beloved favorite!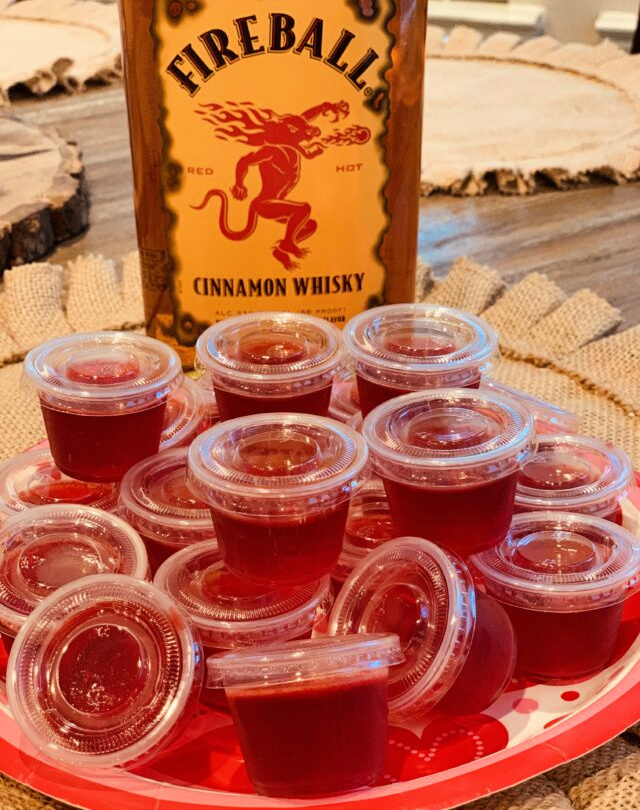 One of my favorite things to bring to any party are Jello shots. They are incredibly easy to make, and make a fun addition to any gathering! From making these incredible cherry cinnamon shots, to my vodka based Jello shots, and even fun Strawberry Pop Rock Jello Shots!
Why We Love this Fireball Jello Shots Recipe
Easy to make– these tasty Jello shots call for only 4 ingredients and about 10 minutes to prepare!
Incredibly Flavorful– a spicy cinnamon taste combined with sweet cherry Jello makes these the ultimate treat!
Perfect for any party or gathering– not only do these travel well, but these bring everyone back to their younger years and are a fun way to celebrate any occasion!
Ingredients Needed for Fireball Jello Shots
See printable recipe card below for exact ingredient amounts and step by step directions.
Cherry Jello– adds to the flavor and gives these their vibrant red color
Boiling Water– this helps dissolve the Jello mix
Cold Water– this helps the Jello to fully set up
Fireball Whiskey– the boozy cinnamon whiskey addition to these shots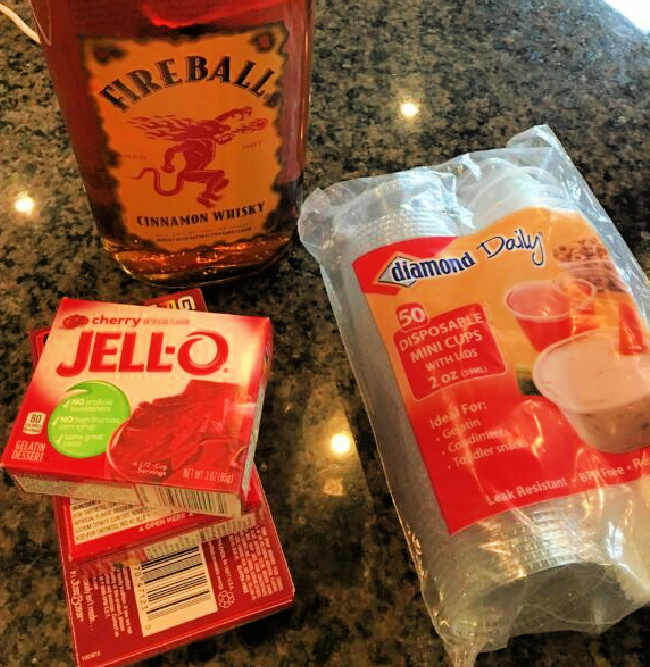 How to make Fireball Whiskey Shots
In a bowl, combine the Jello and boiling water.
Stir until dissolved.
Add in the cold water and Fireball, stirring to incorporate.
Pour the mix into 2 oz. plastic shot glasses until about 2/3 full.
Tips and Tricks for Success
Be sure to keep your Jello Shots in the refrigerator until serving. This keeps them chilled and helps them stay fully set up.
Have fun with these and feel free to garnish with whipped cream, cherries, Pop Rocks, Hot Tamale candy, or any other fun addition.
Keep the shots covered in the refrigerator so they don't develop a film on top. I use these plastic cups from Amazon and they work great!
Allow these to fully chill. They will need a minimum of 2 hours to set up.
Variations
Green Apple Jello in place of the Cherry Jello
Orange Jello in place of the Cherry Jello
Fun Garnishes such as whipped cream, Maraschino cherries, apple slices, candies, etc.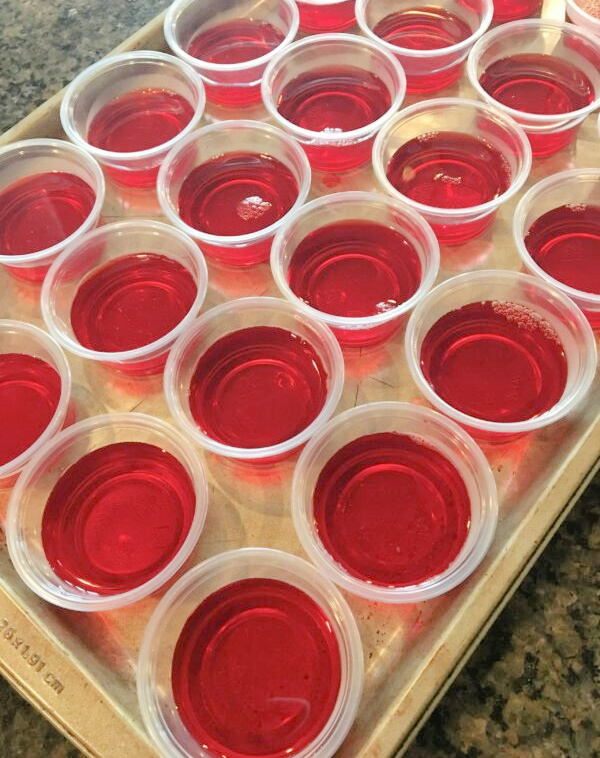 Frequently Asked Questions
How many Jello shots can I make using a small box of Jello?
If you use the 3.2 oz boxes of Jello, you should be able to get roughly 16 Jello shots. Of course, if you use the larger box of Jello (6 oz), you'll be able to get about 32 Jello shots.
What is the best way to serve these Jello Shots?
There are so many different ways to enjoy these. Some like to enjoy them using mini spoons, others squeeze the cups into their mouth, or you can use your finger to loosen the edges of the Jello and it should pop right out.
How long do these last?
Not long in my house, BUT, if covered and stored in the refrigerator, they will last about one week. Unfortunately, they lose their flavor a bit after a few days, so try to enjoy them within about 3-4 days. I like to prepare these about 24 hours ahead of time to save on prep time.
What disposable cups are best to use for this recipe?
I prefer using 2 ounce plastic cups for this recipe. You can find the ones I use here. The great thing about these is they are inexpensive and come with lids making storing them and transporting them much easier. If you cannot find these cups, you can also use condiment cups.
How much alcohol can you put into Jello Shots?
Standard is to add 1/2 cup alcohol per 3 ounces Jello mix. If you want to add more for a stronger boozy taste, you can add up to an additional 1/4 cup alcohol, however, anything past that will cause the shots to not fully set up and end up a liquid like mess.
Is a Jello shot the same amount as a regular shot?
Nope! Each of these Jello Shot cups have about 1/3 ounce of liquor in them. A classic shot (non Jello) has 1.5 ounces.
Can I make this jello shots recipe without the alcohol?
Absolutely! Simply omit the alcohol and use additional water! Another fun alternative would be to use apple juice or Sprite in place of the Fireball Whiskey.
More Party Drink Recipes to Try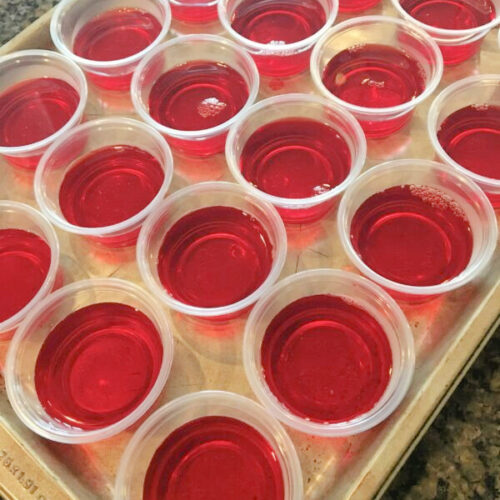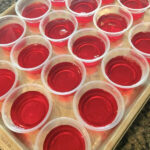 Print Recipe
Fireball Jello Shots
With Fireball and Jello Shots being party favorites, why not combine the two?!? These Jello Shots come together in no time and are sure to please everyone! Spicy cinnamon combined with sweet cherry!
Ingredients
1

box

Cherry or Orange Jello

1

cup

Boiling Water

1/2

cup

Cold Water

1/2

Cup

Fireball
Instructions
In a bowl, combine the Jello and boiling water.

Add in the cold water and Fireball, stirring to incorporate.

Pour the mix into 2 oz. plastic shot glasses until about 2/3 full.

Chill for 2 hours in the refrigerator. Serve and enjoy!