My husband is a HUGE breakfast fan.Yesterday, being a weekend…my hubby wanted to make breakfast. I had seen this recipe and thought, it looks yummy, I should show my hubby. Sure enough, he was anxious to try it. It was quite delicious, the only change I would make was to use some sort of squirt bottle to swirl the cinnamon so it gets more into the batter, or take a knife and mix it through the batter while cooking. Up to you how you prefer to get it in there, : )
Ingredients:
Pancakes:
1 cup unbleached all purpose flour
1 tsp baking powder
1/2 tsp baking soda
1/2 tsp salt
1 1/2 cups buttermilk
2 tbsp butter
1 egg, lightly beaten
1 tbsp honey
Cinnamon Swirl:
2 tbsp melted butter
1/4 cup brown sugar
1 tsp cinnamon
1 tbsp flour
Directions:

Mix all the ingredients together to make the pancake batter. Set aside and heat griddle or pan. Lightly grease it.
Make the cinnamon swirl mixture and use either a squirt bottle (ketchup type bottle), or bag with corner snipped off.
Spread batter into small circles on heated pan/griddle. Immediately add the cinnamon swirls. Cook the pancakes until small bubbles develop on top of pancake. Flip over using a spatula and cook for an additional 30 seconds.
Serve warm.
*We just put a thin layer of butter on them to keep them moist, syrup may take away from the cinnamon swirl flavor.
**If cinnamon mixture is too thick to drizzle, add milk to thin it out allowing it to pour on better!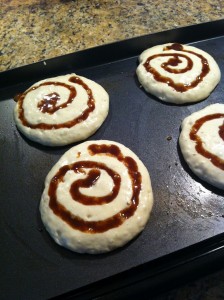 Here are the pancakes right before flipping them over, YUM!