Last week, my mom was having a friend over and decided to make this for their brunch. Not only did she say it was a hit, but she has now made it about three times since, because it is simple and full of flavor.
She made it for my dad and he loved it too, so she sent over some pictures for me to use on the blog!
If you are looking for a healthy morning breakfast, lunch, or dinner…..look no further, this is a must try!
Thanks mom for sharing!!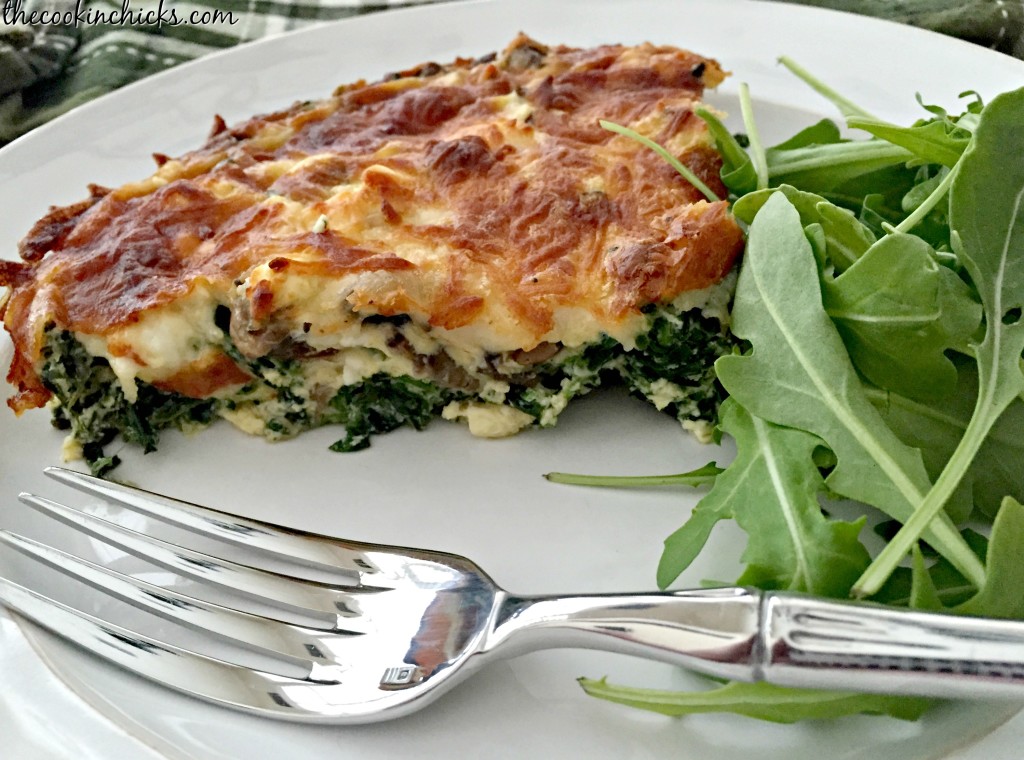 Ingredients:
8 oz. mushrooms, sliced thin
2 garlic cloves, minced
10 oz. frozen spinach
4 eggs
1 cup milk
2 oz. Feta cheese
1/4 cup Parmesan cheese, grated
1/2 cup Mozzarella cheese, shredded
Salt/Pepper, to taste
Directions:
Preheat oven to 350 and thaw out spinach.
Place spinach in a colander to drain out juices while preparing next steps.
Put mushrooms into a skillet with some cooking spray and cook over medium heat.
Add in the minced garlic, salt, and pepper.
Saute the mushrooms for about 5-6 minutes.
Grease a pie dish with cooking spray and spread the drained spinach out along the entire bottom of dish.
Layer the mushrooms and crumbled Feta on top of the spinach next.
In a small bowl, whisk the eggs together with milk and the Parmesan.
Pour egg mixture over the spinach/mushroom/Feta.
Sprinkle Mozzarella cheese over entire egg mixture.
 Place dish into preheated oven and allow to cook for about 45-60 minutes, or until top is golden brown and center is solid.
Remove from oven and slice into pieces! Enjoy!!