Crescent casseroles are casseroles made using crescent roll dough. This Easy Chicken Crescent Casserole is simple to make for a family dinner or special occasion.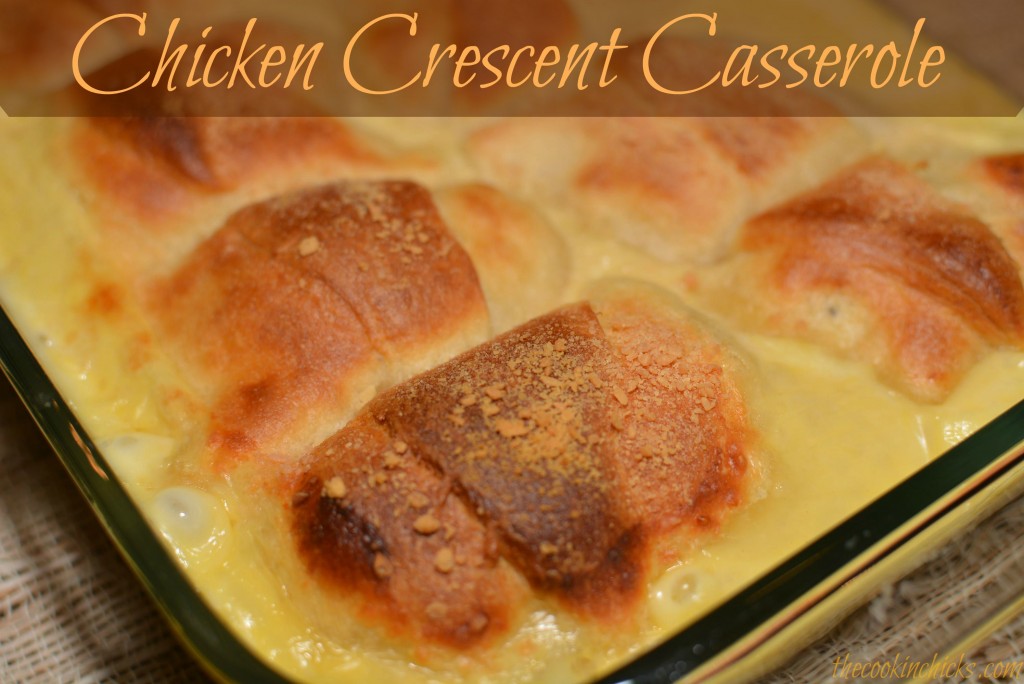 Since my kids LOVE crescent rolls, and I love a quick and easy dinner, I put this together a few nights ago and it was a big hit. The kids loved how they each had their own chicken "bundle". The flavor was great, and it was inexpensive to make. I even found the crescent rolls on sale at the grocery store, and the chicken was some extra cooked chicken I had tossed in a bag in the freezer. Doesn't get easier than that, right??
Crescent rolls stuffed with a cheesy chicken mixture and baked in a flavorful gravy sauce!
Since having kids, life has been quite busy. I used to think the older they got, the easier life would get, but I was wrong. Sure, we aren't in the diapers and bottle stage anymore, but now we are in the football, cheerleading, golf, and any other activity my kids decide to do stage. The one where dinners are rushed, leftovers are appreciated, and we all collapse into bed exhausted each night.
I wouldn't change it for the world because I know that someday, I am going to miss the activity of it all, but for now, the one thing I CAN control is keeping dinner simple on busy nights.
My idea of simple is typically some sort of casserole. So quick to throw together, typically you can prep earlier in the day, and they are kid friendly! In fact, most of the time, my kids ask if there are leftovers they can bring in their thermos for lunch at school.
If you've ever had crescent rolls, you know they are a quick and easy way to add to any meal. Typically, I keep a few packages on hand since they can be a great bread item to any meal, but they are also good to turn into a full meal.
Simply mix some cooked, shredded chicken with cream cheese, some seasoning, and wrap into crescent rolls. Within minutes, you can have a flavorful, comfort food meal ready to go!
In fact, to keep things even easier, I like to cook some extra chicken and place it in my freezer. When a busy night comes up, I simply take the chicken out and am ready to go! Definitely saves on time!
If you love casseroles, also make sure you check these blog favorites out:
Biscuits and Gravy Breakfast Casserole
Million Dollar Spaghetti Casserole

If you have leftovers of this casserole and don't want to eat it again the next day, you can freeze this perfectly and simply thaw out/microwave when ready to enjoy!
Whether serving on a busy night, having guests over, or bringing a meal to someone…this dish is perfect! To make this a full meal, you can add some cooked, chopped broccoli to the chicken mixture prior to stuffing in the crescents!
Ingredients Needed:
Crescent rolls (8 count)
Cooked, shredded chicken
Cream cheese, softened
Garlic powder
Salt
Black pepper
Mozzarella cheese, shredded
Parmesan cheese, grated
Cream of chicken soup
Milk
Easy Chicken Crescent Casserole is a family favorite! Print the recipe below and be sure to give it a try!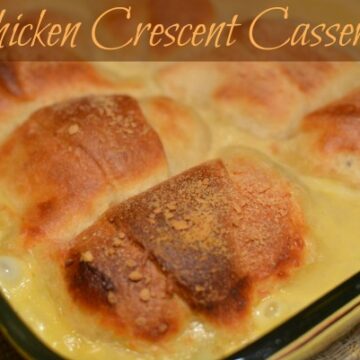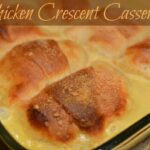 Print Recipe
Easy Chicken Crescent Casserole
Crescent casseroles are casseroles made using crescent roll dough. This Easy Chicken Crescent Casserole is simple to make for a family dinner or special occasion.
Ingredients
1

package

crescent rolls

*8 count

2

cups

chicken

*cooked/shredded

4

oz

cream cheese

*softened

1/2

teaspoon

garlic powder

1/2

teaspoon

salt

1/4

teaspoon

pepper

1

cup

mozzarella cheese

*shredded

1/4

cup

Parmesan cheese

1

can

cream of chicken soup

*10 oz can

1

can

milk

*use soup can
Instructions
In a bowl, combine the chicken, cream cheese, garlic powder, salt, pepper, and mozzarella cheese.

In a small bowl, combine the milk and cream of chicken soup.

Separate the crescent rolls into 8 pieces.

Place chicken mixture on wide base of the dough.

Roll crescent back up and seal the sides.

Continue process for all 8 rolls.

Place crescent "bundles" in a greased 11 x 7 baking dish.

Pour sauce all around the crescents making sure not to get the sauce on top. *It will make them soggy, so try to avoid that

Sprinkle the Parmesan cheese on top of the crescents and place dish in preheated oven, 350, for about 35 minutes. Serve!!
Nutrition
Calories:
266
kcal
|
Carbohydrates:
15
g
|
Protein:
10
g
|
Fat:
19
g
|
Saturated Fat:
9
g
|
Polyunsaturated Fat:
3
g
|
Monounsaturated Fat:
5
g
|
Trans Fat:
1
g
|
Cholesterol:
42
mg
|
Sodium:
828
mg
|
Potassium:
81
mg
|
Fiber:
1
g
|
Sugar:
4
g
|
Vitamin A:
398
IU
|
Vitamin C:
1
mg
|
Calcium:
129
mg
|
Iron:
1
mg