A few weeks ago, my friend posted this recipe on her Facebook page. I was SOOOOOO intrigued with it because it was so simple, kid friendly, and looked like the perfect dinner to make on a school night!! Sure enough, I made this last night and it was a huge hit! I made a few changes to the recipe and my husband was quite excited to take the leftovers for lunch today! My oldest son even went back for seconds!!
Ingredients:
3-4 boneless chicken breasts
1 cup mozzarella cheese, shredded
1 can (10.5 oz) cream of chicken soup
1 soup can full of milk
2 packages crescent rolls
Garlic Powder, Oregano
Directions:
Cook up chicken and shred or dice into small chunks. Place cooked chicken in a bowl and add in 1/2 cup of mozzarella cheese. Sprinkle some garlic powder and Oregano on top of chicken and stir to coat thoroughly. Unroll each crescent roll. Scoop about 1/3 cup of the chicken mixture and place towards bottom of crescent roll (the wide part). Slowly roll the crescent roll up with chicken/cheese inside. Continue process until all crescent rolls are stuffed. Place in a 9×13 baking pan. Next, heat remaining 1/2 cup mozzarella cheese, cream of chicken soup, and milk over the stove until melted and warm. Pour mixture on top of crescent rolls, coating entirely. Place pan into a preheated oven, 350, and bake for about 30-40 minutes. Once cooked, the crescents should be somewhat brown and the mixture should be bubbly! Serve!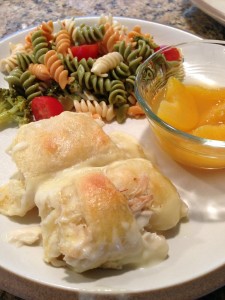 If you are wondering what that colorful pasta dish is that was served with the chicken crescents, its our yummy "
Mom's Pasta Salad
"!!