Looking for a no-fuss, flavor-packed meal? Try this easy Cheesy Chicken Spaghetti Casserole recipe! With basic pantry staples and just a handful of steps, this family-friendly dish is a budget-friendly crowd-pleaser and perfect for any weeknight.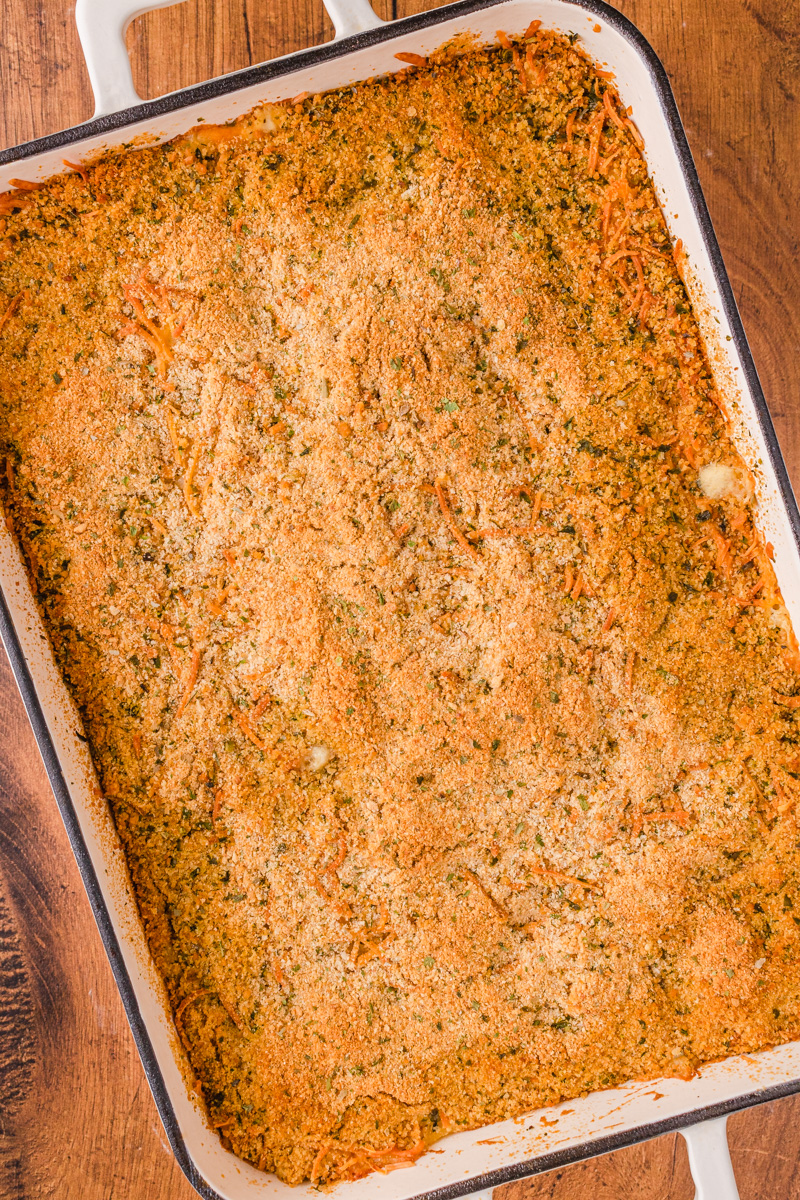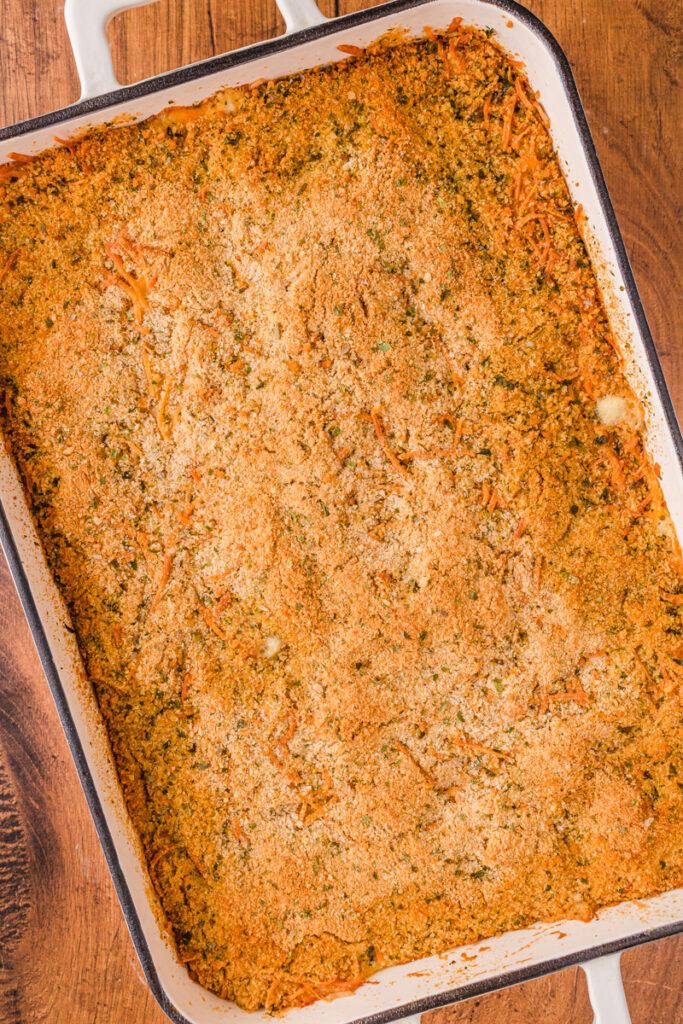 As a busy mom in the kitchen, one of my go-to ways to feed a crowd is by making easy casserole dishes. A casserole is a one-dish meal prepared by baking a variety of ingredients together in an oven-safe dish. They are incredibly versatile because you can combine different proteins, vegetables, grains, and sauces to create a hearty and complete meal in a single pan.
One of my favorite casseroles to make is this chicken spaghetti casserole with cheese. Cooked chicken provides savory protein, which pairs nicely with creamy cream of chicken soup and sour cream. Melted butter adds richness, while cayenne pepper and Italian seasoning give a balanced spice. Parmesan and cheddar cheese create a delicious, cheesy layer topped with Italian breadcrumbs for a satisfying crunch. These ingredients combine for a delightful mix of creamy, cheesy, and savory flavors that make this casserole a simple family favorite that's easy to make!
You'll mix cooked chicken, spaghetti, soup, broth, sour cream, butter, spices, salt, and pepper. Spread it in the pan, add cheese and breadcrumbs, bake for 45-50 minutes – easy, cheesy comfort food!
Serve it up for weeknight dinners when you need something hearty and quick. It's also a hit at potlucks and family gatherings, making it the ultimate comfort food. Plus, it pairs perfectly with a crisp green salad or some steamed veggies for a well-rounded meal!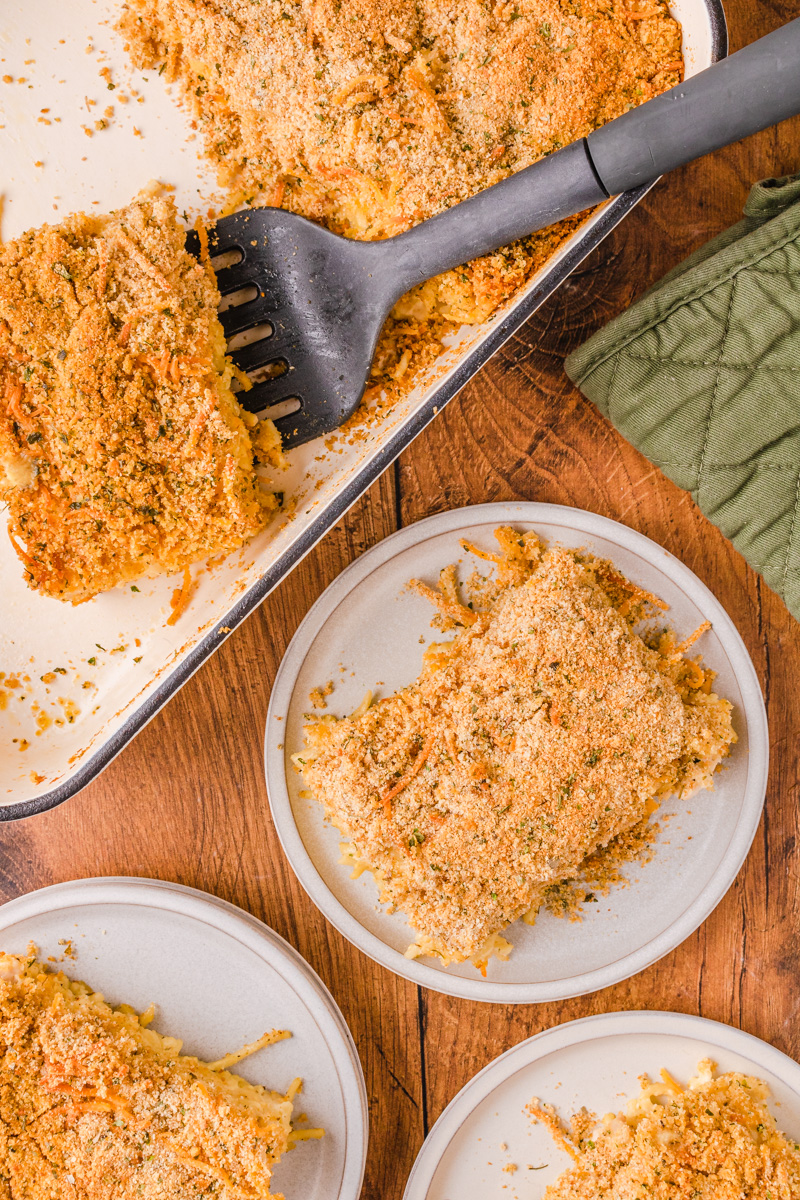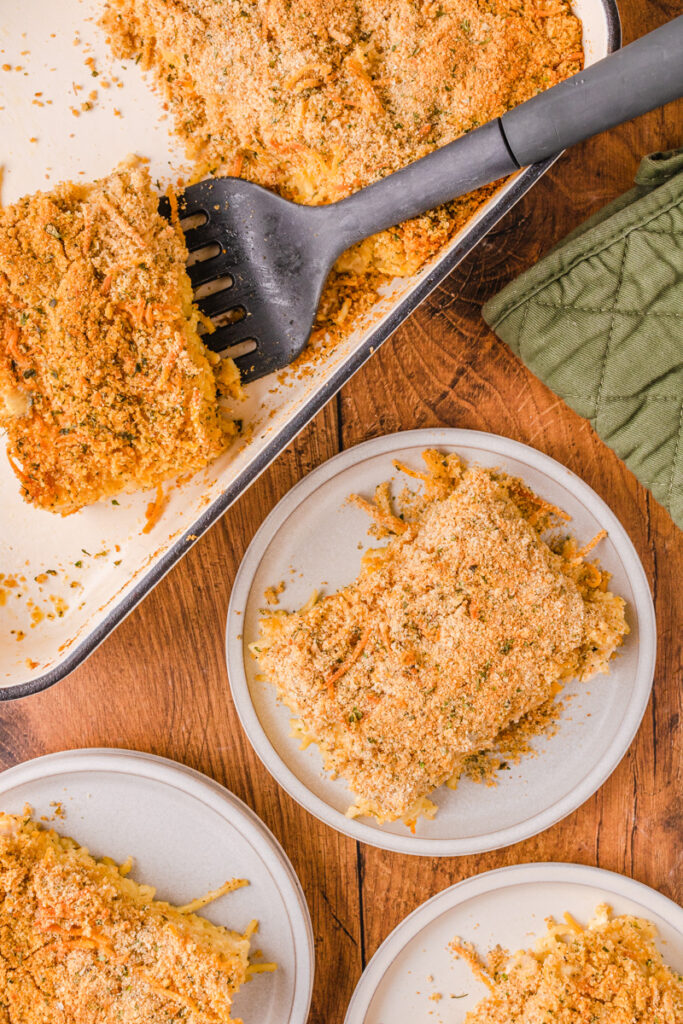 Why You'll Love This Recipe
Whip up a delicious meal in under an hour with simple ingredients you likely already have on hand.
This casserole is a hit with both kids and adults, making it a go-to choice for family dinners.
Whether you're serving a large gathering or prepping meals in advance, this recipe serves 10-12 and freezes perfectly to enjoy later.
Indulge in a creamy, cheesy pasta dish that oozes comfort and flavor, making it a must-try for any cheese lover.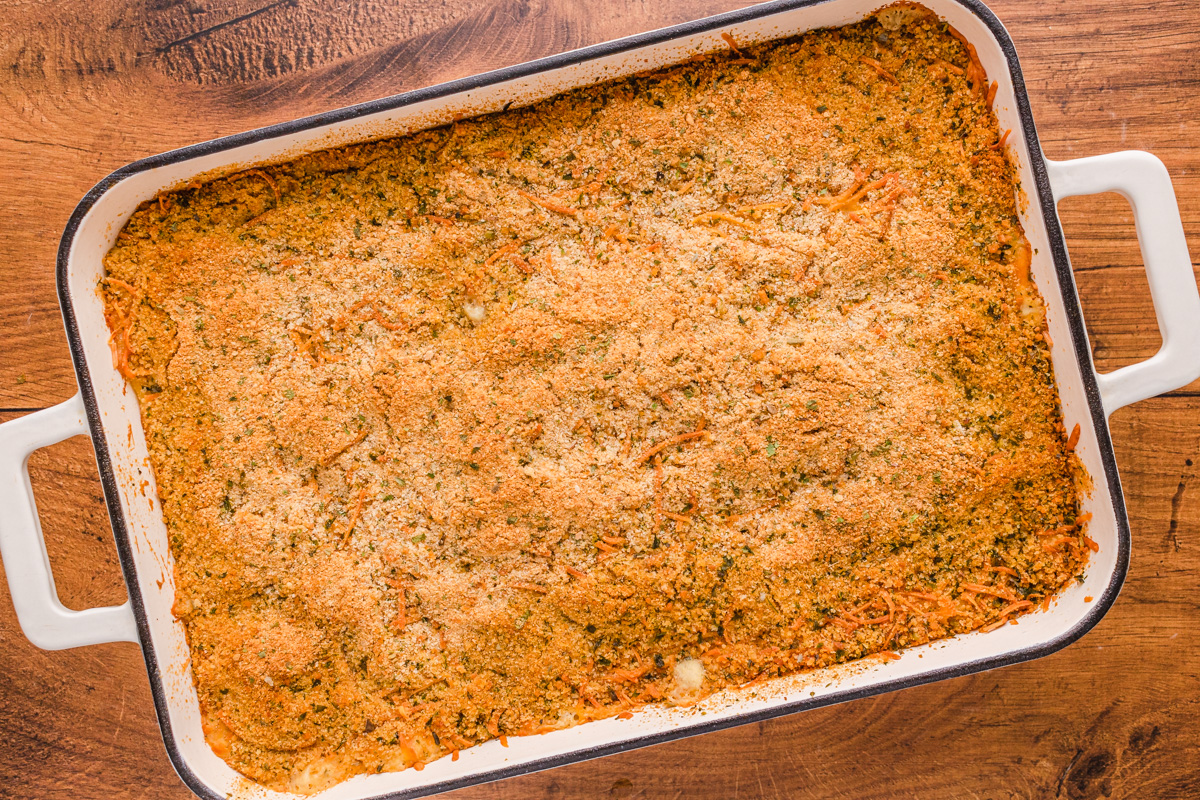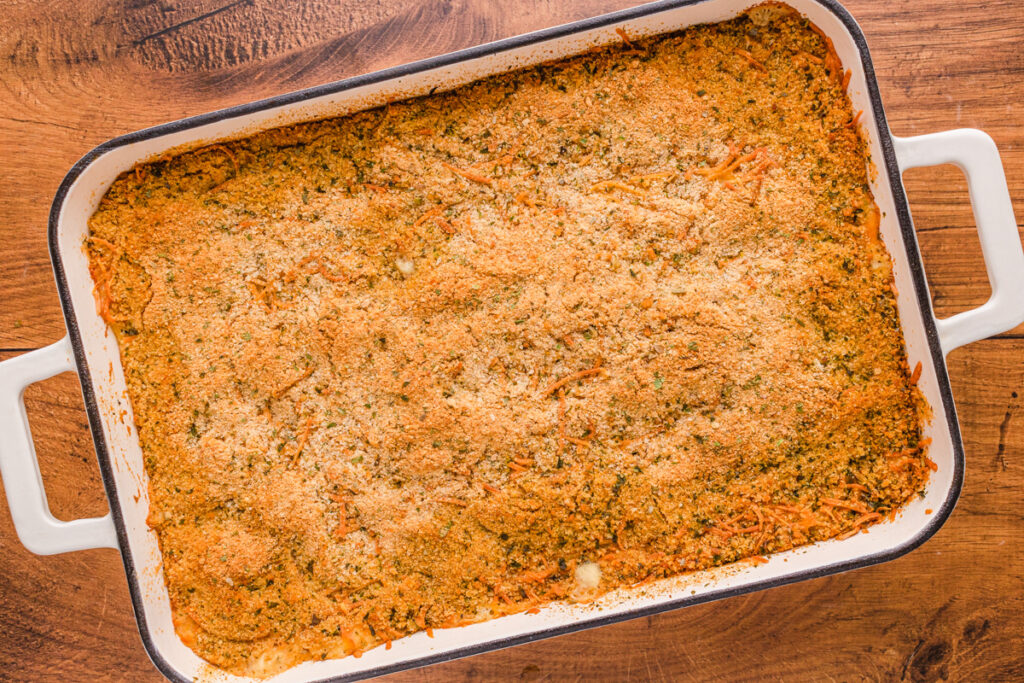 Ingredients You'll Need to make Cheesy Chicken Spaghetti Casserole

Cooked Chicken Breast – Adds tender and protein-packed chunks to the casserole, infusing it with savory poultry flavor.
Cooked Spaghetti – Provides the essential pasta base for the dish, ensuring a hearty and satisfying texture that makes it filling and delicious. Cooked and drained.
Canned Cream of Chicken Soup – Creates a creamy and rich sauce that binds all the ingredients together while giving it a comforting chicken background flavor.
Chicken Broth – Enhances the chicken flavor and keeps the casserole moist.
Sour Cream – Offers a creamy tanginess that balances the richness of the sauce.
Melted Butter – Adds richness and a hint of buttery goodness to the casserole, enhancing its overall indulgence.
Cayenne Pepper – Provides a subtle kick of heat, elevating the flavor profile with a touch of spice.
Italian Seasoning – Infuses the casserole with a blend of Italian herbs and spices, creating a well-rounded and aromatic taste.
Salt and Pepper – Seasoning staples that ensure the perfect balance of flavors.
Parmesan Cheese – Offers a sharp and nutty undertone, enhancing the cheesiness and depth of flavor.
Shredded Cheddar Cheese – Melts into a gooey, golden topping, providing that classic cheesy taste and texture that everyone loves.
Italian Breadcrumbs – Crowns the casserole with a crispy, textured finish, adding both flavor and visual appeal.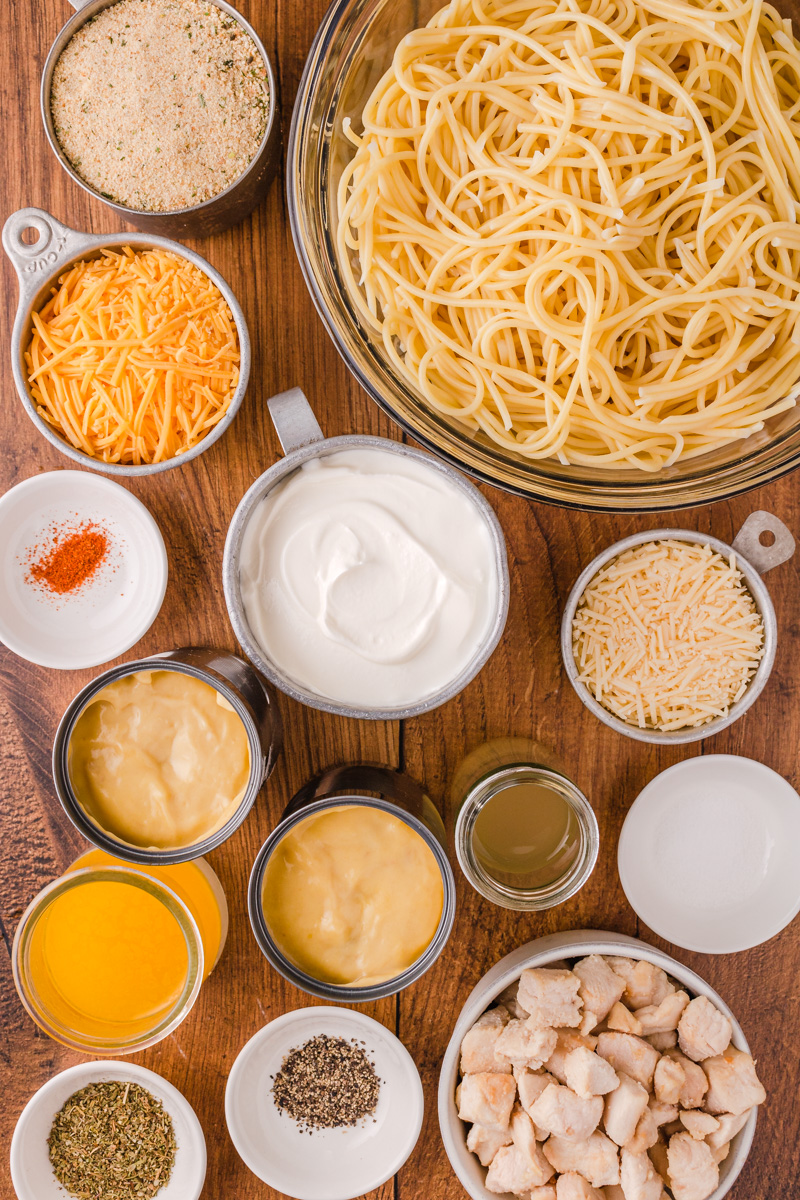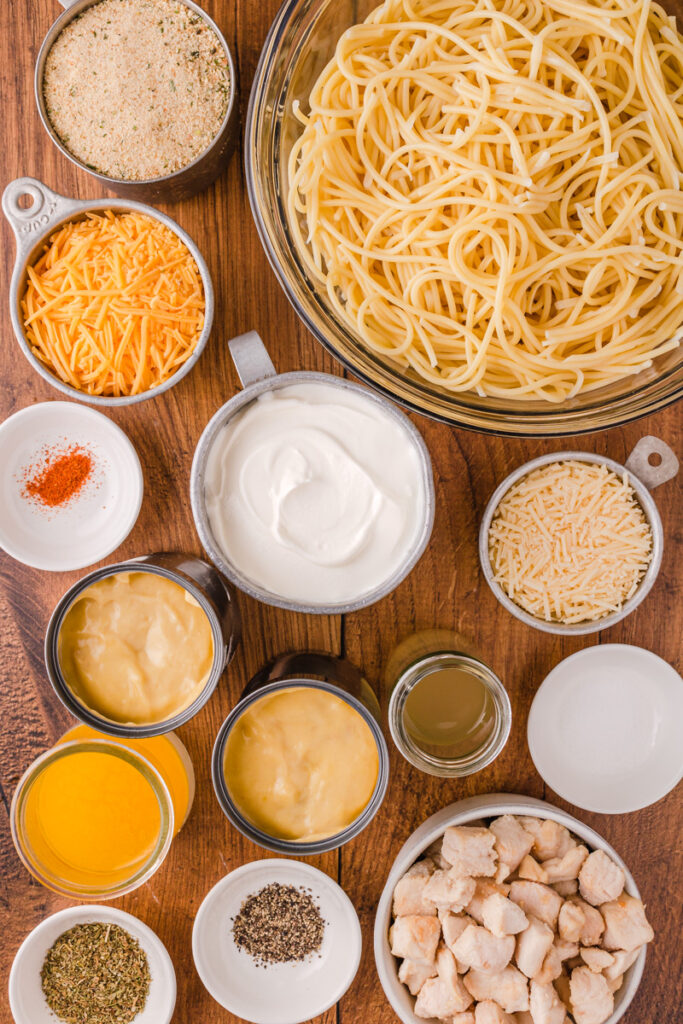 How To Make Easy Chicken Spaghetti Casserole
Prepare for baking: Preheat oven to 350 degrees and grease a 9×13 baking pan. Set aside.
Assemble the casserole ingredients: In a large bowl, add the cooked chicken, spaghetti, cream of chicken, chicken broth, sour cream, butter, cayenne pepper, Italian seasoning, salt, and pepper. Stir until all ingredients are fully combined and coated.
Add to prepared baking pan: Spread the chicken and pasta mixture into the prepared baking pan. Press down gently into an even layer. Sprinkle the top with parmesan cheese, followed by cheddar cheese, then the breadcrumbs in an even layer.
Bake and cool: Place in the oven and bake for 45-50 minutes or until the chicken and pasta casserole is set. The cheese will be melted, and the breadcrumbs will be golden. Let cool for 10 minutes before serving. Enjoy!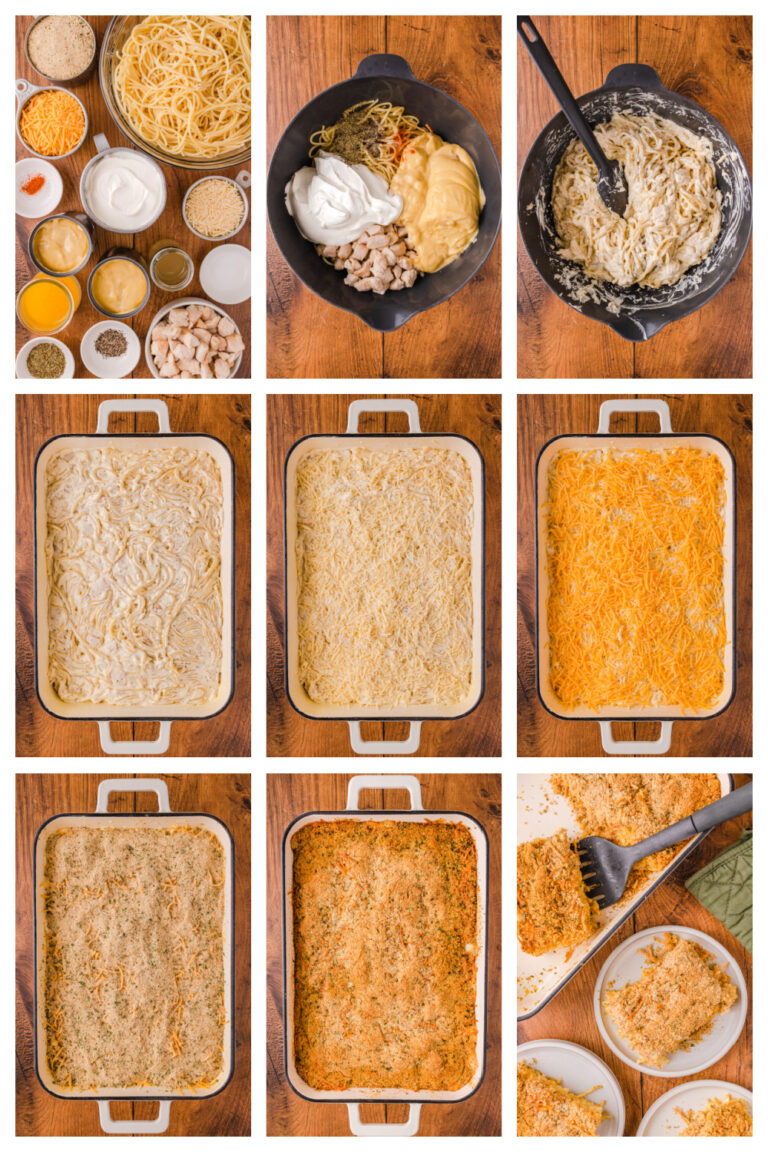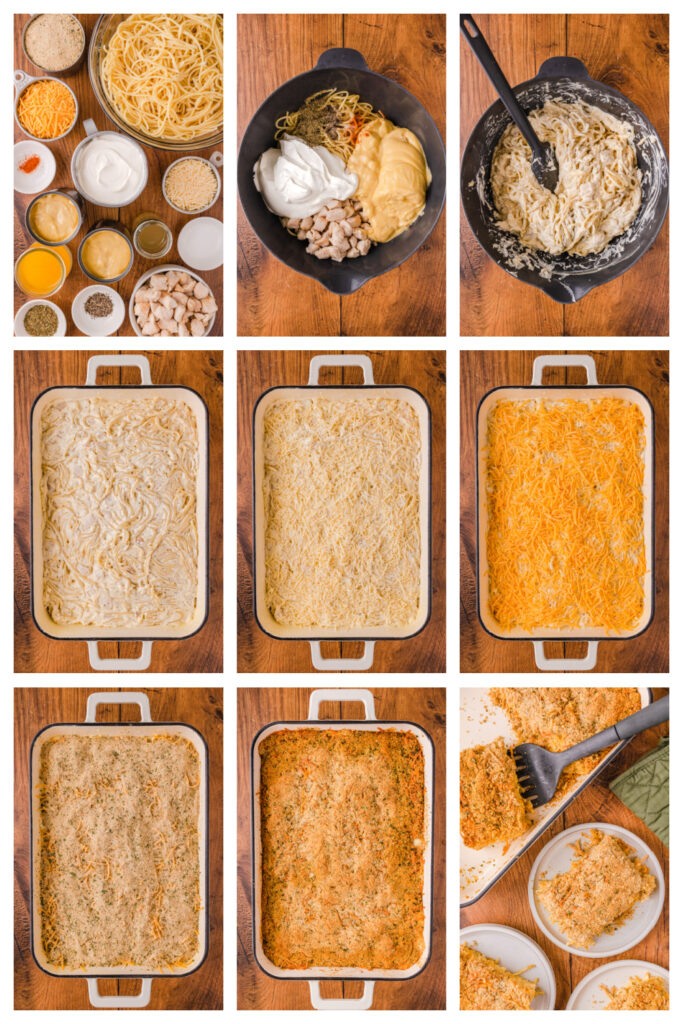 Recipe Tips
To save time, use leftover rotisserie chicken or pre-cooked chicken breasts for a quicker meal prep.
Make sure to cook the spaghetti until it's al dente, as it will continue to cook in the oven, preventing it from becoming too soft.
Adjust the level of cayenne pepper to your preference if you want a milder or spicier casserole.
Mix the sour cream well with the other wet ingredients to ensure a smooth and creamy consistency in the sauce.
Sprinkle the Italian breadcrumbs evenly on top to create a crispy crust that rounds out the dish perfectly.
Let the casserole rest for a few minutes after removing it from the oven; this allows the flavors to come together and makes it easier to slice and serve.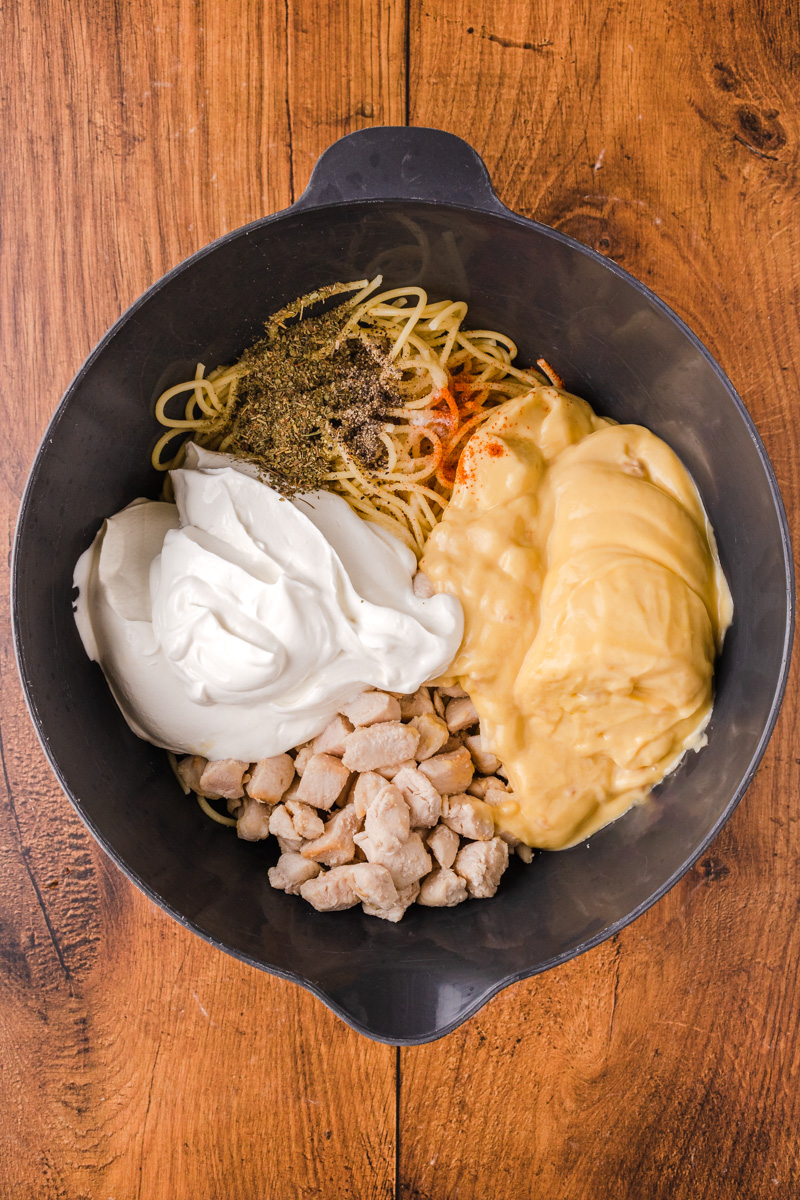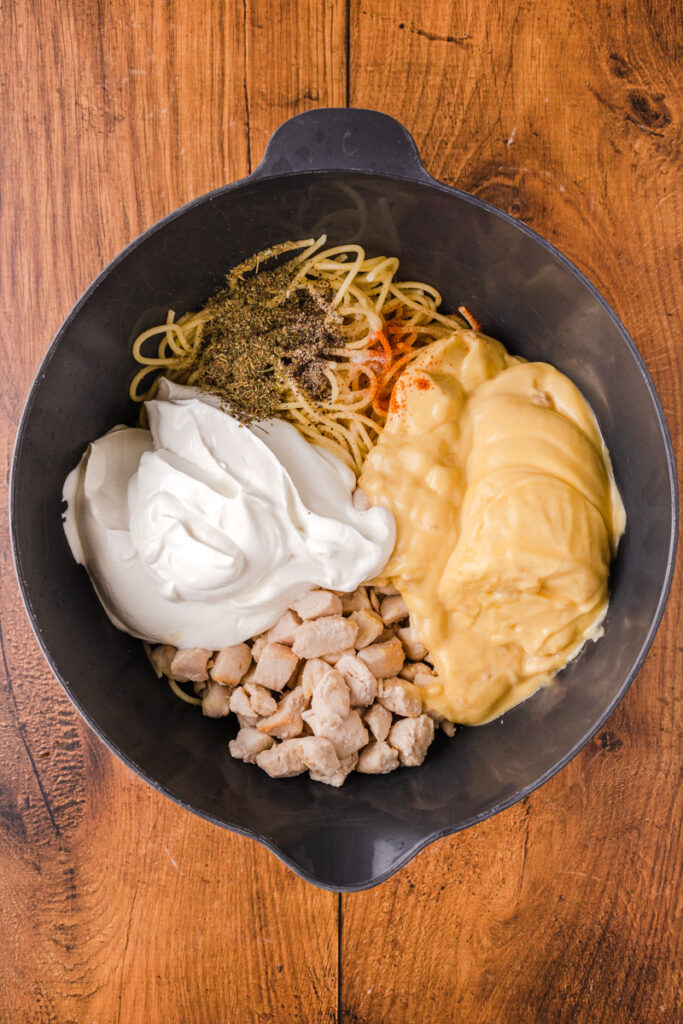 Variations
Add sautéed mushrooms, green bell peppers, onions, and spinach for a veggie-packed twist, creating a chicken spaghetti casserole with veggies.
Swap Italian seasoning for taco seasoning, and include corn, black beans, and Rotel for a Tex-Mex flair.
Mix in a few tablespoons of basil pesto for a vibrant and herby twist on the classic recipe.
Substitute chicken with cooked shrimp or crab for a decadent seafood spaghetti casserole.
Replace sour cream with Greek yogurt and opt for whole wheat spaghetti to create a lighter version of the dish.
For a more indulgent and creamy texture, replace the sour cream with cream cheese, cottage cheese, or ricotta for a twist on million dollar spaghetti.
Incorporate Kalamata olives, sun-dried tomatoes, and feta cheese for a Mediterranean-inspired flavor twist.
Crumble crispy bacon over the top before baking for a smoky and savory twist.
Use cream of mushroom soup in place of the cream of chicken soup.
Add pepperoni to the casserole for an Italian pizza flavor.
Amp up the heat by adding diced jalapeños or crushed red pepper flakes for a spicy chicken casserole with a kick.
Grease a pie dish and add the filling to bake a chicken spaghetti pie.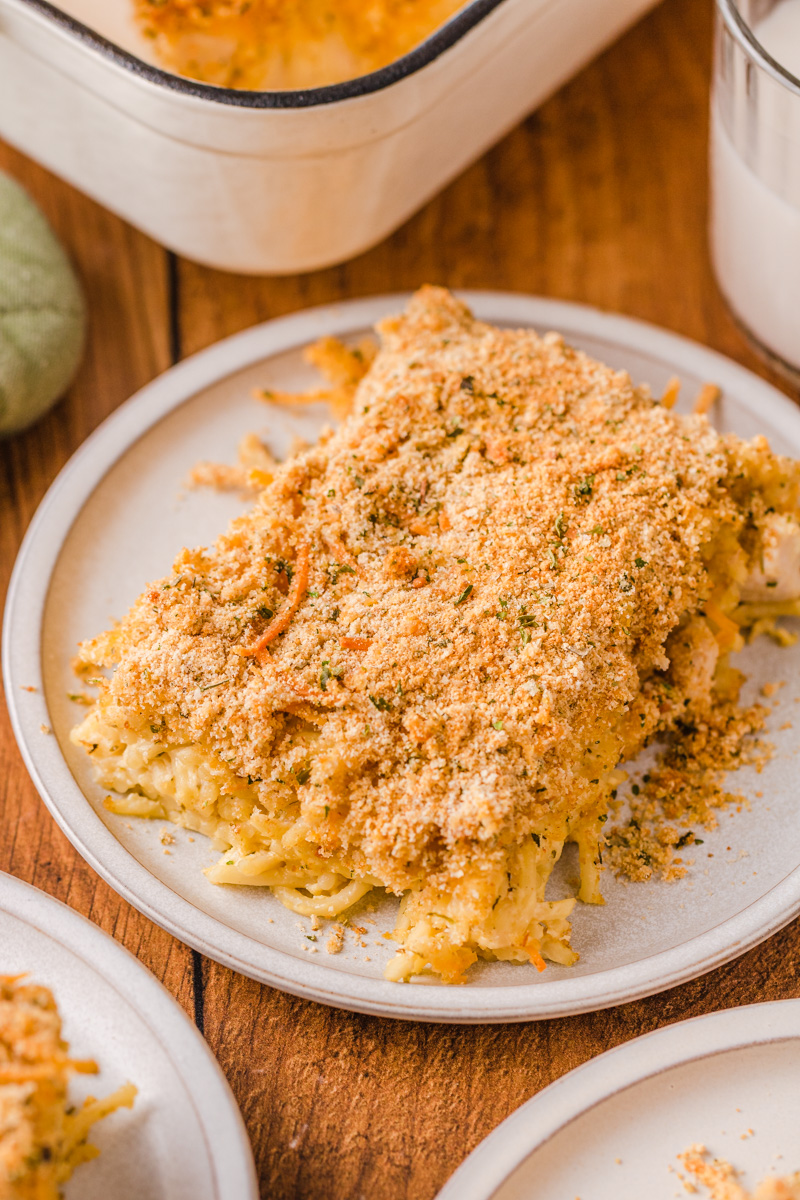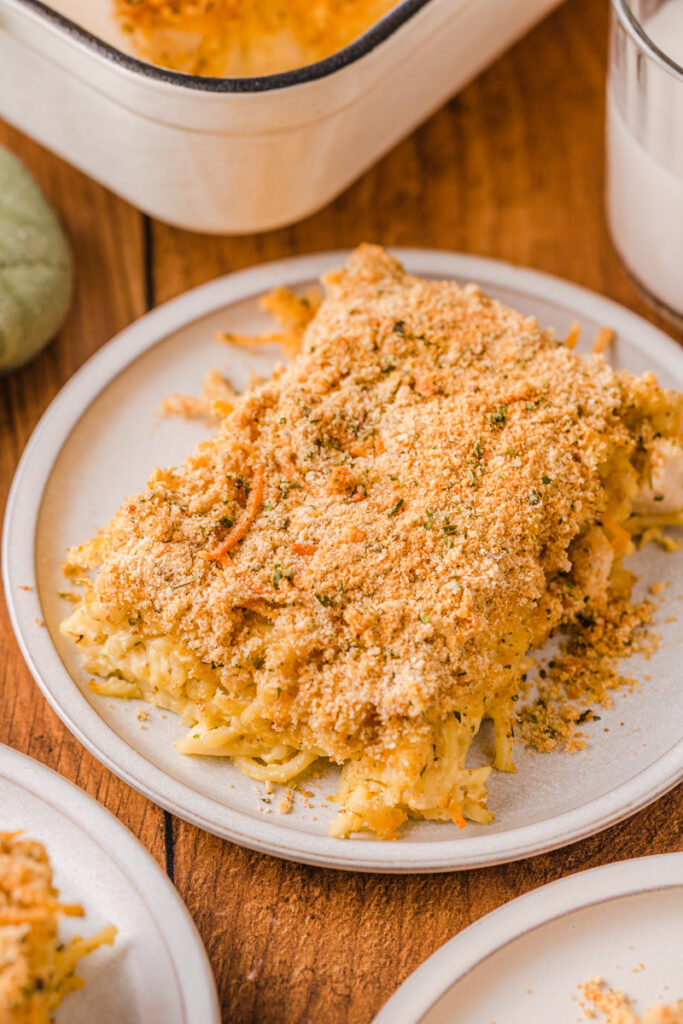 Storing & Freezing Cheesy Chicken Spaghetti Casserole

Storing: Store any leftovers in an airtight container in the refrigerator for up to 3-4 days. Reheat individual portions in the oven or microwave.
Freezing: Wrap the casserole tightly in plastic wrap or aluminum foil or transfer it to an airtight freezer-safe container. Label with the date and freeze for up to 2-3 months. When ready to enjoy, allow it to thaw in the refrigerator overnight and then reheat it in the oven at 350°F (175°C) until heated through, adding extra cheese and breadcrumbs for that fresh-from-the-oven taste.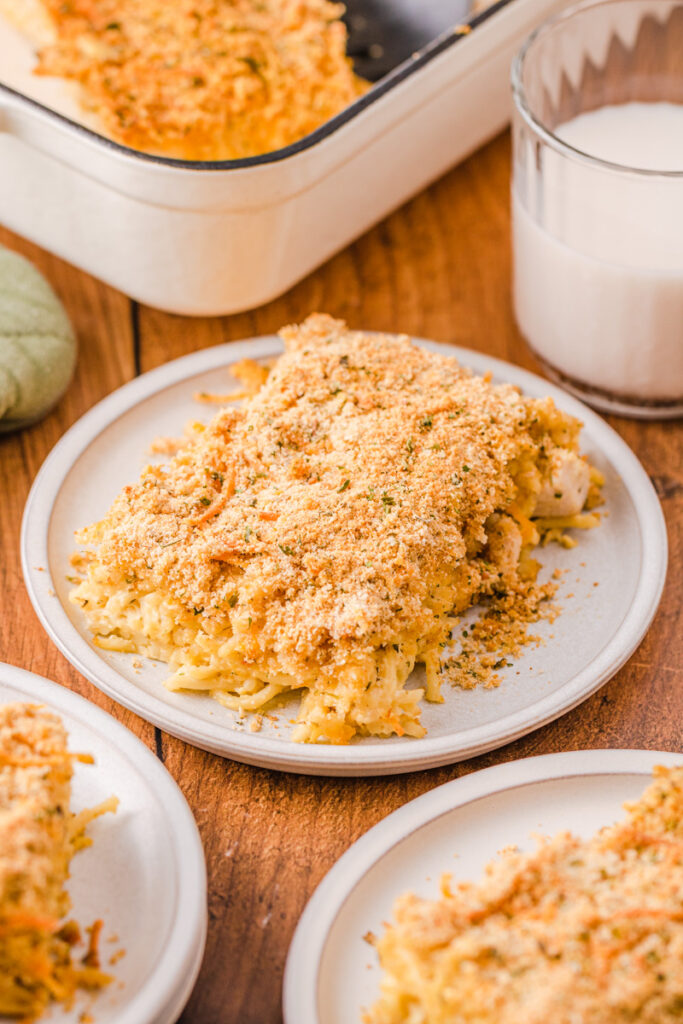 FAQ
Can I use a different type of pasta instead of spaghetti?
You can swap spaghetti for other pasta shapes like penne, rotini, or even macaroni. Just be sure to cook them al dente before incorporating them into the casserole.
Can I use low-fat or Greek yogurt instead of sour cream to reduce the calorie content?
Yes, you can substitute low-fat sour cream or Greek yogurt for a healthier option while maintaining creaminess. The taste might vary slightly, but it will still be delicious.
What is the difference between chicken spaghetti casserole and million dollar spaghetti?
The main difference between Chicken Spaghetti Casserole and Million Dollar Spaghetti is the protein. Million Dollar Spaghetti typically incorporates ground beef or Italian sausage. Million Dollar Spaghetti also often includes a ricotta cheese layer, creating a richer and creamier texture, whereas Chicken Spaghetti Casserole relies on sour cream and a different set of seasonings for its flavor profile.
More Hearty Chicken Casserole Recipes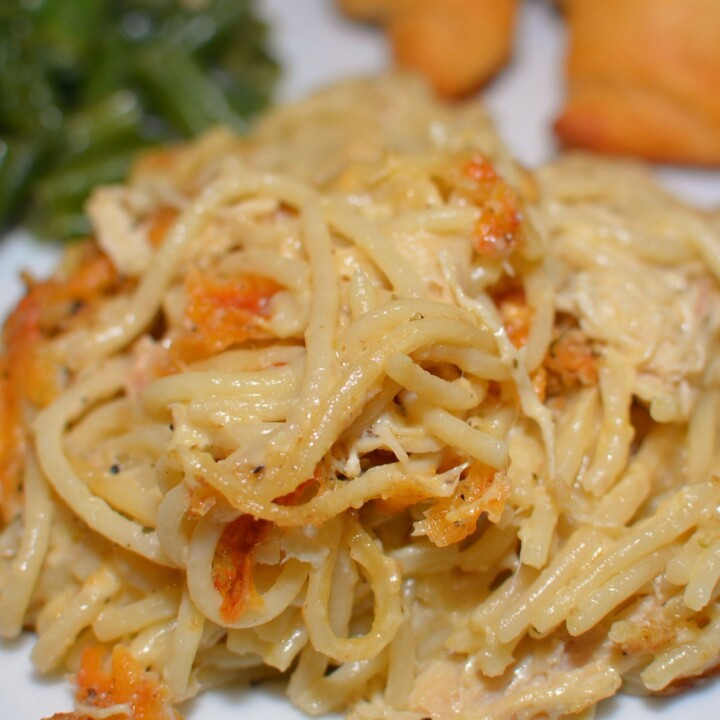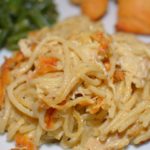 Print Recipe
Cheesy Chicken Spaghetti Casserole Recipe
Indulge in the ultimate comfort food experience with our mouthwatering Cheesy Chicken Spaghetti Casserole. This creamy, cheesy delight is perfect for family dinners or potlucks!
Ingredients
1

lb

chicken breasts, cooked/diced

12

oz

spaghetti noodles, cooked/drained

2

cans

cream of chicken soup (10.75 oz cans)

1/4

cup

chicken broth

16

oz

sour cream

8

tablespoon

butter, melted

pinch of cayenne pepper

2

teaspoon

Italian seasoning

1/2

teaspoon

salt

1/2

teaspoon

ground black pepper

1/2

cup

Parmesan cheese

1

cup

sharp cheddar cheese, shredded

1

cup

Italian breadcrumbs
Instructions
Preheat oven to 350 degrees and grease a 9 x 13 baking pan.

In a medium bowl, combine the cooked chicken, spaghetti, cream of chicken, chicken broth, sour cream, butter, cayenne pepper, Italian seasoning, salt, and pepper.

Spread mixture into prepared pan.

Sprinkle Parmesan cheese and cheddar cheese evenly on top followed by the breadcrumbs.

Place pan in oven and bake for about 45-50 minutes.

Remove pan from oven and enjoy!
Nutrition
Calories:
433
kcal
|
Carbohydrates:
40
g
|
Protein:
23
g
|
Fat:
20
g
|
Saturated Fat:
10
g
|
Polyunsaturated Fat:
2
g
|
Monounsaturated Fat:
6
g
|
Trans Fat:
1
g
|
Cholesterol:
73
mg
|
Sodium:
968
mg
|
Potassium:
392
mg
|
Fiber:
2
g
|
Sugar:
3
g
|
Vitamin A:
590
IU
|
Vitamin C:
2
mg
|
Calcium:
238
mg
|
Iron:
2
mg