Oooooo I am SO excited to share this recipe with you. Why you ask?? Because it is a recipe YOU created. Yep, I took all the changes and variations you all suggested on my Parmesan Chicken Casserole, and created this recipe. I must confess, it may be even better than the original. The breadcrumbs on top really enhanced the flavor and my entire family loved it.
From start to finish, I had this on the table in 40 minutes!! I served ours over pasta, but if you prefer it over rice or by itself, no problem, it will be just as yummy!!
I love how this recipe has evolved. It started out by my mom making her melt in your mouth chicken, then I changed it up to the Parmesan chicken casserole, and now it has turned into this melt in your mouth chicken bake. Each and every variation is amazing, so you can't go wrong!!
Enjoy!!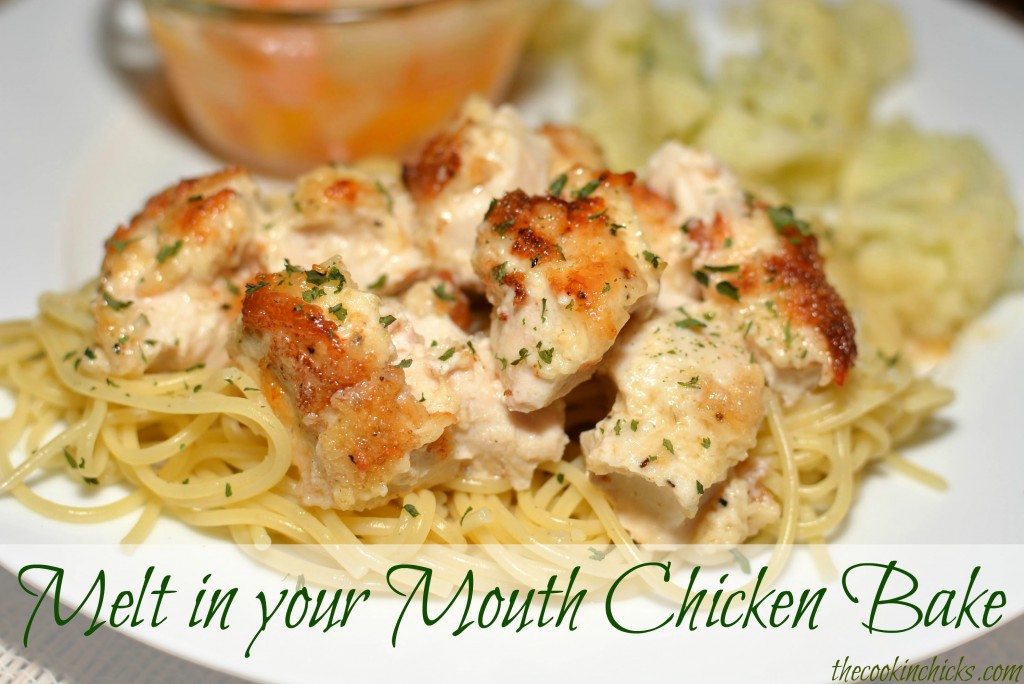 Ingredients:
1 lb boneless, skinless chicken breasts, diced
3/4 cup mayonnaise or Greek yogurt
1 cup FRESH Parmesan cheese, shredded
1/2 tsp seasoned salt
1/2 tsp ground black pepper
4 garlic cloves, minced
1/2 tsp red pepper flakes
1/2 cup Italian bread crumbs
Directions:
Grease a 9 x 13 baking pan and place chicken evenly on bottom.
In a small bowl, combine the mayonnaise (or yogurt), cheese, salt, pepper, garlic cloves, and red pepper flakes.
Evenly spread mixture on top of chicken, coating entirely.
Sprinkle bread crumbs on top of mixture.
Place pan in preheated oven, 375, and bake for 30-35 minutes, or until chicken is cooked through.
Remove from oven and use slotted spoon to scoop chicken on top of pasta, rice, or onto plate!
Enjoy!!!