This Homemade EASY Beer Bread comes together using only 6 ingredients! With a perfect buttery crust and soft, tender inside, this simple recipe is sure to become your new go-to bread for any meal!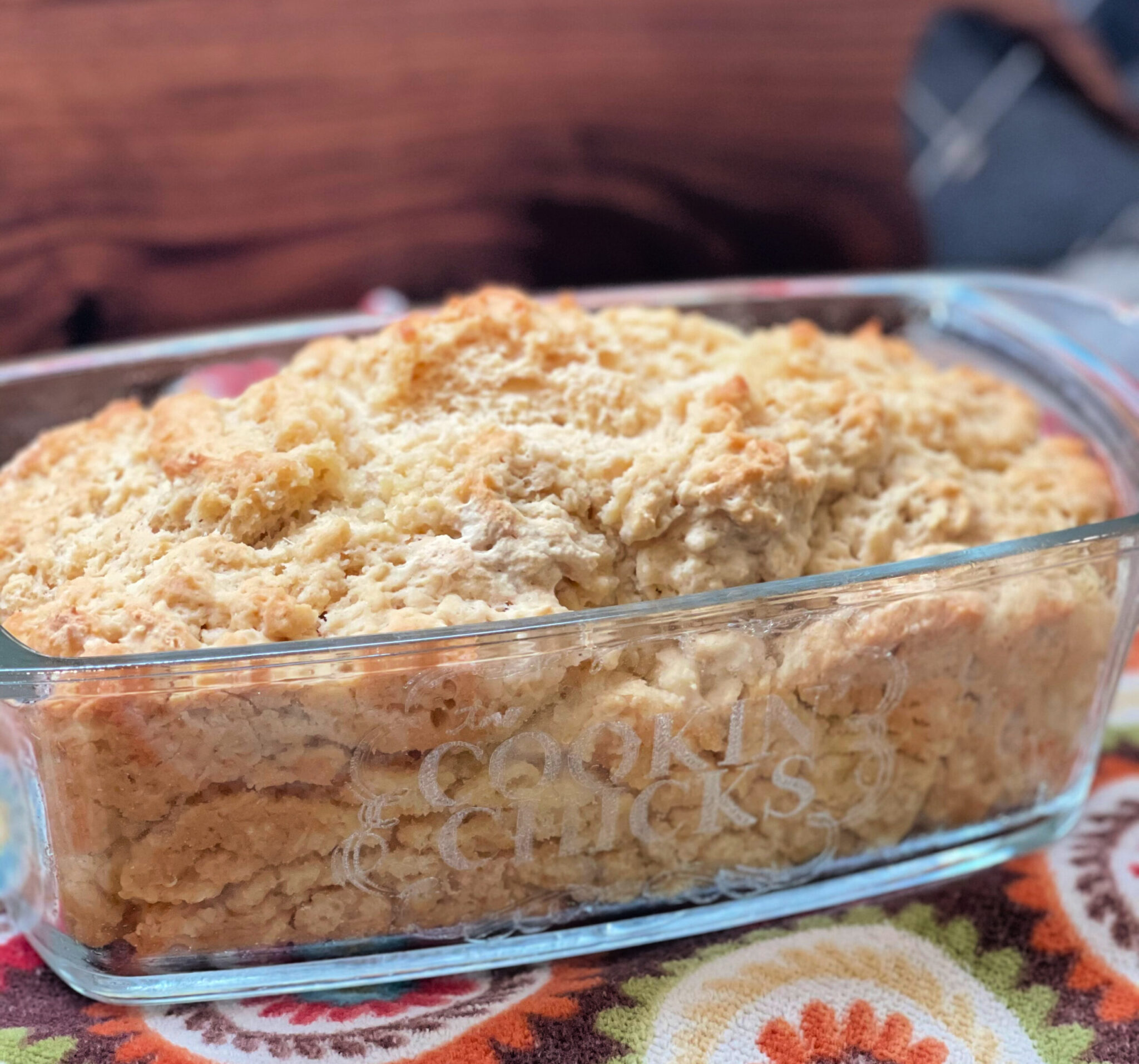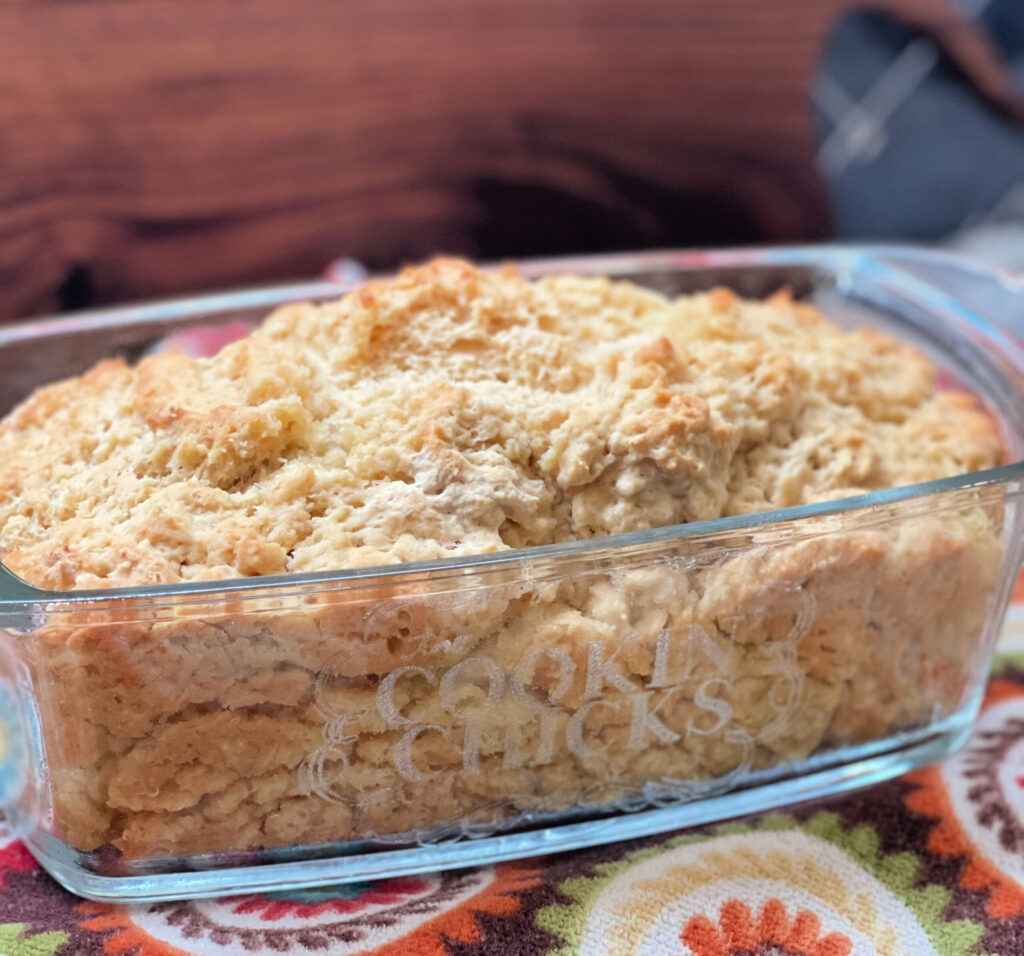 Quick Homemade Beer Bread
Quick Breads are one of my favorite things to bake due to the fact they are quick and easy! There is no kneading, proofing yeast, or rising period – simply mix (all in one bowl!), and bake.
If you've never made Beer Bread before, you're in for a treat with this recipe! In under one hour, the most delicious, buttery, and comforting beer bread will yours to enjoy!
This bread can be served with just about any meal! Personally, I tend to serve this bread with a hearty stew or soup option, but of course, with my family loving their bread item at dinner, I add it to grilled/baked dishes, casseroles, and more!
What is Beer Bread?
Beer bread is any bread that includes beer in the dough mixture. Depending on the type of beer used, it may or may not contribute leavening to the baking process. Thus, beer breads range from heavy, unleavened, loaves to light breads and roll. Beer Bread is typically buttery, chewy, and tastes like your favorite beer. The yeast in the beer interacts with the sugar to help the bread to rise (and the baking powder gives the bread an additional boost to keep it from becoming dense). 
What Beer Is Best for Beer Bread?
The great thing about this bread is you can use any beer. If you have beer on hand, you're set without needing to run to the store for a specific kind.
Remember, the beer flavor comes through in this bread, so be sure to use one you actually like as you will subtly taste it. Dark style lagers have notes of caramel and roasted malts, which will give you a strong and smooth flavor. Whereas Miller Lite or Bud Light will deliver the mildest beer flavor. You can even have fun using seasonal brews like pumpkin ale and hard cider.
Don't worry  if you're not a beer fan, you will still enjoy this despite the flavor of the beer! It might be a different flavor than what you're used to but the bread itself is moist, with a hint of sweetness, and the texture of the bread is incredible.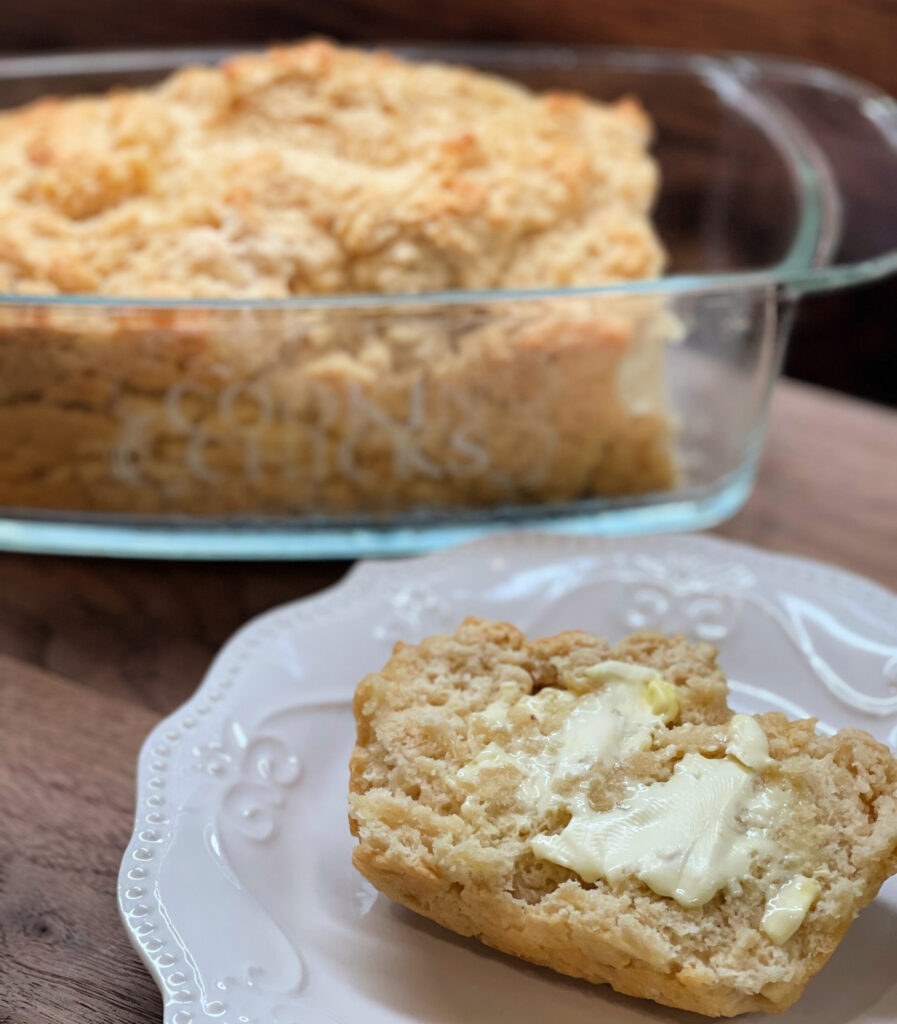 Ingredients needed for this recipe
See printable recipe card at the bottom of this post for exact ingredient amounts and directions.
Flour- all-purpose flour works best in this recipe to keep the bread lighter, and less dense
Baking  Powder- this helps with leavening so the bread comes out springy, light, chewy, and delicious
Salt- this enhances the overall flavor
Sugar- this "feeds" the yeast and helps it to activate
Beer- this not only works with the baking powder for a leavening agent, but it also provides the moisture and helps keep the texture fluffy and light
Butter- helps add to the golden brown color and gives this bread a savory addition
How to make Beer Bread
Using only 5 simple steps, this bread comes together in no time!
Whisk together dry ingredients.
Pour in the beer and stir until just combined.
Transfer dough to a greased loaf pan.
Drizzle melted butter on top.
Place loaf pan into preheated oven to bake.
Tips for the best beer bread
For a boost of flavor, use a dark ale. Of course, if you only have light, that works too, but darker ales are my go-to in this bread.
Don't over-mix the dough as it will change the texture and become a bit more dense and dry.
Feel free to add in some herbs such as rosemary, basil, parsley, or thyme to the batter.
Add some shredded cheese for a tasty flavor variation.
Make sure your beer is room temperature. This helps the bread rise and creates a better texture than cold beer.
You can swap the sugar for honey if you prefer.
Have self-rising flour on hand? You can use that in place of all-purpose and omit the baking powder.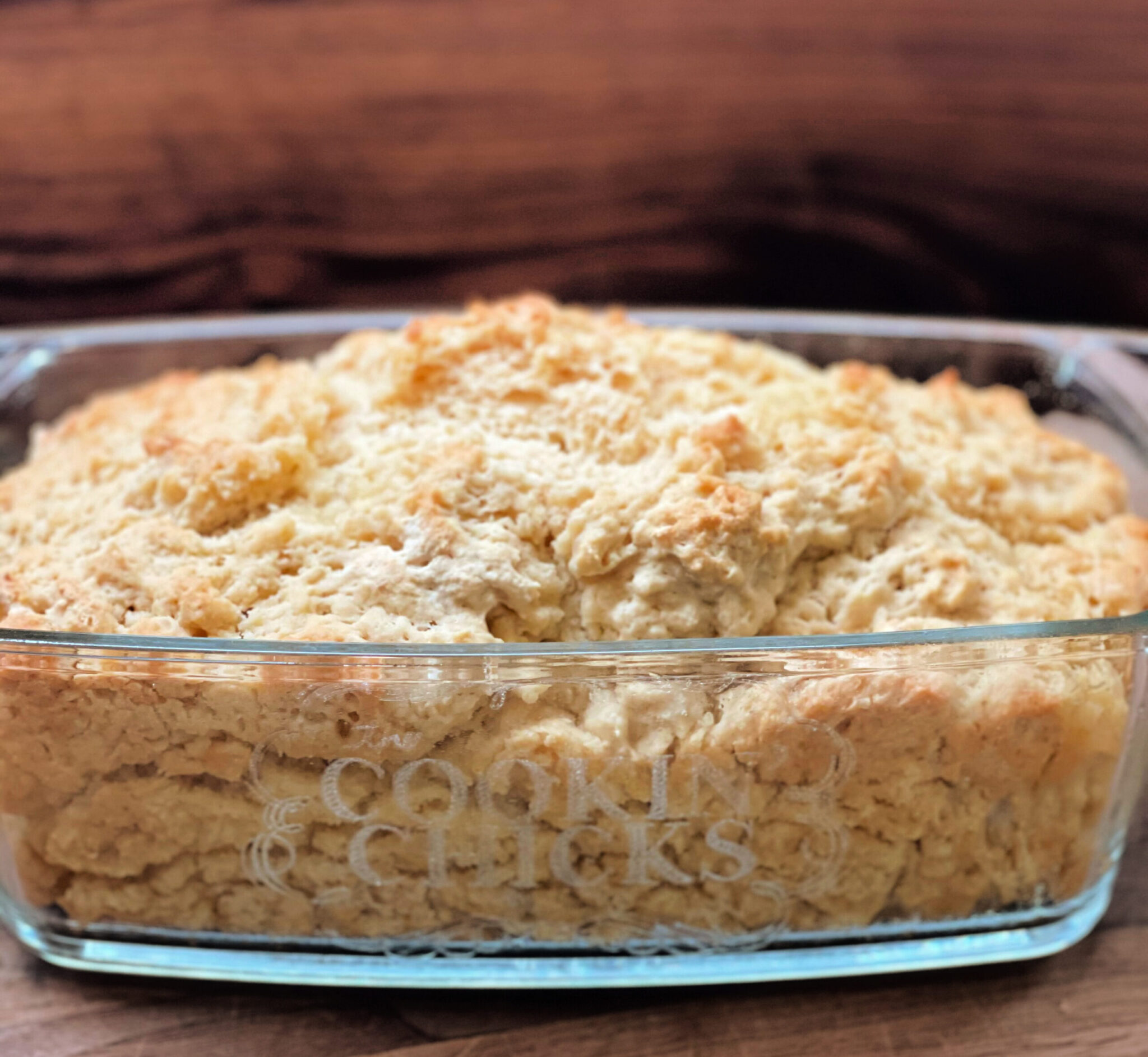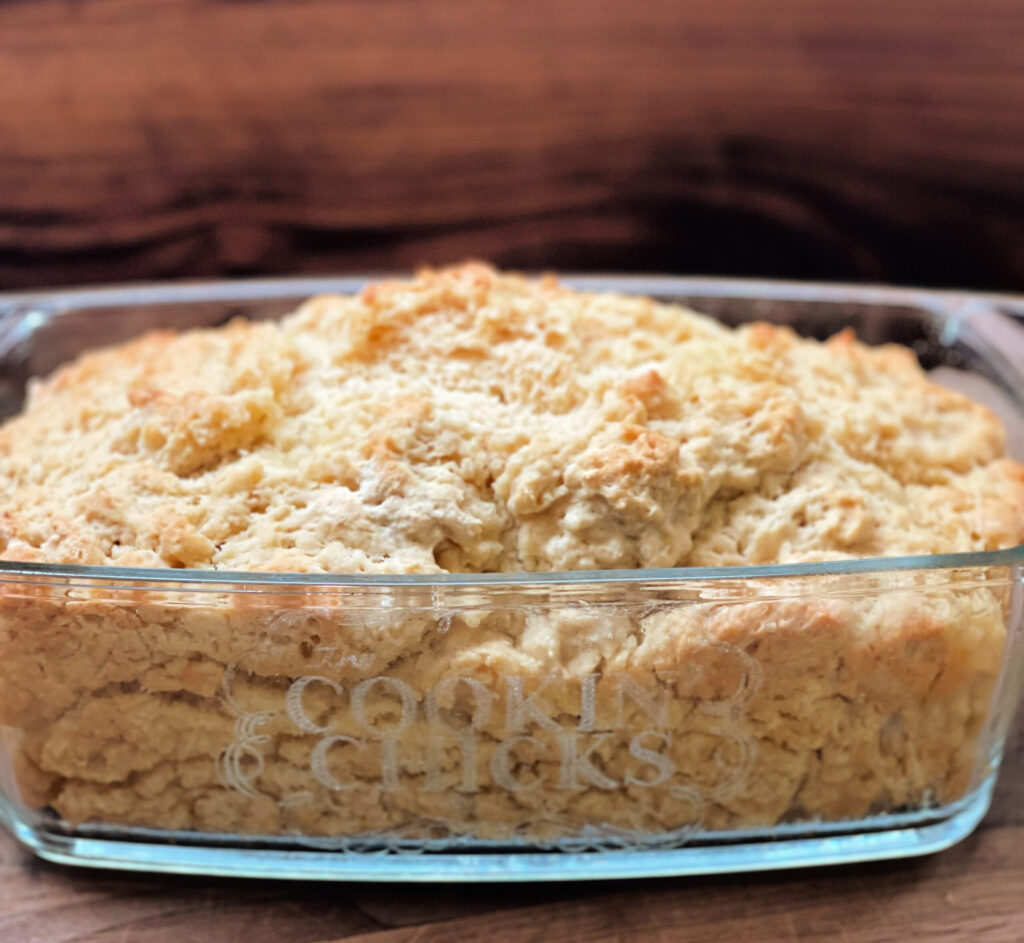 How to store easy beer bread
This bread is best enjoyed the same day it's baked – fresh from the oven with a slab of butter! However, if you have leftovers, here is how to store:
Store this bread at room temperature for about 2-3 days. Make sure you keep it in an airtight container to keep it moist. I don't recommend putting the bread in the refrigerator as this seems to speed up the process of making it stale and dry.
To freeze: double wrap it in saran wrap and aluminum foil. You can freeze it for up to 6 months. Let it come to room temp in your fridge before slicing it. Reheat each slice in the microwave for 20 seconds.
Serving Suggestions
My favorite way to enjoy this bread is to slice (with a serrated knife) and slab some butter on top when the bread is warm! Here are some other great options to try too:
More Bread Recipes to try
Can't get enough of some delicious bread? Me either! Here are some more great bread recipes (savory bread and more)!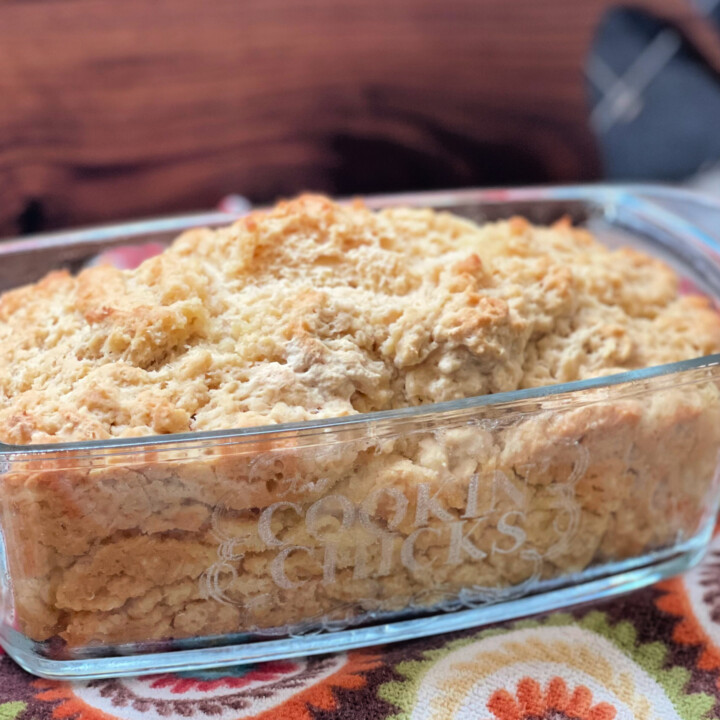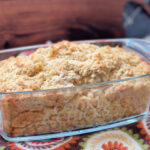 Print Recipe
Easy Homemade Beer Bread
Easy Beer Bread is made with just 6 ingredients and requires no yeast to make! Fluffy on the inside with a crispy, buttery top that's so good that you'll be wondering where this bread has been all your life.
Ingredients
3

cups

flour

*all purpose

1

tablespoon

baking powder

1

teaspoon

salt

3

tablespoon

sugar

*decrease by 1 tablespoon if you prefer a less sweet bread

12

oz

beer

*room temperature is best

2

tablespoon

butter, melted
Instructions
Grease a loaf pan and preheat oven to 375 degrees.

In a mixing bowl, combine the flour, baking powder, salt, and sugar.

Pour in the beer and stir until just combined. *dough will be thick at this point.

Spread dough as best as possible into prepared loaf pan.

Pour melted butter evenly on top of dough and place pan into oven.

Bake for about 35-40 minutes, or until cooked through.

Remove from oven and allow to cool slightly prior to serving!
Nutrition
Calories:
232
kcal
|
Carbohydrates:
42
g
|
Protein:
5
g
|
Fat:
3
g
|
Saturated Fat:
2
g
|
Trans Fat:
1
g
|
Cholesterol:
8
mg
|
Sodium:
477
mg
|
Potassium:
63
mg
|
Fiber:
1
g
|
Sugar:
5
g
|
Vitamin A:
87
IU
|
Calcium:
98
mg
|
Iron:
2
mg