On Easter morning, I decided to make a yummy breakfast before church. Since I really am not a huge breakfast fan, I always have a hard time coming up with ideas. After searching through my pantry and fridge, I pulled out the two containers of cinnamon rolls we had and decided to use those up. Last week, there had been a huge sale on fruit at my local grocery store and I had bought a big bag of apples. Since we still had a few to use up, I grabbed one and decided to make this monkey bread. My kids are huge apple fans, so they LOVED this. My hubby and I loved the cinnamon sugar flavor, and the way the apples caramelized in the bread. I had this ready for the oven in less than ten minutes, and the entire family enjoyed it! Definitely a breakfast success!!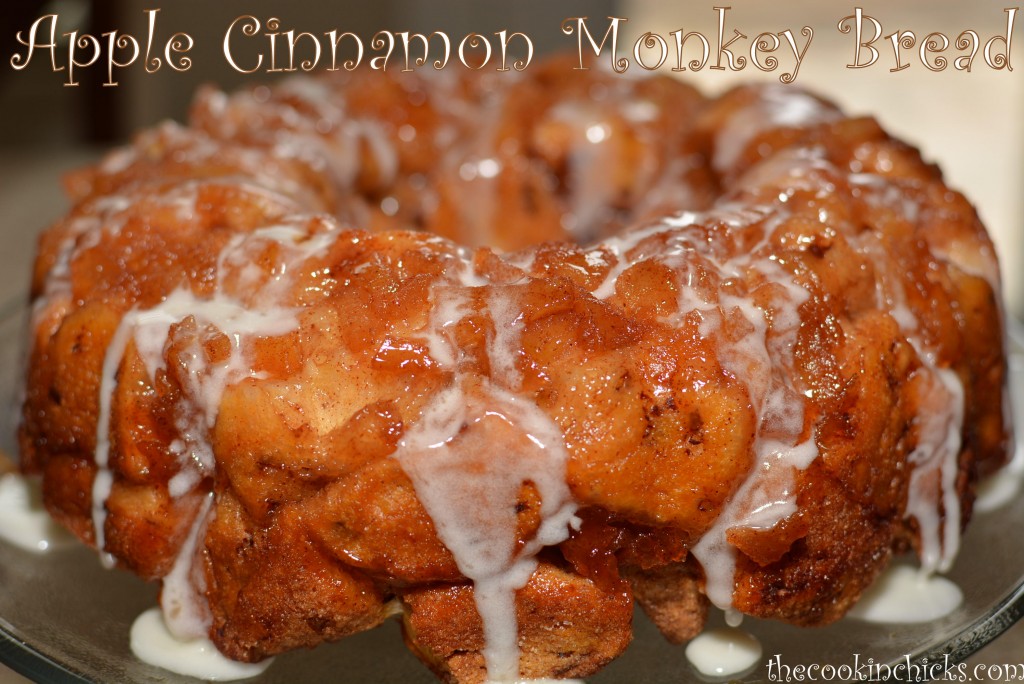 Ingredients:
2 cans (17.5 oz) cinnamon rolls w/ icing
1 apple, peeled and chopped
1/2 cup sugar
1 1/2 tsp ground cinnamon
1/4 cup butter, melted
Directions:
Grease a bundt pan and preheat oven to 350.
In a medium bowl, combine the cinnamon and sugar.
Remove 1/4 cup of cinnamon sugar mixture and add it to a different medium bowl.
Add the chopped apples to one of the bowls and toss to coat evenly. Set aside.
Cut the cinnamon rolls into quarters.
Roll each cinnamon roll dough piece through bowl of cinnamon/sugar.
Place half the coated apples into the greased bundt pan.
Add half the cinnamon rolls on top of the apples.
Repeat layers one more time ending with the remaining cinnamon roll dough.
Pour melted butter over top and place pan in oven.
Bake for about 40-45 minutes.
Remove from oven and flip pan carefully onto a plate or tray.
Allow to cool for 10 minutes before drizzling with icing from cinnamon roll packages.
Serve!!